Old Tracks, New Tricks, is a story about three little wooden train tracks who shake up an old wooden train set. But it's so much more than that. It's a way to inspire children to invent new fun with their old favorite toys, and to value and celebrate the creativity of others at the same time as confidently sharing their own ideas.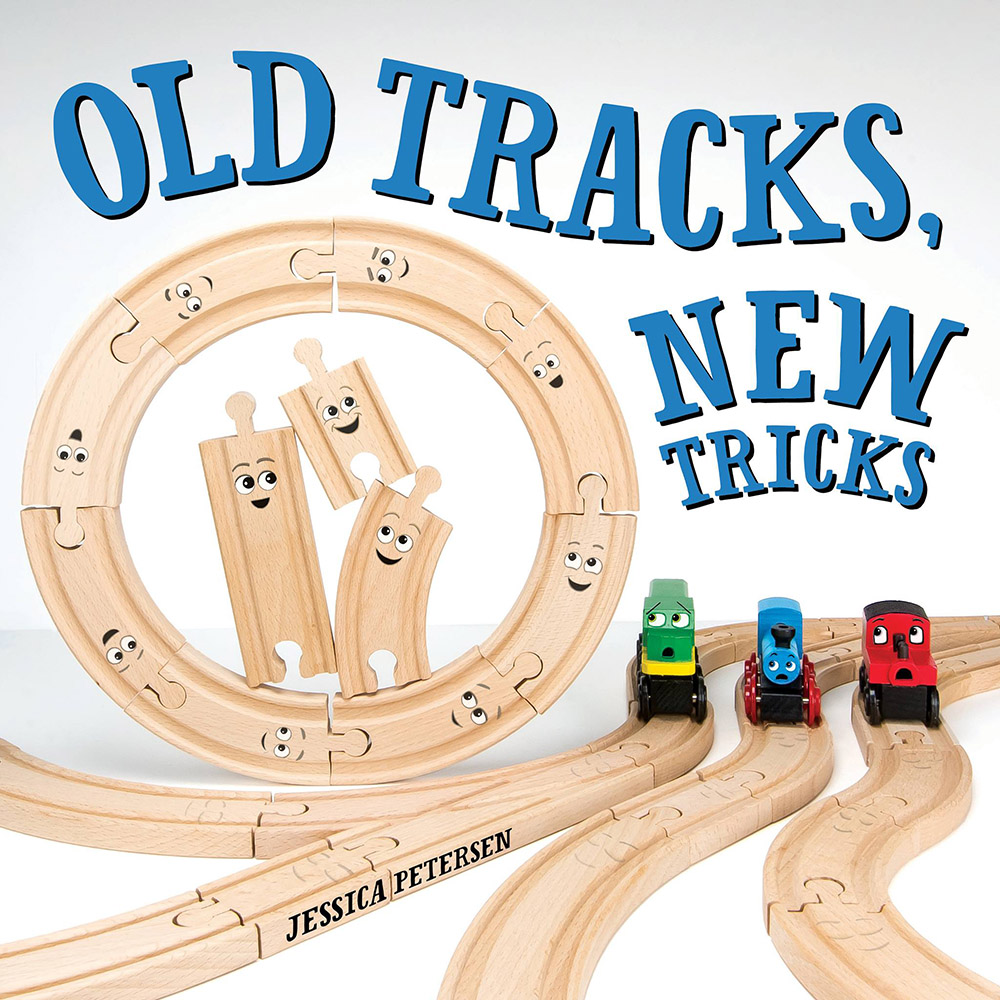 This page contains affiliate links. Read our disclosure policy for more details.
Preview the book!
The Innovation Press has provided a free preview of the first ten pages, so you can see if Old Tracks, New Tricks would be a good fit for your child, school, or library. Then to read the rest of the story — and see all the amazing "tricks" the tracks end up doing! — you can order a copy online or ask for it at your local bookstore!
A Story About Friendship and Creativity
Wooden train tracks Trixie, Tracky, and Tinker are thrilled to finally join a train set of their own, but their excitement derails when they discover things at their new home are not what they expected. Bossy wooden trains blare orders, and the old tracks snore on the floor. But with a little creativity, the three new tracks work together to prove that you really can teach old tracks — and trains! — new tricks.
Old Tracks, New Tricks is a story about three little tracks who bounce back after a disappointment to stand up for their right to be creative and have a say in how the train set plays. But it's also the story of three little trains who learn to not just accept but value the creative ideas of other toys. Ultimately, they all figure out to play and create together.
In their review of Old Tracks, New Tricks, Kirkus Reviews called it,
A jaunty rhyme and inventive toys-come-to-life spin on challenging the status quo, with especial appeal to fans of all things Thomas.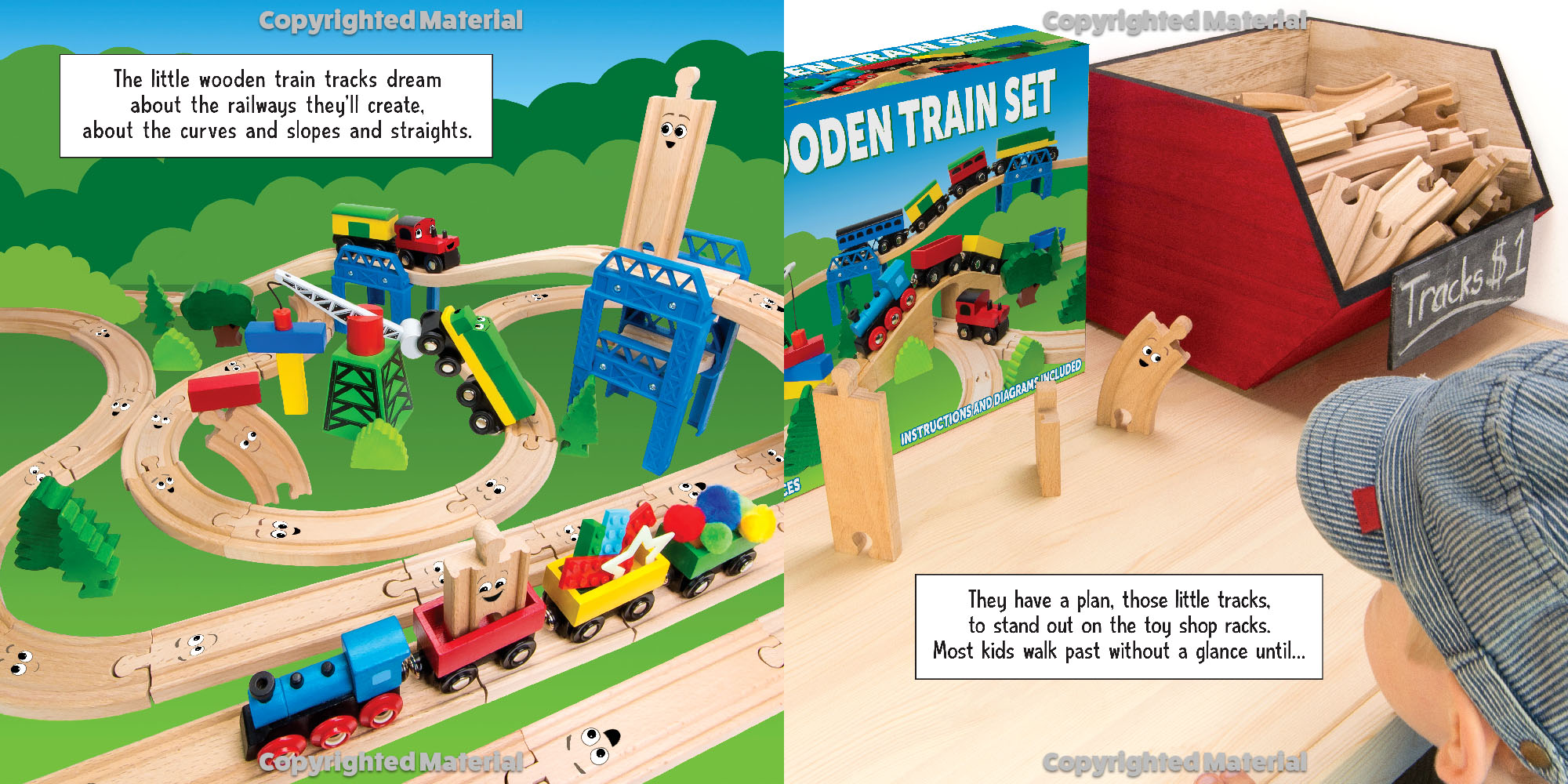 A train book about how today's kids really play trains…
If you're the parent of a train-loving kid, or a teacher of preschoolers or kindergarteners, you've probably read a lot of train books. I know I have — some of them over, and over, and over.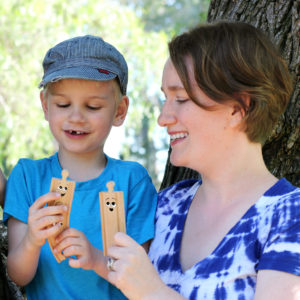 But what I always hoped to find was a book that reflected the way my son and so many other girls and boys play with the toy trains that are out there in today's world, especially wooden train sets. I wanted a book that encouraged kids to push those train sets to the limit, inventing new and exciting ways to play with them.  I wanted a book that made it easy for parents and teachers to engage in that kind of creative train play that has allowed me to connect with my son and teach him so many things through what he's passionate about.
So I wrote that book. On every page of Old Tracks, New Tricks, kids will see the familiar toys they already love brought to life. Throughout the story (but especially in the second half of the book, when things really get fun), the little tracks demonstrate a whole trainload of activities — combining everything from engineering to music to art to literacy (and more) with trains. Almost all of these activities can been done with toys and materials that are commonly found in many homes and classrooms. In the back of the book, there are instructions for all of the activities (many of which can be done with other types of toy trains and tracks as well as wooden ones). But perhaps my favorite part is the kid's guide to inventing, testing, and documenting their own track tricks, acted out by the characters from the book.
…that's really a book about how to play, create, and explore.
While wooden trains and tracks are the focus of the story, the creative process the tracks and trains demonstrate can apply to anything a child loves to play or create with!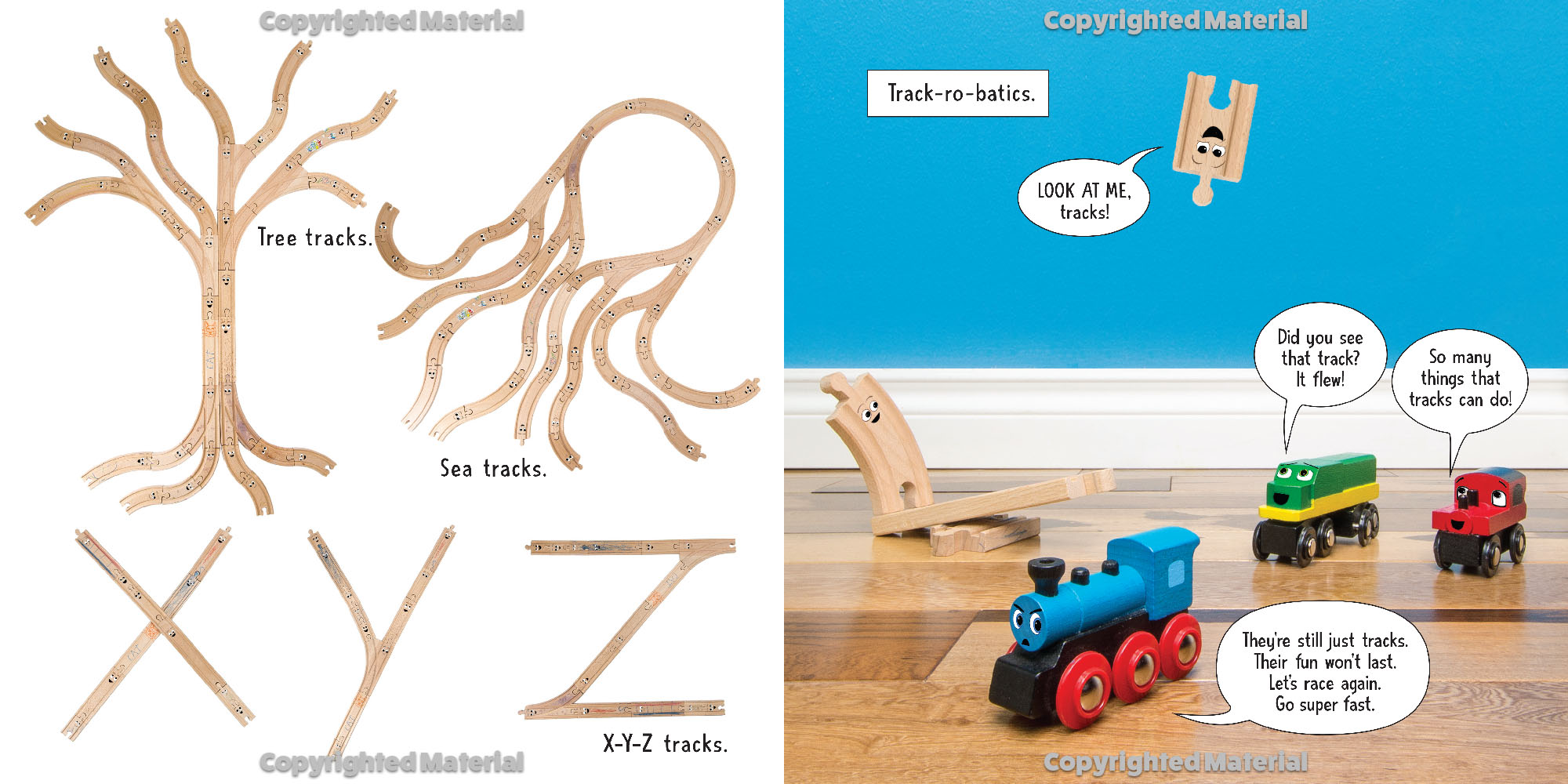 A picture book for kids of all ages — toddler, preschooler, and beyond
In writing Old Tracks, New Tricks, I kept in mind all the stages my son went through with his love of trains, from the train-obsessed toddler, to the train-expert preschooler, to the school-aged kid with new interests and hobbies but who is still thrilled to play with his trains whenever one of us has an idea of how to make them new and exciting. My hope is that:
Toddlers will find joy in seeing the fun and funny faces of the toys smiling up from the pages of the book.
Preschoolers will be urged on in playing with their favorite toys in creative ways…or perhaps will be inspired to play more with wooden trains if they aren't already playing with them often.
Kindergartners and older kids will be inspired to keep taking their trains — or whatever their old favorite toys are — out of the toy box by the idea of inventing something new.
Even More Track-tastic Fun — and Learning — Online!
On the Old Tracks, New Tricks website, you'll find even more ways to have fun with this book at home or in your classroom or library! There you'll find:
You'll also want to check out the Old Tracks, New Tricks Instagram account for lots more fun, and I often post behind the scenes photos on the Play Trains! Instagram account, too.