Along with wooden train sets, wooden train tables are a classic feature in the children's playroom at home and the preschool classroom. It can be hard, however, to get an idea of all the options that are out there — after all, I consider myself a pretty expert train stuff finder at this point, and it took me several different search tactics to discover all the train tables here on this list! And so I hope this list of the best train tables for toddlers and preschoolers will be helpful in your search.
This guide was last updated on September 10th, 2018.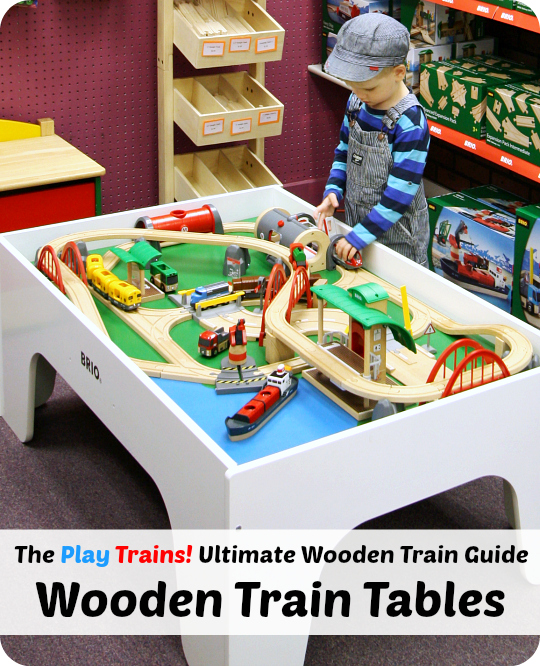 This post contains affiliate links to websites that sell these products. If you click on one, we may receive a small commission — at no additional cost to you — on anything you buy for a certain length of time afterwards. Read our disclosure policy for more details.
Posts in the Ultimate Wooden Train Guide:
The Best Wooden Train Sets
The Best Wooden Train Sets: UK Edition
The Best Wooden Train Tables for Toddlers and Preschoolers
Do You Need a Train Table?
Alternatives to Gluing Wooden Train Tracks to Train Tables
Wooden Train Tracks
Wooden Train Bridges and Elevated Tracks
Roundhouses and Engine Sheds
Organizing Wooden Trains and Track
Wooden Train Freight Cars
…and more to come!
It's taken me a long time to figure out how to write this post. While I have a great deal of first-hand knowledge regarding the different brands of train sets, there are only so many train tables that one family can own (in our case, one at home and one at my mom's house). However, as I got into the research for this, I realized that we've played on many different train tables in bookstores and toy stores, and from carefully reading as many reviews as I could, I think I was able to tell which train tables were a good bet.
I've listed as many train table options as I could here, but as you'll read, some of my recommendations for the tables on the list are much more enthusiastic than others.
But, before you read this list, there's a question you should ask: do you really need a train table? If you're unsure whether or not you should buy a train table, you should read my honest rundown of the pros and cons of train tables, based on my own experience and on conversations with other train parents. I've changed people's minds in both directions!
Train Tables without Train Sets
If you already have a complete wooden train set, or plan on purchasing one separately, buying a train table that doesn't come with a train set makes a lot of sense. Also, most of the higher-quality tables I found do not come with train sets included, so if you can afford to buy them separately, I recommend starting here.
If you buy a train table and need a set to go with it, you can find lots of great options in our Guide to the Best Wooden Train Sets (which now appears in both a US edition and a UK edition).
Made in the USA Hardwood Train Tables
These are likely the sturdiest, safest way to go when buying a train table. Some of them are also a very, very good deal in comparison to some of the name brand train tables I'll list below, considering they're much better made with better materials. If you can get one of these, it's probably your best bet. Especially if your little one is likely to try to climb on top of the table like mine did!
Modular / Portable Train Tables
Connect 2 Play 24 x 48 inch Portable Activity Table (2 sections) and Connect 2 Play 48 x 48 inch Modular Activity Table (4 sections)

These sturdy plastic activity tables are easy to put together — once you have the hang of it, it only takes a few minutes! — and you can rearrange them in different configurations.
The pieces fit back into their original box, making the tables ideal for grandparents or families living in small spaces because the table can be packed away in a closet or attic when not in use.
This is also a great table to use at events outside of the home, or at children's museums, train museums, or in preschool classrooms. I own four of the 2 section packs, and I take them with me to train shows when I'm promoting my wooden train book with the custom train set I made to go with it.
I really enjoy using these tables, and I wish I'd known about them when the Little Engineer was younger! While they may not be made from wood, there are lots of practical reasons that make them a very useful option.
Major Brand Train Tables
Train Tables with Train Sets Included
A all-in-one train table and train set package can be an exciting gift, and has the benefit of coming with everything you need to play included. This can save you a lot of money, but sometimes you get what you pay for (the only brands from my Best Wooden Train Sets list that make train tables with sets included are Bigjigs and Imaginarium.) Often the play board top for the table is painted or printed with a design that coordinates with the train set, which can look nice, but can also be limiting once your child is ready to build their own train layouts. Also, the temptation to glue these train sets to their matching train tables is strong, so do yourself and your child a favor and read our list of Alternatives to Gluing Train Tracks to Train Tables to find out why and how to avoid this.
Available Only in the UK:
Square Train Tables
We have a square train table in our house. It's a great space saver. Building complicated track layout can be difficult, but not impossible on a square train table. (Let me know in the comments if you'd like me to do a post on how to fit fun track layouts into the confines of a train table!)
Maxim Enterprise Inc Train Table with 45 Piece Train Set ( US )

This table is very similar to the table we own, although ours is white with a blue two-piece top, and this has a natural look with a one-piece green top. (We really like our table!) The product description says it's made from 100% hardwoods (at least, it does when you scroll down to see the version without the "1%" typo), although I can't find any confirmation of that in the reviews. It also includes a small fabric storage bin.

Kidkraft 2-in-1 Activity Table ( US / UK / CA )

This is a very small (23″ x 23″) play table, suitable for toddlers or very tight spaces. The play board is reversible, with scenery for a train set on one side and a LEGO-compatible surface on the other side. When you lift up the board, there is storage underneath.
Alternatives to Traditional Train Tables
DIY Train Tables
I hope to eventually do a full post on DIY train tables, but for now I have a Pinterest board filled up with all the best ideas I could find. We do have a few posts here on Play Trains! featuring the beautiful wTrak DIY modular wooden train tables that you should take a look at if you're interested in making your own, especially for younger children or a public space.
Follow Jessica | Play Trains! | Epic Fun for Kids's board DIY Train Tables on Pinterest.


Once you have your train table picked out, you'll want to browse our Train Play archives for lots of ideas of what to do with them! You may want to read our Guide to Wooden Train Tracks for advice on expanding upon a basic train set as well. I also recommend signing up for our email newsletter to keep up with our new train ideas and activities as we post them.
A note on safety: Wooden train sets generally involve a fair range of choking hazards, especially when you're dealing with freight for freight cars or other accessories. There is also the possibility of a magnet coming loose, although the only time we've had that problem in the past three years was on a Brio freight container when the plastic square concealing a magnet came loose. (We checked all the other freight containers and none of the others seemed to have the same problem.)
Most wooden train sets are rated for age two or three and up because of these dangers. Please take this into account when buying a trains set for your children, as well as their own stage of development when it comes to putting things in their mouths. We were fortunate that the Little Engineer was beyond the mouthing stage when he was only one year old, so we were able to buy wooden trains from the start of his interest in them. Even so, I did put a number of smaller pieces away until I was sure, and I always closely supervised him with his trains.
This guide will be expanded with time. Have a question I didn't answer? Ask in the comments below, or by email!
Need a train set to go with your new train table?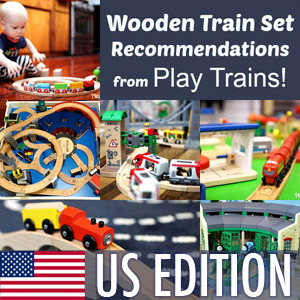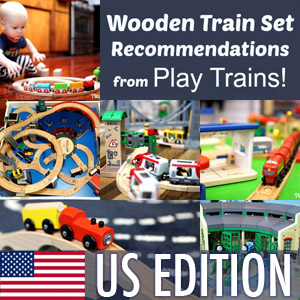 The Play Trains! Guide to the Best Wooden Train Sets