What do you do when you want to introduce your children to all the wonderful things that the world has to offer, but all they want to do is play trains? You bring the world to the train set! If anything has ever exemplified this philosophy of mine, it's this wooden train track and toy vegetable stacking activity that I came up with today to take to the kids' tent at our local farmer's market.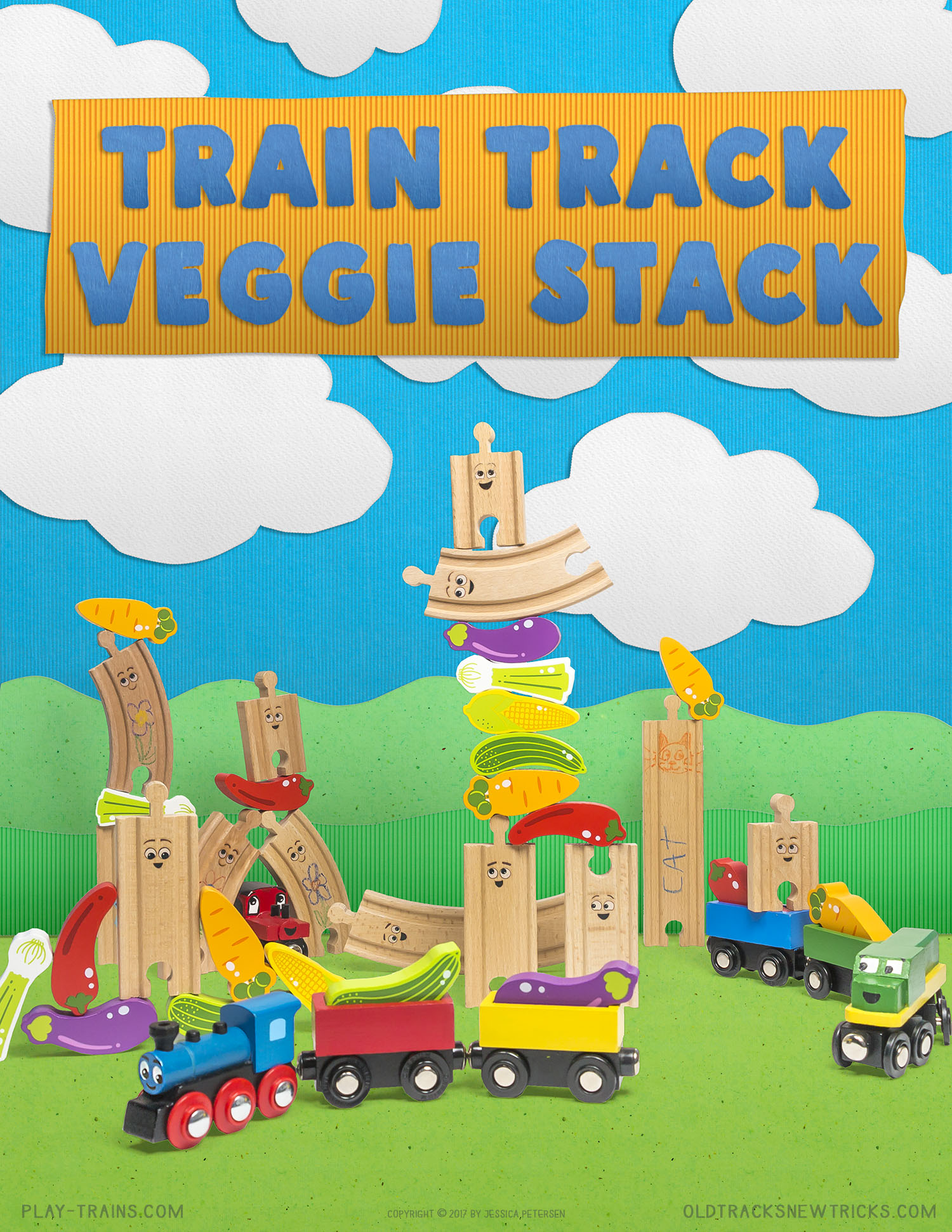 This page contains affiliate links to Amazon.com. Read our disclosure policy for more details.
The beauty of wooden train sets is that it's very easy to incorporate just about anything your child is interested in — or that you'd like your child to learn about — into train play. When the Little Engineer was a toddler, I realized I could teach him just about anything using his train set, and I have yet to be proved wrong in that belief. Knowing this has added so much fun and creativity to our lives, and it ultimately inspired all the inventive "track-tivities" in my wooden train picture book, Old Tracks, New Tricks.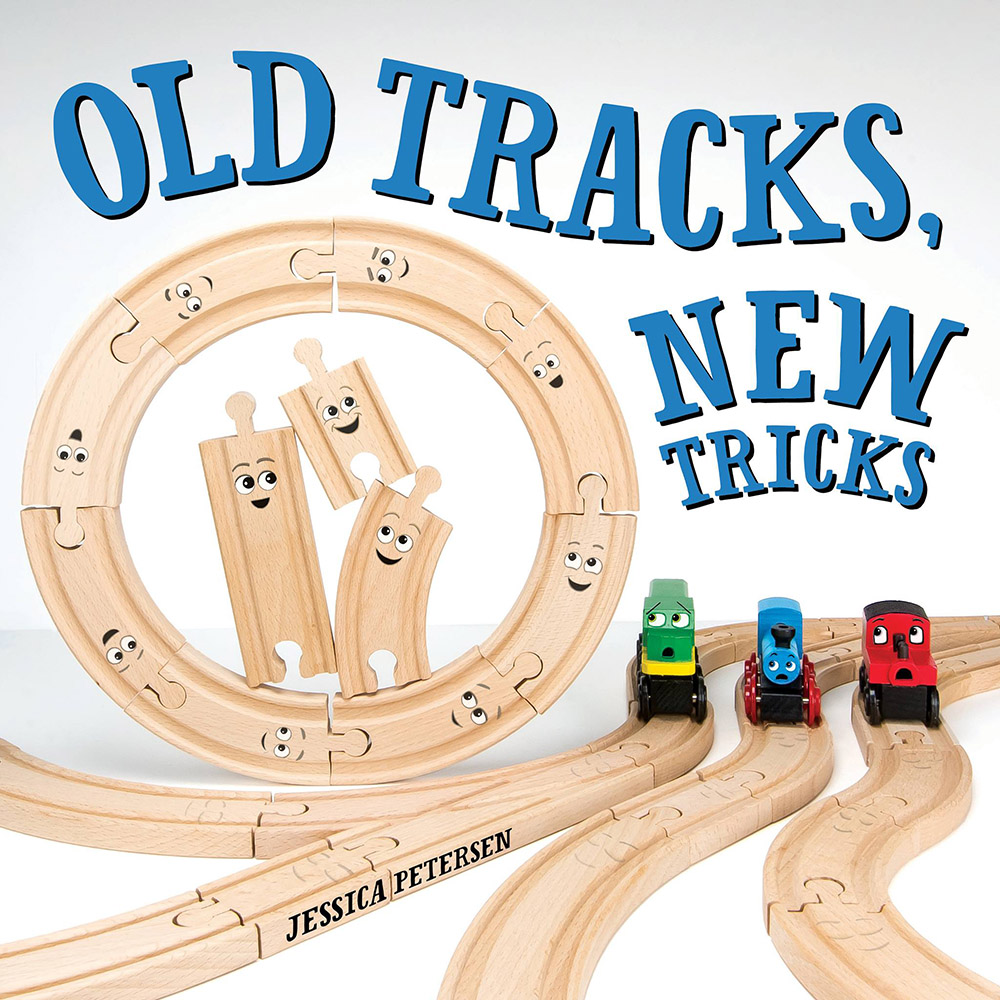 One Simple Wooden Train Activity that Helps Preschoolers Love Veggies
When I had the opportunity to share my book and some of our activities at the local farmer's market, I knew I wanted to come up with something that combined our Old Tracks, New Tricks train set with something farmer's market-themed. I found this wooden Stacking Veggies game (made by Hape, which also makes some good train sets), and I was thrilled find that not only could we stack the tracks and the veggies together, but the veggies actually fit in the small wooden freight cars I painted and used first in the illustrations in the book and now in our event train set. (This freight car comes one-per-box in both of Orbrium's sets of unpainted wooden trains.)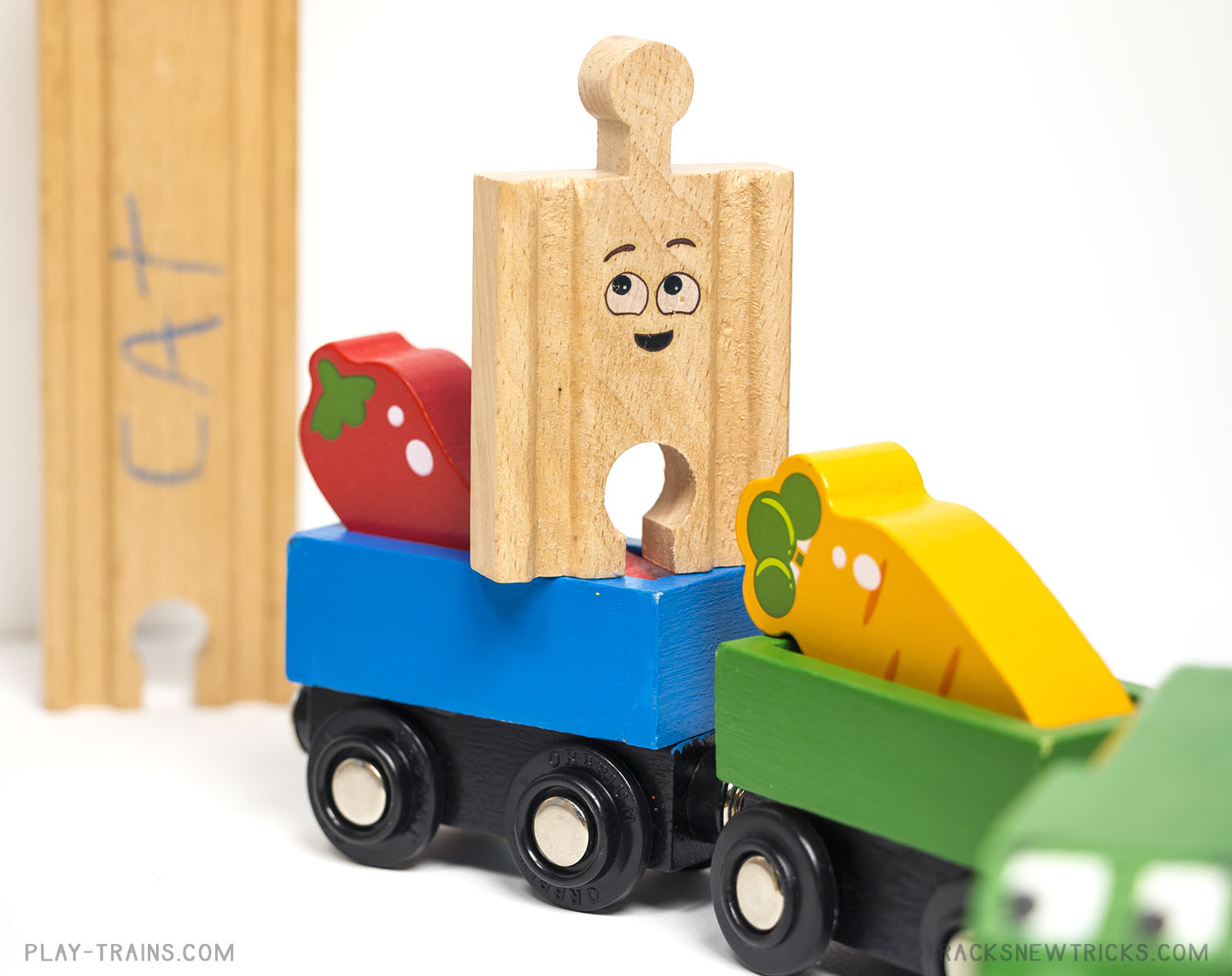 Ways to Play and Learn
Here are some of the ways children might play with this combination of toys:
Stacking the tracks and the veggies: The veggies are smooth and slightly curved, which makes this a slightly trickier stacking activity than with just the tracks alone. But they also add a fun rocking motion, and they interact in interesting ways with the curved train tracks, as well as the connection areas on all types of train tracks. (Due to both the extra challenge of this activity and the 3+ age rating of the veggie stacking game,
I recommend this activity for preschoolers and school age kids.)
Transporting the vegetables: Because these veggies fit in these small wooden train freight cars, they should fit in most other freight cars. Children may enjoy getting out some building blocks, building farms and markets, and taking the produce to market.
Playing farmer's market: Personifying the trains and tracks (as they are in Old Tracks, New Tricks) opens up the option for a pretend play farmer's market or grocery store with the tracks and trains as farmers and customers.
Sorting or patterning by color and type: Because many wooden trains are painted in bright colors, adding another colorful type of toy gives children lots of different objects to sort or make patterns with. The trains can also transport the veggies to different sorting areas (such as a piece of paper in each vegetable's color).
Designing pictures: While I was editing the photos above, my son took the toys and started making robots with them on the floor. "This one's torso is made entirely of corn!" is one of those phrases that you never really expect to hear in life until you have kids around!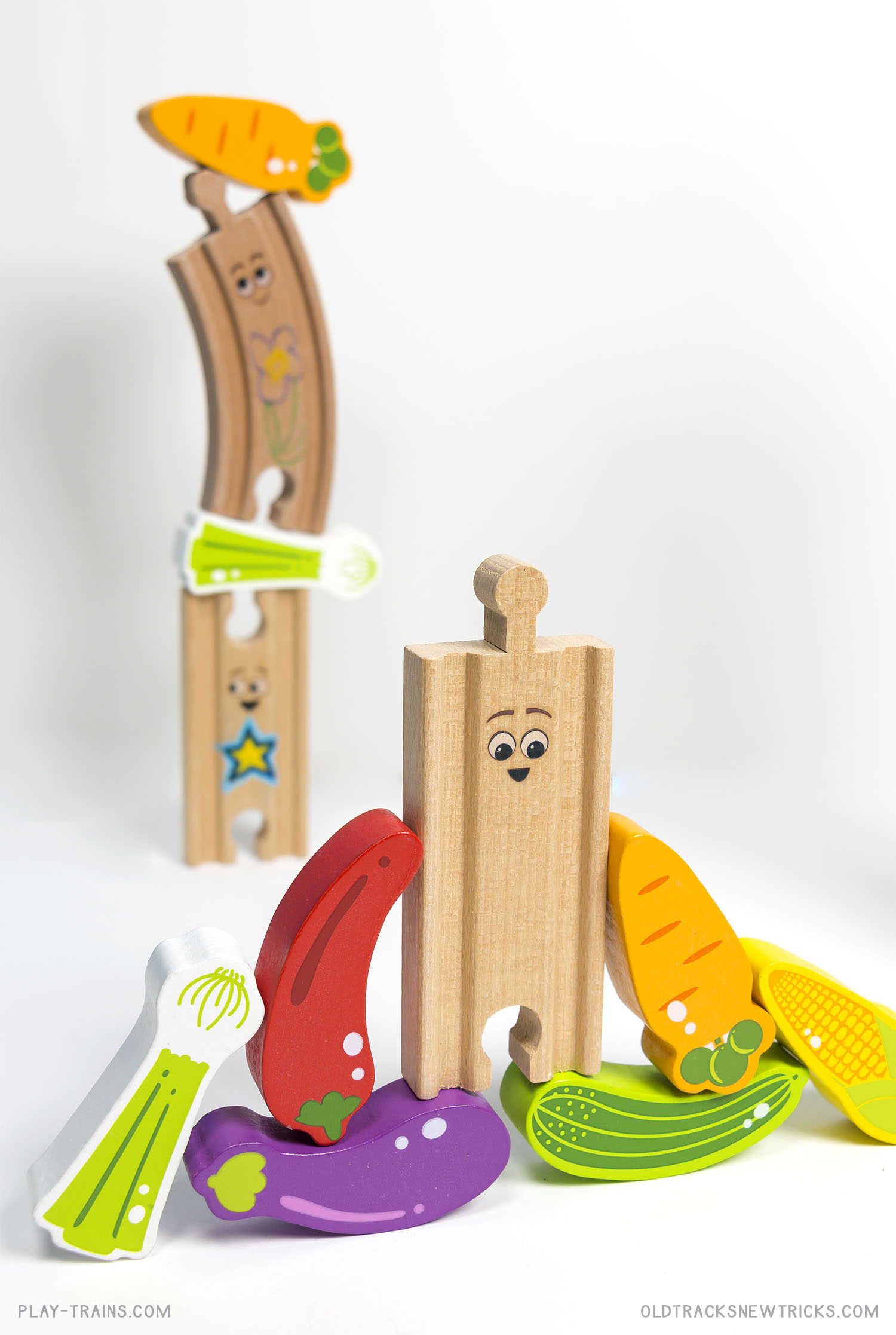 Read and Play
During or after playing with the trains, tracks, and veggies, you could read a book about vegetables, farmer's markets, or farms with you child. Here are some of our favorites:

Fresh-Picked Poetry: A Day at the Farmers' Market by Michelle Schaub is a new, lively and fun book of poems that takes children through a day at the farmer's market — an instant favorite at our house! There's a lot of variety to the poems, and any family that attends a farmer's market will recognize the many joys that Schaub brings to life with her words.
Eating the Alphabet by Lois Ehlert is a really bright and lovely board book that identifies a wide variety of fruits and vegetables, linking them to the letter of the alphabet each starts with. We've had this one for years, and my son still likes looking at it.
A Day at the Market by Sara Anderson depicts a full day at Seattle's Pike Place Market — a place my son knows and loves. The rhyming text is fun to read aloud, and the pictures portray the vibrant chaos of the market well.
And if your child has fun with this one and wants to try more unusual activities with their wooden trains, Old Tracks, New Tricks has more than twenty activities to try, plus a guide to inventing your own track tricks at home.
Free Printable Activity Poster!
Head over to the Old Tracks, New Tricks website to download a free printable Train Track Veggie Stack poster to inspire your child to play in new, inventive ways!