Many parents decide that gluing wooden train tracks to their child's train table is the way to go. If you've ever watched a toddler playing with a wooden train set — tracks being pulled apart, bridges getting knocked over, the child getting frustrated, and parents rebuilding the layout over and over — it's easy to see why! But when that same child is old enough to want to build his or her own tracks, that possibility will no longer be open to them. Fortunately, there are several temporary alternatives to glue that preserve the play value of a wooden train set for the future. And if you do decide to glue your tracks down, I have a few ideas for how to keep things interesting for longer.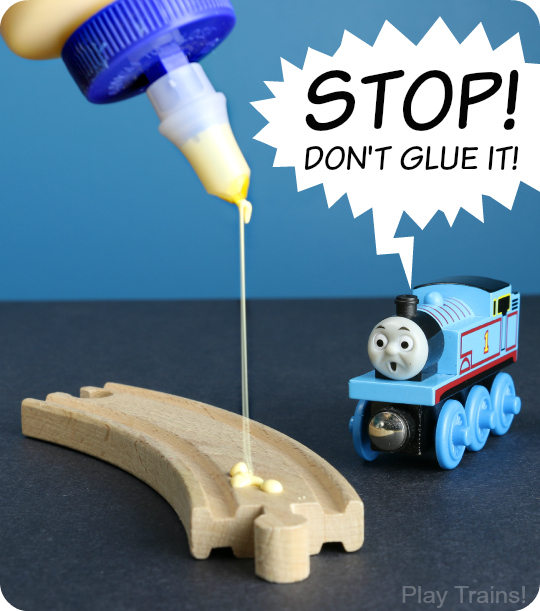 This post contains links to Amazon.com, Amazon.co.uk, and Amazon.ca. If you click on one, we will receive a small commission — at no additional cost to you — on anything you buy at Amazon for a certain length of time afterwards. Read our disclosure policy for more details.
Posts in the Ultimate Wooden Train Guide:
The Best Wooden Train Sets
The Best Wooden Train Sets: UK Edition
The Best Wooden Train Tables for Toddlers and Preschoolers
Do You Need a Train Table?
Alternatives to Gluing Wooden Train Tracks to Train Tables
Wooden Train Tracks
Bridges and Elevated Tracks
Roundhouses and Engine Sheds
Organizing Wooden Trains and Track
Wooden Train Freight Cars
…and more to come!
I understand this temptation, and its roots in the frustration of rebuilding the train tracks again. And again. I, too, have thought back to moments spent sitting blissfully on the sidelines while my toddler played, enthralled, at the bookstore train table, with its charming — and immovable — train layout, and wondered why it couldn't be so easy at home.
But before you permanently affix your child's wooden train set to a train table, take some time to consider a few things:
Gluing the tracks to the train table turns a wooden train set from an open-ended toy into a one-purpose toy. So much of the value of these wonderful toys lies in the creative, constructive possibilities inherent in the wooden train tracks. Beyond the countless possible train layouts a child could build, I've seen my son use his tracks as building materials with building blocks, invent "traps" for his wooden trains, have train track sword fights, and many more spontaneous reinventions.

For more inspiration, my picture book, Old Tracks, New Tricks, includes more than twenty imaginative STEM/STEAM activities to do with wooden train tracks and trains, both in the story as the characters try them out and in the back as activity instructions. There's also a kid's guide to inventing one's own track tricks.

Gluing the tracks to the train table will shorten the time the train set is interesting and developmentally valuable to your child, most likely by years. Think about it: while pushing a wooden train around the same track over and over may (or may not) interest a toddler for several months, how long would that occupy most four- or five-year-olds? If a child's wooden train set is glued down, that child will likely seem to "out grow" trains much sooner than a child who can begin to experiment with building layouts. I hear of many children continuing to pull out their old wooden tracks from time to time though elementary school. Which is unsurprising, given the open-ended, creative, puzzle-like challenge that makes track building so enjoyable for some of us adults!
Some children — despite enjoying train tables in stores and other public places — seem surprisingly uninterested in the beautiful new train table in their home. Often taking the trains and tracks off the train table is all it takes to renew their interest in trains. If the tracks are already glued on when the train table is presented to the child, there's no opportunity to see if they'll play with them away from the train table.
Gluing the tracks to the table also can limit and shorten the usefulness of the table. We have gone back and forth between using ours as a train table, a LEGO table, an art table, and an activity table. Train tables can be converted into other types of tables once they aren't used as train tables anymore. That's not impossible to do if the tracks are glued down, but it does make it harder.
For most families, gluing down the tracks is a waste of money. After all, wooden trains aren't cheap. Anything that drastically limits the variety of play and shortens the time a toy will be valuable to your child is something that is preventing you from getting your money's worth.
So, what to do?
First, reexamine the necessity. Ask yourself, "Am I gluing the tracks to the train table to save my child from frustration, or to save myself from frustration?" Or does it just seem like the thing everyone you know does with train tables — the collective parental wisdom that sounds logical? Like I said above, I've been there, wishing that the trains were an independent play activity when my son was a toddler. But more of the fun — and so much of the educational value — we've gotten out of my son's love of trains has been from building train layouts together than from playing with them. It's one of those "it's the journey, not the destination" things.
If your child isn't too frustrated by the tracks falling apart, try focusing on making the most of building the tracks with them. Even when they are too young to put the tracks together themselves, there is so much children can learn from watching you, giving input into the design of the layout, and helping in any way they can. And their early attempts at fixing broken tracks and building their own layouts, while perhaps not successful, seem to encourage all sorts of great things — problem solving, fine motor skill development, spatial awareness, asking for help when it's needed, and so on.
However, if your child is getting overwhelmingly frustrated with the tracks coming apart, that's a different situation. Then I believe securing the tracks in some way will make train play more fun and more valuable to your child.
And I completely understand that some families truly don't have the time to put the tracks together over and over again. And that's okay. If your child is happy to play trains alone as long as the tracks stay together, and you really need those moments of peace, I'm so happy you can find them! There are plenty of other ways to engage with children through train play if you just don't have the time to build the tracks with them.
However, you can secure the tracks in temporary ways. Here are some temporary alternatives for attaching train tracks to a train table.
[ulp id='BxHUINcgHwwtqIvF']
Alternatives to Gluing Down Wooden Train Tracks
Safety warning: some of these methods involve materials that, depending on what size you make them, could be choking hazards for children who are of the age or still in the stage where that is a concern. Please keep that in mind when considering and implementing these strategies.
No-residue Duct Tape ( US / UK / CA ) is my number one recommendation for keeping train tracks together, mostly because I know from experience that it really works! We had a track running around the top railing of the Little Engineer's KURA bed from IKEA for almost two years, with the tracks held together with small pieces of no residue duct tape and secured to the railing with loops of the tape attaching it every few tracks. When we removed the tape after all that time, there was no damage to our tracks and nothing sticky left behind.
As I mentioned in the Bridges and Elevated Tracks section of our Ultimate Wooden Train Guide, you can use loops of the no-residue duct tape to attach tracks to elevated track supports. We've also used loops of the tape to attach wooden building blocks to each other and to the tracks to make our own custom supports.
I hear blue painter's tape also works, but it's not as strong as the duct tape, and I believe that it isn't meant to be left on unfinished wood long-term.
Carpet Tape ( US / UK / CA ) is an idea my husband suggested when I was discussing this post with him. We haven't tested it with wooden train track, and I don't know much about carpet tape myself, and he pointed out that there's a possibility that it could pull up the paint on the surface of the table when the track is removed later. So there's that. But it has the advantage of being double-stick, so there's no need to make tape loops like we did with the no-residue duct tape. (If you've used carpet tape to temporarily attach train tracks to a train table, or decide to give it a go after reading this, please let us know how it works in the comments!) Update: I've heard from a reader that the carpet tape idea does, indeed, work. Hooray!
Suretrack Clips ( US / UK / CA ) are another way to keep train tracks together. These work pretty well, but they do tend to loosen up slightly with use, so be prepared to adjust them from time to time. But they will certainly decrease the frequency with which you'll have to rebuild the tracks. Also, they can be used to build all sorts of exciting train tracks. For some examples, see our Wooden Train Ski Jump and DIY Upcycled Wooden Train Platform posts.
Mounting putty (poster putty) is something I've used to attach decorations to tracks (Wooden Train Track Christmas Ornament), LEGO to trains (Design Your Own LEGO Wooden Train), and tracks to all sorts of things while I was shooting the photos for Old Tracks, New Tricks (how else do you get a bunch of train track dominoes to hold their positions in mid-topple?), and a reader pointed out it could be used to stick tracks to train tables as well. The putty, in my experience, is completely removable from the tracks and surfaces I've tried it on. (If a little is left stuck on when you remove it, just roll a piece of the putty over it.) Just make sure to use very small pieces of it, and to place them in the middle and corners of the track, to keep it sitting even. The biggest challenge with this method is going to be getting the whole track to be an even, flat surface.


Silicone Door Gaskets are a clever solution recommended by a reader in the comments below, who made this helpful video to demonstrate how to apply them to your wooden train tracks:
Secure the tracks to the table with small screws. A reader left this great tip as a comment on our Best Wooden Train Sets post: "We put together a simple train table with a painted plywood top for my son and countersunk holes in the middle of the track pieces so they can be secured with small screws. The table was our coffee table for awhile and is now in my son's room. We rearrange the track about once a month or so at his request." I love that this method allows for the tracks to be rearranged and, eventually, freed from the table entirely once the child is old enough to build with them or keep them together. I found a few illustrated DIY Train Table tutorials that explain exactly how to do this:
Cover the train table top with felt. According to a reader's comment below, while it will not hold the tracks in place, felt apparently stops the tracks from sliding around so much. He says, "I decided to glue felt down to the table surface and affix adhesive backed velcro to the bottom of the wooden track.  During my testing, I found that the velcro was really wrecking the surface of the felt when pulled off, and it wouldn't allow the pieces to shift the way they need to when laying the track out.  What I discovered is that the track sitting on top of the felt alone provided enough friction to keep the pieces from sliding around while still allowing the layout to shift as needed to make the connections while building.  Of course, having raised edges on the table is a must just in case he tugs on a section and shifts the whole layout.  So far, other than pulling the train house off to play with and knocking over supports on raised sections, he hasn't really shown any interest in dismantling sections of track."
If you do decide to go the permanent route…
Glue a partial track to the table. This would work well if your child is more likely to bump the tracks and knock them over than purposefully take them apart. You could build a train layout on the table, and then only glue the tricky parts of it down — bridges, etc. — leaving the possibility to rearrange the other tracks in different ways. Or you could build a big circle or oval all the way around the perimeter of the train table, with split tracks leading toward the center. Just make sure that the split tracks are positioned in a way that can be connected by the loose tracks before you glue the oval down.
Attach a small train set to a train table for the toddler years, and wait to start a collection until later. This is another possibility, although be aware that a toddler might seem to lose interest in trains if they only have a very simple, static layout to play trains on. However, there are lots of ways to keep train play interesting.
Consider a modular train table. While the beautiful wTrak modular wooden train table system was designed with train shows and other public venues in mind, these train tables would look beautiful in any home. The tracks are permanently attached, but the small tables can be configured in different ways to keep the train layout from getting old. You can learn more by visiting the wTrak site, or reading our posts that feature wTrak. (We're lucky enough to be able to play on these tables a few times a year!)
Have another idea? Share it in the comments, and I may add it to the list!
This guide will be expanded with time. Have a question I didn't answer? Ask in the comments below or by email!
If you're looking for a train table, check out our list of the best wooden train tables for toddlers and preschoolers.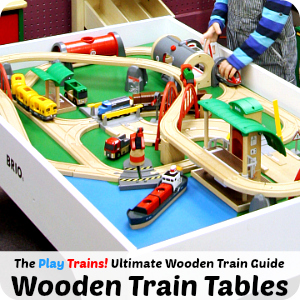 Creative activities with wooden train tracks
There are lots of great examples of all the creative things your child can do with wooden train tracks in my picture book, Old Tracks, New Tricks!