This activity started from a simple question: "Mama, do they make Play-Doh train sets?" We did a quick search on the internet to confirm that no, Play-Doh didn't have a train-making set. Disappointment was just starting to set in when I suggested, "Why don't we make our own play dough train set?" His eyes lit up, and a second later we were off to dig through our play dough tub.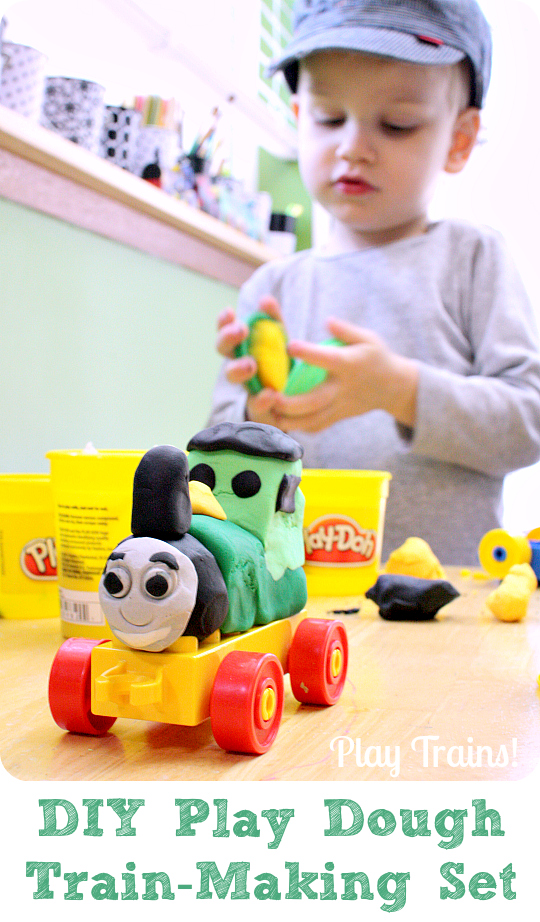 This post contains links to Amazon.com. If you click on one, we will receive a small commission — at no additional cost to you — on anything you buy at Amazon for a certain length of time afterwards. Read our disclosure policy for more details.
Now, I could have just sat down and made trains out of play dough with him — we've done that many times in the past — but two things came to mind. The first was how important "sets" are to the Little Engineer. He loves making his own, buying them at the pretend store, opening them, and packing and repacking them. This activity also works well as a way for him to cope with disappointment. When we won't buy him a play set he wants, he'll often suggest making our own version of it, which I'm always happy to help with.
Second, I started thinking about what a Play-Doh brand train set would include. To make it really cool, the trains would have to have rolling wheels. With two tubs full of Lego Duplo in the Little Engineer's room, I knew exactly how to accomplish that.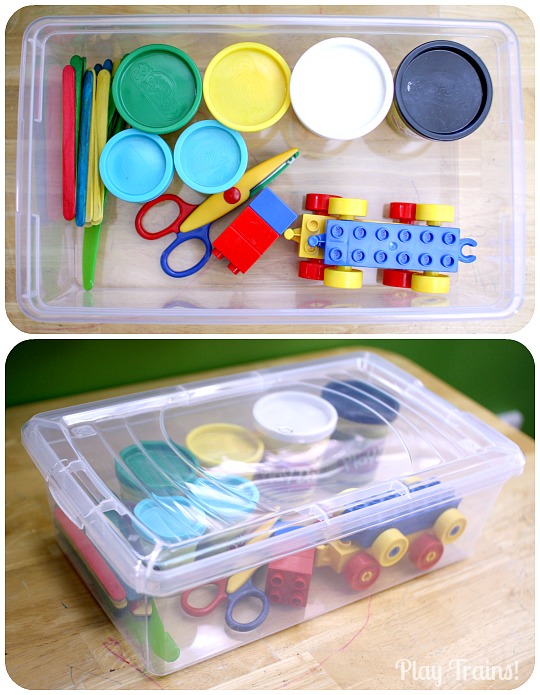 We packed our set neatly in a plastic tub with a lid, adding several containers of Play-Doh (you could use homemade play dough, of course), Duplo car bases plus a few bricks, and craft sticks and scissors to work the play dough with. (If you're in need of Duplo car bases, take a look at this Lego Duplo Number Train set. It comes with four of them for a much more reasonable price than I paid to get enough cars to make a proper train a few years ago. Plus, it's already a train!)
I closed the lid. The Little Engineer excitedly opened it and removed all of the pieces, commenting on them as he did as if he was opening a new play set from the store.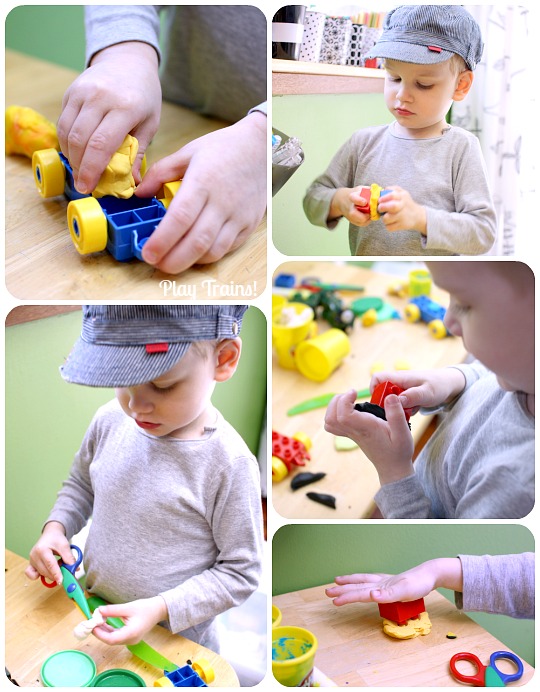 He really got into pressing the play dough onto the Duplo bricks, pressing the bricks into the play dough, and cutting and marking the play dough with the scissors and a knife he went and got himself. He didn't end up with something you or I would think of as an end product this first time, but he was pretending to make a real engine and thoroughly enjoyed the process.
Meanwhile, I made a little engine of my own. The play dough stayed squished onto the top of the car base pretty well. I made a thick cylinder for the boiler, added a cab in back and a smoke box and funnel in the front, and details like the brass dome and the cab room and windows. The face took the most time to make, but even so, I didn't spend too much time on it.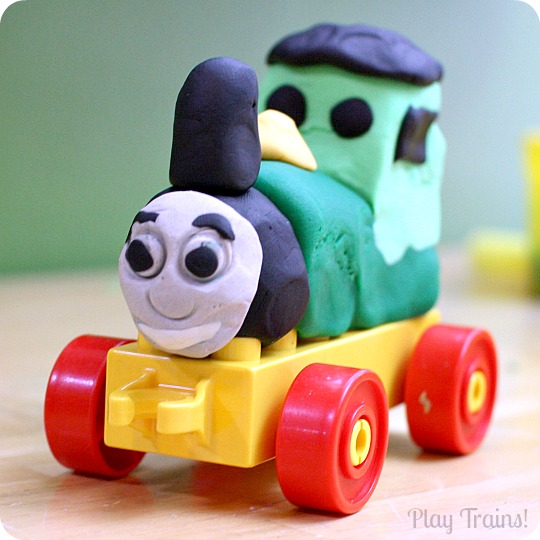 It was supposed to be Percy, but turned out looking a lot like Oliver. Either way, the Little Engineer thought it was pretty cool and had fun rolling it around. He was especially inspired by the face, and tried his hand at making his own, using a marker's cap to make the nose and mouth in the same way I used to to outline my engine's facial features.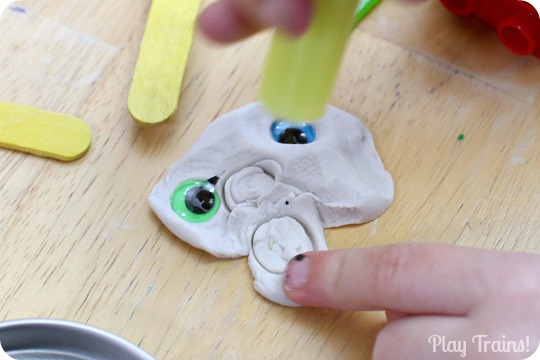 This was a great way to pass an afternoon playing and creating together! Another day, after a trip to the store for a big pack of Play-Doh, we came up with more additions to our set, plus ways to help the Little Engineer create trains of his own…and one of these days I'm going to write about it!
Here's a fun play dough activity to play with toy trains this fall: