I'm very excited to be part of a series of Fall Invitations to Play this week. Along with four of my blogger friends — Ann from My Nearest and Dearest, Stephanie from Twodaloo, Shaunna from Fantastic Fun and Learning, and Chelsey from Buggy and Buddy — we'll be sharing five ways to invite kids to play this fall. That's a total of 25 excellent activities over the course of a week!
Our first contribution to the series is a pumpkin patch train small world. It turned into so much more than I ever could have expected: sensory play, fine motor skills, drawing, writing practice, world building, storytelling, and — best of all — an entire afternoon of laughter and bonding between the Little Engineer and myself!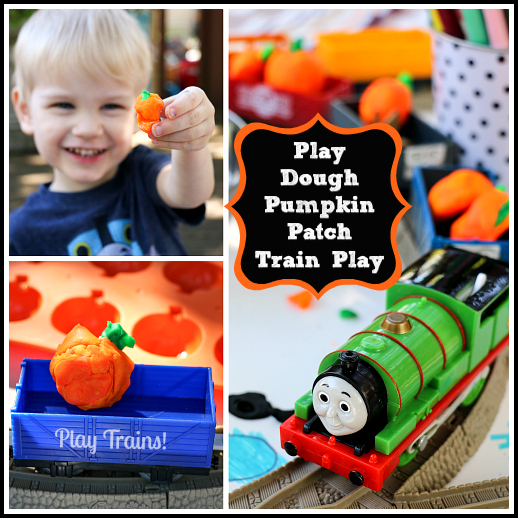 Invitations to Play
While I'm no expert on the subject, this concept has resonated with me, and I feel it's well-suited to train play. In my understanding, the idea is to invite a child to open-ended play, providing opportunities for them to potentially choose to explore certain skills or concepts through the arrangement of the materials involved.
If you're interested in learning more about Invitations to Play, I encourage you to read these articles by three educators who do a wonderful job of explaining what they are and how to go about creating them:
Play Dough Pumpkin Patch Train Play Invitation
This invitation was possibly a little more inviting than I counted on. As you can see, a certain someone swooped in and drew train tracks in the top left hand corner before I could raise my camera!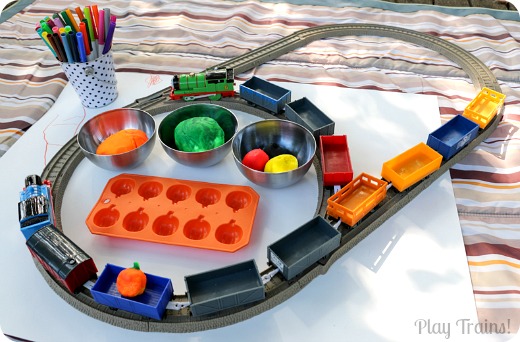 Materials:
Play dough: orange and green (and other colors as desired)
Pumpkin silicone ice cube tray (from the Dollar Tree)
Poster board (or large sheet of paper, but the poster board held up better than paper usually does beneath train tracks)
Markers (these worked well on the smooth side of the poster board)
Engine(s) and loadable freight cars (I chose motorized plastic trains due to the larger size of their freight cars, but wooden or diecast trains would also be fine.)
Train tracks (a simple circle or oval is sufficient)
Set up:
Lay down the poster board, and build a simple train layout overlapping it. Place the play dough in bowls in the center (it will stick to the poster board, so the bowls are necessary), along with the pumpkin ice cube tray. Set the trains on their tracks, and the art supplies nearby.
How we played:
I knew the Little Engineer would enjoy this invitation, but I wasn't prepared for how far and wide it would range.
Adding the markers to the set up was a last-minute idea, meant to engage him through his current writing and drawing obsession. It turned out to be a very good instinct. He drew train tracks, a river (lifting the tracks up to draw it flowing beneath them), ballast stones along the tracks, ponds, fish, fish eating leaves floating down the river (this was very, very funny to him), a "great, big spiral" that turned into a ride the state fair, animals at the fair, and on and on. He also wrote "Thomas" and "Percy" next to where each engine waited on the tracks, sounding out the spellings on his own.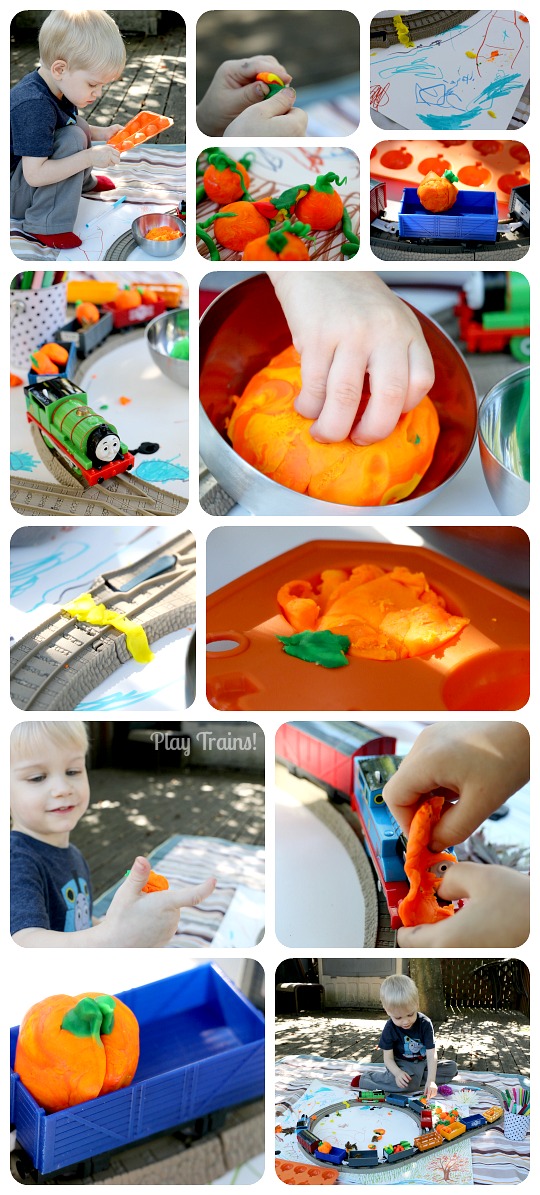 When it came to the play dough, I've never seen him do so many different things with it in one sitting. Getting the pumpkins out of the tray by himself was difficult, but he learned it was possible. Once I was invited to join in his play, we discovered together that two of the flat-backed pumpkins could be squished together to make a fully rounded pumpkin. He thought that was pretty cool. We made a pumpkin patch, and he got very into adding his own vines between the pumpkins.
Moving beyond pumpkins, he mixed custom train paint colors by mashing play dough colors together, squished yellow play dough across the tracks to make a "crossing", made a "mask" for Thomas, and created a number of interesting objects for his fairgrounds, like "swirly sticks" and pizzas.
The one thing he didn't do as much of as I expected was loading and unloading the freight cars, but that did come into play as well. It just wasn't as much of a draw as the more creative activities. I think if we had played longer, he may have eventually done more of that in the end, once his world was built to his satisfaction.
Observations
I loved the way that a subject he was interested in — the state fair — came up through playing with these materials. We will be going to our state fair in the next week or two, and it allowed us to talk about what happens at the fair through drawing and sculpting some of the things we'll see (and eat!) there.
It also alerted me to a bit of internal conflict: the rides at our play dough fair were all "too fast". I assured him that he enjoyed the real rides at the real fair last year, and that some of them were quite slow. While I don't expect him to hold back for long once we get there, now I'll have some insight as to why he might be hesitant at first.
Looking for more creative train activities for YOUR kids?
Grab a copy of Old Tracks, New Tricks! In the fun, rhyming story, three creative little wooden train tracks stand up to the bossy trains and teach the whole train set that old tracks — and trains! — can learn new tricks. Full instructions for the 20+ "track-tivities" in the story are included in the back of the book, along with an illustrated guide to teach kids how to create their own "track tricks." You can find tons of extension activities at the Old Tracks, New Tricks website!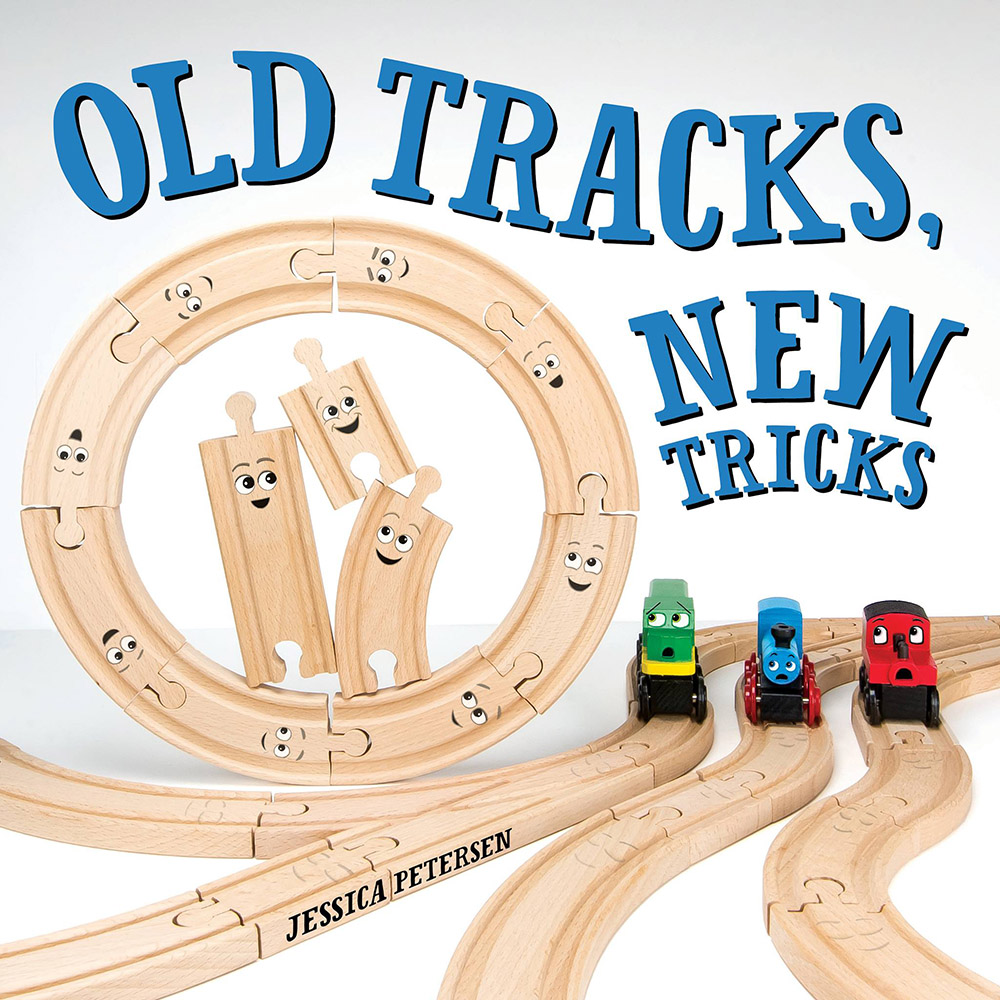 More Play Inspiration
That's it for our first Fall Invitation to Play in the series, but there's so much more to see! Please head over to my friends' fabulous blogs and find out how they've been inviting their children to play in today's posts. Ann, Stephanie, Shaunna, and Chelsey all bring different perspectives and creative ideas to our common goal of enriching children's lives, and I feel so lucky to have their inspiring posts to look forward to each week.
Cinnamon Maple Salt Tray by My Nearest and Dearest
Fall Felt Trees & Leaves by Buggy and Buddy
Simple Apple Sensory Bin by Fantastic Fun and Learning
Pom Pom Apple Picking by Twodaloo
And here are our other invitations to play in the series, in case you missed one: