Today I invited the Little Engineer to build a railroad with fall spices — a wonderful way to engage the senses and imagination in a seasonal way!
This is our fourth activity in the Fall Invitations to Play series. Working with My Nearest and Dearest, Twodaloo, Fantastic Fun and Learning, and Buggy and Buddy, together we've shared twenty invitations for fall play so far, and we have five more to come tomorrow. Make sure to check out my blogging buddies' Invitations to Play, linked to at the bottom of this post. It's so fun to see all the different ways these creative women come up with to invite their kids to play!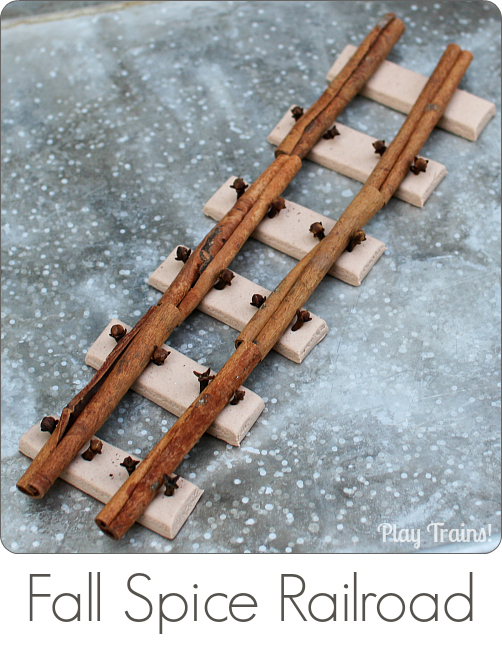 Invitation to Play: Build a Fall Spice Railroad
This invitation combines the appeal of building train tracks with sensory play, exploring the wonderful smells and textures of the materials. Creating with the cinnamon sticks, cloves, and play dough works fine motor skills. And there's plenty of inspiration here for imaginative play!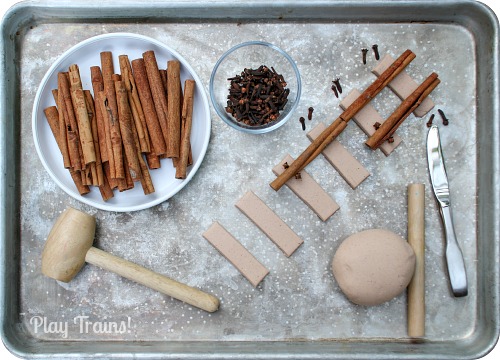 Materials:
Baking sheet or tray (If you're wondering how we got that cool sparkly polka dot effect on our baking sheet, it's easy: load one up with water beads and set it where you'll forget about it for a couple of weeks!)
Cinnamon sticks for rails (I found ours for super cheap at Cash and Carry, a foodservice supply store that's open to the public.)
Cloves for railroad spikes
Play dough for railroad ties (While I'd like to say I made homemade fall spice play dough…yeah, didn't have time for that! I mixed some white and tan Playdoh-brand play dough together and worked in some pumpkin pie spice.)
Dowel or rolling pin
Knife for cutting (I cut the initial railroad ties for the invitation with a pizza wheel.)
Toy mallet or hammer (Caution: the wooden mallet can smash the cinnamon sticks, sending sharp shards flying everywhere. I tested it when that possibility occurred to me, after I took these photos but before the Little Engineer woke up from his nap to play. I love the nod to the way real railroads are built, but I would only include a toy mallet or hammer heavy enough to crush the stick if there was going to be constant adult supervision and the child was one who would go along with a rule to only pretend to pound in the spikes. Safety goggles would be a good idea, too. The Little Engineer did fine with a warning to be gentle and with me sitting right there next to him, but in retrospect I would have left it out.)
Set up:
Roll out some of the play dough and cut rectangles for the railroad ties. Place them on the baking sheet or tray, checking to make sure they're a good distance apart to support the cinnamon sticks. Arrange spices in bowls and place on the tray, along with the knife, dowel, mallet, and remaining play dough, now rolled into a smooth ball. Place two or three cinnamon sticks on the ties, and press a couple of cloves into the play dough on either side of one of the sticks.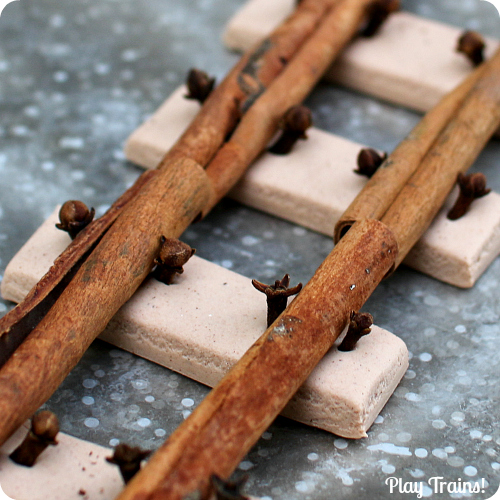 How we played:
The Little Engineer started by taking everything I had put together apart, even placing the railroad ties on top of the play dough ball. Then he built the railroad all by himself from scratch. He also stood a cinnamon stick up in a blob of play dough to be a signal, and when I was experimenting with using the cinnamon sticks as the legs of a play dough animal, he looked at it and pronounced it a water tower. He spent a lot of time rolling a piece of the play dough flat, then flipping it and rolling it flatter.
Children may, of course, ignore the suggestion to make a railroad and create something totally different from this invitation…and that's great, too. (For another track building activity that can be done at the beach or in the sandbox, plus a book that your child can learn a lot more about track building from if they're interested, see our Sand Tracks post.)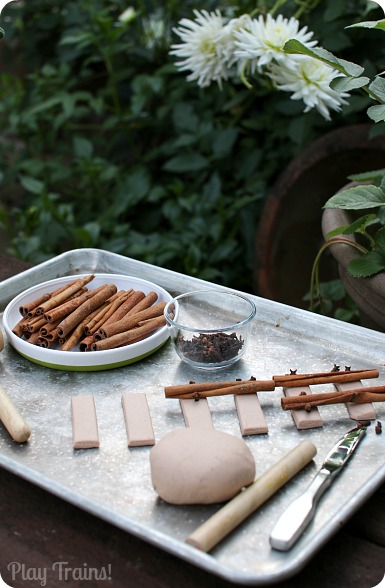 Looking for more creative train activities for YOUR kids?
Grab a copy of Old Tracks, New Tricks! In the fun, rhyming story, three creative little wooden train tracks stand up to the bossy trains and teach the whole train set that old tracks — and trains! — can learn new tricks. Full instructions for the 20+ "track-tivities" in the story are included in the back of the book, along with an illustrated guide to teach kids how to create their own "track tricks." You can find tons of extension activities at the Old Tracks, New Tricks website!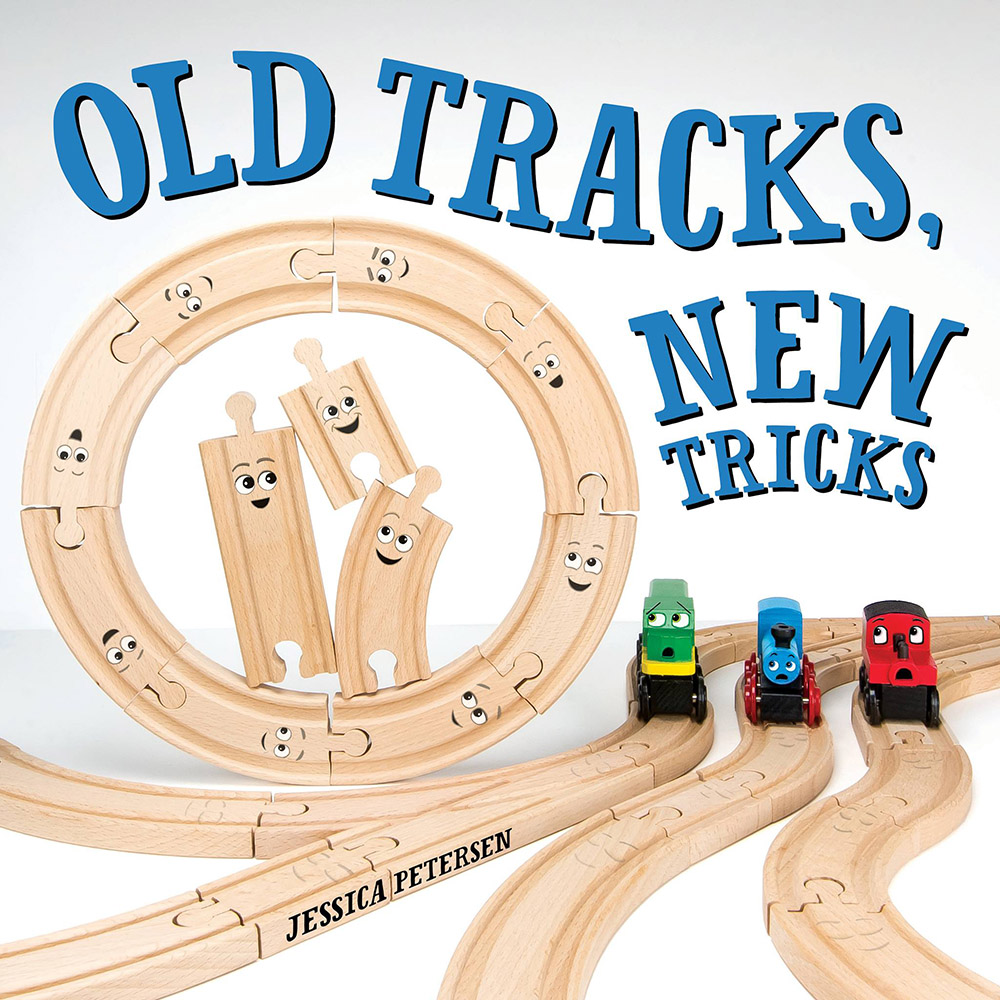 More Play Inspiration
Chelsey, Ann, Stephanie, and Shaunna have some wonderful invitations to share with you over at their blogs today. You won't want to miss any of their creative ideas for fall play!
Apple Orchard Invitation to Playby My Nearest and Dearest
Art Using Fall Colors by Buggy and Buddy
Button Apple Tree by Fantastic Fun and Learning
Magnetic Fall Tree by Twodaloo