Our third Fall Invitation to Play in the series is a squirrel train small world sure to delight any child who loves both woodland animals and trains! The Little Engineer was so excited to play Squirrel Train, and it turned into a creative, relaxing play experience for both of us.
Make sure to follow the links to My Nearest and Dearest, Twodaloo, Fantastic Fun and Learning, and Buggy and Buddy at the end of the post to see the play invitations they're sharing today. I've been really enjoying all of their creative fall play ideas this week!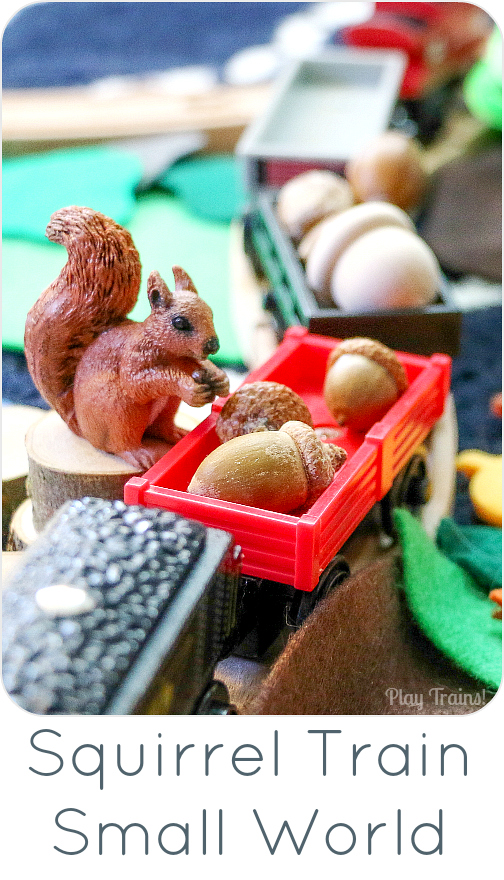 This post contains links to Amazon.com. If you click on one, we will receive a small commission — at no additional cost to you — on anything you buy at Amazon for a certain length of time afterwards. Read our disclosure policy for more details.
Invitation to Play: Squirrel Train Small World
Trains plus cute, furry animals — just saying the words "squirrel train" put a huge smile on the Little Engineer's face! This small world combines natural items with classic craft materials to build a woodland world around the train tracks. And, of course, it couldn't be Squirrel Train without acorns!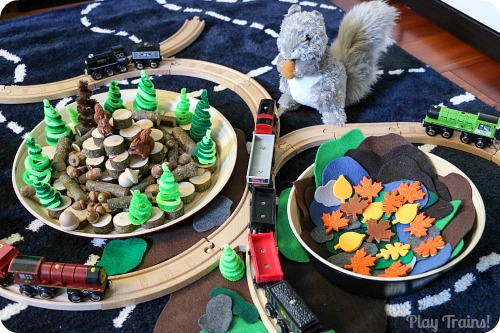 Materials:
Trains and track (I prefer wooden trains with this activity to go with the nature theme, but whatever you have on hand will work just fine. For children who are old enough to build their own layouts like the Little Engineer, lay only enough track to get them started, and have more available nearby. Other than the curves going between the two bowls of materials, he built the tracks for me while I set up the rest of the invitation.)
Pipe cleaner trees (Read our DIY pipe cleaner trees tutorial to learn how to make them.)
Felt scenery (Blue, green, brown and gray felt cut in rounded shapes to be grass, dirt/mud, ponds, and rocks; see more examples in our portable pretend model train set and pipe cleaner trees posts.)
Mini branch slices and logs (We cut some branches pruned from our cherry tree into slices and tiny logs, and they've been fun to use as freight and building materials with our trains.)
Acorns (We used both real acorns and wooden acorns from Cherry Tree Toys. And if they weren't buried in a pile of boxes thanks to our never-ending remodel, we would have used the colorful acorns from Sneaky Snacky Squirrel as well.)
Felt leaves (These were from a pack of felt leaf stickers I got from Jo-Ann's this week. I put them together in a similar way to how I made our valentine heart freight. Note that oak and maple leaf stickers from this pack aren't symmetrical, but the shapes of the two different colors of each type of leaf are mirror images, so make sure to stick one color to the back of the other instead of trying to force two of the same color to line up.)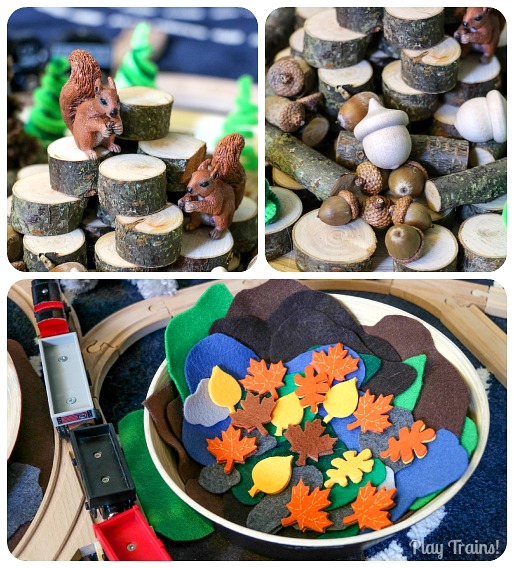 Set up:
Arrange the world-building materials in an appealing manner. Build just enough train tracks to get your child started, and place a few pieces of felt and a tree or two next to them, to suggest how they might be used. Put the trains on the tracks, with as many freight cars as you can muster up.
How we played:
First, the Little Engineer built the world around his train tracks, putting the felt in place on the carpet. Then he picked up a tree and one of the mini logs. "I can fit this in here," he announced, and suddenly our pipe cleaner trees had trunks!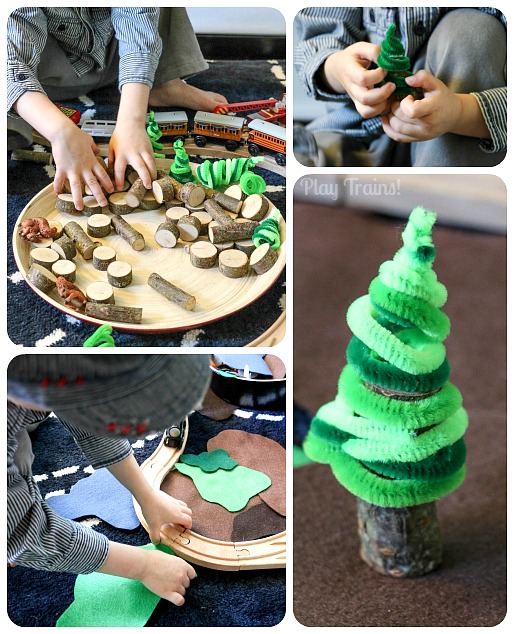 As he moved on into train play, he named this place "Squirrel Town." "There are fifty towns!" he told me, but the only other one I heard about was "Acorn Town." The acorns were loaded and unloaded a few times before he went and found our wooden Mr. Jolly's Chocolate Factory, placing it beside the tracks and declaring it an "acorn factory".
Standing up on the little logs, the trees had a tendency to topple over if bumped, which led to the tracks being blocked and a crane coming to the rescue. He also spent a lot of time (pretend) painting and repainting trains with a paintbrush he found. I got to play, too, in the role of the stuffed gray squirrel in the pictures (who goes by the name of "Squirrels and Squirrels and Squirrels".)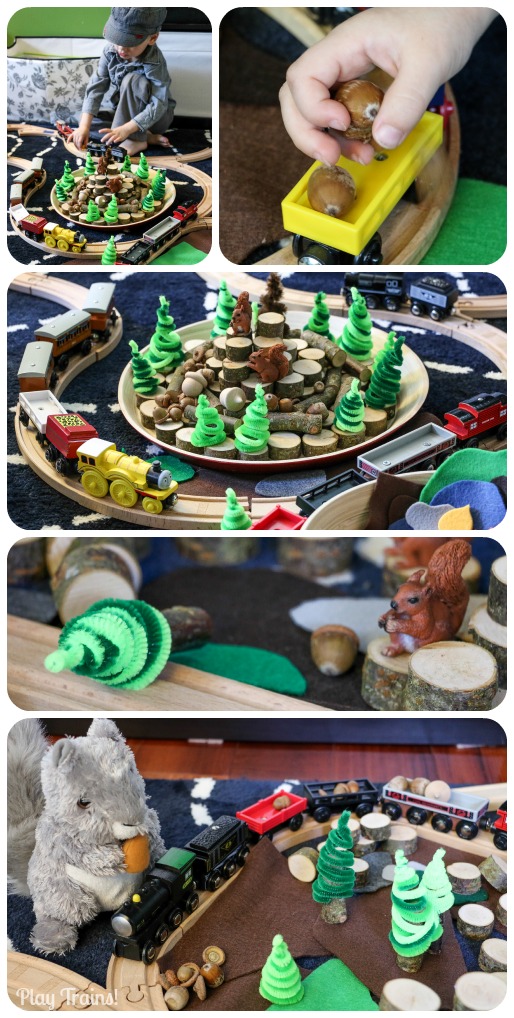 This is a really charming way to spend an afternoon. Plus, the materials promote sensory exploration of different textures. The log slices add an element of building, and the acorns bring in fine motor skill practice. With the trees and stacks of branch slices falling over and the acorns falling out of the freight cars, it's great practice being careful with one's movements.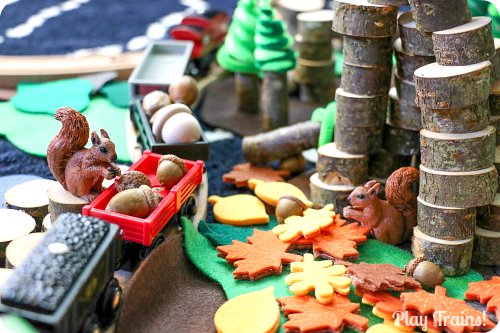 More Play Inspiration
If your child has fun with this one and wants to try more creative activities with their wooden trains, Old Tracks, New Tricks — my wooden train picture book — has more than twenty creative activities to try, plus a guide to inventing your own track tricks at home.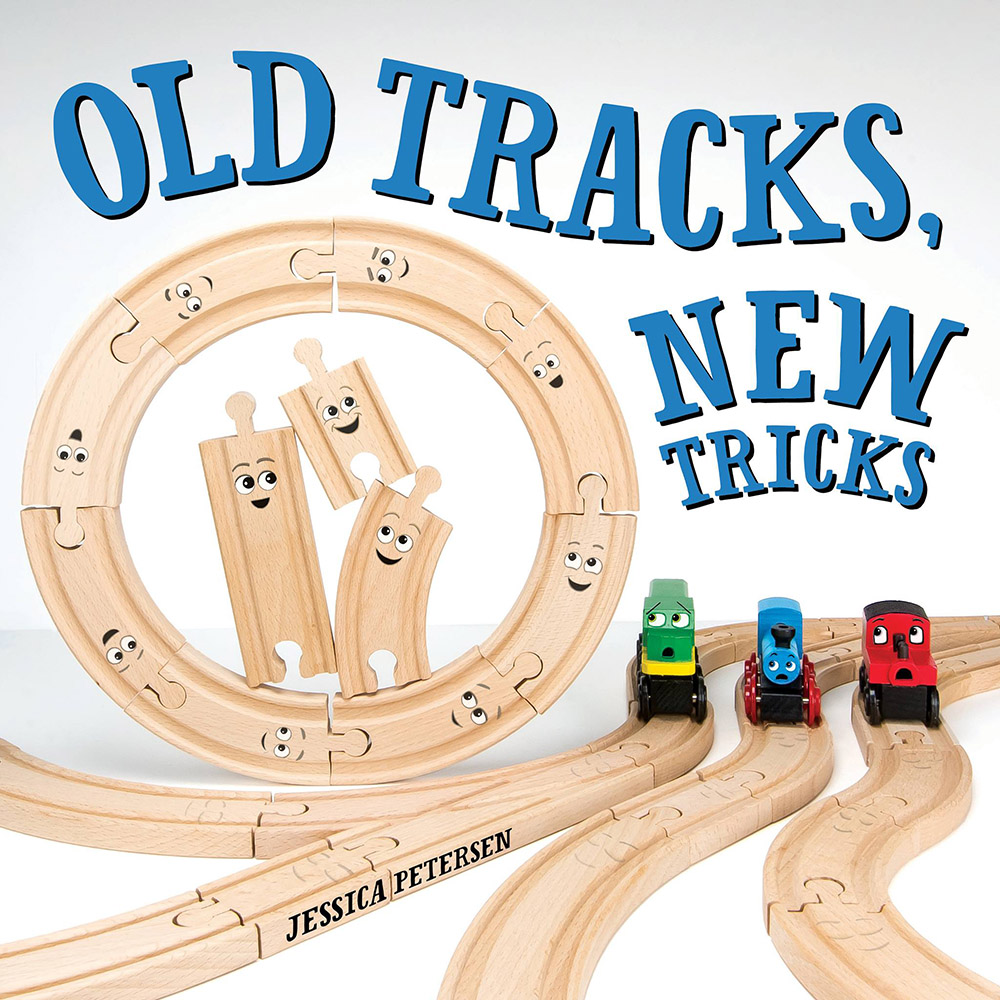 Head on over to visit the other blogs participating in the Fall Invitations to Play series for more exciting ideas for fall fun!
Simple Fall Themed Invitation to Play by My Nearest and Dearest
Pumpkin Patch Small World by Buggy and Buddy
Fall Nature Collage Invitation to Create by Fantastic Fun and Learning
Fall Fine Motor Activity by Twodaloo
And here are our other invitations in the series, in case you missed one: