Here's one of my favorite things the Little Engineer and I came up with for the Valentine's Day in Vicarstown layout:  DIY valentine freight to load into the Troublesome Trucks! I was just going for visual effect when I started on these easy-to-make felt hearts, but they have a nice, firm, and fuzzy tactile aspect that makes me want to pick them up and move them from car to car.  They feel more substantial than they should, like they might even last us a while. A year after originally writing this post, they still look great!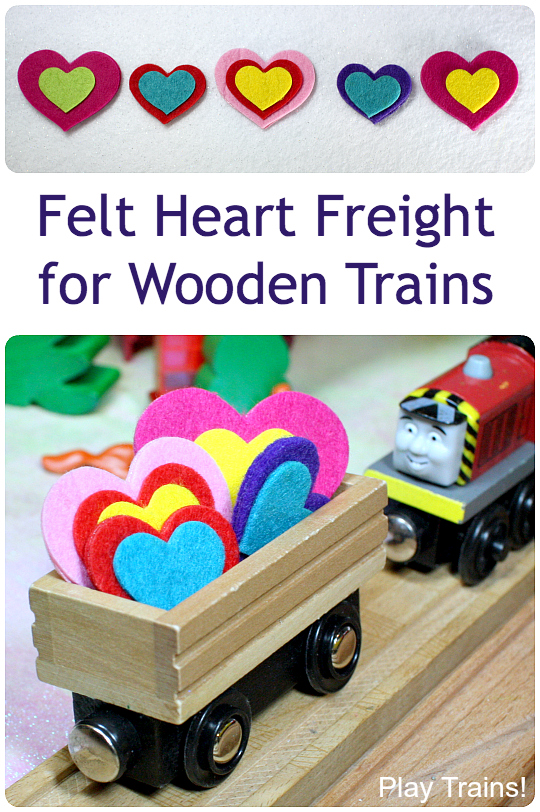 This post was originally published on January 31st, 2013. It contains links to Amazon.com. If you click on one, we will receive a small commission — at no additional cost to you — on anything you buy at Amazon for a certain length of time afterwards. Read our disclosure policy for more details.
While the felt hearts look especially nice with wooden trains, these valentines would work with other kinds of toy trains as well. So if your Trackmaster or Take-n-Play trains are feeling festive this February, they could pull their own Valentine's Day freight, too.
How to Make Felt Heart Freight
We used a pack of felt heart stickers that came in a nice variety of colors and three different sizes.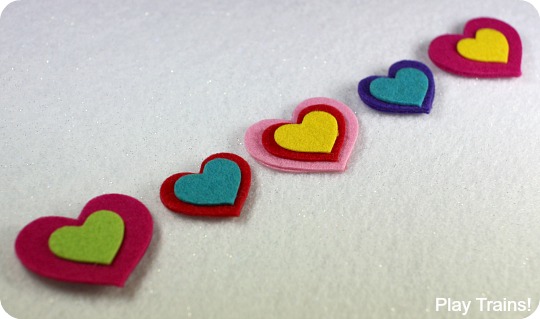 Find two bigger hearts and one (or two) smaller heart. Stick the two bigger hearts back-to-back and put the smaller heart on top. You can put a smaller heart on the backside as well, or even stack multiple sizes on one side, but it's optional.
Ideas for Valentine Train Play
It doesn't take long to fill a few freight cars with these cheerful valentines. The trains can deliver them from station to station, bring them to a big Valentine's Party at Tidmouth Sheds, or give them to each other or their drivers. Maybe all the valentines on the Island of Sodor have gone missing — oh no! — and the engines have to hunt around the island to find them all. Or perhaps Sir Topham Hatt is looking for the perfect valentine for Lady Hatt, and he enlists Thomas' help. That could be a fun way to practice following directions and identifying colors and sizes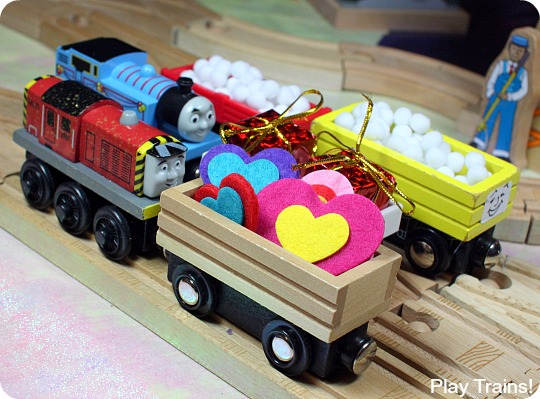 We've used the felt hearts in two different Valentine's Day activities: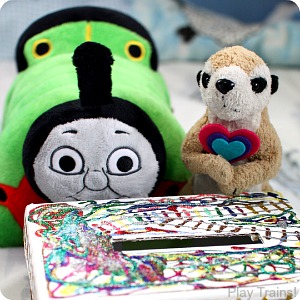 Valentine Counting Activity with Thomas and Friends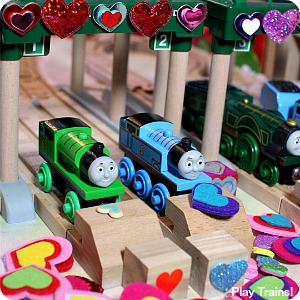 Building a Book-inspired Valentine's Day in Vicarstown Wooden Train Layout
Train Books and Gifts for Valentine's Day:
More train activities and ideas for Valentine's Day: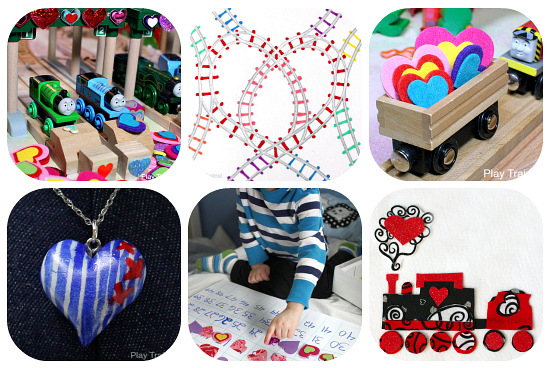 Building a Valentine's Day in Vicarstown Book-inspired Wooden Train Layout
You'll find lots of ideas for decorating a wooden train layout for Valentine's Day in this literacy activity, inspired by the Thomas & Friends book, Valentine's Day in Vicarstown.
Looking for train valentines for your little engineer to hand out? I had a hard time getting train valentines the first year I looked for them, so I tracked down as many as I possibly could to share here. Here are some great train Valentine's Day cards available online, and a list of free printable train valentines as well.
If you're looking for an unusual — and unusually pretty — train valentine for your child, these DIY train track valentines might be just the thing!
DIY Engineer Stripe Heart Pendants
These make beautiful gifts for train lovers (or the mothers of train-loving kids) for Valentine's Day — or any other special day!
Valentine Counting Activity with Thomas and Friends
Another fun activity inspired by Valentine's Day in Vicarstown. The Little Engineer still asks to play this one a year later.
DIY Felt Valentine Train Play Set
A pretty and engaging felt train play set that's quick to make for Valentine's Day.