If you're looking for an unusual — and unusually pretty — train valentine for your child, these DIY train track valentines might be just the thing! And they're easy to make: all you need are cards (or thick paper) and markers.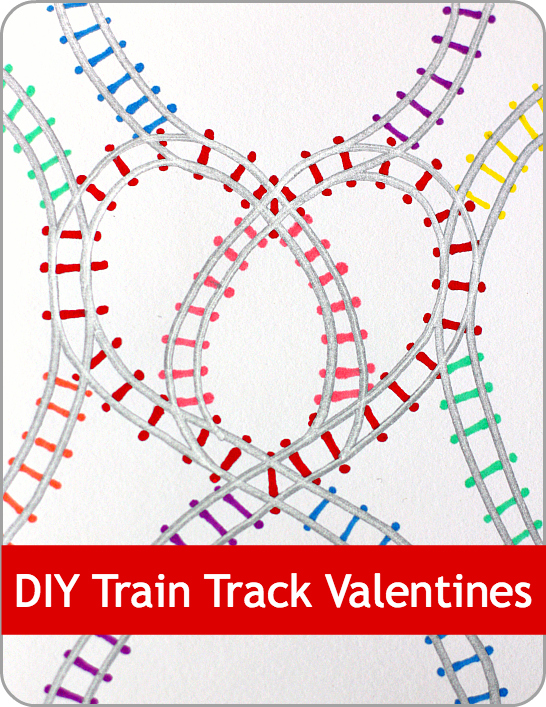 This post was originally published on February 11th, 2013. It contains links to Amazon.com. If you click on one, we will receive a small commission — at no additional cost to you — on anything you buy at Amazon for a certain length of time afterwards. Read our disclosure policy for more details.
Even though the Little Engineer had already picked out these great train valentines to hand out at preschool on Valentine's Day, I'd been wanting to make some sort of homemade train valentines.  At least one for him, if nothing else.
But until today, that's where my inspiration stopped and started.  After gathering a ton of train valentines on my Pinterest board for them, it seemed like everything (especially every bad train pun) had already been done.
Then, on Saturday evening, the Little Engineer and I were making valentine mailboxes for Thomas and Percy, to continue playing with the book inspiration for our valentine train layout, Valentine's Day in Vicarstown.  It was late in the day, so I mostly was just squirting glitter glue in random colors and shapes on the shoebox in front of me.  But one thing I did take the time to do were some train tracks.

I really liked the rainbow railroad ties, especially because they reminded me of a drawing activity we like to do together. Off and on, we go through phases where we draw a lot of train layouts on paper. Early on, the Little Engineer showed an interest in playing around with the color of the ties.
I remember how proud I was the first time he took the marker from me and drew in recognizable railroad ties along the rails I'd already drawn. Between the visual appeal and the sentimental value, I knew I finally had the inspiration I'd been looking for.
The next morning, I found a blank card and grabbed my Sharpies.  With a silver Sharpie, I drew the rails. (If you don't have a silver marker, you can use a gray one. And of course any type of marker could work here.)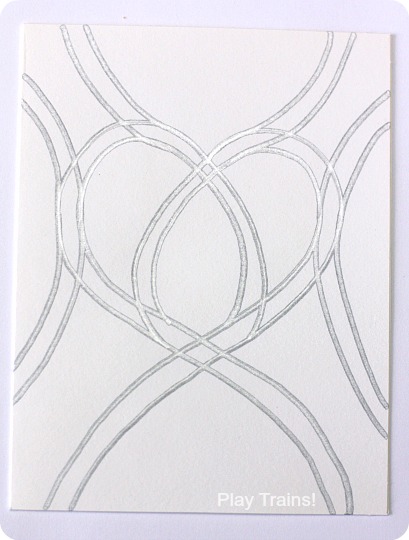 Then I drew in the railroad ties in all different colors. The easiest way to draw them without drawing over the rails is to start with a dot on the outside of one rail, draw a dash between that rail and the next, and then another dot on the outside of the other rail, all in a line. The trickiest part is getting the spacing between the railroad ties right.  I always put them closer together than I intend to.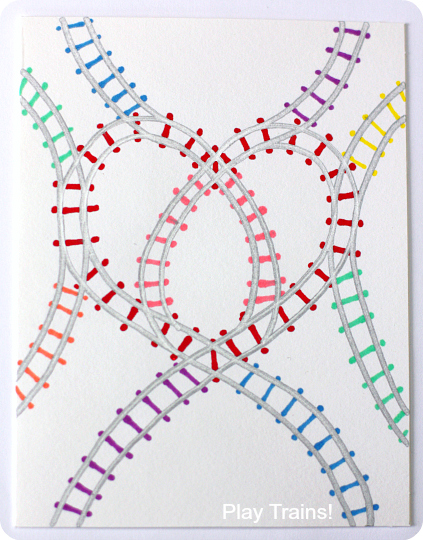 Because I had decided to connect my track heart up to tracks going in other directions, I made the heart itself red and pink to make sure it stood out.
That's it.  It took maybe ten minutes to draw, including figuring out what I wanted to do.
The Little Engineer was quite inspired himself, and drew his own version to give to me (or rather to my current alter ego, Alma Bunny, to go along with his near constant portrayal of Poppy Cat this week), complete with railroad ties.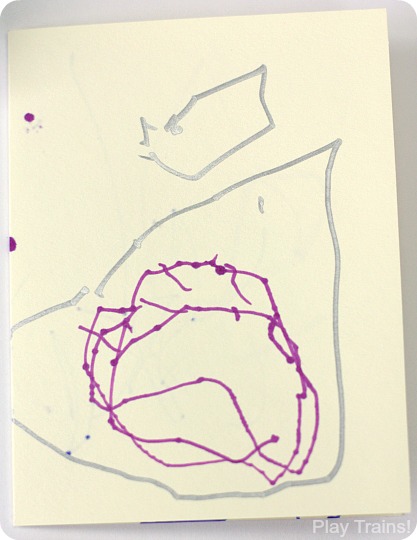 We wrote messages to each other on the inside of our cards.  The one he gave me has a map to Downton Abbey, where Poppy Cat has invited me to tea for Valentine's Day.  (Didn't you know that all passenger trains go to Downton Abbey for tea time?  We're still not sure how he latched onto that as a the perfect place to go to have tea, but we've been going on Big Engine to Downton Abbey for months now.)
Then we put them in addressed envelops with heart stickers for stamps and played Mail.  The Little Engineer must like the valentine I gave him, because he won't even let me read it to him.  He wants to hold it, and read it, himself.
After playing that for a while, I returned to the table to make a rainbow track heart card more like my original idea.  I added a bad pun, and gave it to the Little En — I mean, Poppy Cat to play more Mail with.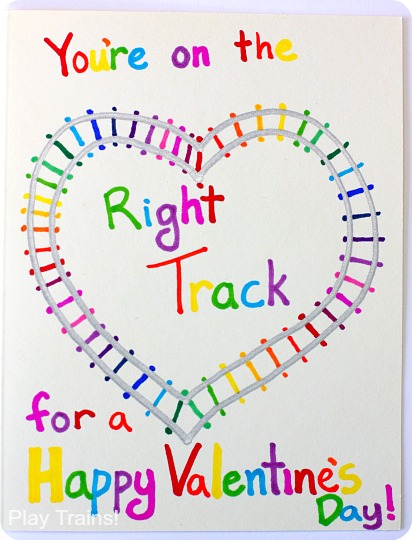 Unfortunately, I'm out of white blank cards, which would have looked better.  The Little Engineer was also disappointed by not getting a white card, so I guess I need to restock.
Train Books and Gifts for Valentine's Day:
More train activities and ideas for Valentine's Day: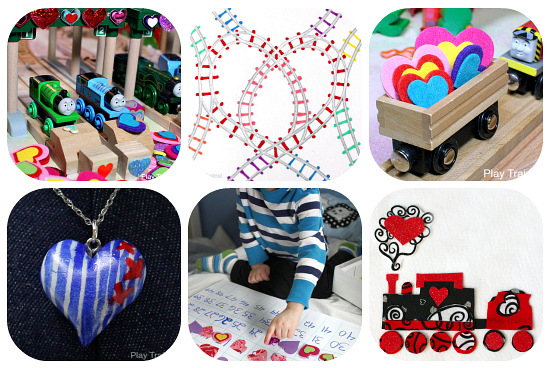 Building a Valentine's Day in Vicarstown Book-inspired Wooden Train Layout
You'll find lots of ideas for decorating a wooden train layout for Valentine's Day in this literacy activity, inspired by the Thomas & Friends book, Valentine's Day in Vicarstown.
Looking for train valentines for your little engineer to hand out? I had a hard time getting train valentines the first year I looked for them, so I tracked down as many as I possibly could to share here. Here are some great train Valentine's Day cards available online, and a list of free printable train valentines as well.
Easy DIY Felt Heart Freight for Wooden Trains
With their fuzzy yet solid feel, these easy-to-make felt hearts are wonderful valentine freight for toy trains and great counters for counting activities.
DIY Engineer Stripe Heart Pendants
These make beautiful gifts for train lovers (or the mothers of train-loving kids) for Valentine's Day — or any other special day!
Valentine Counting Activity with Thomas and Friends
Another fun activity inspired by Valentine's Day in Vicarstown. The Little Engineer still asks to play this one a year later.
DIY Felt Valentine Train Play Set
A pretty and engaging felt train play set that's quick and easy to make for Valentine's Day.