Looking for some super cute train valentines? Then you have to take a look at these adorable Peaceable Kingdom Train Valentines. They were a big hit with the Little Engineer!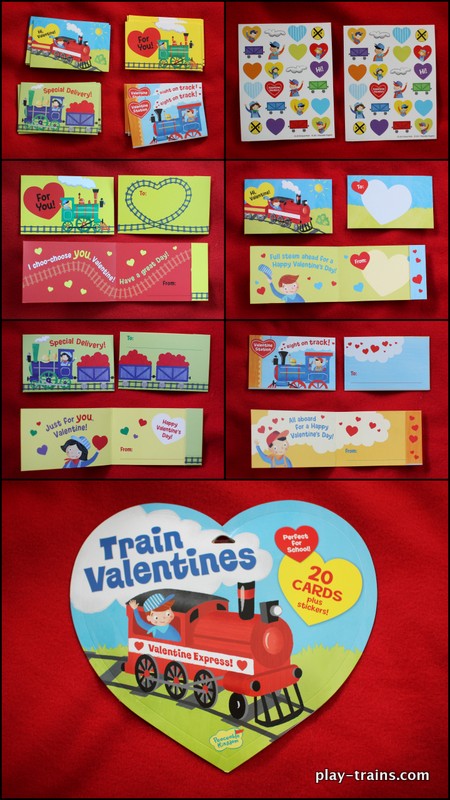 This post contains links to Amazon.com. If you click on one, we will receive a small commission — at no additional cost to you — on anything you buy at Amazon for a certain length of time afterwards. Read our disclosure policy for more details.
I mentioned in my Train Valentine round-up that I was thinking of ordering the Peaceable Kingdom Train Valentines, but I wasn't sure that the Little Engineer would go for them considering he already knew there were Thomas & Friends valentines to be had.  After I posted, he was looking at the pictures of these valentines with me and liked them quite a lot, so I went ahead and got them.
When we opened them up, they were so cute I had to take some pictures to share.  The image on Amazon didn't show how when unfolded, the back and front of the valentines makes a continuous picture as well as the inside.  The track heart and the freight cars full of hearts are my favorite parts.  I also wanted to point out that one of the engineers is a girl, which made me really happy.  The stickers are really cute, too, especially the hickory-striped hearts and the waving engineers.  And the text is better than a lot of train valentines I've seen, though they did throw in the ubiquitous — thanks to The Simpsons — "I choo-choose you!" line.
As to whether or not the Little Engineer will hand these out in class, that's still open to question, though not because they aren't Thomas valentines.  When I showed him what had come in the mail, he said something like, "For me!"  I didn't really think much of that until I mentioned handing them out at preschool and he repeated, much more insistently, "No.  The train valentines are for me."  I guess it's good that he likes them so much, but we're going to have to work on the concept of "valentines."
Train Books and Gifts for Valentine's Day: