If you traveled back in time to my son's toddler days, you would find us on his bedroom floor, surrounded by wooden train tracks.
My son: the one clutching at train in his chubby toddler fist as he ran its wheels down the almost-finished track.
Me: the one building my masterpiece railway at lightning speed, trying to connect the last stubborn track before my ambitions ended in disaster.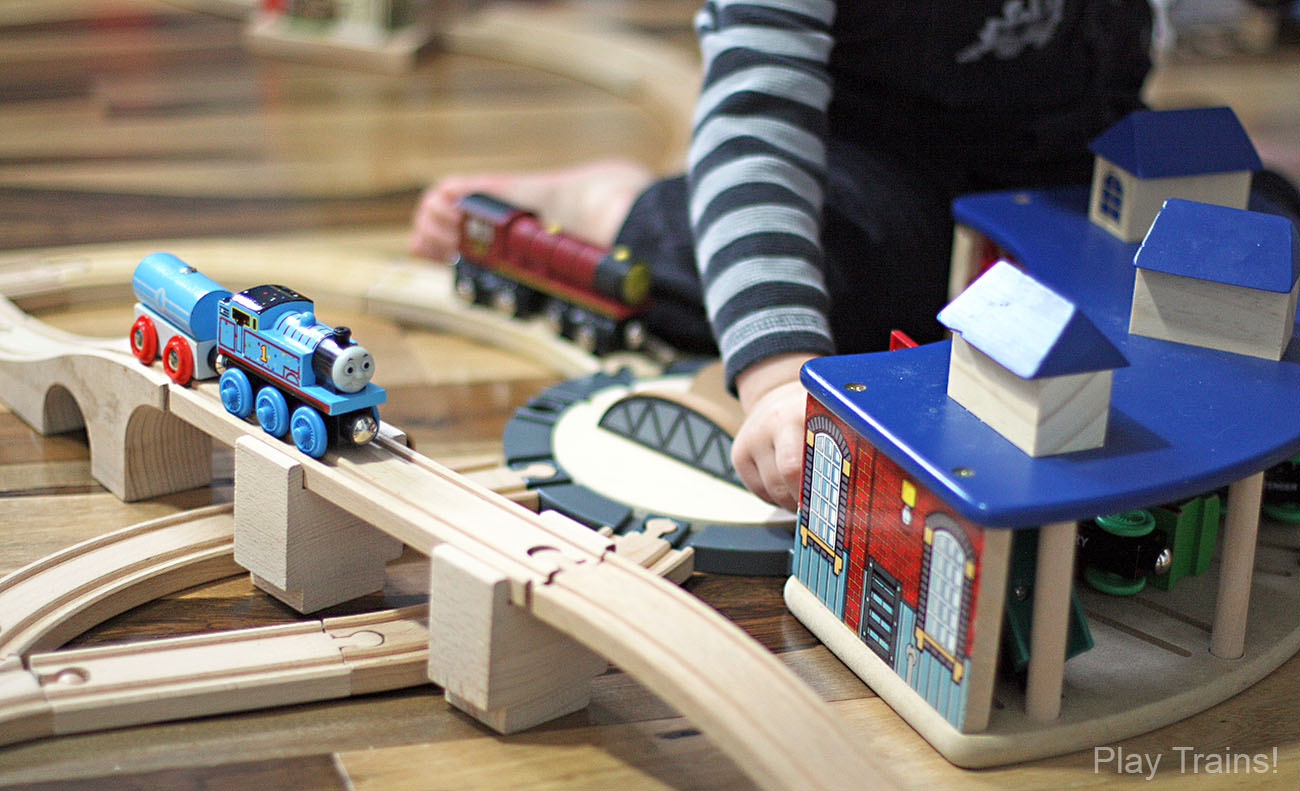 In those days of endless laundry and endless potty training and endless bedtime routines, all the intensity of first-time motherhood kept me from writing. Wooden train layouts became my creative outlet.
Before long, our initial wooden train set limited my artistry. A local toy store we often played at sold individual tracks. Switches, adapters, buffers — I picked up whatever I'd been missing when I built our last layout.
I combed the internet for more unusual tracks, new brands we hadn't tried yet, sets with unique switches or bridges. As word of our train obsession spread, parents and grandparents and teachers came to me for advice about which wooden train brands were worth the investment.
And several years later, they still are. After all, you're reading this right now!
Wooden Train Tracks
To this day, if I had to pick my favorite part about wooden train sets, I'd have to choose wooden train tracks.
The tracks are beautiful. They feel real and solid (too rare with toys these days). They present both an intellectual puzzle and a creative opportunity.
Wooden train tracks can be played with in a multitude of new ways — so many ways that I wrote a book about three creative little train tracks inventing "new track tricks."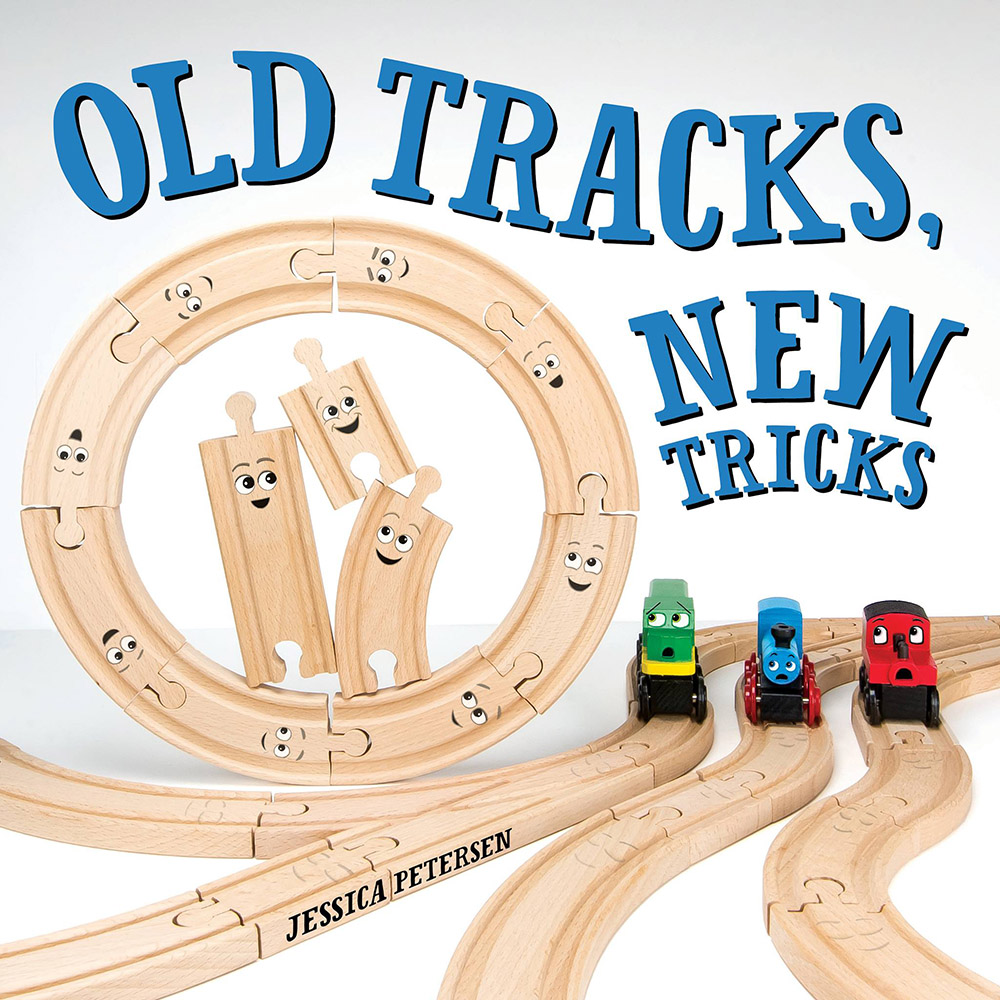 It's no surprise this was the first installment I wrote in our Ultimate Wooden Train Guide when I started it years ago.
In this post, I share the knowledge I gain through our experience with many brands of wooden train tracks, including product recommendations and answers to frequently asked questions.
Wooden Train Track – Recommended Brands
Click on the name of each brand to be taken to a search on Amazon for their wooden train tracks.
By the way, if you do click on one, we will receive a small commission — at no additional cost to you — on anything you buy at Amazon for a certain length of time afterwards. Read our disclosure policy for more details.
Thomas Wooden Railway: While Thomas track is my favorite by far — at least back when it was being made by Learning Curve — I've rarely seen their track expansion packs for reasonable prices, and so we only get Thomas track in train sets.
Chuggington: Chuggington and Thomas Wooden Railway used to be made by the same companies, so Chuggington track is similar in quality to Thomas track from several years ago, but with a different railroad tie design on the tracks.
Brio: Brio makes good track, although I like the feel of the Thomas track better. We've only ever bought Brio track as part of a set as well, but they do offer different packs of track. They seem a bit on the expensive side to me, though.
Melissa and Doug: I'm often asked about M&D train sets. While I'm hesitant to speak to the quality of the trains and accessories because we don't own any, I can say M&D does make good train track, and their six packs of single types of track tend to be a good value.
Bigjigs Rail: Bigjigs has some well-priced tracks for you to consider. Their set of two T junction tracks has two male connectors instead of only one (or none) like T junctions usually have. They also make some fun tracks, like their freely-curving Crazy Track (similar to the old Thomas-brand Wacky Track) and their Wavy Track. They also offer the least expensive option I know of for buffers/bumpers in their pack of 6 track buffers, though the design is bare bones in comparison to the pack of four track bumpers from Orbrium Toys.
Conductor Carl: If you're going to buy bulk wooden train tracks, I recommend Conductor Carl. I used it to create the "old" wooden train set in Old Tracks, New Tricks, as well as my traveling train set I take to all my book events. This is the track you want for DIY projects where you'll paint the tracks, or if you're worried about the safety of other brands, because all of the male/plug connectors are cut out as part of the wooden track, rather than added as plastic plugs — even on the switch tracks! There did seem to be a quality control problem with this brand last year (2016), but all of the boxes of track I've bought this year (2017) have been fine.
Jesse's Toy Box: This is another brand of track I recommend. It's a good value, but as of this writing, it's hard to find.
IKEA track (new all-wood style): I need to do more play testing with more brands, but the new all-wood IKEA tracks seem to be compatible with major brands. All the tracks in the set I have are made from a single piece of wood. Hooray for IKEA making the decision to change their design to be safer and more compatible! (Note: the old IKEA tracks and the new IKEA tracks seem to mostly work together except that the plastic connectors on the old tracks are a tight and sometimes difficult fit with the hole-end connectors on the new ascending/descending tracks. It's workable, because you could just avoid having an old track at the bottom or top of a hill, but not perfect.)
IKEA track (old style with plastic connectors): The track in the old style of IKEA train sets works well enough, but there are some compatibility issues with other brands of track (see below), the range of track pieces is limited, and the bridges are too low for trains from most other brands to go under.
Nuchi: This used to be our choice for expanding our track collection, but it now appears to be unavailable. However, if you can pick some up secondhand, I recommend it. They made good wooden tracks.
Maxim: A budget brand of train sets and track, Maxim does offer a pretty wide selection of wooden track. While it would not be my first choice for quality, Maxim does sell several switches and other interesting tracks you may have a hard time finding elsewhere.
Maple Landmark: If you're looking for made in the USA wooden train tracks, here you go. They're beautiful in person, but expensive. In my preliminary play tests, I noticed they're so well made, and cut to such exact precision, that it can be a bit harder to put them together. However, it's possible the perfect edges would wear away with more play and connecting the tracks would become easier.
Orbrium Toys: Here's another lesser known but reasonable wooden track brand. The standout purchase here is their set of 8 Male-Male Female-Female Train Track Adapters, something every wooden train set needs. However, I'm not recommending their track as enthusiastically as I was before after ordering a full box of track to review. The male-male and female-female adapters we ordered before were great, but there's a great deal of inconsistency within the big box. But the track is workable if the price is right (see my note about sanding tracks below).
A reader reminded me of the Choo Choo Track and Toy Co., which makes their wooden train tracks here in the USA. They have a couple of rare track types worth mentioning: 12-inch curve tracks (they form a circle with a 30-inch diameter) and a 12-inch "wiggle track" (similar to the wavy track above, but with more curves). I'm ordering some soon to try out.
Mesko Toys was once a wonderful place to buy unusual wooden tracks. If you ever acquire a second-hand track in an unusual shape,
it might have been made by them!
Note: with many of the budget brands of track, you may want to take a piece of sandpaper and sand down any rough cuts. Saws cutting curves across the grain of the wood are often the cause, so check curves, switch tracks, and the ends of tracks for anything rough, splintery, or sharp.
Wooden Train Sets
If you're interested in purchasing a wooden train set — and I recommend this as a good way to start a collection, or to add more track and new and interesting features to an existing train set — please take a look at the Play Trains! Guide to the Best Wooden Train Sets, where I've broken down the current options I recommend by brand.
Frequently Asked Questions about Wooden Train Track:
What brands of wooden train tracks work together? In our experience, Brio, Thomas, Chuggington, Nuchi, Bigjigs, Jesse's Toy Box, Orbium, Conductor Carl, Melissa and Doug, and Imaginarium track all work well together. The connectors on Ikea track are a tight fit with other brands, sometimes too tight to work. I have, however, used Ikea tracks on purpose when I needed two tracks to stay together well. The old-style wooden Plan Toys track never fit well with our other tracks; I haven't had a chance to test their new pressed tracks, so they may be better.
Is it better to stick to one brand of track, or build a collection from several different brands? I love having a range of brands to work with. There are subtle differences in the lengths of each brand's version of each style of track. Why is this a positive thing? Well, when you build a complicated layout, often you need the last track to be a little longer or shorter to make the whole thing work. Thomas Wooden Railway tracks tend to be shorter than other brands, so if I need a track to be shorter, I dig through and find a Thomas track. If I need a track to be a smidge longer, I replace Thomas tracks with other brands.
Are Trackmaster trains compatible with wooden train tracks? Yes…to some extent. Trackmaster wheels are the same gauge (width) as wooden trains, so the trains will run on wooden tracks. However, they can't take the tighter curves under their own power without derailing, and they won't go up the bridges.
Are Take'n'Play trains compatible with wooden train tracks? Sadly, no. Take'n'Play trains are too narrow to run on wooden train tracks.
Are wooden trains compatible with Trackmaster and Take'n'Play tracks? Yes! Wooden trains fit on Trackmaster tracks, and Take'n'Play tracks seem to be intentionally made to be wide enough for wooden trains because they are too wide for the trains they're made for. However, both of these tracks are much harder to work with when building a train set. Take'n'Play tracks tend to fall apart often, and neither type of track has the flexibility that comes from the wooden tracks being able to shift from side to side and up and down at their connections. And there's a lot less variety in the types of tracks you can get for these lines of trains. On the other hand, I like having some of these plastic tracks around for activities where the tracks might get messy or wet.
This guide will be expanded with time. Have a question I didn't answer? Ask in the comments or by email!
Posts in the Ultimate Wooden Train Guide:
The Best Wooden Train Sets
Wooden Train Tracks
Bridges and Elevated Tracks
Roundhouses and Engine Sheds
Organizing Wooden Trains and Track
Wooden Train Freight Cars
…and more to come!