When the Little Engineer was littler, and I was looking for train valentines to buy for him to pass out to his preschool class, I very quickly discovered that there weren't many options. It was even difficult (though never impossible) to find Thomas & Friends valentines, which I never would have guessed! I did manage to find one set of cute, non-Thomas valentines then, but it's now unavailable. So, I decided to make a cute and colorful set of free printable train valentines to share with you!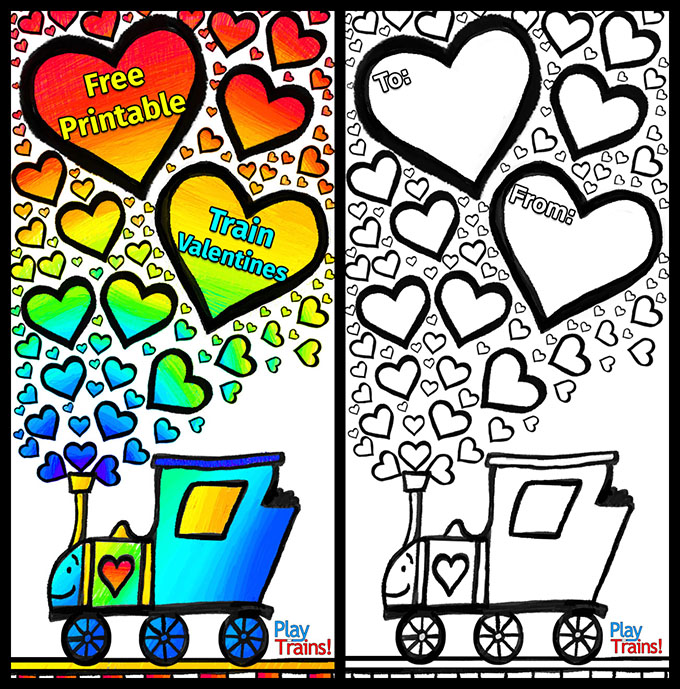 This post contains links to Amazon.com. If you click on one, we will receive a small commission — at no additional cost to you — on anything you buy at Amazon for a certain length of time afterwards. Read our disclosure policy for more details.
I had a lot of fun drawing these. They started out as a sketch I drew on paper, but I then used them as a chance to practice as I try to relearn how to illustrate with Photoshop and my drawing tablet. They must have turned out okay, because the Little Engineer — who at age six has added chemistry and space and LEGO and Minecraft to his ever-growing list of interests — wants to hand them out to his class this week. Yay!
Free Printable Train Valentines
You can right-click and select "Save As…" on your preferred link below to get a file that will let you print six valentines per sheet. We printed ours on matte photo paper, which is great because they look great and the paper is quite a lot thicker than regular printer paper, which makes them more like the store-bought sort of valentines.
Color Train Valentines:
Free Printable Train Valentines – Color
Black & White Train Valentines:
Free Printable Train Valentines – Black and White
My Valentine train design is also available as fabric at Spoonflower!
If you'd rather buy your train valentines instead of print them, there's a new Thomas & Friends book, A Valentine for Percy, that includes twelve punch-out valentines in the back.