Searching for the best wooden train set for your child? I've turned my expert eye on the wooden train sets that currently on the market so that you can make an informed choice.
I couldn't wait to pick out the perfect first wooden train set for my son.
As the Little Engineer learned to toddle then walk then run up to the train tables at bookstores, I eyed the toy shelves while he played.
I knew what I wanted. Classic. All wood. Bright colors. Clean lines.
And definitely not Thomas.
I started researching train sets, but that's where the confusion started. There were so many brands — were they all compatible? What was the difference between them? Which ones were well made and could stand the test of time in the play room?
While I was scratching my head over the choices, my mom presented my kiddo with a Thomas Wooden Railway set.
I appreciated my mom's generosity, but I never would've bought that Thomas train set. Licensed characters. Mass production. Trains with weird gray faces. These things were not the stuff my train set dreams were made of!
With the full ferocity of new-parent idealism, I set out to prove that I could pick out a better wooden train set by ordering my son a second one.
Eco-friendly. Simple. Everything I knew I wanted.
And when that perfect train set came?
It was absolutely, positively terrible.
The rubberwood tracks had a weird, waxy feel to them. And they were cut so tight that it was almost impossible to get them apart. And the train itself was lackluster in every possible way. It soon retired to the bottom of the toy box.
Meanwhile, those Thomas engines chuffed around their well-made wooden tracks in my Little Engineer's adoring grasp.
And though I never would have guessed it, the more we played with those Thomas trains and tracks, the more we loved them. Both of us.
The Advice You Need to Pick Out the Best Wooden Train Set
A train set can sound good on paper, but there's nothing like hands-on play to tell you whether it's going to be the right choice for your family or classroom.
The problem is getting that hands-on experience. If you're lucky, a toy store might have one brand of wooden trains out on a train table. But that's only one train set from one brand.
How can you avoid the train set that will end up at the bottom of the toy box, and buy the one that you and your child will love for years to come?
Fortunately for both you and me, in the years since my first terrible train set choice, I've bought and played with a ridiculous, preposterous, completely-unbelievable number of wooden train sets. I've learned the up sides, down sides, and quirky sides of all the brands, and formed strong opinions about which ones are worth the investment.
Here on Play Trains!, I've made it my mission to share that knowledge with parents, grandparents, teachers, librarians — anyone who needs help picking out the perfect train set on the first try.
Below you'll find a wealth of information, organized by wooden train brand, updated as often as I can with new sets and new opinions. And if you have a question I don't cover below, feel free to ask for advice in the comments section of this post or by email.
The Best Wooden Train Sets by Brand
Click on a brand below to jump down the page straight to it, or just scroll down to see them all! Brands in bold are ones I recommend. The ones in plain text are included for informational and comparison purposes.
More Posts in the Ultimate Wooden Train Guide
The Best Wooden Train Sets
…and more to come!
This guide was last updated on Friday, December 15th, 2017.
This post contains affiliate links to other sites. If you click on one, we may receive a small commission — at no additional cost to you — on anything you buy on those sites for a certain length of time afterwards. Read our disclosure policy for more details.
Brio Trains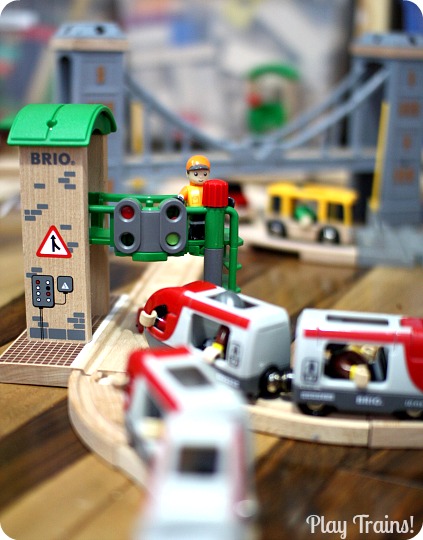 If you want high quality, high play value wooden trains from the start, BRIO is your brand. Many parents I meet remember BRIO from their own childhoods, and I talk to lots of grandparents who are pulling BRIO train sets out of their attics to share with a new generation.
BRIO has carried on its legacy of quality and good design, but it has also modernized its offerings, both in style and in materials. Most regular BRIO sets now feature trains made primarily of plastic. But the plastic is extremely high quality, heavy duty stuff — think of it as equivalent to LEGO rather than Mega Bloks. Also, there's now a line of BRIO Classic sets that are in line with what people remember of BRIO from decades past: wood components, including the trains, and that "classic" BRIO look.
Modern or classic, either way you're getting your money's worth when you buy a BRIO set. They've literally been the wooden train standard for decades now. If a wooden train brand is compatible with any other brand, it's definitely compatible with BRIO.
The catch is that while you get what you pay for, you also have to pay for what you get. For a long time, I thought we'd never own any Brio trains because they seemed so expensive, but then we started our BRIO collection when our local Toys-R-Us was clearing it out years ago.
Playing with those sets gave me a great appreciation for not just the quality of the trains but also the brilliance of the train set designers at BRIO. I've been happy to pay more for BRIO quality, and because pretty much every set is well-designed, you get a much higher play value out of a BRIO set.
Classic BRIO Train Sets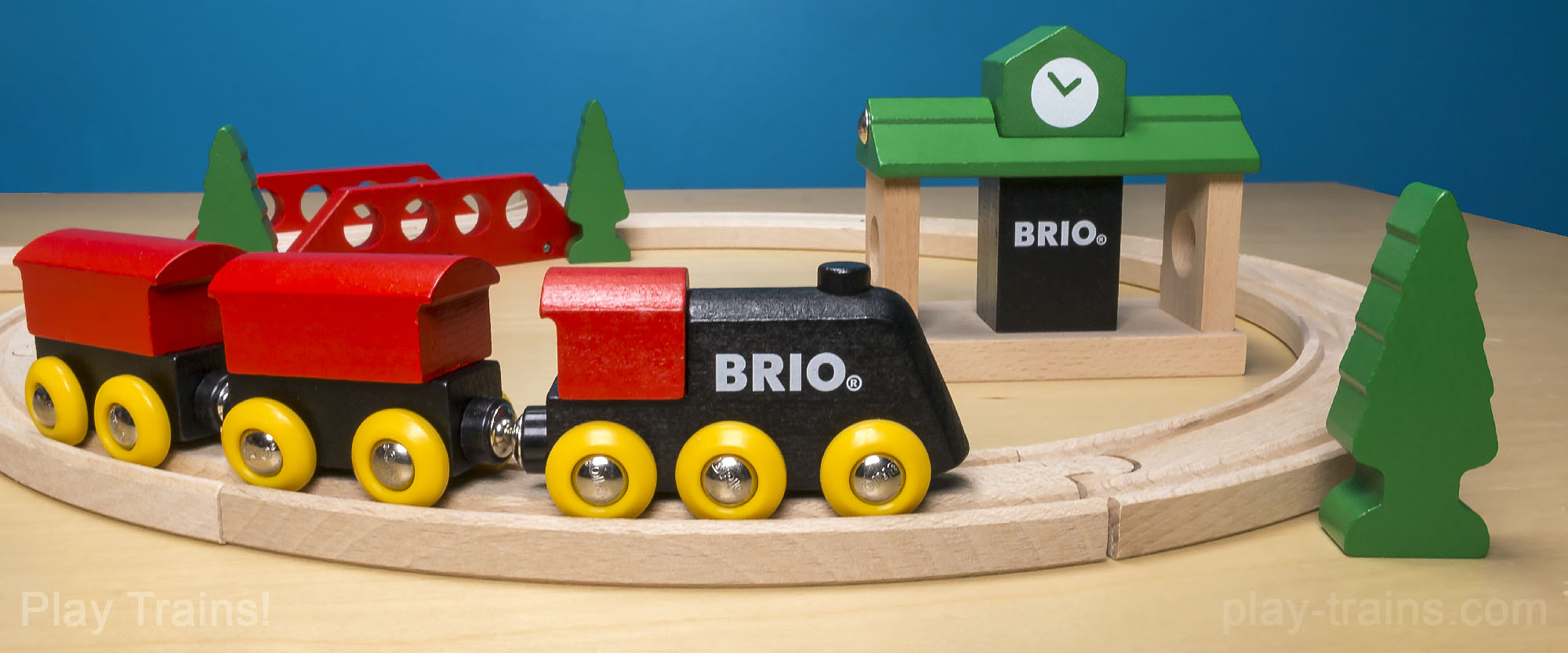 If you're looking for a train set that would look as at home in your childhood bedroom as it would in the playroom now, or if you want a wooden train set that's actually, you know, made out of wood, the BRIO Classic sets are a great choice. The BRIO Classic Figure 8 Set, BRIO Classic Deluxe Railway Set, and BRIO Classic Freight Set all feature trains, destinations, accessories, track risers, and even a cute little crane made primarily out of wood, and they're all painted in the eye-catching, iconic BRIO style.
BRIO Deluxe Railway Sets
Now, this is one of the most expensive train sets I'm putting on this list, but if you're looking for an all-in-one set with enough variety, durability, and playability to last a childhood (or several), the BRIO Deluxe Railway Set fits that description perfectly. It sets you up with a full freight and passenger train system with lots to do. Plus, it comes with a cute storage box.
There is also a smaller — but not small! — BRIO Cargo Railway Deluxe Set. This set focuses on freight trains, with three (!) cranes, including a battery-powered crane and a very cool gantry crane that my son loves. There's also an elevated section of track, and among the trains, they've included a battery-powered engine.
The newest and biggest BRIO deluxe set yet — the BRIO Railway World Deluxe Set — includes an airport, a farm, a ferry, a big station, and more. Each of these three sets has a different character, so I hope Brio will continue to offer all for a long while to come!
BRIO My First Railway Sets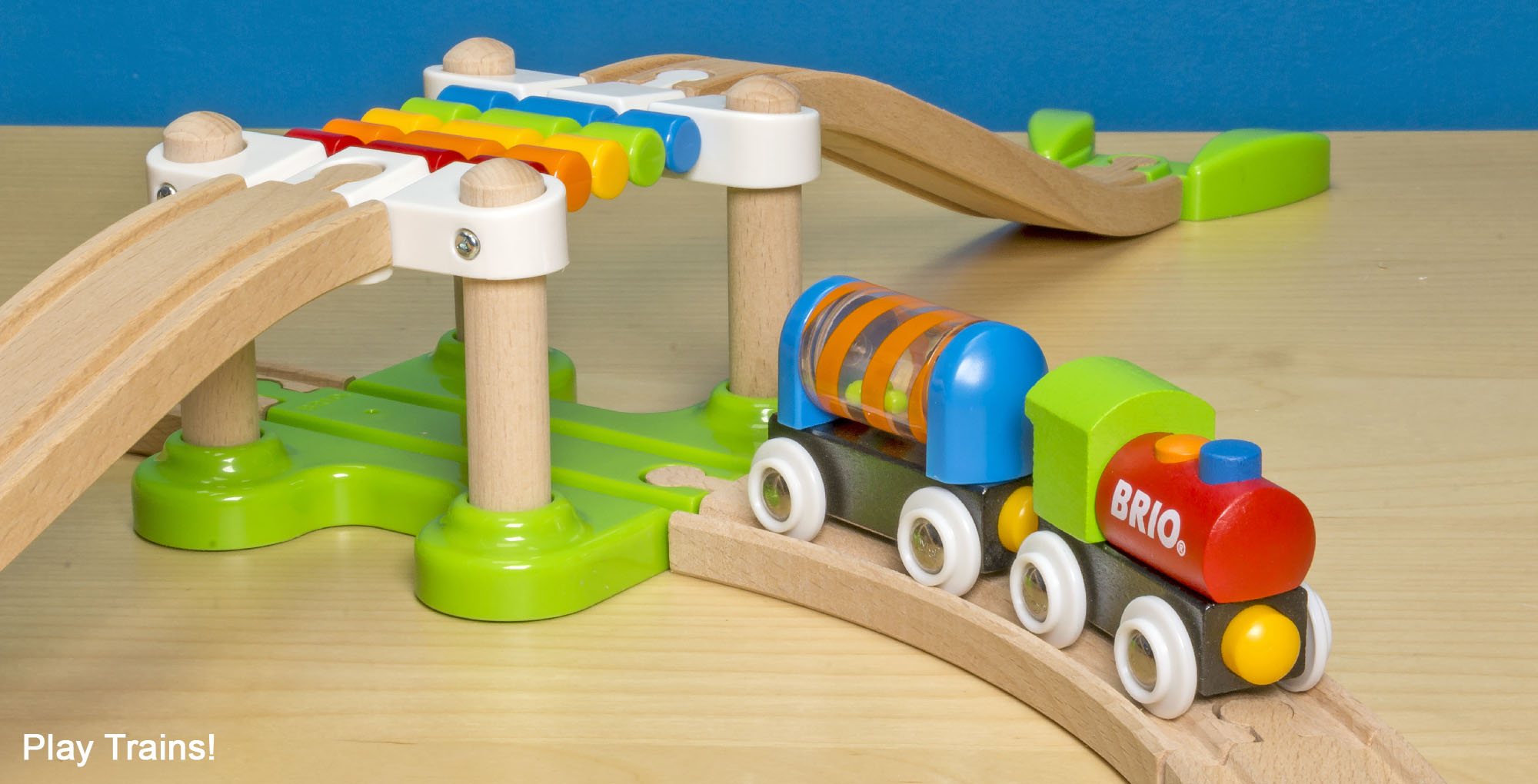 Most wooden train sets are recommended for ages 3 and up for safety reasons (choking hazards, swallowable magnets), so it's wonderful that BRIO has come out with this line of My First Railway sets for children as young as 18 months old. Intrigued (and drawn in by the rainbow colors), I ordered a BRIO My First Railway Beginner Pack Train Set to try out, and I immediately loved it.
I had my husband take a close look at the trains from one of these sets to see what made them safer. Aside from the robust construction of the trains, he thinks the real safety innovation is the encased magnetic couplers. He was very impressed that the plastic magnet covers were secured inside the chassis — it would seem that they aren't going anywhere, even if an adult tried to pry them out. The cover also protects the magnet from shattering into swallowable pieces — not that I've ever seen that happen, but hey, it never hurts to be extra safe when it comes to kids who are still in the "put everything in the mouth" stage.
Safety aside, these sets are well designed for the younger age group. These train layouts are more free form, with plenty of sturdy plastic ramps to allow toddlers to drive their trains off the track and all over the house. There are fun interactive features — spinning freight cars, bouncing rainbow bridges, buildable arches, and so on. The magnets spin inside the plastic cases and flip polarity, which allows the trains to be coupled up no matter which direction an engine or car is facing. (Personally, I like the problem solving challenge that the magnetic polarity of wooden train couplings presents to young children. But if I step off my soapbox, I have to admit that this would reduce train play frustration for toddlers who are new to wooden trains.)
In addition to the Beginner Pack Train Set, there are more My First Railway products to check out, including a few other train sets. For anyone out there toting engines in your purse or packing trains and tracks to take along to relatives' and friends' houses, the BRIO My First Take Along Set provides an easy way to bring the trains on outings. There's even a battery-operated train set for the little ones, the BRIO My First Railway Battery Train Set. It includes a one-button motorized engine (note that it only moves forwards), a freight car with a reel that spins as the train goes along, a raised section of track, and a buildable arch.
BRIO Transportation and Freight Sets
Usually, I think of a starter set as a simple circle, oval, or figure-eight of track with an engine, one or two train cars, and a few accessories (trees, small buildings, people or animal figures). By that definition, the BRIO Railway Starter Set Train Set is actually quite a bit more than a "starter" set, both in size/scope and in cost. However, it would be a very fun set to start with — it includes a passenger train, three figures (two passengers and a train driver) who can ride in the train, a crossing signal, a bench, and a piece of luggage. All of this goes with a figure eight of track that includes a "rock" tunnel for the train to drive over and under. When you're ready to expand the set, the BRIO Starter Track Pack Train Set is designed to coordinate with this set, and includes a picture of a possible combined layout incorporating both.
The Travel Switching Set was a very popular addition to our wooden railway. The Little Engineer loved that it came with two passenger trains, one red and one blue, with drivers dressed in colors to match their trains.
The Cargo Harbor Set was a birthday gift at our house a few years ago, and we just love the awesome container ship and the lifting bridge. (It goes very nicely with the Brio Train Ferry, which we gave him along with this set.)
The Metro Tunnel Set was part of the Little Engineer's "surprise birthday layout" a few years ago. We've had a lot of fun playing with the metro tunnels, especially with the door that opens and closes on the metro station.
And for the construction-inclined kid, the Rail and Road Loading Set or the BRIO Rail & Road Crane Set (or both together!) would be a lot of fun.
Themed BRIO Train Sets
The expanding range of BRIO World toys and sets is a wonderful way to combine train play with a child's other interests, or to create a playscape where siblings with different interests can find common ground.
For kids who love animals or farms, there's the BRIO Countryside Horse Set, the BRIO Horse Stable Playset, the Farm Railway Set, or the Brio Safari Railway Set Train Set.
For the kid who wants to be a firefighter and an engineer, you could get the BRIO Rescue Firefighter Set.
The Brio Steam Engine Set is a great choice for kids interested in learning about steam engines and American history, and it includes rails to place over areas of "rough ground." Combine it with the Brio Collapsing Bridge for lots of excitement. (The Little Engineer, who just turned eight (!), still thinks that bridge is hilarious…we were just playing with it last week!)
The Brio Roller Coaster Set is adorable and fun, and I was really happy to see that it does stay together and the roller coaster cars stay on the track. My kiddo immediately made plans to use the pieces to design his own, bigger roller coaster. There are also a few other coordinating amusement park destinations, including a ferris wheel and a ticket booth!
And if you look to the BRIO World line of toys (all compatible with BRIO trains), you can have your pick of many more destinations — everything from a family home and a school to an ice cream shop and a playground! This could be a great way to coordinate gifts for multiple siblings with different interests that would let them combine their toys and play together.
Hape Wooden Trains
Last year, I was surprised to stumble into the world of Hape wooden train sets. I already liked Hape toys, so how had I missed that they made trains? My expectations rose, and the sets I ordered to test out didn't disappoint! They seem to have even more wooden train stuff out this year, so it looks like a brand on the rise.
In style, quality, and range of available sets, Hape wooden trains kind of remind me of a blend of the practicality and innovation of BRIO and the whimsy and quality of Nuchi, a brand we really liked years ago that has sadly disappeared.
Hape Railway Wooden Train Sets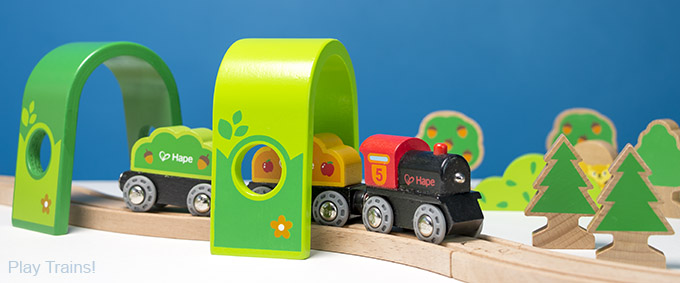 The Hape Railway Forest Railway Set is adorable. I love the wide variety of bushes and trees that are included, especially the apple trees and the oak trees with acorns! There are also two squirrels which my son loves, although he says his favorite features are the two green forest-y tunnels…and I have to agree with him. The layout is well-designed, all the curves are big curves and you get some long straight tracks as well, the bridge is tall enough for Thomas trains to roll beneath it (but not Chuggington trains), and for the most part, everything is pretty good quality, with the main exception being that one of the switch tracks has a very tight fit (it seems like it may be an incorrect cut on that individual track). It's a charming set! Plus, it comes in a big, sturdy box with a handle that could be saved as storage for the set.
Another big set from them is the Hape Railway Double Loop Railway Set, which has a modern city theme, including a tunnel, bridge, station, crane, passenger train, and freight train. The Hape High & Low Railway Train Set focuses on elevated tracks and tunnels, with two high speed passenger trains zooming through a forested area.
If you're looking for more of a starter set, the Hape Railway Figure Eight Railway Set has a classic look to it, with a three-piece train in cheerful primary colors and a couple of their cute trees.
Hape Wooden Train Sets for Toddlers (and Up)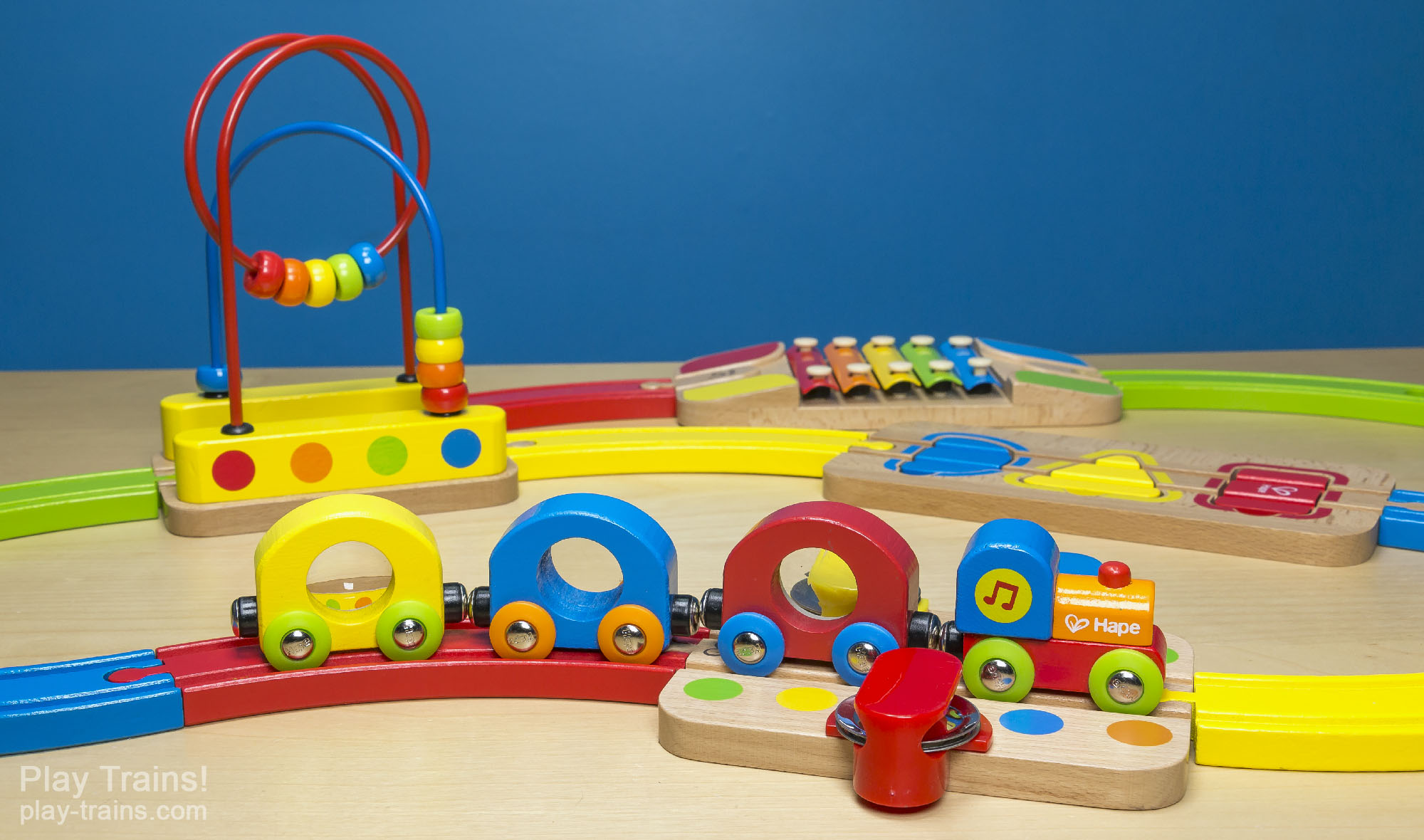 Like BRIO, Hape has quite a few train sets and other products aimed at the toddler engineers out there. To my great surprise, when we compared a BRIO 18m+ set vs. a Hape 18m+ set, while the Brio had some innovations that gave it an edge in the safety/practicality side of things, the Hape set came away as the clear winner for fun for this age group.
The Hape set we played with was the Musical Rainbow Railway Set, and it's the set I'd choose if I were buying a train set gift for a toddler today. It incorporates classic toddler toys (a xylophone, tambourines, a wire bead maze, and a shape sorting puzzle) into a bright, colorful wooden train set, so you're basically getting a whole range of toddler fun in one box. My 8-year-old even found ways to play with the different toys that he really enjoyed, like racing to put the puzzle back together to fix the train before I pushed the train back around again. Each whimsical car of the train itself has a different visual surprise: a mirror car, a car that turns everything upside down when you look through it, and a car with a prismatic/kaleidoscopic lens. Also, all the wood is sealed, so any drool or potty training accidents that might occur are more easily dealt with than with other train sets. Note: if the Musical Rainbow Railway Set becomes unavailable, just combine the Hape Rainbow Sights & Sounds Toddler Wooden Railway — a new, slightly different version of this set, it seems — with the Hape Wooden Railway Color & Shape Sorting Track Train Set, because that's the one thing the new version is missing.
There is also the Hape Railway Jungle Train Journey Set, which includes a couple of elements crafted from fabric that would be an interesting sensory experience.
Thomas Wooden Railway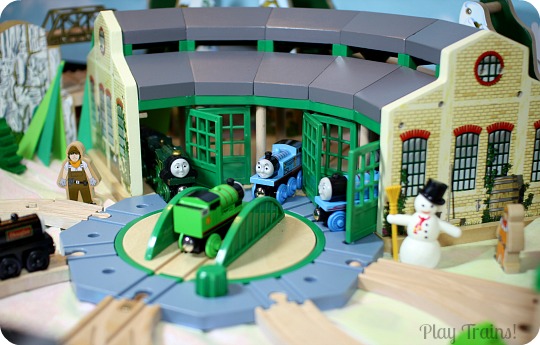 If you'd like to welcome the little blue tank engine into your home, you have two choices: buy Thomas Wooden Railway sets and Thomas trains, or buy non-Thomas sets and add Thomas trains to them. For years, the Thomas Wooden Railway track has been my favorite, and if your child loves Thomas and his friends like mine did for years, the bright, colorful, and well-made engines will become dear friends.
I've been concerned about a possible decline in quality in the brand — more and more plastic that seems to be of an lesser quality, reports of track that's not up to the former standards — but this has apparently become a moot point. Fisher Price/Mattel are replacing Thomas Wooden Railway with Thomas and Friends Wood. (You'll notice that Thomas and Friends Wood does not appear on this list. I'm working on an article about the new brand that will explain why it's not likely to ever earn a spot on it, either, so sign up for our email newsletter if you want to read more about it soon.)
However, some Thomas Wooden Railway sets are still easily available, although not as many as I expected when I sat down to update this list today. If you're shopping for a Thomas fan right now, it's kind of your last, best chance to get your hands on a relatively good Thomas wooden train set.
Our Favorite Thomas Wooden Railway Sets Available Now
One of our favorite wooden train sets of all time is the Toys'R'Us exclusive Gold Mine Mountain Set, which can be found online or in-store at Toys-R-Us. It includes both a fantastic and versatile three-level mountain and Cranky the Crane, making it (relatively speaking) a good value. The set has changed a bit since we bought it three years ago (the main differences seem to be more plastic and no gold dust paint on Salty), but it remains essentially the same. One thing to know about this set in general is that you're only given enough track to connect two of the three levels of track on the mountain, so you will likely want to supplement it with more train tracks if you don't already have more. However, you can build a closed loop of track and have plenty of fun with what comes in the box!
I'm a little shocked that I'm putting this one on a best wooden train sets list, but as long as you don't mind all the plastic, the Thomas & Friends Super Station Playset Train works with wooden trains, and it's downright epic.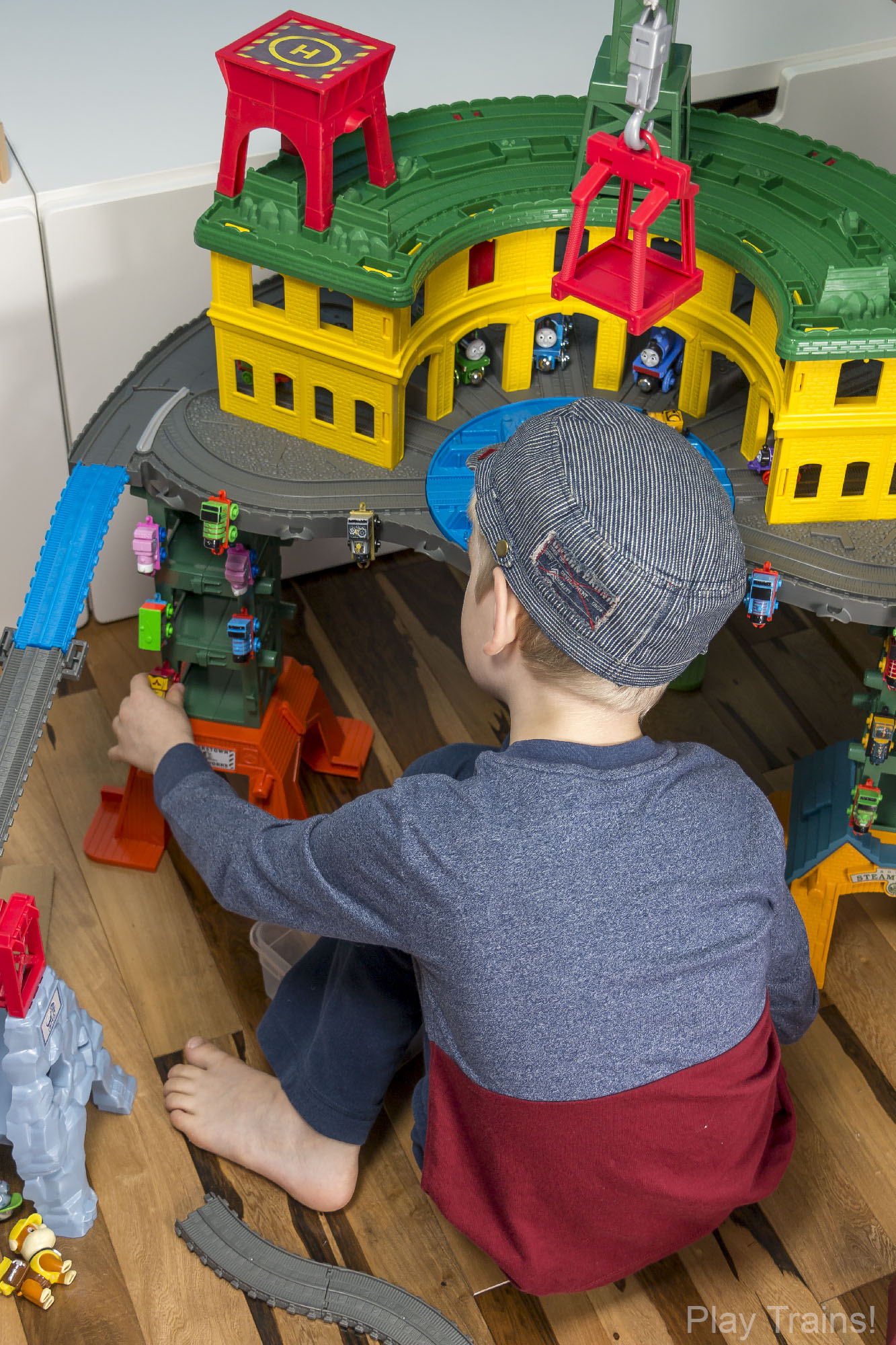 (Price check alert: There's a discounted listing for Amazon Prime members, and Toys'R'Us and Fisher-Price have often had it for the same discounted price as well.) It's huge, and you get a roundhouse, a turntable, Cranky the Crane, a helipad, and various "destinations" (which are pretty much just stickers on some of the supports/tunnels) all worked into one big showstopper. This is a great choice if you've ended up with multiple types of Thomas trains in your house — it's designed to work with and even store wooden, Trackmaster, Take'n'Play/Adventures, and Thomas MINIS trains, and it comes with adapters to connect it to Trackmaster, Adventures, and wooden train tracks (real wooden train tracks, not the new connectors from Thomas & Friends Wood). It also comes with an engine from each of the four lines (well, Harold in the case of the Thomas Wooden Railway inclusion). My son got a huge kick out of helping me put it together and play with it. I think his favorite part was hanging the Thomas MINIS from the hooks all over the station. Obviously this won't appeal to everyone who's shopping for wooden trains, but at least I expect that it will remain available for the foreseeable future.
More Thomas Wooden Railway Sets You Can Still Get
Updated on December 15th, 2017. Note that Target is having a $10 off $50 or $25 off $100 of toys sale through Saturday, December 16th, that includes their remaining stock of Thomas Wooden Railway sets.
Looking at the Thomas sets that you can get right now, if you're searching for a very basic starter set that includes Thomas, as of this writing you could grab the Thomas & Friends Wooden Railway Oval Starter Set. This Battery-Operated Percy and the Mail Station Set with motorized engine, a destination, and a freight car with removable freight is another option, and while it continues to be in stock, this Thomas & Friends Wooden Railway Coal Hopper Figure 8 Set is another more affordable Thomas set that has an important wooden train destination — the coal hopper — that not many sets include.
Moving onto larger sets, the Speedy Surprise Drop Set Train Set claims to be the "highest Wooden Railway track set yet" and features a hidden tunnel to drop into.
The Race Day Relay Set looks awfully exciting, and the reviews I've read say that the train jump ramp really works! I also like how high the hill is. Those long drops are always fun to send trains down, and this set comes with special tracks with side walls to keep the trains from careening off on the curves at the bottom of the hill. It also comes with Gina along with Thomas, and it's nice to see a female engine in a current set. This looks like a great set for a thrill-seeking engineer.
Like the other sets in the Creative Junction line, the Creative Junction Mix, Match and Build Set encourages creativity by letting children assemble the pieces of the set in different ways, in this case to create different destinations. I think this is a great idea, and would be perfect for a child who would love having more destinations for telling the stories from the show and books. Target still seems to have the Thomas & Friends Wooden Railway Creative Junction Slot and Build set, which doesn't include train tracks but allows your child to build more buildings and a crane in this same style.
If you're shopping for Christmas, check out the Fisher-Price Thomas the Train Wooden Railway Santa's Workshop Express. It comes with a snow-covered Thomas pulling a present in a freight car, a Christmas tree, and a North Pole sign. And I kind of want to buy it just for the Sir Topham Hatt dressed as Santa Claus.
The Celebration on Sodor Set has a cute party theme to it and could be fun for a birthday present. The Thomas & Friends Wooden Railway Summer Day Beach Set is another cute one (and kind of hilarious because it has Sir Topham in an old fashioned bathing suit), and it includes Rosie (in her original pink paint).
Based on the Thomas DVD movie, Tale of the Brave, the Thomas' Fossil Run Train Set is a platform set with an exciting, curving slope to speed down, trying to evade a rolling boulder! There's a little gate at the bottom of the hill that opens for Thomas to escape through, and then closes to stop the boulder before it hits him. The artwork on this set is very detailed, giving it a story book feeling, and the set will appeal to any child who is a fan of both trains and dinosaurs.
The Thomas Wooden Railway Up and Around Adventure Tower is a three-story tower that kind of functions as a vertical train table.
And here are a few more sets that I can see available from third-party sellers on Amazon for less than or equal to their MSRP (in some cases much less than) at the time of this update:
As availability continues to decline of TWR sets, eBay will become a good resource for those with super Thomas fans.
Maple Landmark NameTrain Wooden Trains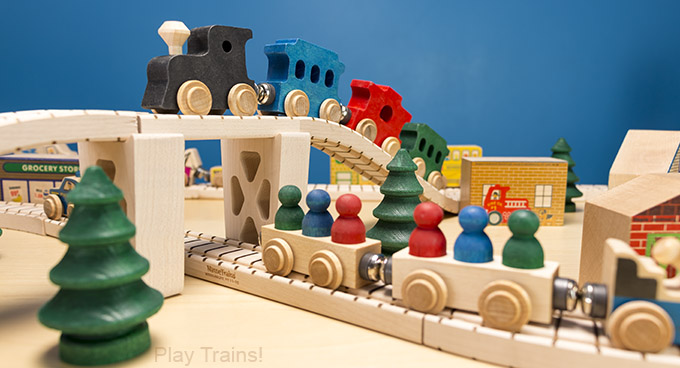 There's no denying that Maple Landmark makes the most beautiful wooden train sets around. Made in the USA from New England maple hardwood and finished with non-toxic paints and finishes, these heirloom-quality sets are a joy to have around. The quality can't be beat, to the point that my own two negative observations on the NameTrain sets — that the connections are sometimes cut with a little too much puzzle-piece precision, and that the all-wood wheels and axles don't roll as smoothly as the usual ones made of metal and plastic — are both due to the exceptional craftsmanship and materials used. I would also advise you to stick to the three years and up rating of these train sets, due to the strong magnets used (just in case).
I highly recommend the NameTrain Town Set. Like the deluxe Brio sets above, it could easily be the only train set you ever need to buy your child. I am very impressed with the complexity and intelligence of the layout design, and you get enough of a variety of track to do some fun things with it. It comes with a whopping SIXTEEN trains, cars, and other vehicles, including a steam engine, passenger cars, school bus, race car, fire engine, ambulance, police car, tow truck, airplane, tractor, taxi cab, and boat. That's enough to keep multiple children busy at the same time, making it a good choice for large families, schools, daycare centers, bookstores, and doctor and dentist offices. And there are five destinations included (a train station, house, fire station, school, and grocery store), with more buildings available (such as a circus tent, bank, and barn). And rounding out the scenery are four adorable, fully three-dimensional wooden trees. Another thing to note is that the bridge is very tall, with even Chuggington trains rolling below it with plenty of room to spare.
Other Maple Landmark NameTrain sets include their Basic Train Set, a simple circle with a three-car train; the NameTrain Safari Set, a figure-eight with both an animal-watching train and five animals on wheels, and the NameTrain Skyline Train Set, which features a beautiful, red suspension bridge. If you're looking for a Christmas-themed set, they also have a cute North Pole Village Railroad.
Dreamup Toys Wooden Train Set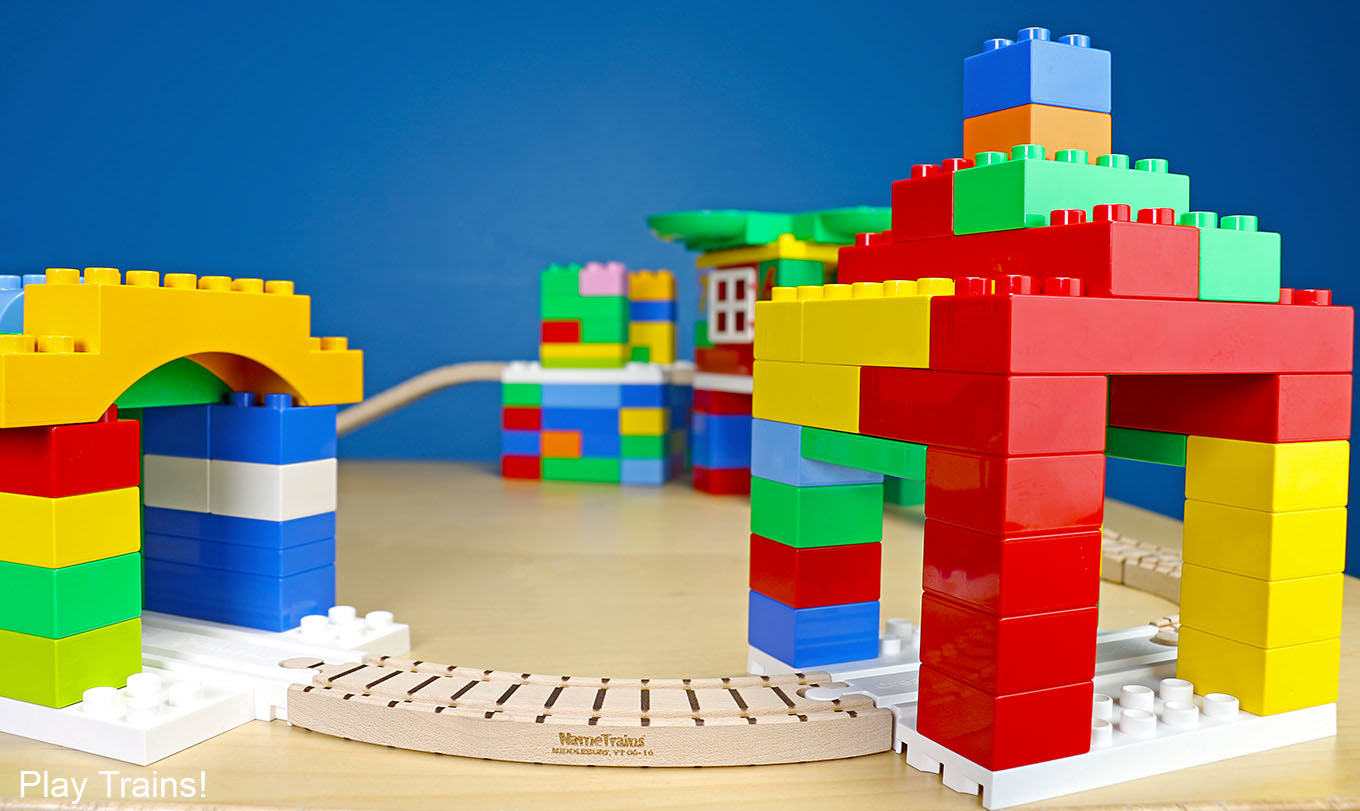 Dreamup Toys makes ingenious building platforms that allow children to combine wooden train tracks and DUPLO blocks/LEGO bricks (or other compatible brands). These platforms would be a great addition to any of the train sets on this list. I've written about how much my son loves these block platforms in the past, plus a parent's guide to building with them.
The Dreamup Toys Wooden Train Set features the lovely Maple Landmark/NameTrains track along with the block platforms. Note that the set does not come with DUPLO blocks, so if your child doesn't already have those, you'll want to check out my recommendations in my full review of the train set.
Whittle Shortline Railroad Toy Trains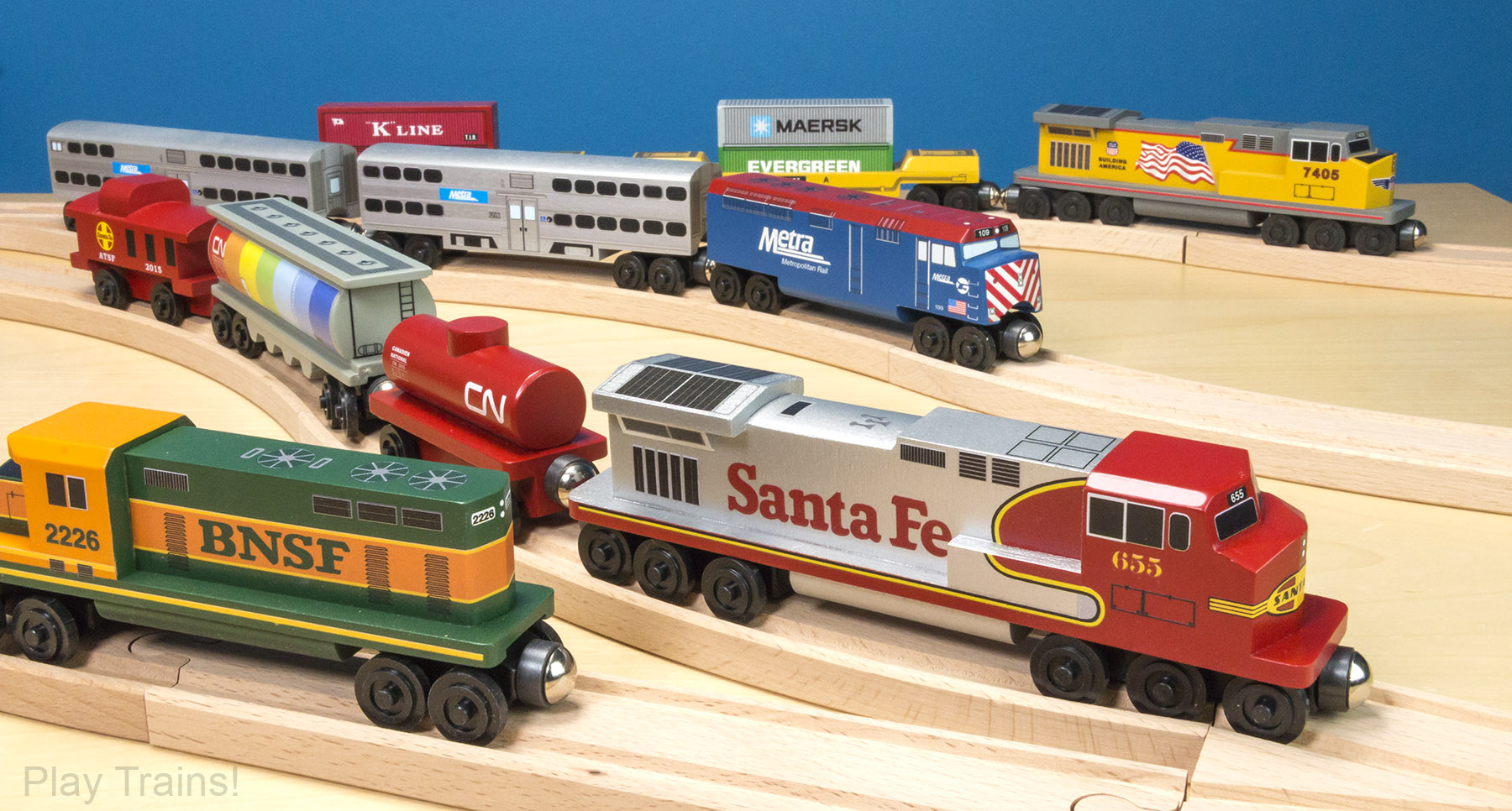 I have wanted to get some of these gorgeous trains for my son for years, and thanks to Whittle Shortline Railroad, we finally have some! Whittle Shortline Railroad is a family business makes the most realistic wooden trains out there. Handcrafted in the USA, Whittle Shortline's trains look impressively like both the real trains out on the the real railroads and the traditional electric model trains that kids rarely get to touch at train shows and grandparents' houses. The level of detail on these trains is just amazing, and thanks to some specially designed wheels, even the longest of their large locomotives rolls neatly around the tightest curves of wooden track. If you have a child who is obsessed with real trains or model trains, if your child has a grandparent, parent, or other favorite family member who is a model train hobbyist, or if you'd just like to teach your child about real trains, you have to check these out! You can read our full review of these amazing trains here. Please note that their train sets only include the trains, so you'll want to get some wooden tracks to go with them.
Chuggington Wooden Railway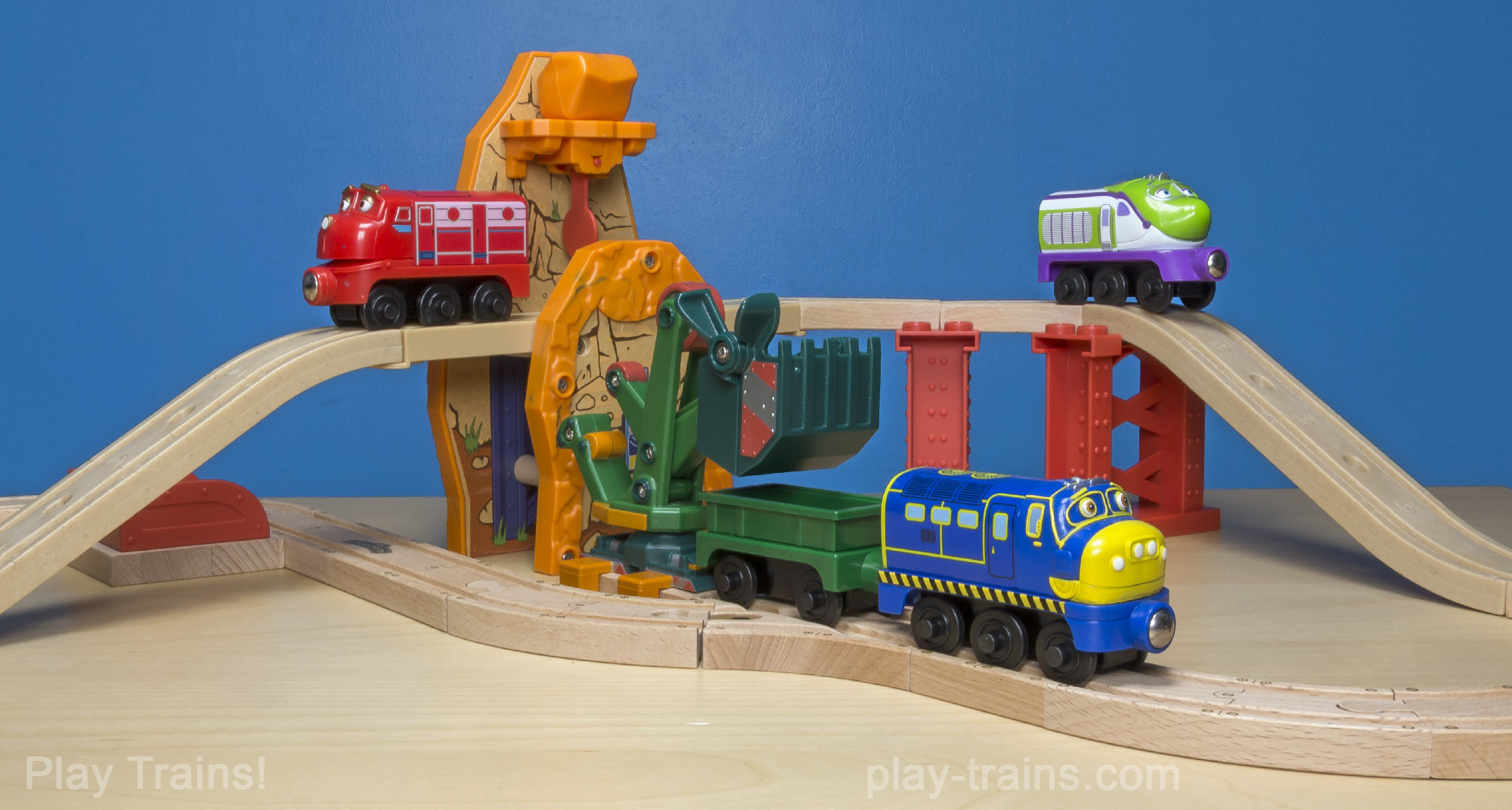 When Chuggington Wooden Railway came out, I wasn't a fan. Their sets were made by the same company as Thomas Wooden Railway at the time (first Learning Curve, and then TOMY), but they used a lot more plastic, especially on the trains to simulate the computer-animated, cartoonish train faces. Chuggington train tables replaced Thomas train tables at many of the toy stores we went to play trains at during that time, and I was always having to fix the elevator turntable things that raise engines up to the second floor of their improbable two-story roundhouses.
I've softened that stance with time, especially because Thomas has moved on to Fisher-Price while Chuggington has stayed with TOMY. Chuggington track is just like the Thomas Wooden Railway track that I've loved for years, and now that Thomas sets include more plastic, it doesn't seem like there's that much difference.
I'm never sure whether or not they're still making Chuggington sets. Every time I thought they were being cleared out, new sets would appear. It looks like they may finally have stopped making them, but there are still some sets that are easily available. And if you have a Chuggington superfan, there's always searching for "Chuggington Wooden Railway set" on eBay.
One thing to keep in mind is that Chuggington engines are pretty much the tallest, bulkiest wooden trains out there, so they often don't fit under bridges from other wooden train brands.
Here are the sets I was able to find that seemed easily available at the moment, but again, there used to be a lot of other, different sets, so eBay can be a good source. Otherwise, you could always buy the engines on their own to combine with another train set.
Chuggington Wooden Railway Beginner's Set is a simple circle track that comes with both Wilson and Brewster.
Wilson's Crane and Tunnel Figure 8 Set comes with Wilson, a freight car, and a track-spanning crane to drive under.
Chuggington Wooden Railway Brewster's Icy Escapade Set is a bigger set with an ice-cutting and hauling theme featuring Brewster.
Chuggington Easy Track Sets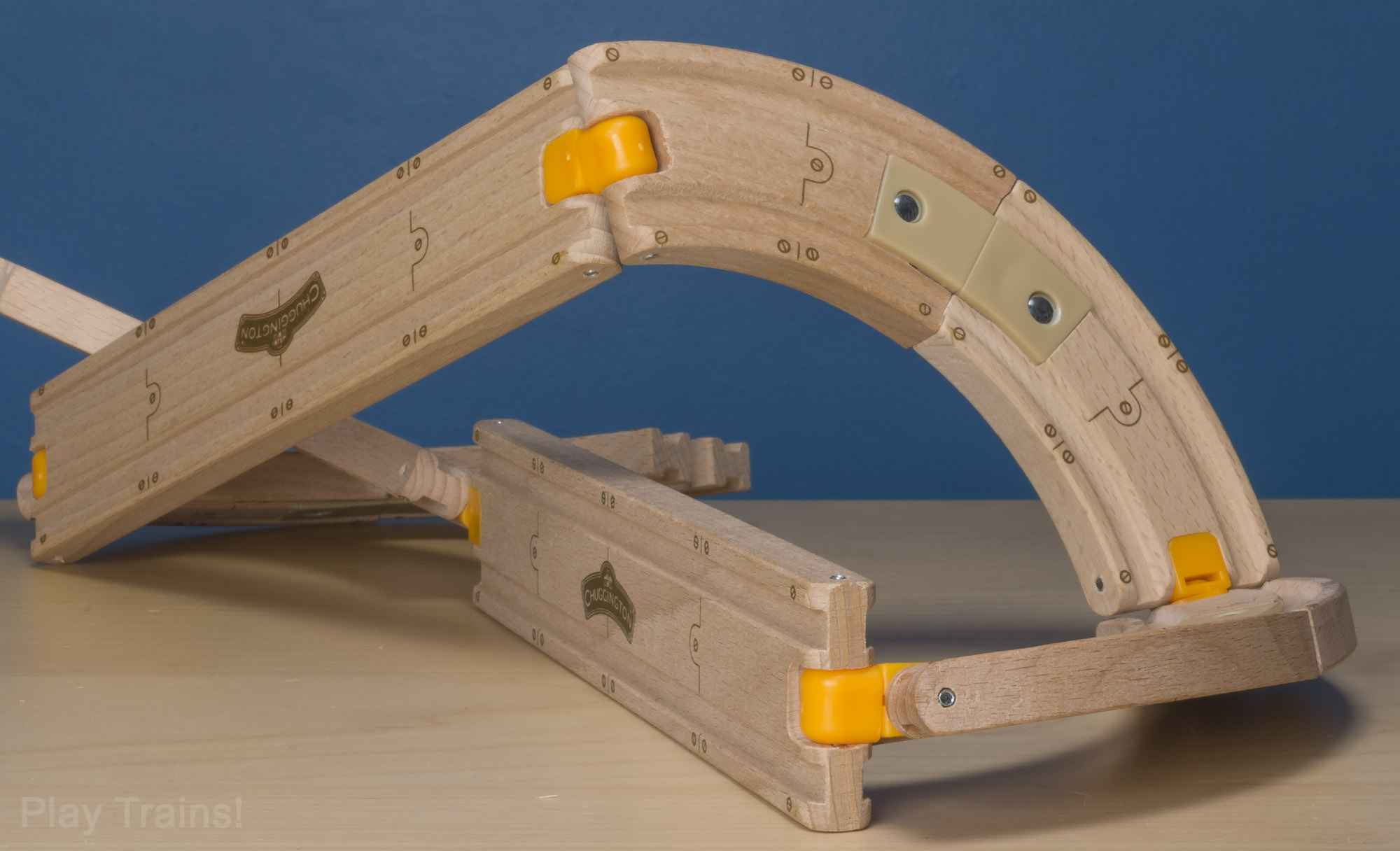 While I recommend the regular Chuggington wooden train sets for fans of the show, I definitely do not recommend the Chuggington Easy Track sets (and it's easy to find reviewers who agree with my assessment). When I first saw them, I thought they were potentially a helpful option for toddlers who break their train layouts and then get frustrated.
Nothing could be further for the truth. First of all, they're rated 3 years and up. The vast majority of 3-year-olds are able to build basic wooden train track layouts themselves, or at least keep them together when they want them to be together. This would only really be useful for children under 2, maybe 2.5 years old.
And then there's the little problem of the system just not working. The orange connectors that allow you to twist the curves to go in either direction are almost impossible to force together as an adult, and extremely easy to pull apart as a kid. As the Little Engineer said, "I'm 8, and I can't keep them together!" They came apart in his hands; they came apart when he dropped them.
There are way better sets for toddlers out there that are actually made for (and safe for) toddlers. And if you want to keep your child's train set together during playtime, I have lots of suggestions about how to do that in my post about temporary ways to secure wooden train tracks.
Bigjigs Rail
Another good brand to go with is Bigjigs. While not equal to Thomas and Brio in quality, their train sets are far more affordable. Additionally, they make a lot of unique and extremely clever pieces, especially when it comes to their freight cars and destinations.
Bigjigs offers quite a few interesting train sets. Their My First Train Set is quite possibly your least expensive option for a small, good-quality beginner's train set. While it includes passenger coaches instead of freight cars, and so doesn't offer the fun of loading and unloading freight, it does include two people and two houses. That could be more fun for some children than the freight. Their Village Train Set is an expanded version of the same theme, which is then expanded further in the Town and Country Set. And then for a very large set, check out the Freight Train Set.
Moving on from their basic sets, they also make sets in a number of fun themes. If your child loves construction vehicles as much as trains, I'd suggest taking a close look at their Construction Train Set. For a car and train fan, try the beautiful Rural Rail and Road Set. Their pink and purple Fairy Town figure-eight set is very sweet.
The Railway Station Carry Set allows you to pack up a small train layout inside of a very cool two-level train set. The Mountain Railway Set looks fun, and comes with a station we own and really like. However, I'm not sure how well tracks would stay put on the mountain. (I would probably just glue the curves to the mountain top on this one.) And then there's the Around the World Train Set, which I desperately want. World landmarks have never looked more adorable! And the Heritage Collection Mallard Train Set looks like a beautiful set to start or encourage an interest in railroad history.
Imaginarium Trains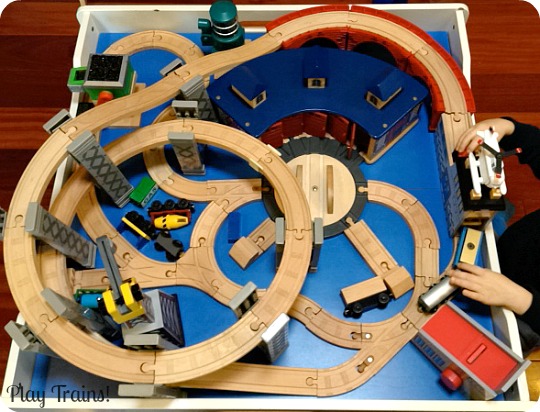 Imaginarium train sets are available at Toys-R-Us, in-store and online. Though I would rate them lower than most of my other recommended brands, you get a great level of quality in comparison to the low prices, which can go even lower if you shop sales and sign up for Toys-R-Us' rewards program to get coupons. All of our Imaginarium train stuff has stood the test of almost three years of train play and still looks great. I also like that they offer a good range of fairly realistic trains. I'm particularly fond of their freight cars, which make great Troublesome Trucks with the addition of some Troublesome Truck face stickers.
One of my favorite Imaginarium sets is the Timber Log Spiral Set. While not as pretty as the Thomas-brand spiral set we also own, it's functional and fun. The spiral supports can be used with straight or curved track to make any number of different elevated configurations, and it comes with a cute steam engine and two great freight cars (my son loves having the blue one for Thomas to pull).
If you're in the market for a train table as well as a train set, take a look at the current Imaginarium train table set. We have the one from a few years ago, and while the train table has gone on from taking up space at my mom's house to a new home, the buildings, trains, and accessories from the set, especially the roundhouse, are still useful pieces in our collection.
By the way, the layout in the picture above was created using elements from our Imaginarium train table set and the Timber Log Spiral set (and lots of different brands of track).
Conductor Carl Wooden Trains
I'm a big fan of Conductor Carl bulk wooden train track — it's what I used for all but one of the tracks in my picture book, Old Tracks, New Tricks.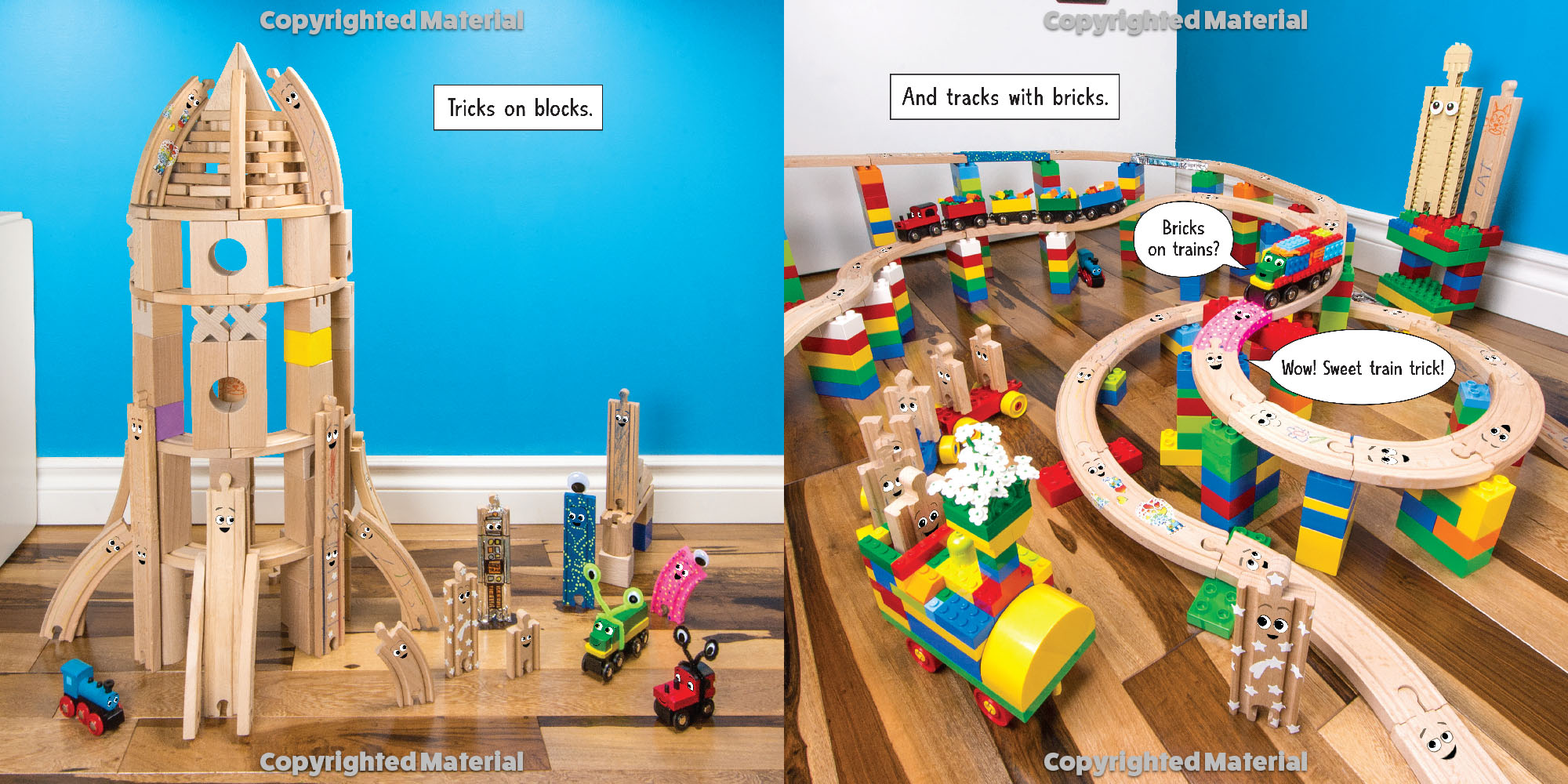 I now use them in the train set I take to train shows to promote Play Trains! and the book, and they're holding up well to all the kids who come to play with us.
The best and most unusual part about their tracks is all of them, including the switches, are cut from a single piece of wood. Almost every mass-produced brand, including BRIO and Thomas Wooden Railway, glues or screws in plastic pegs on their switches. Most of the time this is just an eyesore, but on the cheaper brands where the pegs may not be securely fastened, the pegs can come loose and become a choking hazard. The tracks also have a very smooth, almost soft feel to them.
The one thing I've noticed, though, is that there has been at least one period when the quality wasn't consistent. About a year ago, I got a couple of boxes of tracks where it seemed like they were cutting them with a dull blade, which can cause a lot of roughness and splintering. Every box of track I've bought before or since, though, has been really good quality for the price.
Conductor Carl makes full train sets in addition to their bulk track boxes, and they're a nice value for the price, although I don't recommend them as highly as the bulk track. Most of the Amazon reviews of the Conductor Carl Figure 8 Train Track Set are from people who are very upset that the special Conductor Carl engine with a little Conductor Carl that can be place in the top doesn't fit under the bridge in the set, even without Conductor Carl. I was just amused that I found an engine that's taller than a Chuggington! I thought it was kind of fun, and it's certainly unique, but yeah, it's not going under that bridge. You could, however, put the set together as a big oval and solve the problem.
The reviews for the Conductor Carl 100-Piece Wooden Train Track Town Starter Set are much more positive…but it appears to be the exact same train set that I see sold by a lot of budget/generic brands on Amazon (including Orbrium, which I'll talk about below), so I'm really unsure as to who is manufacturing what with some of these cheap brands. On the other hand, it does seem to have switches cut from solid wood, rather than ones with pegs, and you do get Conductor Carl and his engine with it. It's also cheaper as of the time of this writing than the Orbrium one, so there's that, too.
IKEA LILLABO Wooden Trains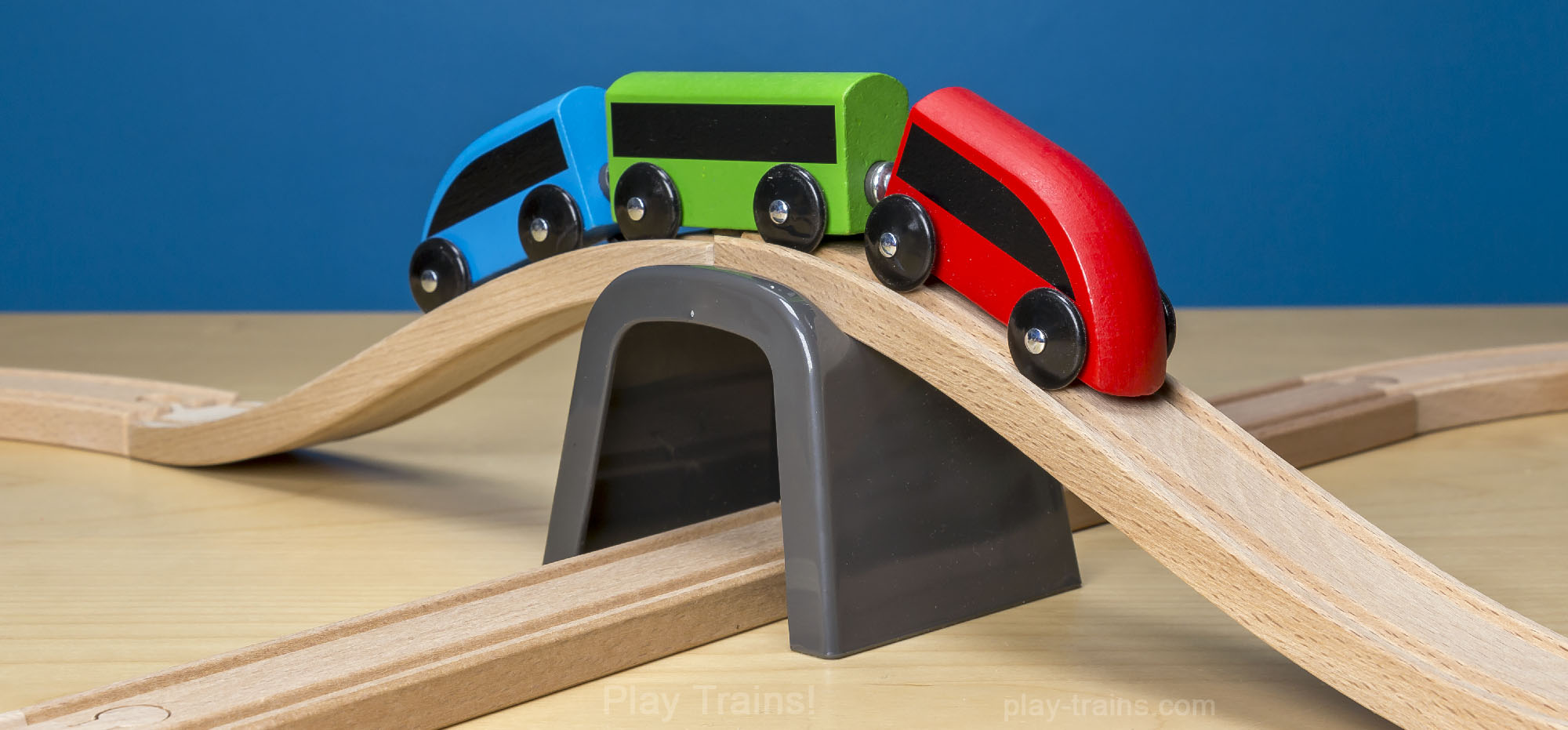 IKEA trains underwent a redesign this year. In the past, their tracks had plastic connectors that were a too-tight fit with many other wooden train brands' tracks. I need to do more play testing, but the new all-wood IKEA tracks seem to be compatible with major brands. All the tracks in the set I have are made from a single piece of wood. Hooray for IKEA making the decision to change their design to be safer and more compatible! I tried out a Thomas, a BRIO, and a Chuggington engine through the tunnel, and unlike the old IKEA train sets, they all fit except for the Chuggington. But it's really hard to find anything for a Chuggington train to fit under.
It's also exciting to see new items in their train line, including an engine shed and a turntable.
Anyway, now that IKEA trains are seemingly compatible with other train brands, they're definitely a cheap but fairly nice option for a first train set. One word of caution, though, is that one of my ascending track pieces had the top of the track sheered off at one end. It's mostly useable, but I don't know if this is a quality control problem or just a one-time accident.
Orbrium Wooden Trains
I love Orbrium's unpainted wooden trains — I painted and used them for all the trains except Blue in the photo illustrations for Old Tracks, New Tricks — and we had some Orbrium adapter tracks that we were happy with. So I was a little disappointed in the Orbrium train set I bought to try out.
My main complaints are that there are some splinters on the cuts, there's a lot of extra glue that built up around anything that was glued together, and there are occasional dents and chunks and rough patches caused by a dull saw blade, particularly on the switches, but also on the curves.
But it's a decent type of wood, and they fit together and I haven't found any problems with compatibility. They're better than Melissa & Doug (which I'll be grumbling about farther down this list), and at least they try to be innovative in some of their designs. The set I have is the 58 piece expansion, so it didn't come with trains, but I've been using those unpainted trains heavily this year at train shows and recommend them. So as long as the paint holds up on them, their other trains should be okay. If you go with an Orbrium train set — or any budget train set — I recommend checking it over with some sandpaper, especially on the switches, and smoothing anything that looks splintery or feels sharp. (The places where the tracks intersect on the switches seem especially sharp on Orbrium tracks….that's my biggest problem with them, actually.)
Plan Toys Trains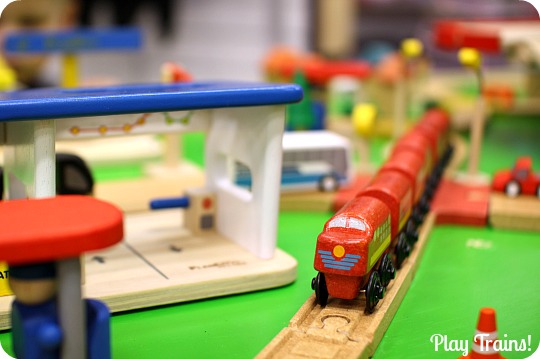 I was never a fan of Plan Toys' wooden trains in the past. Their wooden train tracks were barely even compatible with each other sometimes, much less other train brands. However, they've completely changed the track now, so my hope is that they work better. Of course, now their trains have non-magnetic couplers, which means that they are not compatible with other brands of wooden trains. Plan Toys is the most eco-friendly option I'm aware of, so if that's especially important to you, you might be interested in the small Plan Toys City Road and Rail Oval Railway, Plan Toys City Road and Rail Railway Figure 8 Set, or the large Plan Toys City Road and Rail Railway Set.
Melissa & Doug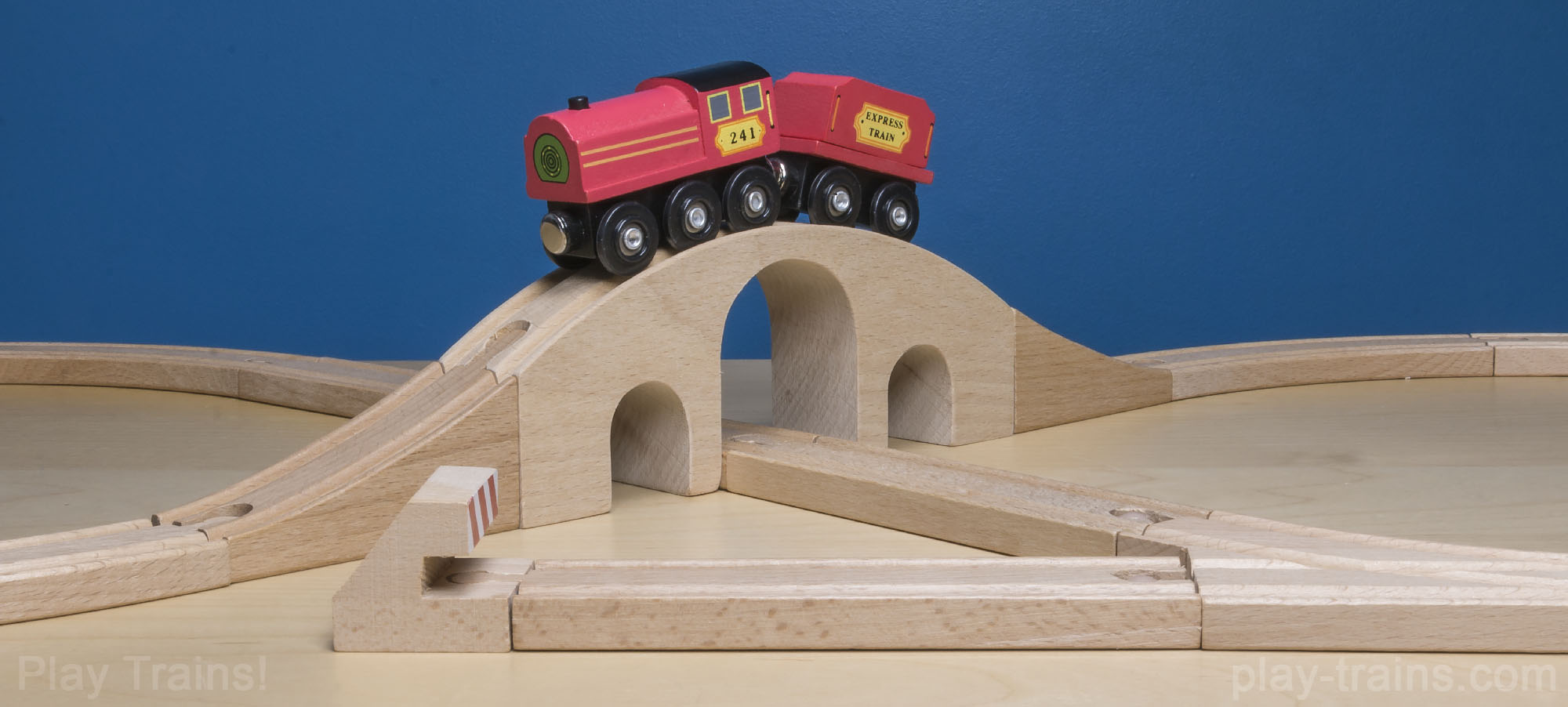 Generally I love Melissa & Doug toys, especially their play kitchen food and their stuffed animals.
I've always wished I loved their train sets to the same degree.
We've had some Melissa & Doug wooden train tracks for a long time, and they are perfectly fine as far as tracks go. We also have a really big, cool bridge of theirs (that they unfortunately don't make anymore, or I'd link you right over to it).
The thing is, I've never liked the look of their wooden trains themselves. Either they're just a painted, flat silhouette of a train, or a more three-dimensional but blocky train design with a kind of meh paint job. We never ended up buying any of their sets for our original collection.
However, as I went about expanding this guide to talk about brands people often ask me about, I wanted to give M&D a fair chance. I bought a couple of their smaller sets to try out.
After playing with them, I still don't recommend the brand. Their sets do tend to be inexpensive for the number of pieces you get, and the track seems to be made from better wood than other brands at that price point, so they're not the worst choice. Just not the best one either. The main reason is all the corners you won't see them cutting until you look closely, which I think leads people see the recognizable brand name and expect quality and thoughtful design that isn't there.
Cut corner number one: the wheels. The axles on the trains are aluminum rather than a stronger metal like steel, which is the standard for other train brands. Only one side makes a nice smooth hub for the wheels. The other side is a messy looking exposed rivet or something. The wheels themselves seem to be made from a softer type of plastic. They're thin and flat, requiring spacers between the wheels and the trains to not scrape off the paint.

Cut corner number two: the plastic. Even more than the wheels, the plastic in the circus cars that came in one of our sets is really obviously soft and weak. Out of the box, some visible stress damage already had turned the colored plastic white at the places where the car was assembled in the factory.
Cut corner number three: the tracks. I don't know if the quality has declined, or just my memory, but the tracks we found in the M&D sets I bought recently weren't nearly as nice as I remember the ones we purchased years ago being. The surfaces of these new ones are quite wobbly (as opposed to a nice, smooth, sand-flat surface), with rough patches on the wood and occasional splinters near the cuts. They're still better than the tracks made of really soft wood, but they aren't as well made as I expected them to be.
Cut corner number four: the trains. I still really don't like the half-hearted look of the trains. It strikes me that they're doing something to save money on production and trying to pass it off as style. I think that's what my weirdly strong gut reaction to the sets comes down to: looking at the M&D sets, I just feel like someone's trying to pull a fast one on me. I'd rather buy an Imaginarium set with the cheaper tracks, because they seem to put effort into designing functional, playable train sets, rather than just producing something that looks old fashioned that people will buy without realizing it's just there to add another toy to a big company's line up.
I could point out more cut corners, but I think that gives you the idea. Now I want to talk about the individual sets because people often ask about them. And really, if you can read what I've already said and not be dissuaded from considering an M&D set…well, they're inexpensive, and the tracks will fit together and hold up over the years. And I should mention that the Little Engineer liked the look of the trains. Kid opinions count around here! When it comes down to it, I'd much rather hear about someone buying a Melissa & Doug set than a KidKraft set.

The first is the very simple Melissa & Doug Children's Zoo Animal Train Set. It comes with a circle of track, an engine, two circus-type train cars, and two zoo animals. The one kind of cool thing about this set is the set of circus cars (except for the fact that they're made out of cheap plastic). I like freight cars that can hold any kind of object, and these are especially tall. But as I mentioned above, the plastic is already showing signs of stress straight out of the package. The Melissa & Doug Farm Animal Wooden Train Set (12+ pcs) looks to be a similar set with a farm theme.
The other set I tried out is the Melissa & Doug Classic Wooden Figure Eight Train Set. It's 22 pieces that include a figure-eight layout with a bridge, a train with a coal tender, and one switch track that leads off to a siding with a buffer. I will say that the bridge itself is a nice, sturdy style. Out of all the Melissa & Doug sets, this strikes me as the best.
The Melissa & Doug set that seems to be the most popular for people who end up on this site to consider is the big Melissa & Doug Deluxe Wooden Railway Train Set. At 130 pieces, it's a lot of train set for the money. The layout seems heavily influenced by the classic Thomas Wooden Railway set that they had at every Barnes & Noble when my kiddo was a toddler. (Ah, the good old days.) The biggest problem with the set in my mind is the large amount of elevated track. It's held up by narrow track risers with nothing to keep the tracks in place other than a small lip on either side. Those will fall over constantly. (If you do buy this set, you'll want to read my posts about elevated tracks and temporary ways to secure train sets for ways to keep the elevated portions together during play.)
Finally, Melissa & Doug also make a Swivel Bridge Wooden Train Set (47 pcs). The swivel bridge seems gimmicky to me, because it's not like it can connect to other train tracks, and a review I read noted that bridge can't turn all the way around. So what would be the real life purpose of this thing?
Pottery Barn Kids Wooden Train Sets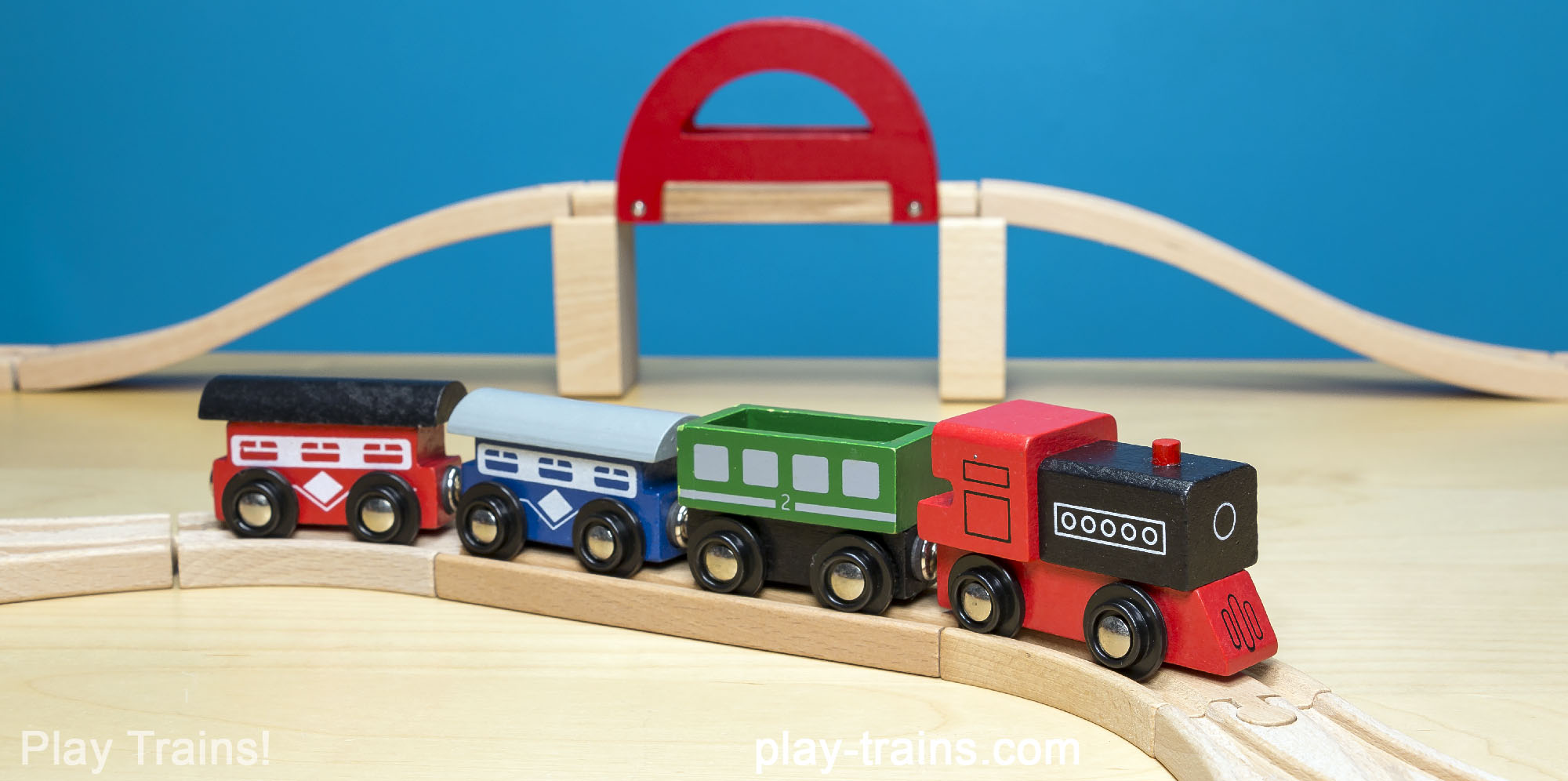 I really wanted to like the Pottery Barn Kids train sets — after all, they look pretty in their staged photos. But I feel like the designers put all their efforts into making the sets look stylish for the catalogs, and not enough into the functionality or quality of the sets. However, one thing they do have going for their sets is that they don't use much plastic at all in them, other than the wheels of the trains.
Our one and only PBK wooden train item in our original collection was a cute little firehouse that you could plug a wooden train track into. It had a button to push for some fire alarm sounds. But the paint was easily scratched, and the track connection was a tight fit and painted bright red, so it was hard to work with and also kept leaving red paint on our wooden train tracks. (I ended up wedging one of those rubberwood train tracks I talked about in the intro to this post into it permanently on purpose, to combine two annoyances into one.)
I didn't want to base a review of the brand on one destination, though, so I got their 48 piece wooden train set to try out. It's an okay train set, but I don't think it's worth the price, because it's not premium quality by any means. The trains are blocky, and could have been sanded smoother before having their paint applied. The cow catcher on the front of the engine is attached off center, and it's long enough to crash into the track at the bottom of the bridge if the tracks aren't perfectly level. The paint on the freight car is either chipped or wasn't applied properly around the edges. The track supports are just narrow wooden blocks with small lips on either side, and there was some kind of gummy glue stuck to the top of those. And all the accessories — the signs, the buildings, and the trees and bushes — were missing from our set. The glue and the missing accessories could have been a returns issue, so I'm going to try to see if they'll let me exchange the set…it's been a while since I bought it and added it to my review pile, so we'll see.
All that said, they do make some unique and interesting sets, like this futuristic Wooden Metropolis Play City Train Track Set. But even that set looks like it's just a ramp to go up and down through the city, which would have to be incorporated into a larger set.
Once you have your train set picked out, you'll want to browse our Train Play archives for lots of ideas of what to do with them! You may want to read our Guide to Wooden Train Tracks for advice on expanding upon a basic train set as well. I also recommend signing up for our email newsletter to keep up with our new train ideas and activities as we post them.
A note on safety: Wooden train sets generally involve a fair range of choking hazards, especially when you're dealing with freight for freight cars or other accessories. There is also the possibility of a magnet coming loose, although the only time we've had that problem in the past three years was on a Brio freight container when the plastic square concealing a magnet came loose. (We checked all the other freight containers and none of the others seemed to have the same problem.)
Most wooden train sets are rated for age two or three and up because of these dangers. Please take this into account when buying a trains set for your children, as well as their own stage of development when it comes to putting things in their mouths. We were fortunate that the Little Engineer was beyond the mouthing stage when he was only one year old, so we were able to buy wooden trains from the start of his interest in them. Even so, I did put a number of smaller pieces away until I was sure, and I always closely supervised him with his trains.
This guide will be expanded with time. Have a question I didn't answer? Ask in the comments below, or by email!
More Posts in the Ultimate Wooden Train Guide
The Best Wooden Train Sets
…and more to come!