One of the first things I wanted to add to our initial wooden train set was a wooden train roundhouse. Initially, the Little Engineer just really enjoyed putting the engines in and out of the roundhouse and opening and closing the doors. But as time went on, our roundhouse added so much more for him to pretend and practice with his wooden trains.
More Posts in the Ultimate Wooden Train Guide:
The Best Wooden Train Sets
The Best Wooden Train Sets: UK Edition
The Best Wooden Train Tables for Toddlers and Preschoolers
Do You Need a Train Table?
Alternatives to Gluing Wooden Train Tracks to Train Tables
Wooden Train Tracks
Bridges and Elevated Tracks
Roundhouses and Engine Sheds
Organizing Wooden Trains and Track
Wooden Train Freight Cars
…and more to come!
Engine sheds add the important idea of rest to train play, which was really helpful with getting the Little Engineer to understand why he had to sleep at night back when he was a toddler. We told him about how the engines needed to rest after a hard work, played it out with the roundhouse, and later compared his body to an engine.  When the engines' imaginary morning came, we could play out getting started with the day, another important transition to practice.
If you have a roundhouse or an engine shed with more than one stall, having multiple engines resting or "waking up" together adds new possibilities for practicing social interaction with the trains or their drivers. If you watch Thomas & Friends, you'll often see the engines talking to each other at the sheds, or receiving orders from Sir Topham, and that can be a fun addition to the stories a child tells during train play.
Parenting tip:
If your train-loving child has a hard time leaving his or her trains when it's time to go to bed at night, or just needs a soothing activity to prepare for sleep, try having your child put engines to "sleep" in their shed, saying goodnight to each one and closing the doors.
Wooden Train Roundhouses and Engine Sheds
Here are the best wooden train roundhouses and engine sheds I know about that are currently available. Products with their names in bold are ones we have hands-on experience with.
This post contains affiliate links to other websites. If you click on one, we will receive a small commission — at no additional cost to you — on anything you buy at those sites for a certain length of time afterwards. Read our disclosure policy for more details.
Tidmouth Sheds (Thomas): Our first roundhouse came from an Imaginarium train table set, and it's served us well for years now. However, we always wanted to have the "real" Tidmouth sheds, because they're the setting for so many of the scenes in the videos and books. This was a very, very exciting Christmas gift for the Little Engineer. It has the Thomas and Friends style, and a year later it still looks good and works great. Here's a picture of it from our Thomas Gets a Snowplow layout: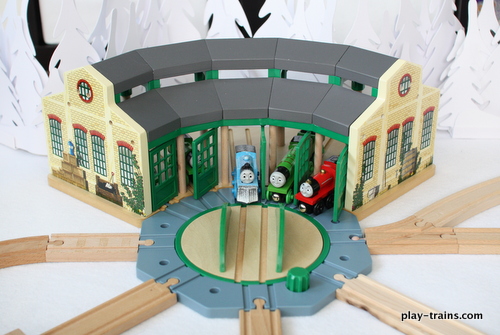 Deluxe Roundhouse (Thomas): Thomas Wooden Railway also produces a deluxe roundhouse. With red brick instead of pale yellow, it doesn't look like Tidmouth Sheds, which may be a good thing or a bad thing depending on the situation. It has more bells and whistles that look fun, though not really necessary.
Two small sheds that we have and like are the Double Engine Shed (which has a removable roof) and Triple Engine Shed made by Bigjigs. I love the bright colors of both of these sheds. I especially like that the Double Engine Shed can be turned around and used as any building you like. You can see it serving that purpose here, again from our Thomas Gets a Snowplow layout: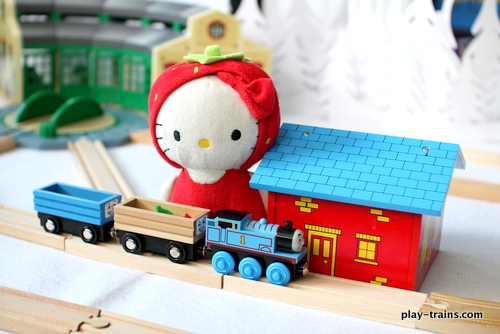 DIY Engine Sheds for Wooden Trains
We made a kid-painted engine shed out of a recycled dryer sheet box, and these wooden castles we adapted to connect to wooden train tracks to go with King of the Railway also serve as one-engine train sheds.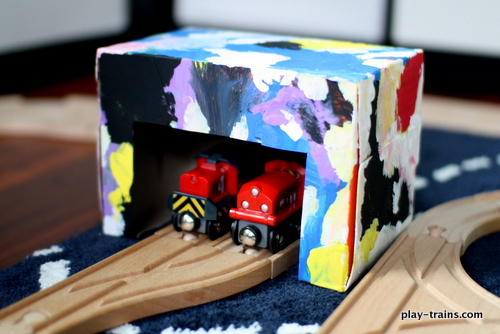 Recycled Dryer Sheet Engine Shed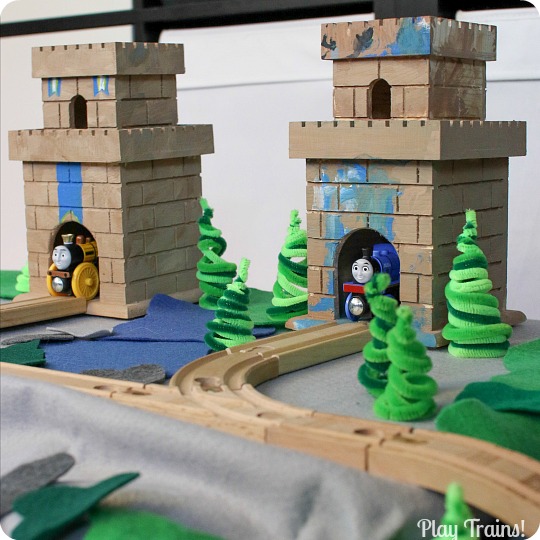 This guide will be expanded with time. Have a question I didn't answer? Ask in the comments below, or by email!
Sign up for More Train Fun!
If you have a train-loving child in your life, make sure you're signed up for our email newsletter:
More Wooden Train Guides: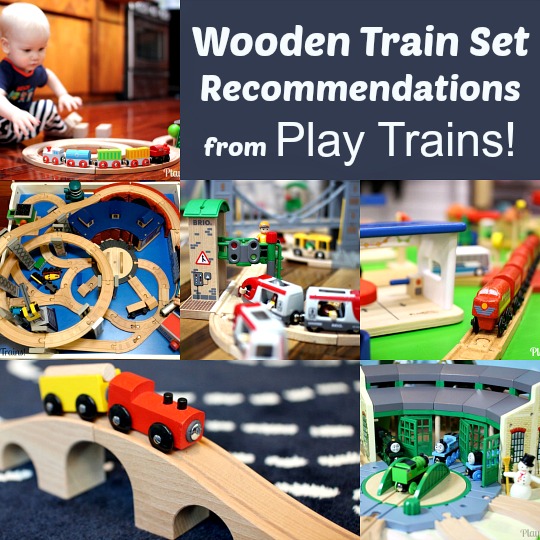 The Play Trains! Guide to the Best Wooden Train Sets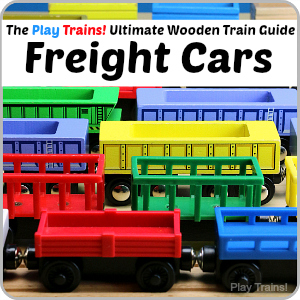 The Play Trains! Ultimate Wooden Train Guide: Wooden Train Freight Cars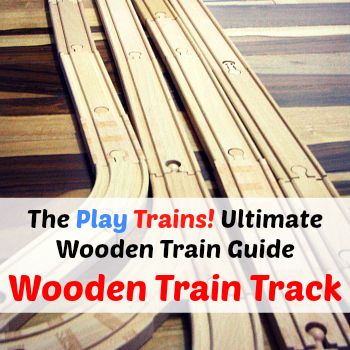 The Play Trains! Ultimate Wooden Train Guide: Wooden Train Track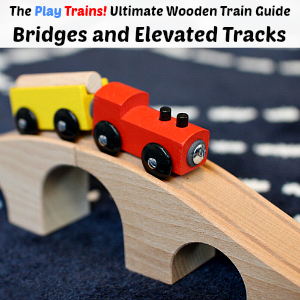 The Play Trains! Ultimate Wooden Train Guide: Brides and Elevated Tracks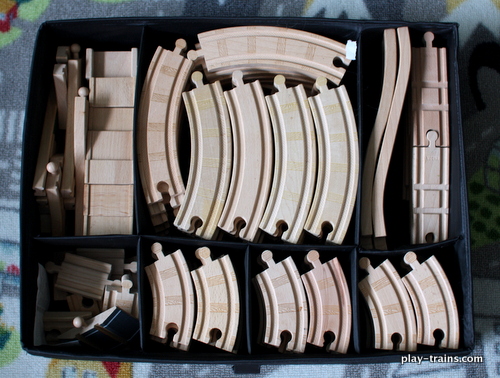 Organizing Wooden Trains and Track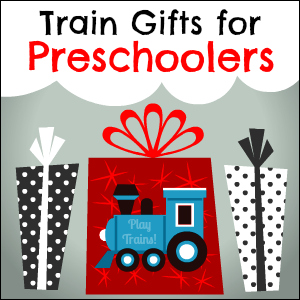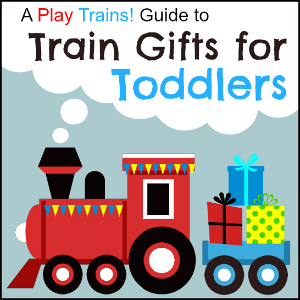 A Play Trains! Guide to Train Gifts for Toddlers