When I wrote Train Gifts for Toddlers as part of the 50+ Gift Guides for Kids series last year, it was the first post in a series of train gift guides for children organized by age. Now fully updated, it contains even more amazing toy trains, train books, and other train gifts for toddlers!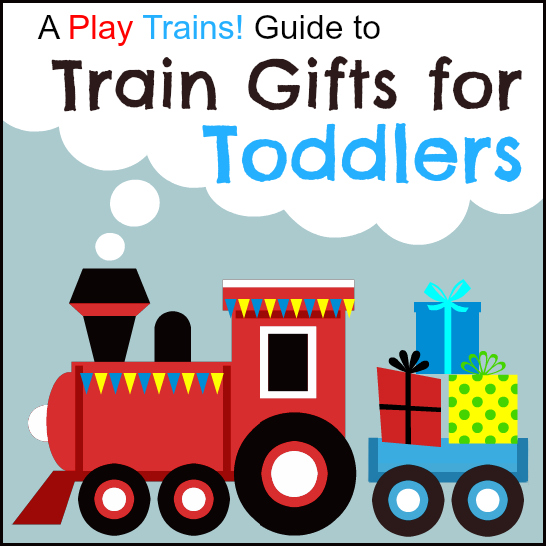 This post was originally published on November 14th, 2013. It contains links to Amazon.com. If you click on one, we will receive a small commission — at no additional cost to you — on anything you buy at Amazon for a certain length of time afterwards. Read our disclosure policy for more details.
Last updated: December 14th, 2014
My son, the Little Engineer, began his love affair with trains as a one year old. One of the challenges was figuring out what train toys were appropriate for him at that age. Of course, that's still a challenge three years later as I wonder if he's ready for his first model train, but there are more safety concerns with toddlers than with (almost) four year olds. Wooden train sets, for example, often have parts that can be choking hazards, and then there are the magnets to worry about.
We were fortunate in that our son was past the mouthing stage at a very young age, so we were able to start his wooden train collection right away (with some pieces put away for later and play always being closely supervised, of course).
If your child is on the upper end of toddlerhood, you might want to also have a look at our list of Train Gifts for Preschoolers.
On the other hand, there are plenty of fun and safe toys even if your child is still in the putting-everything-in-the-mouth stage. And I've noticed that Thomas Wooden Railway's age recommendation has come down from being generally three years old and up to often being two years old and up.
Whichever stage your child is at, I think you'll find some great gift ideas on this list!
Wooden Trains
If you think your child is ready for wooden trains, I wrote up my recommendations and advice for buying a wooden train set, based on years of train play experience with many different brands. There are some safety notes at the bottom of that post that particularly apply to toddlers playing with wooden trains, and I recommend that you read those before purchasing them.
One thing I'd like to point out in particular, however, is the Up and Around Sodor Adventure Tower below. It's new this year, and while I haven't seen it in person yet, it gets good reviews. From looking at the photos, I suspect this might be a good first wooden train experience for toddlers who are ready for them. It's smaller than a traditional train table, and the two upper tiers have tracks built into them — no tracks for a toddler to take apart! (If you get or have a traditional train table and train set for your toddler and have issues with the track getting taken apart, you might be interested my list of temporary alternatives to gluing train tracks to a train table.)

Thomas Wooden Railway: Up and Around Sodor Adventure Tower
Toy Trains for Toddlers
We just got this big, bright, sturdy train a couple of weeks ago, and even at the age of five, the Little Engineer loves it! It's perfect for toddlers, and so adorable. Green Toys makes all their plastic toys from recycled milk jugs, making this a safer choice than average for sure. It also comes in a pink/green color combination, pictured below.

Viking 15-Piece Chubbies Bucket
We have a one of these Viking Chubbies vehicles — a little blue truck — and we've played with the trains at a toy store. These are nice, sturdy plastic vehicles. A connectible train engine and car seem to come in this set, but in the reviews someone suggested that the vehicles in the bucket are a random assortment, so keep that in mind.

Tolo Toys First Friends Deluxe Train Set

Here's another sturdy plastic train we've played with in a toy store.

Thomas the Train: All Around Sodor
This set is awfully

LEGO DUPLO Number Train
This DUPLO train very cost-effective way to get more wheel bases for building your own DUPLO trains. We have two sets, and the Little Engineer loves playing with the number blocks!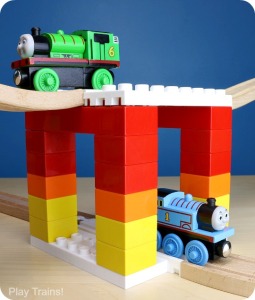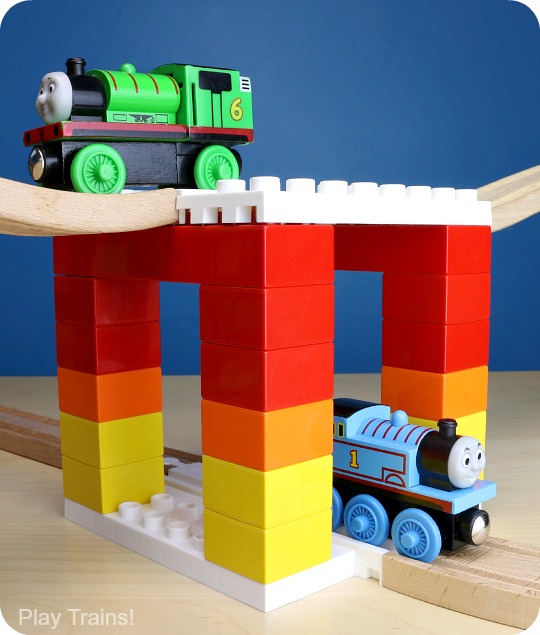 Dreamup Toys Wooden Railway Block Platforms
If you have both wooden train tracks and DUPLO blocks, you've probably thought it would be great to have a reliable way of combining them. Finally, there is one! We received some of the platforms from Dreamup Toys, and we absolutely love them. They've inspired a new wave of wooden train interest in my five-year-old, and I think they'd be equally exciting for a toddler.
LEGO Education DUPLO Community People Set
This set of DUPLO figures includes a train engineer and conductor. It's a great way to add pretend play possibilities to your DUPLO blocks, and they make great passengers for DUPLO trains.
Playskool Sesame Street Elmo Junction Train Set
The Little Engineer always loves pressing the buttons on these Sesame Street trains in the toy store!
Playskool Sesame Street Cookie Monster Food Train
Playskool Sesame Street Ernie Farm Train
Thomas the Train: Preschool Steam 'n Speed R/C Thomas

TOMY Choo-Choo Loop Toy Vehicle

Fisher-Price Little People Zoo Talkers Animal Sounds Train


TOMY Rev n' Rails Train Set

Fisher-Price Little People Wheelies Train Toy, 2-Pack

Fisher-Price Roller Blocks Whirlin' Train Town

Fisher-Price My First Thomas The Train, Flip and Switch Thomas and Percy
This looks pretty cool — Thomas transforms into Percy! The Little Engineer has discovered Transformers in the past few months, and I think he might get a kick out of this "Trainsformer."

Fisher-Price Little People Musical Zoo Train

Winfun Letter Train And Piano Activity Table

Fisher-Price Disney Baby Amazing Animals Sing-Along Choo-Choo

Fisher-Price My First Thomas the Train Motion Control Thomas

Fisher Price Thomas and Friends Preschool Thomas Pullback Racer


Thomas the Train: Pull 'n Spin Thomas

Thomas the Train: Pull 'n Spin Percy

Thomas the Train: Thomas Smart Phone

Bloomby Jingle, Beep and Turn Train
Stacking Trains and Train Pull Toys
Adding the shape and function of a train to an already popular activity — playing with blocks — makes it even more fun for toddlers. The Little Engineer got the Melissa and Doug train below for Christmas when he was one, and he liked it so much that I eventually ended up buying a second set so he could have more variety when designing his block trains.
Instead of blocks with holes that slide over pegs, this stacking train uses magnets to hold the train together.
We've had this stacking train for years, and the Little Engineer still enjoys it at the age of five!
I love the colors of this block train.
This stacking train features an engineer and a short cord to pull the train along. Fun! Plan Toys also makes their toys out of recycled rubberwood and uses vegetable dyes and nontoxic finishes.

Vulli Train Toy, Sophie the Giraffe


Disney Baby Winnie the Pooh Wooden Stacking Train

Melissa & Doug Pop Blocs Train
Thomas & Friends Discover Junction Trains
We bought these toddler-safe trains long after we started collecting wooden trains. I still really love them. For plastic trains, they feel nice and substantial, and they're just plain cute. We've used these in the bath and outside, and they still look and work great. (These are getting a little harder to find this year, but you can still get most of them for a good or decent price.)
Discover Junction Thomas with Annie & Clarabel
Discover Junction: Percy's Farm Delivery
Special Cargo Birthday Celebration Thomas
Thomas & Friends Discover Junction: Tidmouth Sheds
Thomas & Friends: Discover Junction Percy at McColl's Farm
Mealtime, Bathtime, Bedtime
If you've read any of my parenting articles, you'll know that I like to find ways to use my son's love for trains to make our days go more smoothly. Here are some ways to make these sometimes difficult daily events more fun.

Thomas the Tank Engine Spoon and Fork Set
We have these, and they're still in great condition after a few years of use.

Fisher Price Thomas And Friends Bath Squirters

These are great, both as squirting bath toys and as waterproof trains to play with in the pool or at the beach without worry about ruining them.

Thomas the Train: Preschool Thomas Bath Tracks
My son still enjoys playing with this bath toy, three years later.

Step2 Thomas The Tank Engine Toddler Bed

My Pillow Pets Thomas The Tank Engine (Full-sized)
Pillow Pets 11 inch Pee Wees – Thomas the Train
Pillow Pets 11 inch Pee Wees – Percy

Thomas and Friends James 11″ Plush

Thomas the Train: Preschool Light-Up Talking Thomas

Thomas the Train: Preschool Light-Up Talking Percy
Ride-on (and Climb-in) Thomas Toys
We have this amazing ride-on Thomas, thanks to my mom's skill at combing Craigslist for deals. If you can find one used (and then find the instructions online to install a switch so the engine will keep going without the child having to hold down the stiff button), it's really cool. But here are some great toys that can let your child feel like Thomas' driver with a lot less effort than that.

Power Wheels Thomas the Train Thomas the Tank Engine

Power Wheels Thomas & Friends Thomas with Track
Step2 Thomas the Tank Engine Up & Down Coaster

Thomas the Train: Lights and Sounds Trike
(This one is more expensive than the one below, but the Little Engineer vastly preferred it, so it's the one we have.)

VTech Sit-to-Stand Alphabet Train
Train Shape, Peg, and Tray Puzzles

Guidecraft Primary Puzzle – Train
Bigjigs Toys BB063 Chunky Train Puzzle
Melissa & Doug Vehicles Chunky Wooden Puzzle
Melissa & Doug Train Sound Puzzle
Melissa & Doug Train Sound Puzzle
Bigjigs Toys Tray Puzzle Train

Ravensburger Teddy Mix & Match
One of the pairs of teddy bears is a pair of Engineer Bears!
Train Board Books
I could make a much, much longer list of good train books for toddlers, and someday I'm sure I will. For now, here are some of our favorites off the top of my head.

Trains by Byron Barton
Simple illustrations and text, but very engaging for toddlers and preschoolers who love trains.
I love reading this one. My son loves listening to it.

Railway Rhymes (Thomas & Friends)
This is pretty much the only train poetry book out there, and it's actually pretty well done and enjoyable to read aloud.

Terrific Trains (Amazing Machines)
A fun, rhythmic read.

Thomas and Friends: My Red Railway Book Box
This is an excellent first set of Thomas books for a toddler — very gentle and fun to read aloud!

Thomas the Tank Engine's Big Lift-and-Look Book
There are tons of flaps to lift in this one. Still a favorite at our house, years later.
If you found this gift guide helpful, I recommend signing up for our email newsletter because I'll be writing more like it for other ages and interests in the (hopefully) near future. Plus, you'll never miss any of our new ideas for playing and learning with trains.
Once again, if your toddler is ready for wooden trains, don't miss our guide to buying a wooden train set: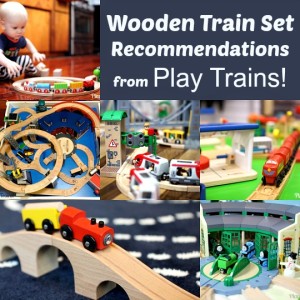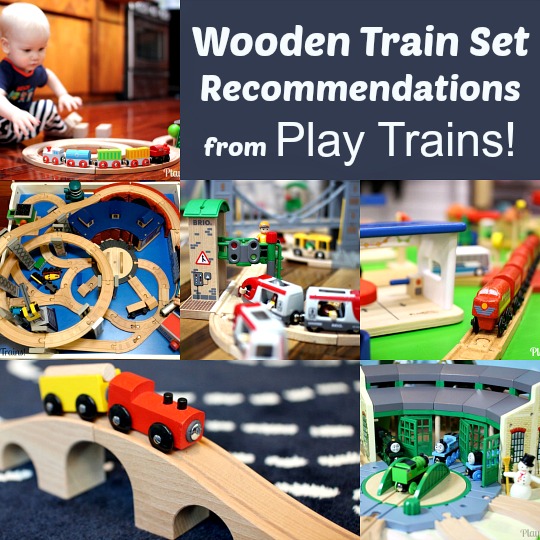 Here is our list of Train Gifts for Preschoolers: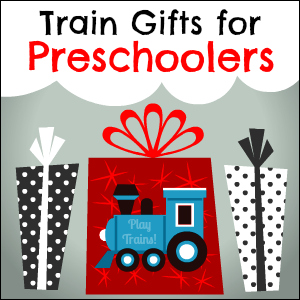 And our list of Big Ticket Train Gifts for Kids: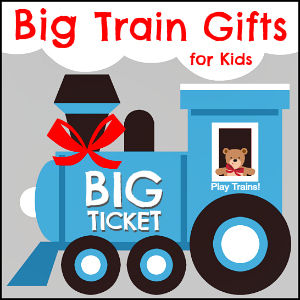 And please visit the main page for the Gift Guides for Kids to check out all the other great gift lists. We also have a Gift Guides for Kids Pinterest board you'll want to follow. This is an amazing resource for finding the right gift for any child, and I'm so excited to be a part of it!