The first time we used our DIY mini light boxes with wooden train tracks, the Little Engineer immediately saw the stacking potential (which I hadn't noticed yet). He put one light box on top of another and ran off to get our tallest ascending track to send a train rolling down from the top. We thought it would be fun to take that idea and make ourselves a wooden train roller coaster track!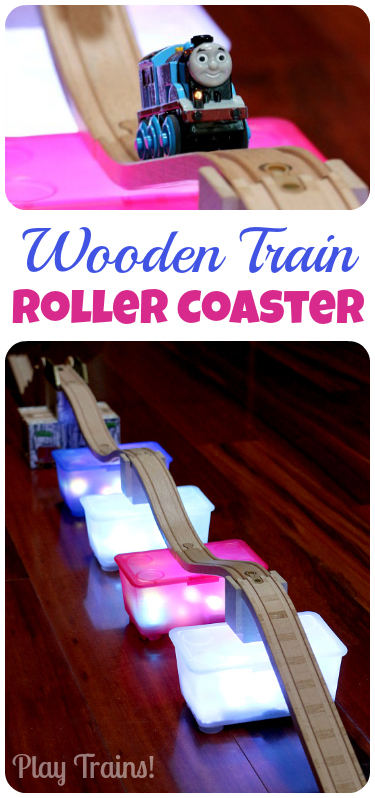 This post contains links to Amazon.com. If you click on one, we will receive a small commission — at no additional cost to you — on anything you buy at Amazon for a certain length of time afterwards. Read our disclosure policy for more details.
During our recent visit to the State Fair, the Little Engineer decided to go on his first ever roller coaster. It was such a surprise that my baby was both tall enough and ready to go on a kid roller coaster without us! But I should have known once we pointed out that a roller coaster was another type of train, he would want to give it a whirl.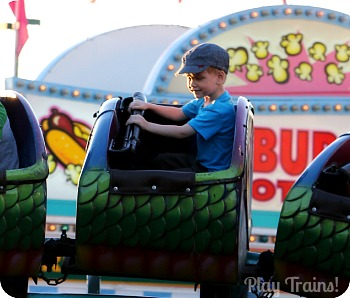 He loved it. It was so fun to watch him sitting alone in his car at the center of the "Dragon Wagon", leaning into the curves.
Remembering the Little Engineer's previous experiments with our mini light boxes and his train tracks, I thought it would be fun to make our own "roller coaster" for his wooden trains.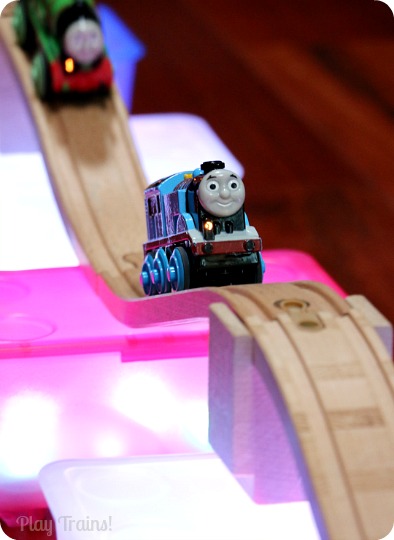 You could use sloping tracks and supports or other blocks to make a similar up-and-down roller coaster track, but the light boxes definitely gave it a carnival flair.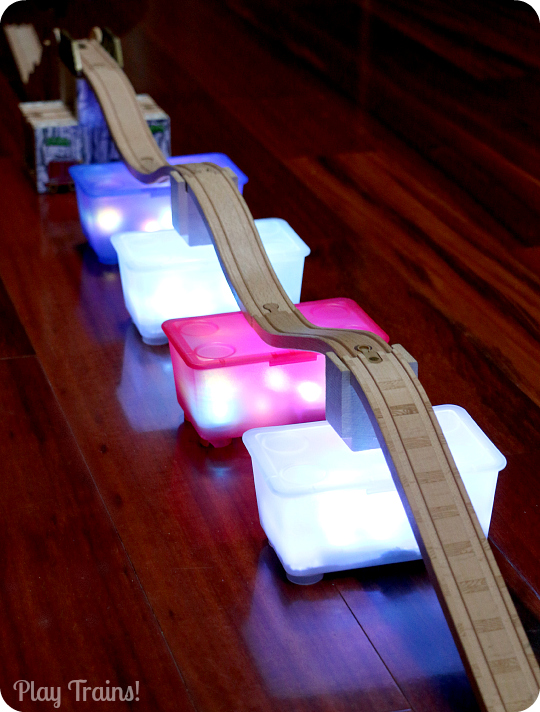 I originally intended to build the track with the low points between the light boxes, but they aren't quite the right height to make that work. So I used some of our taller ascending track pieces (you could use multiple regular-sized ascending tracks and track supports) to get up and down from the boxes. Then I put track supports on alternating light boxes, so that the track went down to one and then up to the next.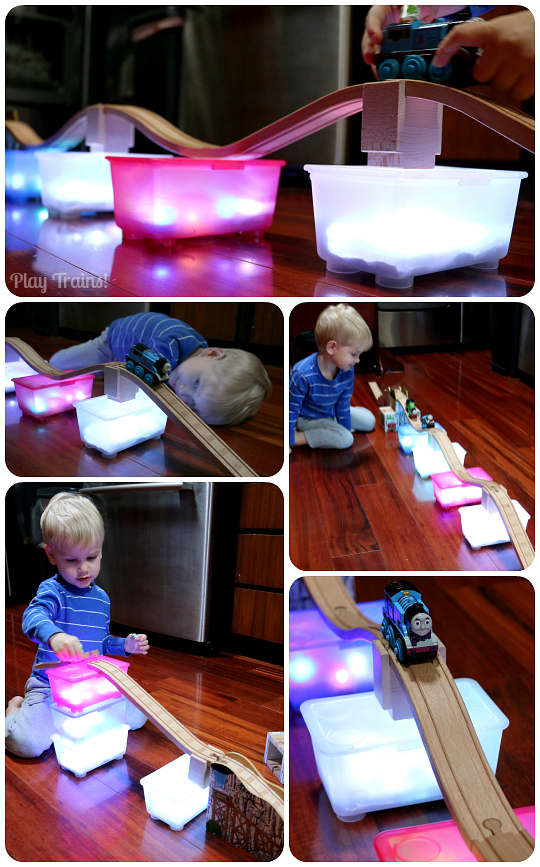 When the Little Engineer walked into the room and saw what I was doing, he ran and got his battery-operated Thomas and Percy. That worked out, because it meant the he wasn't as hands-on with the trains so the tracks got jostled around less on the slippery tops of the light boxes. You could also secure the tracks and supports with small loops of residue-free duct tape.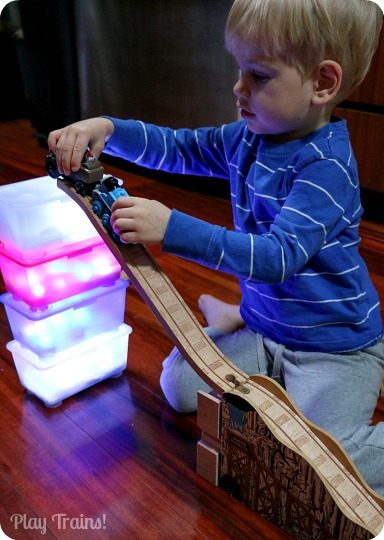 After sending Thomas and Percy chuffing along the roller coaster track I built for a while, the Little Engineer took it completely apart and made his own design. He stacked all four light boxes on top of each other and created a very steep drop down from them. He really can't resist building with these light boxes, and it's really cool to watch him get creative with them.
If you'd like to make your own mini light boxes like ours, or are looking for more train-themed light box or light table ideas, we have you covered.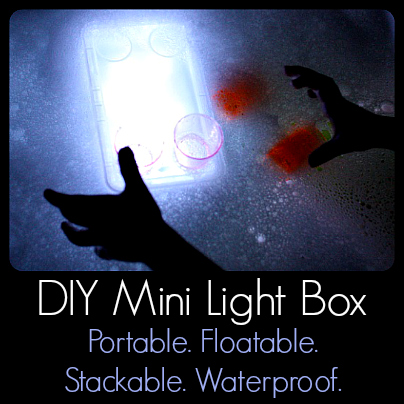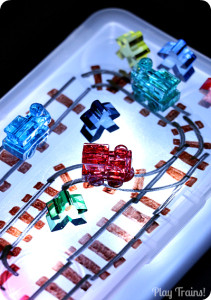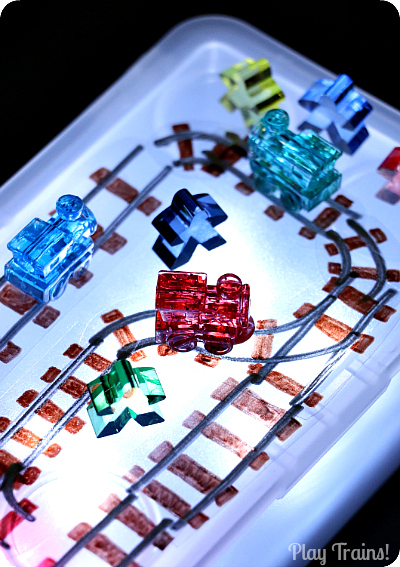 Trains and Tracks for Light Play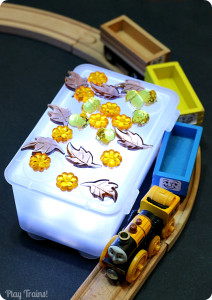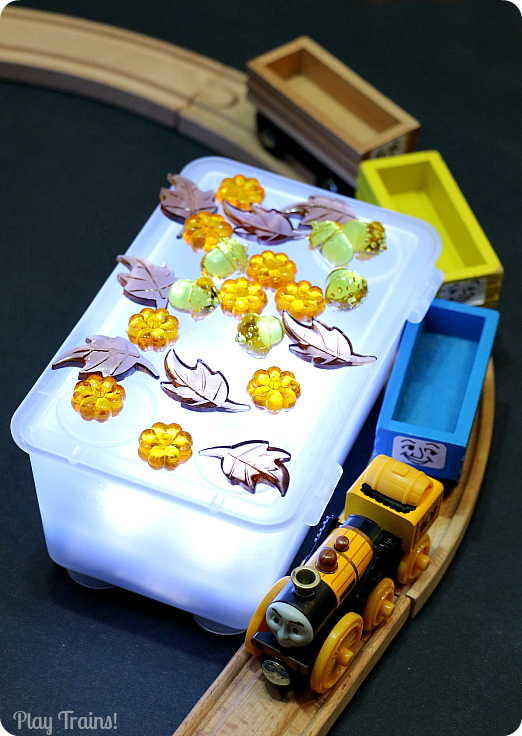 October Moon Halloween Train Play
And if you're interested in more glowing activities, here are a couple of our favorites: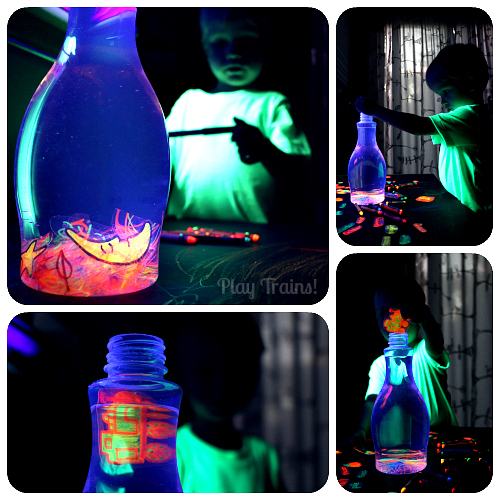 Glowing Discovery Bottle for Fall