While life with a three-year-old can be unpredictable, there are a few reactions I can count on when it comes to the Little Engineer.  One of those constants is that if he finds a collection of long, straight objects, he will build railroad tracks.
I spotted these glow necklaces on clearance at Target, bought them, and found a place to hide them at home until I decided when we would play with them. I figured along with the glow bracelets from their $1 bins, they might be the perfect way to add a new element to that favorite activity:  light.
That they did.  But what I was not expecting was that he would find them in their hiding place that night, open the package, and start activating them himself while I wasn't looking!  At least it was dark, so we let him stay up a little later than usual and did a little railroad work.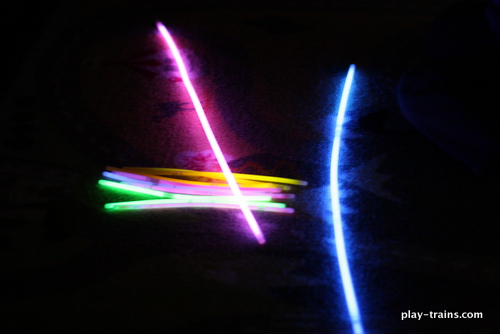 Rails and railroad ties, stacked and ready for the railroad worker.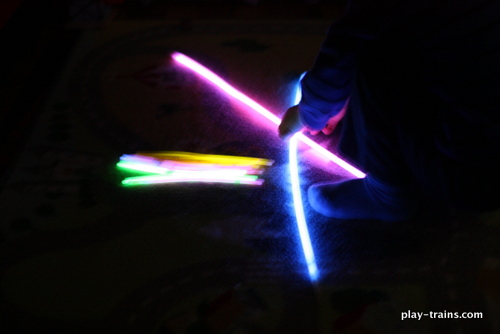 Arranging the rails.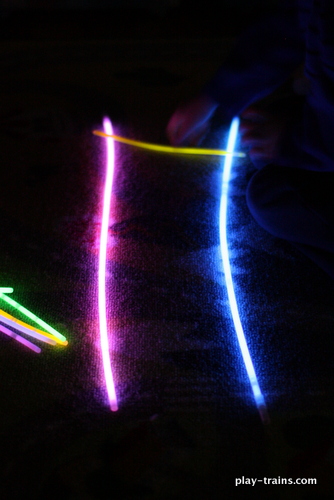 Laying the first tie.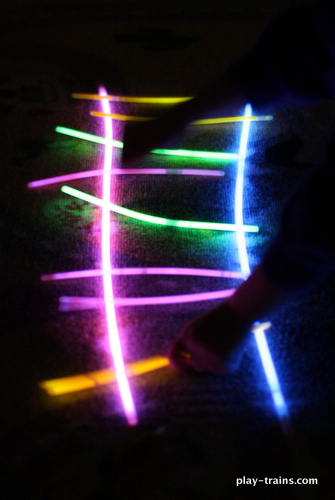 Laying more railroad ties.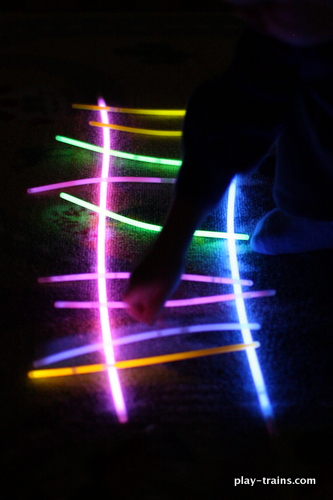 The final piece in place.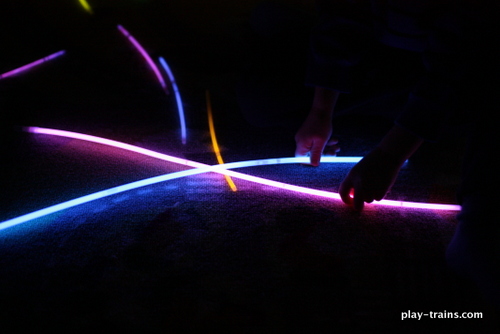 He started experimenting with making a switch track.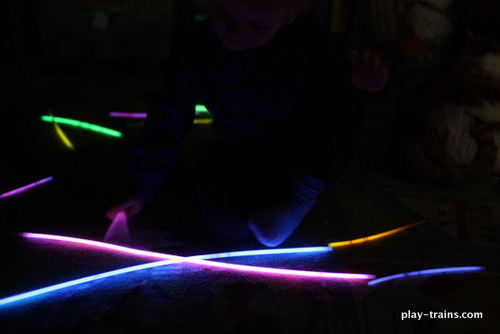 He got about this far into that project, then he looked up and asked, "Can we make Angry Bird costumes?"
I wasn't quite certain how that would work, but I said, "Sure!" anyway, and then asked for his ideas.  This is what we came up with for his Blue Bird costume, with the help of a little blue painters tape.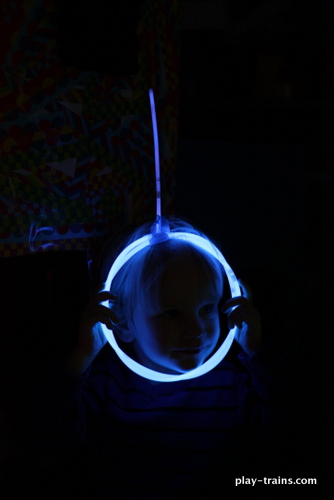 Then he asked me to make a Stella (Pink Bird) costume.  He was very excited by this!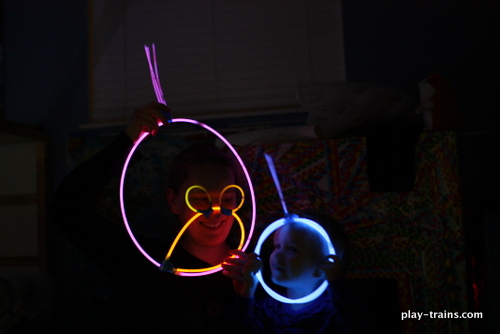 Meanwhile, my husband was playing with the glow sticks themselves, watching the chemicals mix, swirling light and dim color inside the tube, so we took a moment to watch, too.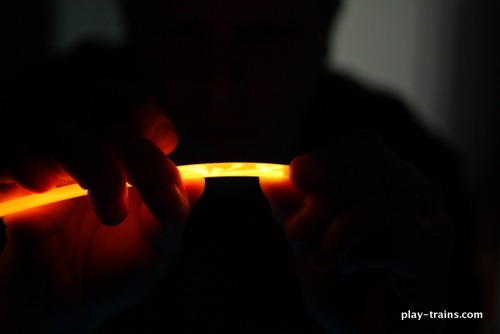 Next, we watched what happened when the sticks were moved very fast.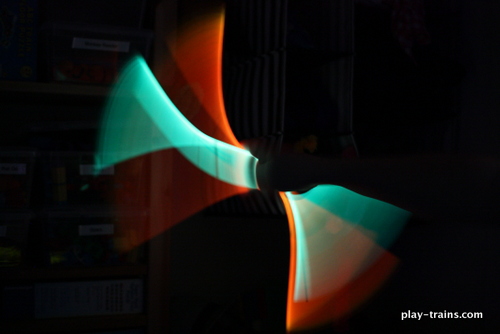 And then we tried mixing colors.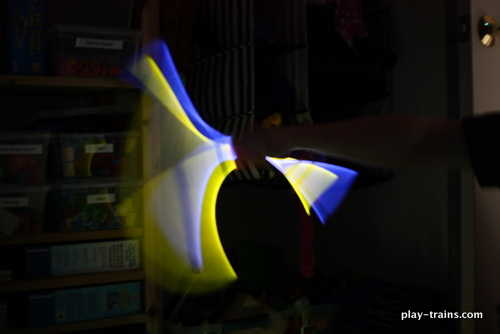 We were quite surprised that yellow and blue didn't make green, even when my husband managed to wave them together, very fast. This is my favorite kind of science activity to do with the Little Engineer at this age: the three of us playing with materials, all of us making observations, wondering out loud, and using the knowledge we have to try and answer the questions we discover ourselves.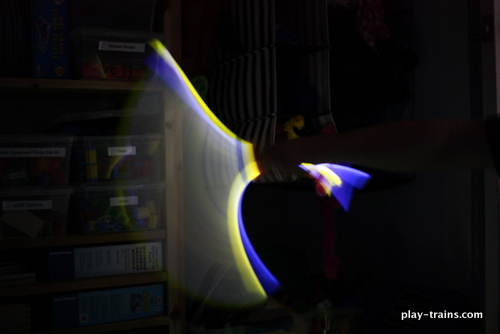 Then we tried spinning two of the necklaces, hooked into circles, around our fingers.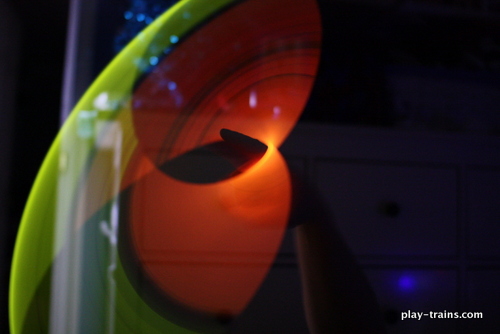 They made really cool, changing patterns when one spun faster than the other.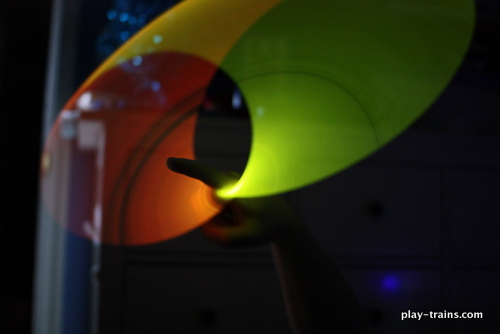 The Little Engineer got inspired by his parents' light experiments and tried some of his own.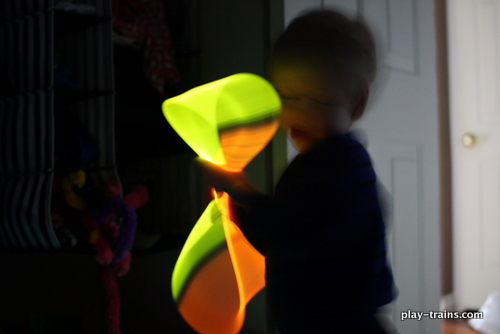 Then, he requested I make a Bad Piggy costume.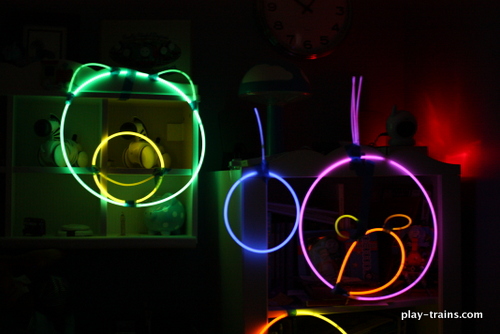 It was starting to get REALLY late, so we taped the costumes up on his bookshelves to gaze at during bedtime.  They were so bright I had to cover them up with a blanket both that night and the next night!  We also thought it was interesting that while the bigger necklaces glowed brighter at first, their glow faded after two nights, whereas the small, dimmer bracelets kept glowing for about a week.
I went back and got some more of the necklaces at Target, but this time I found a better hiding spot!  They're waiting for the next time we need to do glow tracks, Angry Bird costumes, or whatever the Little Engineer imagines next.
If your child would enjoy this, you might want to check out our Angry Bird Word and Letter Crash Game, which also shows you how to light up Thomas to play Night Train.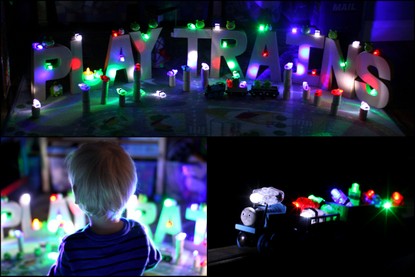 We were playing this right before we started making the glow tracks, so I know they go well together!