While we've done plenty of sensory activities at our house over the past three years, I haven't put together too many sensory bins.  I think the first couple I tried after reading about them fell flat with the Little Engineer, and we didn't do another for a long time.
Last year, I bought this huge, shallow storage tub at Ikea for sensory activities, and maybe some of those were sensory bins.  Or maybe they were just big, fun messes in a tub.  As you can see, I'm not an expert.
But over the last couple of months I've been thinking about things that I could use as coal in a sensory bin for the Little Engineer.  And then I got an idea for what I could use for water.  I started looking around for a firebox and a boiler.
The Little Engineer noticed some of the items I was collecting.  When he started asking questions about it, I let him in on the plan, and he helped me brainstorm.  And this is what we came up with.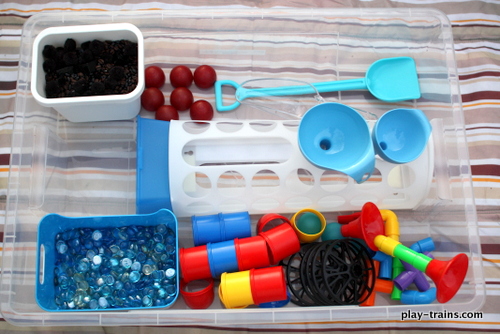 I'm not sure this really looks like a sensory bin, but whatever it really is, it was just what the Little Engineer wanted.  It was very important to him to have a "coal tender" and a "water tower" instead of having the materials loose in the tub, so I followed his lead.  The rest are engine parts that he and I collected from around the house, which I'll explain as we go.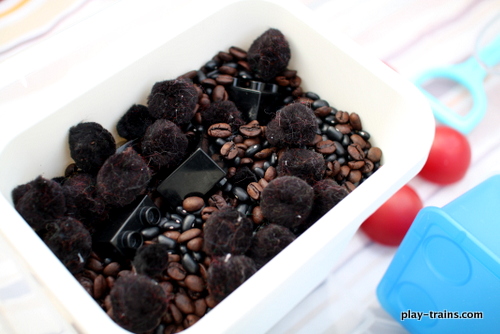 For coal, we made a mixture of black and dark brown materials:  dry black beans, decaf coffee beans, black craft pompoms, and black Duplo blocks.  The coffee beans are my favorite part.  The Little Engineer always wants to scoop and smell the bulk coffee beans at the grocery store.  Even better, we could compare the warm scent of the beans to the warmth of the fire in a firebox while we were playing.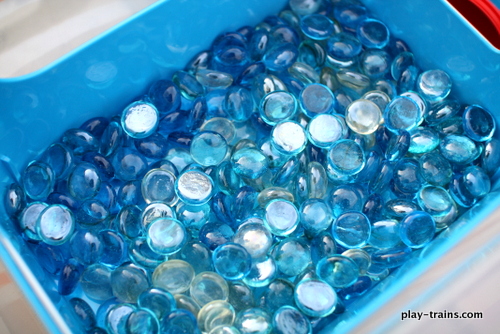 For water, I bought three bags of different blue and clear glass gems at the Dollar Tree.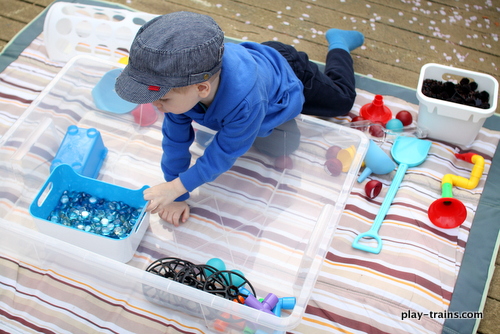 The first thing the Little Engineer wanted to do was take everything out of the tub.  As he did so, he explained what each item was.  I wish I'd had the video camera going!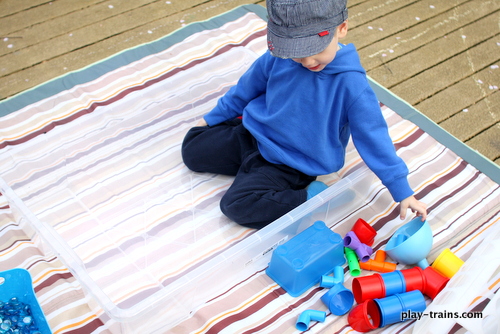 Once the tub was empty, he wanted to get in and start assembling his engine.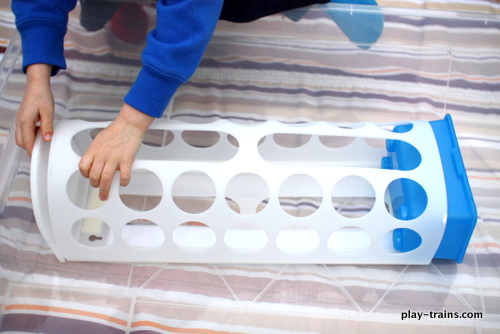 First came the boiler (a plastic bag holder from Ikea) and firebox (a little storage tub from the children's department of the same store).  It was a bit of a squeeze to push the "firebox" into the open end of the "boiler", but it worked.  The Little Engineer liked that there was a door on the front to clean the "smokebox" and a door on the firebox that could be opened to load in more coal and then shut again.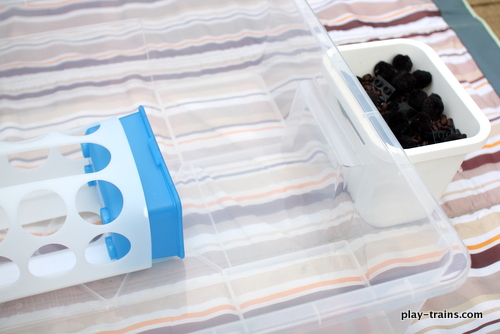 Next, he said he wanted his coal tender behind his engine, so that's where it went.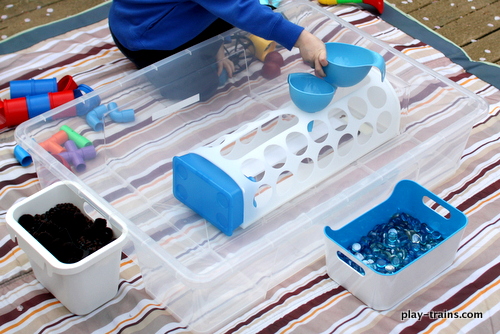 He added the "water tower" next to the tub, and then two kitchen funnels got to be the two funnels he wanted on his steam engine — "One for smoke and one for steam," he said.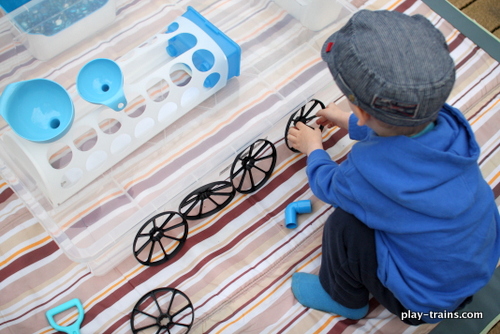 Then he added the wheels to one side of his engine.  "My engine has forty-two driving wheels!" he crowed.  "Forty-two!" I exclaimed in amazement.  "Not forty-two…it has a lot of driving wheels."
Somehow, it wasn't until this point that I realized he was imagining the whole tub was his engine, not just the boiler and parts inside.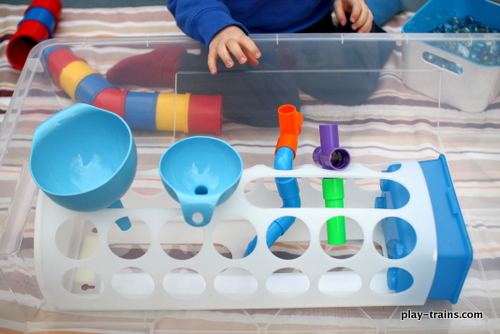 We tried putting some pipes in the boiler.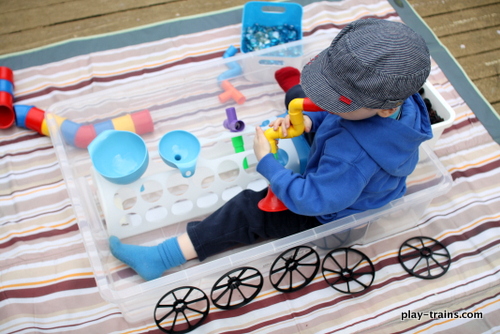 And then he got in and blew his whistle.  Time to drive the engine!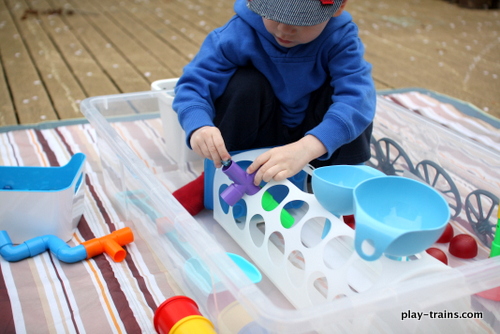 His first task he tried was putting the glass gem "water" down one of the pipes.  The gem got stuck and we talked about how it rattled around in the pipe as he tried to shake it out.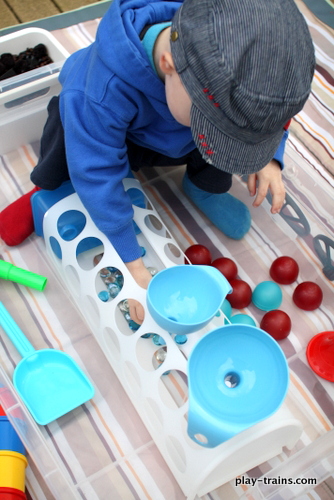 That apparently wasn't efficient enough for him, so he went right to moving handfuls of the glass gems into the boiler.  When I had picked out the plastic bag holder for the purpose, I had imagined him pouring the gems in through the holes, but what was great was his hands fit through all the holes, and he had to navigate them in different ways while he worked.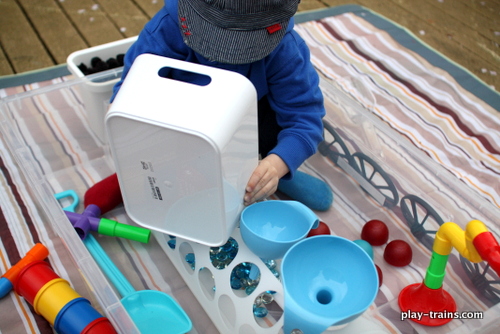 After several handfuls, he decided to dump the rest right into the boiler.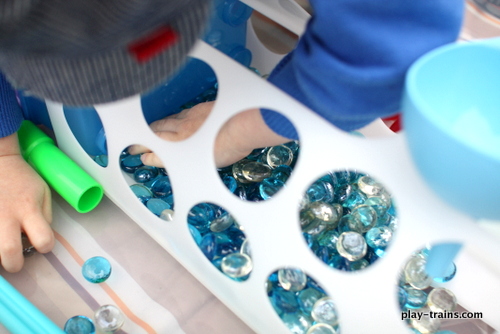 He spent some time running his fingers through the gems.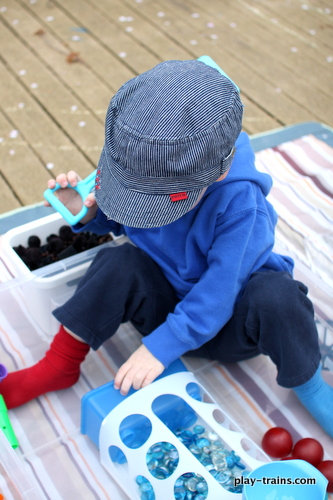 Then, he slung his shovel over his shoulder — really!  It was quite dramatic! — and opened up his firebox door.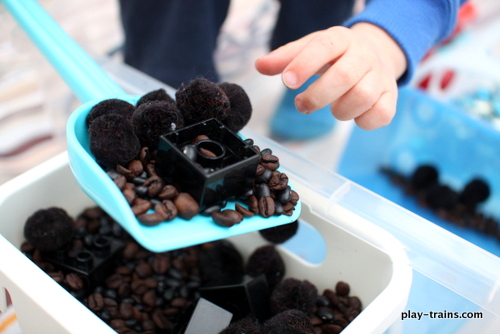 He shoveled in a few shovelfuls of the coal, then switched to his hands again.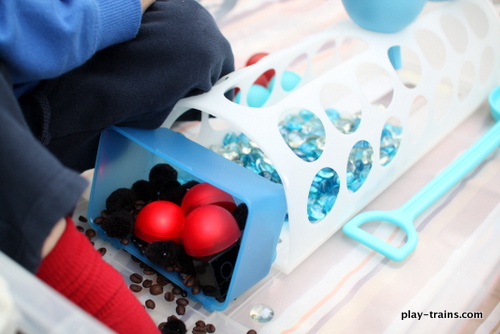 Then he "lit the fire" in the firebox with our favorite LED lights ever.  I got several packs of these in white, red, and dark brown on clearance at Ikea after Christmas, but we were just there today and they had new dome tea lights in new colors for summer, including an orange that would work for fire.  I was so happy because I really wanted to recommend them here for this (and will again for other train play purposes in the future).  I feel the dome shape makes them much safer than tea lights with pointy fake plastic flames, and they're much more suited to being engine lights and so on for pretend play.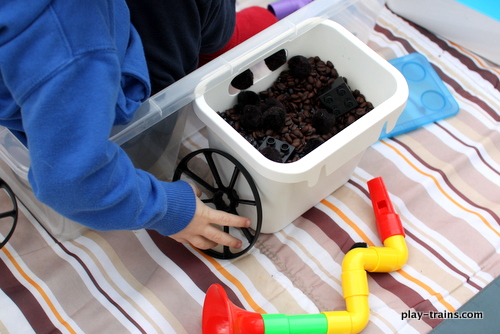 He wanted his coal tender to have a wheel.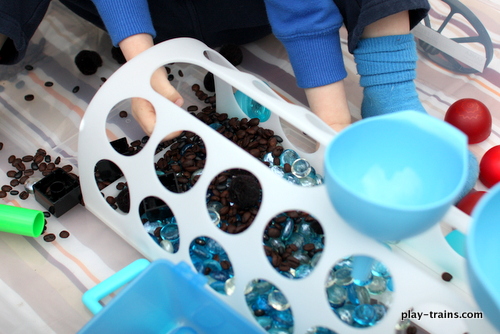 Then, it was time for a problem to arise…the coal and the water got all mixed up!  Oh no!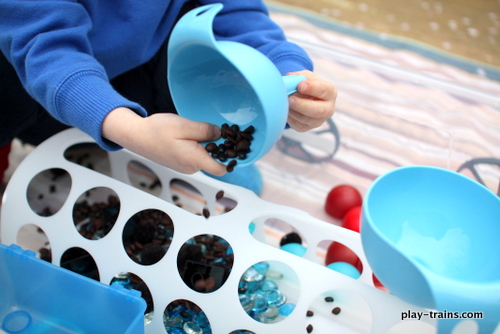 He tried putting the coal through the funnel…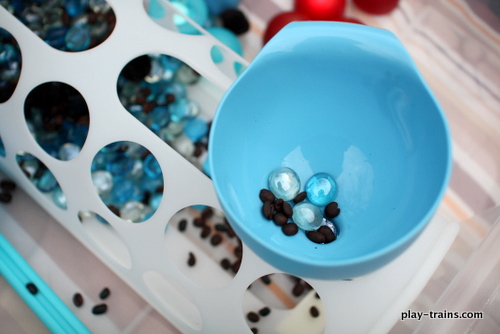 …but unfortunately neither the coal nor the water fit through.  That was disappointing for both of us.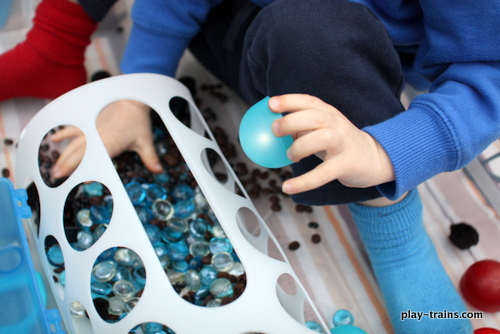 Then he tried putting one of the lights he'd brought to be an engine lamp through the holes of the boiler.  At least that did fit, and it took a bit of maneuvering for him to figure out how to pass it through the hole from one hand to the other.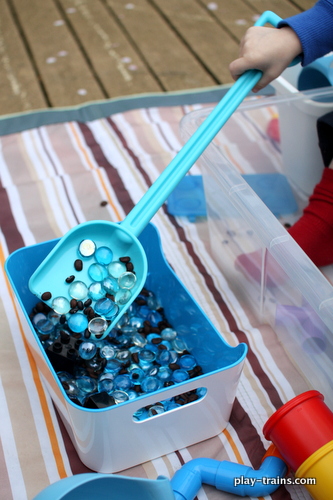 Then, he wanted to get all of the coal and water out of the boiler.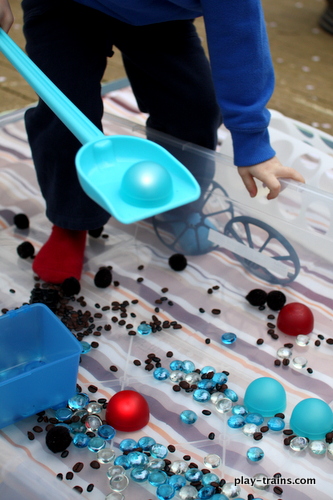 He also wanted to try shoveling the lights.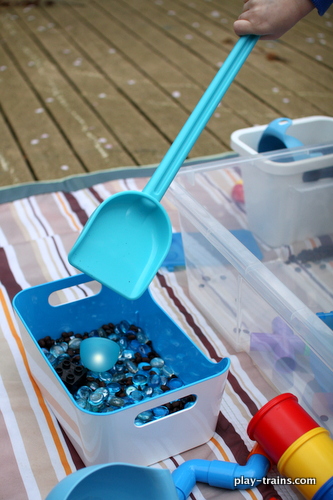 Right into the water tower!  I hope that's a submersible engine lamp.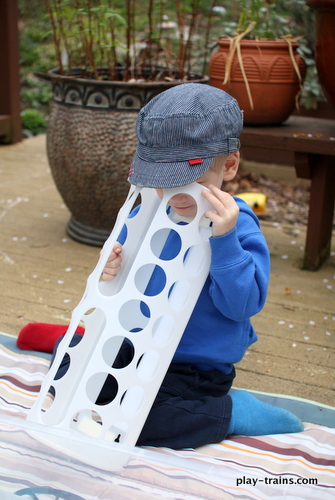 The reason the coal and water needed to come out was that the Little Engineer needed to clean out his engine's smokebox, "because the smoke can't get through the funnels!"  He had me help him open the smokebox door and he peered inside.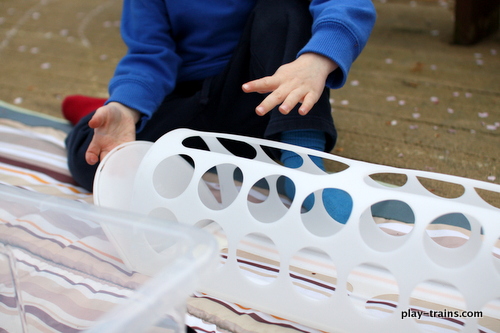 He waggled his fingers around inside.  "Fix…fix…fix…!"  Next time, I'll remember to bring out his tools.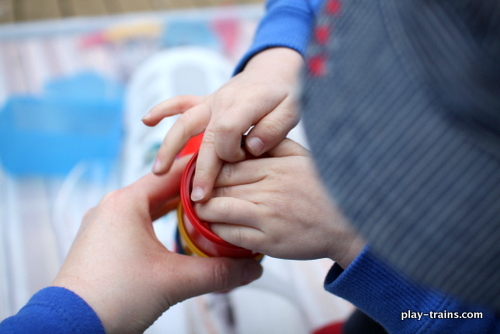 Finally, I held the bigger Duplo pipes while he poured coal and water back into the boiler.  Then he decided it was starting to get a little too dark and it was time to go inside and play with smaller engines.
I was really delighted with how engrossed he was with this, and the variety of ideas he came up with.  And as always, I'm always happy when he helps me plan an activity, but I was really excited to see that he came into it with his own plans.  All in all, this exceeded my hopes in many ways, and I'm looking forward to see what he does with the tub the next time we play with it.