We had a beautiful Easter here in the Pacific Northwest!  Mother Nature seemed to have forgotten what season it was and gave us a day so sunny it was difficult to take good pictures of our egg hunt.  Not that it wasn't lovely, but it's been many long months since I had to deal with that kind of light!
I have a few pictures of some of the train-related aspects of our Easter egg hunt to show you, but first I wanted to share an Easter photo idea for kids who love trains.  We took these we went to the mall to get Easter Bunny pictures, so he was dressed in his engineer best.  His choice, of course.
"Last year I dressed as Sir Topham Hatt.  This year, I'm just an engineer," he told me, which is true.  A year ago, he wore his fedora he uses to pretend to be Sir Topham and planned to "talk to the Easter Bunny about important railway business."
I had brought my nice camera in with me because I didn't want to leave it in the car, and when we made our usual stop at the ride-on train toy on our way back to the car, I pulled it out to amuse myself while he played.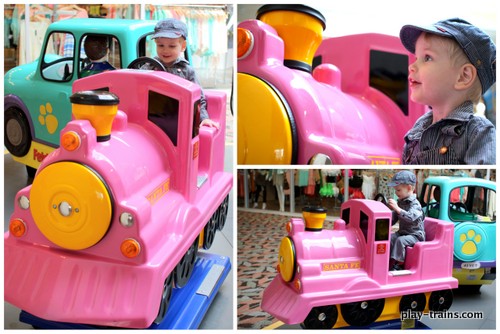 Even with the mall background, I think I prefer the results to the Easter Bunny pictures.  Well, I know I do, considering we mostly go see the Bunny because the Little Engineer loves it. The pink paint job on the engine — which, for Seattle-area families, can be found at the Southcenter Mall — really makes it look appropriate for the holiday.  In addition to some cute ones of him up in the cab driving the train, I got these shots of him doing maintenance work on "his engine".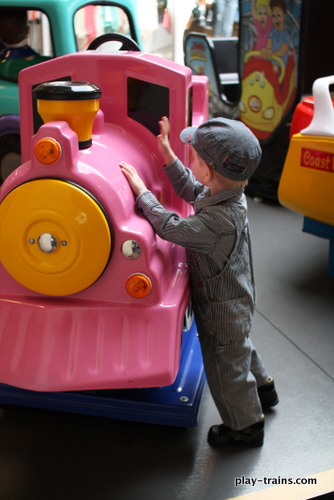 He asked me to repeat comments I made on how shiny it was, and how much care he took in polishing and fixing it.  Then he pointed out all the parts on the train several times, narrating as if he was filming a video for YouTube.
He also got in some reading practice sounding out the name and the various signs on the ride.  After I helped him sound out "Santa Fe", he decided it was the name of the railroad, not the engine.  And after I helped him read "NO FOOD OR DRINK ON THE RIDES," he talked for quite awhile about why it was okay for him to have food and drink inside his cab, but not other people.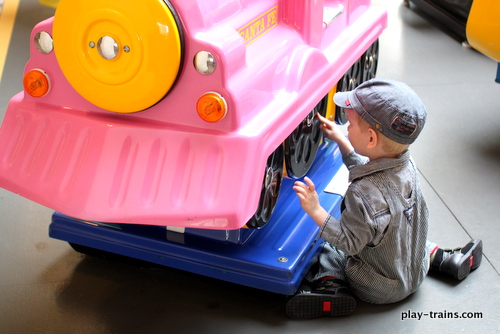 Next I have some action shots of the train Easter eggs we made on Saturday.  Here's the engineer striped one.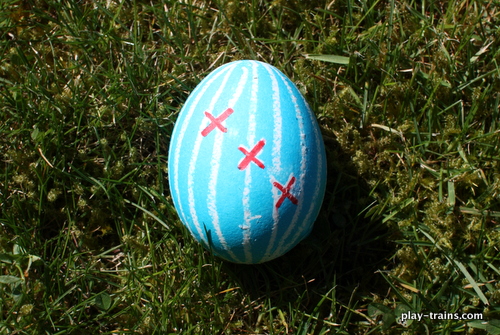 And the Thomas & Friends eggs: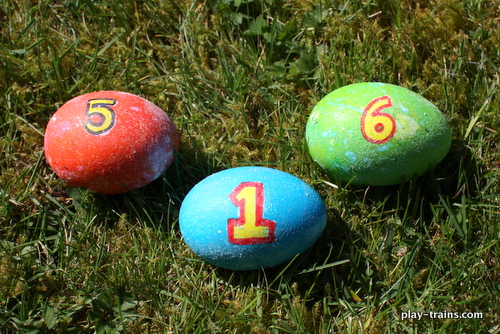 The glitter I put on them looked really cool in the sunlight, but of course the photos don't show that well.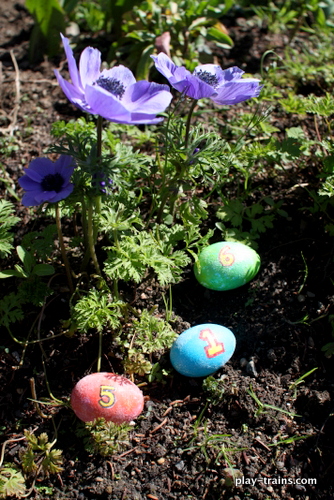 Here's the Little Engineer's Easter basket.  I was excited to find a Thomas one for him, and even more excited that he liked it so much, given that he's very into Angry Birds at the moment.  Fortunately, he's much more able to have two simultaneous obsessions this year than he was last year.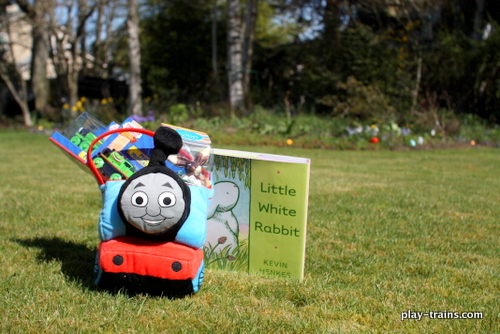 Inside the basket, along with a chocolate bunny, were The Flying Scotsman and Percy's Musical Ride.  We've been really looking forward to both of those being released.  The Little Engineer was making plans all day to make a "Flying Scotsman set" with wooden track and buildings to put in a pretend train store.
The Little Engineer enjoyed hunting for eggs thoroughly.  This year, most of them were filled with little Angry Birds figures to use to play our live action version of the game. He already has all of the train-themed Easter egg filler ideas I shared last week, anyway.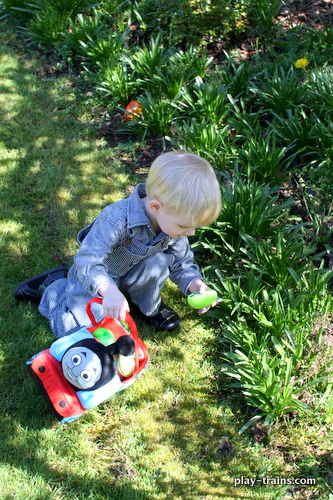 But we did have a few eggs filled with train items, thanks to this pack of Thomas & Friends Rev & Go eggs arriving in record time.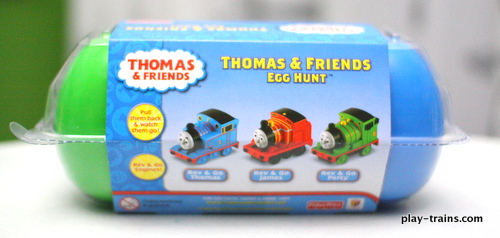 I just love these little engines!  They're so cute and nicely-detailed, and they zoom across the floor quite well.  I hope they put these back into production next year, but at least they can still be found on Amazon.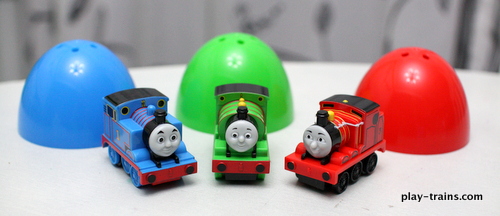 I hope all who were celebrating had a happy Easter, and that everyone had as nice a weekend as we did!  Well, other than the inevitable late afternoon crash from too much sun and chocolate.  But otherwise, it was a great Easter weekend.