When it came time to plan for the Little Engineer's first egg hunt, he'd had only had a few tastes of chocolate, and no other candy to speak of (still hasn't had any, I don't think, though he does seem to think chocolate should be a food group).  So while my own fond childhood memories of Easter morning involved finding every last Cadbury Creme Egg, I wanted to think of something else fun for my own son that didn't involve sugar. As you'll see, what I did come up with was a hit.  Since then, we've collected a number of small train items that would make great Easter egg fillers, so I thought it might be helpful to compile them into one handy list.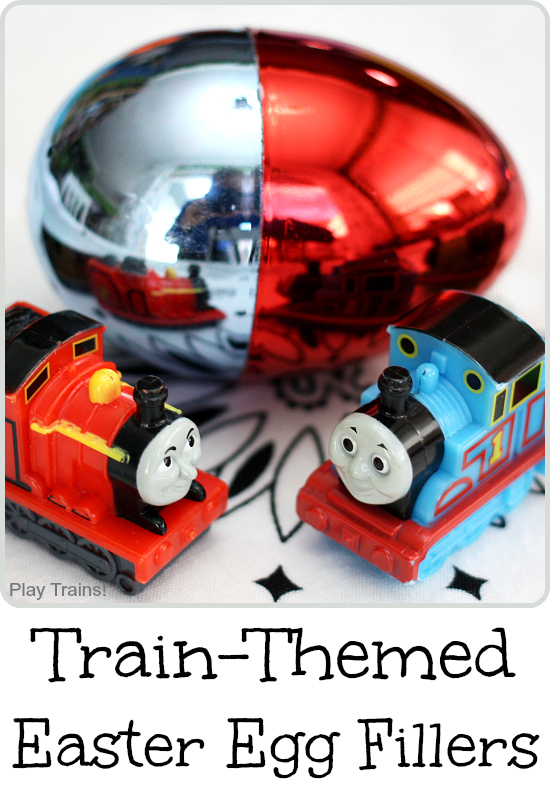 This post was originally published on March 26th, 2013. It contains links to Amazon.com and Amazon.co.uk. If you click on one, we will receive a small commission — at no additional cost to you — on anything you buy at Amazon for a certain length of time afterwards. Read our disclosure policy for more details.
Easter Train Gifts and Activities for Kids
Train-Themed Easter Egg Fillers
Train Gifts for Easter Baskets
Easter Train Books for Kids
Train Engineer and Thomas & Friends Easter Eggs
Easy Easter Freight and Bunny Ears for Wooden Trains
For that first egg-hunting Easter, we filled his eggs with the Lego Duplo Community People Set. It filled plenty of Easter eggs and the play value of these figures just keeps growing as the Little Engineer gets older. This would be a good set to combine with putting either the Lego Duplo Number Train or the Duplo My First Train Set in an Easter basket.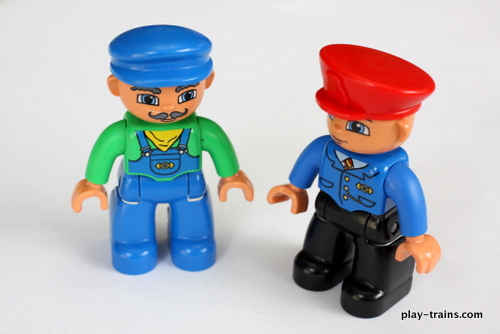 He had just discovered trains the year we did this, so as you can imagine, these two figures were the absolute favorites.  The engineer was the first one he found.  I have an adorable picture of that moment that I meant to put in this post, but the part of our server that crashed over the weekend with all of our photos and videos is still inaccessible (ack!), you'll have to imagine the delight and awe radiating from him as he looked down at the engineer for the first time.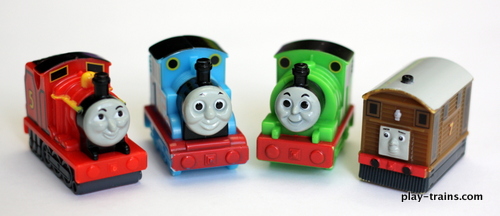 These "Pez Trains", as we call them, are our favorites in our tiny engine collection.  They're the broken-off tops of Thomas & Friends Pez dispensers. I've seen them available at Toys'R'Us and one of the chain party stores, and those are the places I'd recommend buying them. For such small toys, they have enough detail and personality to look really great. Hide some Hexbug Nanos in some other eggs (this is the pack we got, with enough for all four Pez engines, but it looks like this pack is now a much better deal even though the colors don't match as well) and follow the instructions in this video to make your Pez trains go!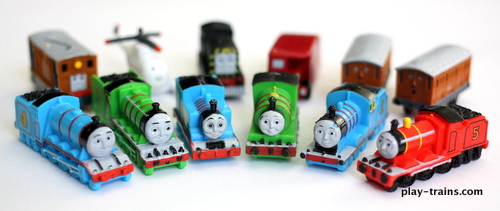 Next, there are the "Busy Book Trains."  They live on my son's windowsill above his bed with the Pez trains, and are well-loved, if not quite as pretty as the Pez ones.  This set of twelve characters from the Thomas the Tank Engine stories comes along with a play mat in the My Busy Books: Thomas and Friends set, which now has two different versions:
Version #1 of the Thomas Busy Book: includes Thomas, Percy, Henry, Edward, James, Gordon, Toby, Mavis, Annie, Clarabel, Harold, and Bertie. (A total of twelve engines/coaches/vehicles.) (Buy from Amazon: US / UK )
Version #2 of the Thomas Busy Book: includes Thomas, Percy, James, Edward, Gordon, Henry, Emily, Rosie, Mavis, Whiff, Spencer, and Bertie. (A total of twelve engines/vehicles.) (Buy from Amazon: US / UK )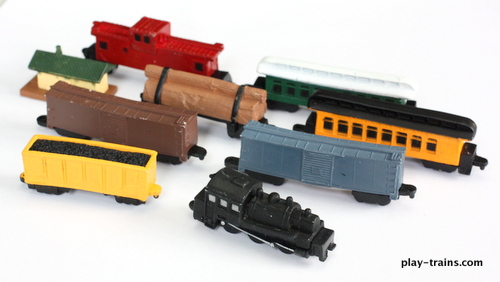 These are the trains my son rescued from a block of ice in one of our favorite activities.  They came in the Safari Steam Train Toob, and a "toob"  with a diesel engine and more modern freight cars is also available, which you can see in our Portable Pretend Model Train Set.  They are of a reasonable size to go with the Pez and Busy Book trains.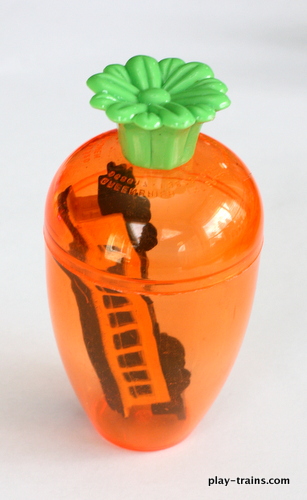 However, some of the Train Toob coaches and freight cars do need a larger egg to fit in due to their length.  This carrot "egg" from the Dollar Tree worked well for that.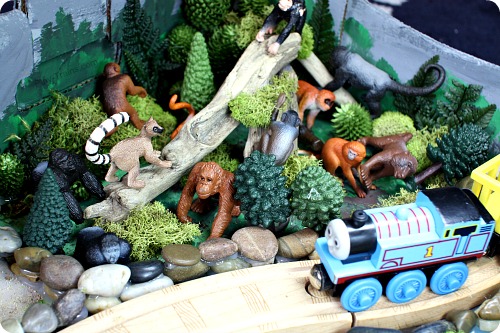 You also might want to consider some of the other Safari Ltd. Toobs beyond the train-themed ones. We like to use them as freight for our trains, like we did in our DIY Recycled Wooden Train Zoo.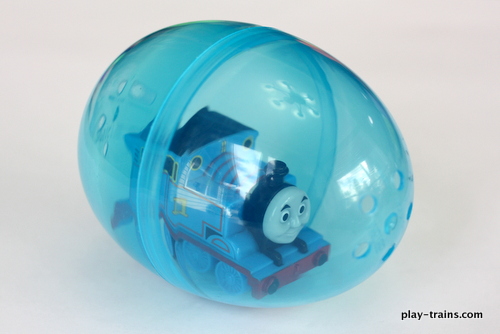 Now, I'm not sure where to get this Thomas, or what exactly he is.  My mom got it for the Little Engineer in November, and I haven't been able to track it down.  But it's really cute!  It's a little smaller than a Take'n'Play engine, and all plastic, but nicely detailed and the quality seems good.  So if you know where to get one, let me know!  There do seem to be Take'n'Play Thomas eggs out there somewhere, but once again I'm not sure where, or if they're just from a previous year.  Update: My husband discovered that this is a Rev & Go Thomas.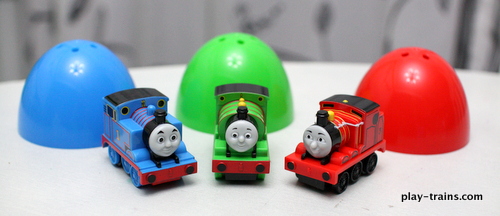 They also made Percy and James, a set of all three in Easter eggs, and a Rev & Go Round the Island Playset — you can't get either of those on Amazon anymore, but you might check eBay for them, because they really are super cute.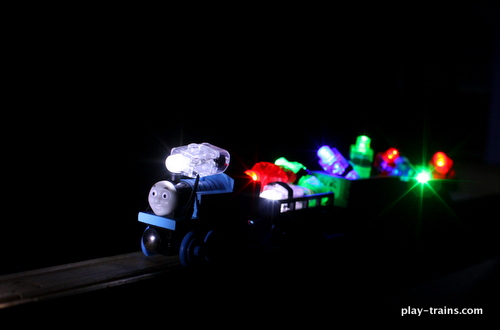 The LED finger lights we used with our trains and Angry Birds games for the Angry Birds Space Letter & Word Crash game would fit nicely in eggs, and they're so much fun!

The foam Instant Railroad would also make fun egg filler, as long as you're sure it wouldn't get mistaken for candy.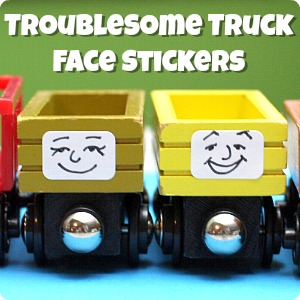 For the real Thomas fan, how about some DIY Troublesome Truck Face Stickers? So easy to make, and they add so much to train play.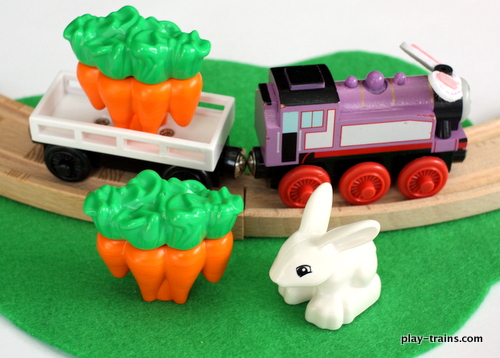 Several of the options I featured as potential Easter freight for wooden trains go well in an Easter egg hunt, like these Duplo bunnies and carrots that were part of the Little Engineer's egg hunt last year.  It could be fun to put together a whole egg hunt of Easter freight for a child's favorite trains, especially if you included some custom train story dice like these: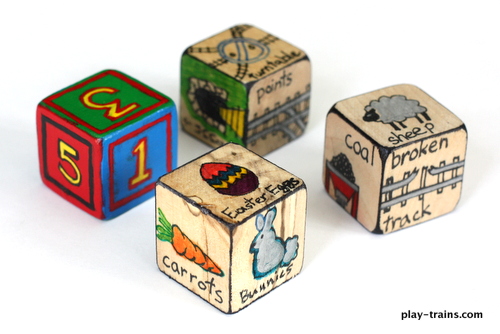 I'll have a full post on the story dice at some point, but you can kind of see how to make them from the photo.
For more train-themed Easter egg filler ideas, check out our Train Advent Calendar Gifts list!
More Easter Train Gift Guides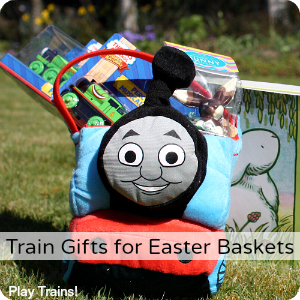 Train Gifts for Easter Baskets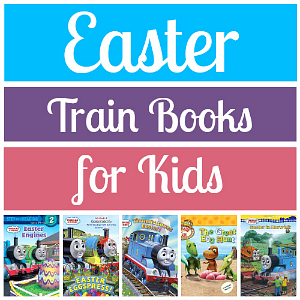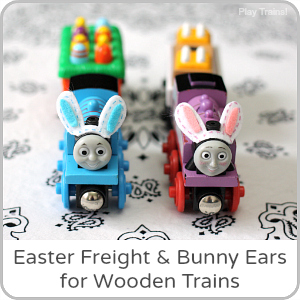 Easter Freight and Easy Bunny Ears for Wooden Trains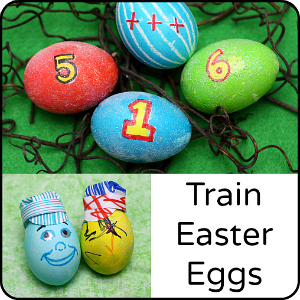 Train Engineer and Thomas & Friends Easter Eggs
More Train Gifts for Kids