I love reading holiday-themed books with the Little Engineer. He often requests the best ones all year round, and train-themed books have been especially popular. (No suprise there, of course!) Here is a list of all the Easter train books for kids we've been able to get our hands on.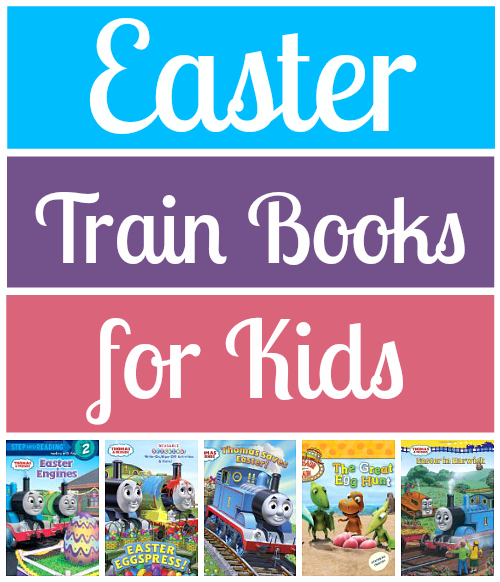 This post contains links to Amazon.com. If you click on one, we will receive a small commission — at no additional cost to you — on anything you buy at Amazon for a certain length of time afterwards. Read our disclosure policy for more details.
Easter Train Gifts and Activities for Kids
Train-Themed Easter Egg Fillers
Train Gifts for Easter Baskets
Easter Train Books for Kids
Train Engineer and Thomas & Friends Easter Eggs
Easy Easter Freight and Bunny Ears for Wooden Trains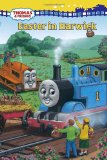 Thomas in Town: Easter in Harwick
The Thomas in Town series of books includes some of our favorite Thomas & Friends books. The writing is on the higher end for Thomas books, the stories are suitable for both younger and older Thomas fans, and the illustrations are done by our favorite Thomas & Friends illustrator, Richard Courtney. Also, we love looking at the map of the Island of Sodor on the inside of the front cover. In this book, Thomas is sent up to cover for Donald and Douglas in Harwick, a town on the north side of the island. When Terence the Tractor tips a load of Easter eggs meant for the town Easter egg hunt into a field, Thomas comes up with a way the children can still have their egg hunt. There's a nice connection to real bird eggs in the book as well.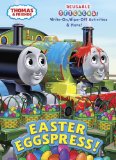 This sticker and activity book comes with a lot of cute Easter-themed Thomas stickers and a couple of pages to put them on — the price of the inexpensive book is probably worth it just for the stickers alone. The coloring and activity pages tell a simple story.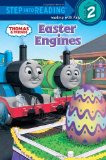 In this early reader, Thomas is excited to lead the Easter parade, but then finds out that Sir Topham Hatt needs him to pick up an Easter egg from Farmer McColl's farm. He's disappointed, but then the egg turns out to be much more than he expected.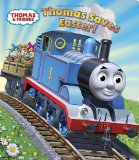 This sparkly board book is a favorite of mine mainly because it inspired our fun Thomas & Friends Easter eggs that turned out so well last year. They're in the illustration of the final page of the story. If you want to make these Easter eggs, this would be a fun book to read to go along with that activity.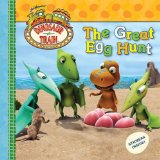 This book isn't specifically about Easter — Dinosaurs didn't celebrate it, of course! — but it's a good choice for the season if your little engineer is a Dinosaur Train fan.
More Easter Train Gift Guides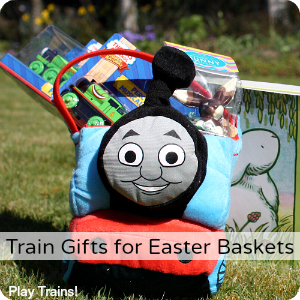 Train Gifts for Easter Baskets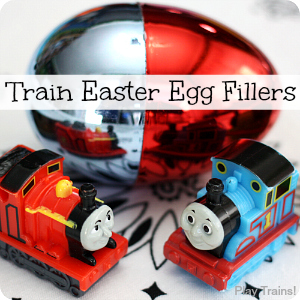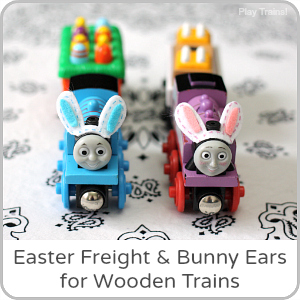 Easter Freight and Easy Bunny Ears for Wooden Trains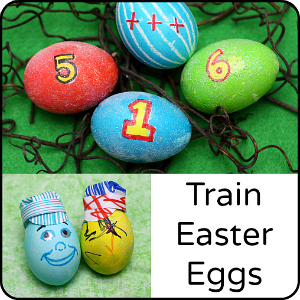 Train Engineer and Thomas & Friends Easter Eggs
More Train Gifts for Kids