Bringing holidays and season into train play is always a fun way to renew interest in the trains and learn about these special times of year at the same time. Here's a big list of fun ideas for an Easter train layout, plus a super easy way to make bunny ears for the trains to wear — without damaging them!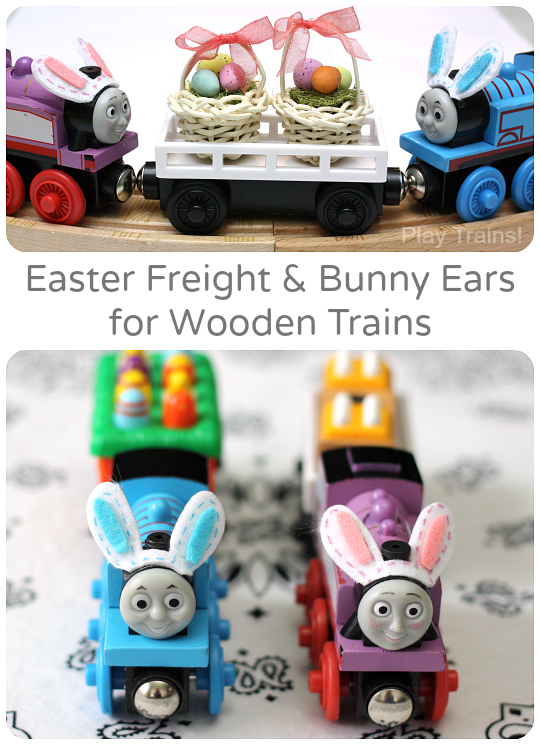 This post was originally published on March 23rd, 2014. It contains links to Amazon.com. If you click on one, we will receive a small commission — at no additional cost to you — on anything you buy at Amazon for a certain length of time afterwards. Read our disclosure policy for more details.
Easter Train Gifts and Activities for Kids
Train-Themed Easter Egg Fillers
Train Gifts for Easter Baskets
Easter Train Books for Kids
Train Engineer and Thomas & Friends Easter Eggs
Easy Easter Freight and Bunny Ears for Wooden Trains
It seems like we just keep having holidays this time of year, especially with Easter coming at the end of March.  I wasn't sure I would get excited about creating and collecting another holiday's worth of freight for the Little Engineer's trains so soon after St. Patrick's Day.
But the freight and decorations I've done for the past several holidays have been so popular with the Little Engineer, I knew I needed to think of something. It may seem a like a lot of effort to go through for toy trains, but what it does is supply our train layout with a fresh set of props for a fresh round of stories. He gets more excited about his trains and more interested in the holiday at the same time, and we have fun crafting some the freight together.
So I bought a few things at craft stores to have in hand after March 17th came and went.  I made myself get out the supplies the other day.  But when I had this idea, to my surprise, I actually started getting excited.  And giggling a lot.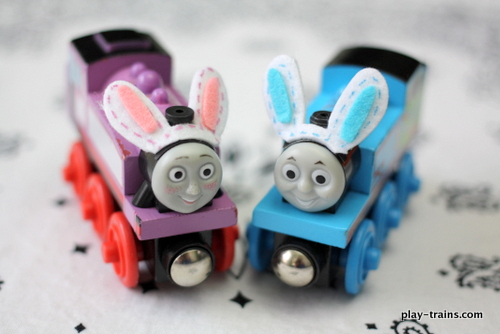 Really, how could I not get excited about wooden Thomas wearing bunny ears?  I don't know why, but this makes me really happy.  Perhaps more so because I had to convince the Little Engineer that it wasn't beneath Thomas' dignity to wear them.  I'm sure the Reverend Awdry would not have approved, but…well, Thomas wearing bunny ears!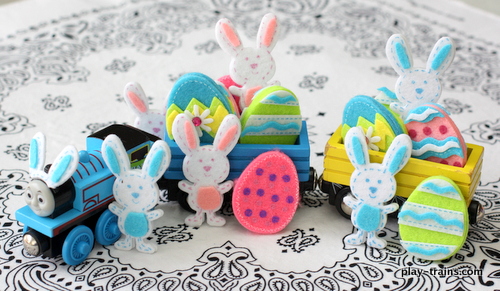 The ears come from these felt Easter Bunny stickers I picked up at JoAnn Fabrics.  I cut the ears and a headband shape off of the top of one of the stickers, then I peeled the backing of the sticker away from just the "headband" part and trimmed it.
Between the sticker and the engines, I used a tiny strip of the same residue-free duct tape I recommended in my Damage-Free Decorating for Wooden Train Layouts post.  This might not be necessary because that part of the engine is plastic, not wood.  When you stick the ears on, they stick up kind of diagonally, half stuck to the top of Thomas' smokebox and half stuck to the front of his funnel.
The bunny ears stay on really well.  I know this because I dropped poor Rosie from the height of our dining room table several times while taking these photos!
(Note:  you might want to cut up the bunny stickers when your child isn't around.  I think that may have been one of the reasons why the Little Engineer was initially resistant to the whole idea.  Even I feel kind of bad for the earless bunnies.)

Both the Easter Bunnies and the felt eggs (also found at JoAnn's) are made the same way we made the Felt Heart Freight for Valentine's Day and the shamrocks for St. Patrick's Day.  I still like the substantial feeling of freight made this way.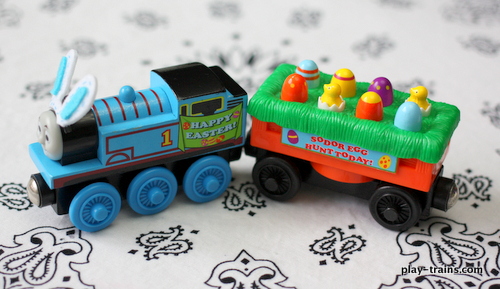 This is Easter Thomas' original car from the Thomas And Friends Easter Edition Egg Car Train Set that was in the Little Engineer's Easter basket last year (the Amazon price on this one is ridiculous now, but you might check eBay or search elsewhere online if you like it). The egg car makes cute cheep, cheep! noises when you press down on the top, which are amusing to hear coming from the bottom of a bag of trains and track. Easter Thomas and Easter Rosie are also available as single engines.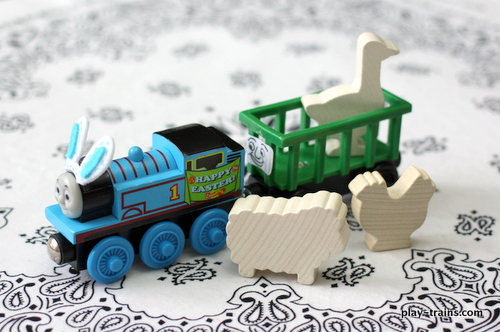 Several of the animals in the Haba Farmer's Family also fit nicely with a spring or Easter theme, and they are fun to combine with trains year round.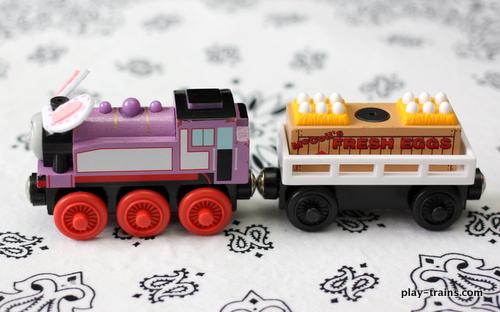 This egg freight came as part of a cookie factory ingredient-themed pack of five freight cars. The pack had already been retired when the Little Engineer got for his second birthday, So I was very excited to see that they are offering two new packs of freight cars this year similar to the cookie cargo pack: Sodor Bakery Delivery (which includes the egg freight) and Troublesome Trucks and Sweets. I think I still prefer the cookie cargo version, but it's good to see something like this available again.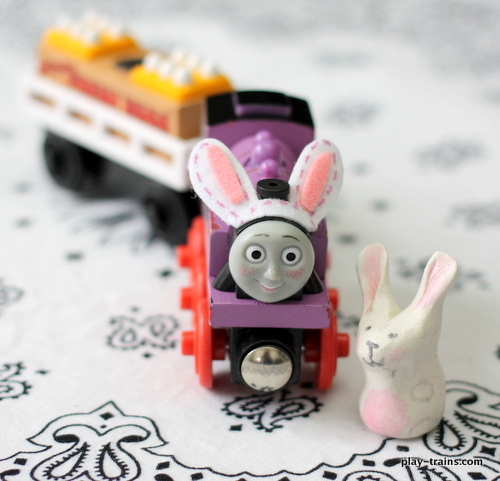 Here's Rosie with a little figure of Alma from Poppy Cat that my son had me make from the paper clay when we were working on our Engineer Heart Pendants.  I thought they looked perfect together.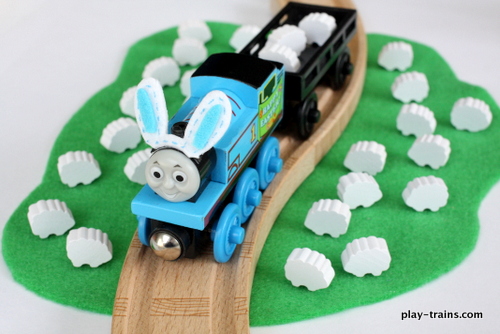 I ordered these little wooden sheep from Mayday Games for an activity to go along with what is possibly my favorite train book ever (I'll share as soon as we get to it — I beg the Little Engineer to let me read this one because I love it so much!), but they make great lambs for Thomas to pull for now.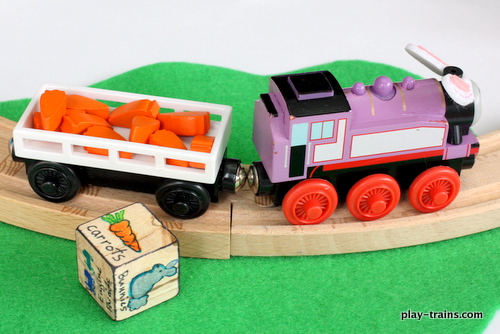 I picked up these carrots from Mayday Games at the same time to go with the Little Engineer's beloved Schleich rabbits.  Rosie is off to feed some hungry Easter bunnies!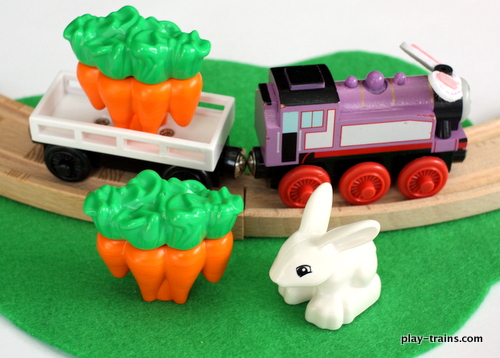 The carrots from the LEGO Bricks and More DUPLO Pink Brick Box 4623 make great Easter freight as well.  Unlike the carrots, the bunnies don't ride in the wooden freight cars easily, which was a disappointment (though they would probably fit in Trackmaster freight cars, no problem).  But I still wanted to feature this because we'll be showing you a fun train thing to build with this set (well, two of them, plus a few other Duplo pieces from our toybox) in a few days, and also it's a great Easter gift for any young child, train lover or not.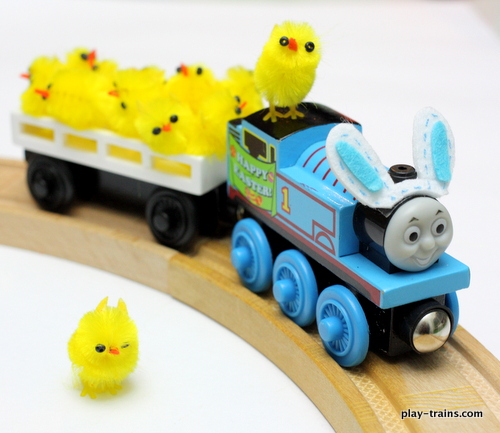 I found these tiny pipe cleaner chicks at Michael's.  Aren't they cheerful?  I can tell Thomas really enjoys pulling this load.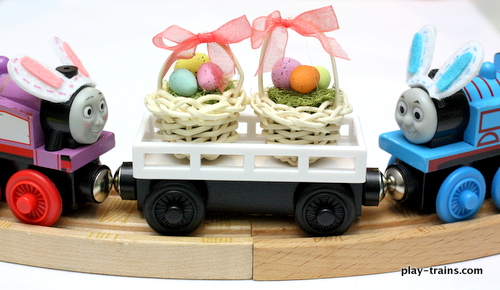 These Easter baskets also came from Michael's.  I was so happy to find some small enough for wooden trains.  I had been hoping to get some tiny empty baskets to play out a certain book, so if you know where to find such things, let me know!
And then, of course, there's the obvious Easter freight:  chocolate and candy eggs.  Many of the selections in our playlist of Easter train videos for kids feature candy freight, and it's invariably adorable.  We'll probably do this on Easter Day.
More Easter Train Fun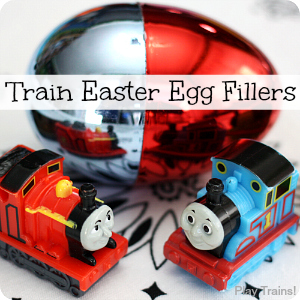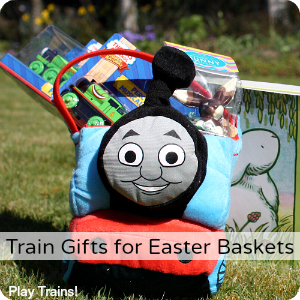 Train Gifts for Easter Baskets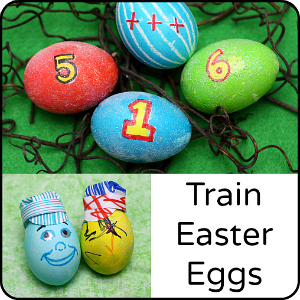 Train Engineer and Thomas & Friends Easter Eggs