My mom always made Easter morning special for us when I was a kid, so I always enjoy planning the Little Engineer's Easter basket. I have a tendency, however, to buy gifts that are a bit too big for his baskets — which means I have to figure out how to wedge them in! With that in mind, I've made a list of train gifts for kids that I know are small enough to fit in Easter baskets. There's something for every kid from babies to toddlers to preschoolers to school-age kids, so I hope you'll find the perfect gift for the Easter Bunny to bring to your little train lover.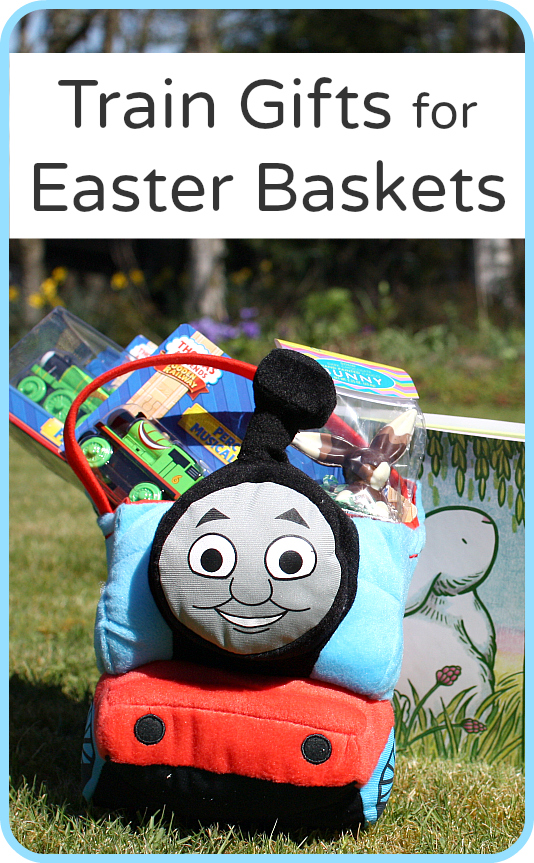 This post contains links to Amazon.com. If you click on one, we will receive a small commission — at no additional cost to you — on anything you buy at Amazon for a certain length of time afterwards. Read our disclosure policy for more details.
Easter Train Gifts and Activities for Kids
Train-Themed Easter Egg Fillers
Train Gifts for Easter Baskets
Easter Train Books for Kids
Train Engineer and Thomas & Friends Easter Eggs
Easy Easter Freight and Bunny Ears for Wooden Trains
I've organized this list with Easter-specific train gifts at the top, and then gifts for different age groups below that. My experience with the Little Engineer has taught me that individual kids can enjoy toys and books that are meant for younger or older kids, so you might want to read all the categories, especially if your child falls in the older toddler to older preschooler range.
Easter Train Gifts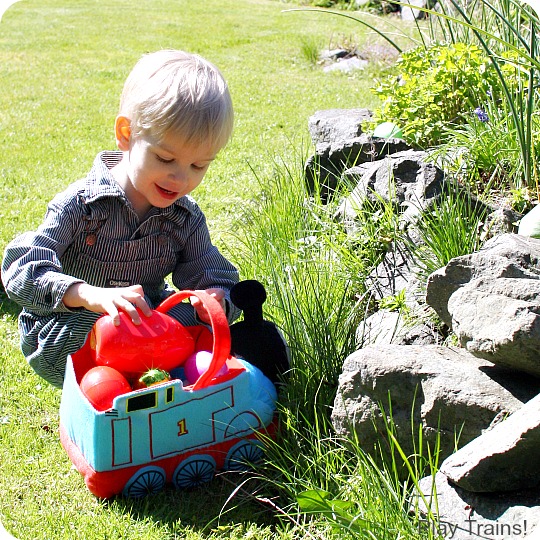 First, I wanted to mention the Thomas & Friends Plush Easter Basket I got for the Little Engineer last year. It's awfully cute, and it can double as a Thomas for stuffed animals to ride in around the house. The best price I saw for it last year was $10 at Toys'R'Us, with some places charging much more, so make sure you shop around!
If you're looking for a toy train that's specifically an Easter train, Thomas Wooden Railway has made both an Easter Rosie and an Easter Thomas, and their Sodor Bakery Delivery set of three freight cars includes an egg car. Bigjigs also makes an egg wagon (freight car) with removable freight. Maple Landmark makes an Easter Bunny car for their Name Train line. There's also a cute Little People Easter Train.
On more of a springtime theme, Brio makes a nice farm train. Nuchi has a flower train with spinning flowers and a farm animal train with wheeled animals instead of livestock cars.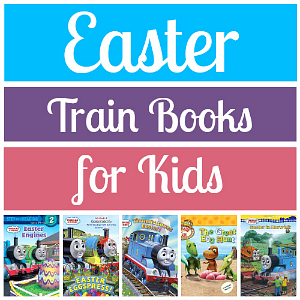 We also have a list of Easter Train Books for Kids, all of which make wonderful additions to a little train lover's Easter basket.
Babies and Toddlers
For a baby's first Easter basket, this Jingle Train Rattle is adorable. We put similar HABA toys in the Little Engineer's Easter basket when he was a baby, and we loved them.
Board books fit nicely into Easter baskets. Our favorite train board books include Chugga-Chugga Choo-Choo, Freight Train, and the Thomas and Friends My Red Railway Book Box, which comes with four board books that are particularly suitable for the youngest Thomas fans. Plus, they're written well enough to be fun to read, which is not always a given with Thomas books.
A popular toy for the littlest engineers is the stacking block train. Some good ones to look at are the Brio Magnetic Stacking Train, the Melissa & Doug Stacking Train, the Hape Fantasia Blocks Train, and the Plan Toys Sorting Train. Another option is a wooden train shape puzzle like the Guidecraft Primary Train Puzzle.
These Thomas and Friends Bath Squirters are great for bath time, and just the right size to go in an Easter basket. We also like to use them in situations where our other toy trains could get damaged, like when we built driftwood train tracks at the beach.
Another plastic Thomas that's great for younger train fans or playing outside is the Discover Junction line of Thomas and Friends trains. Bigger than wooden or Trackmaster trains, but surprisingly well-made and cute, these are really great.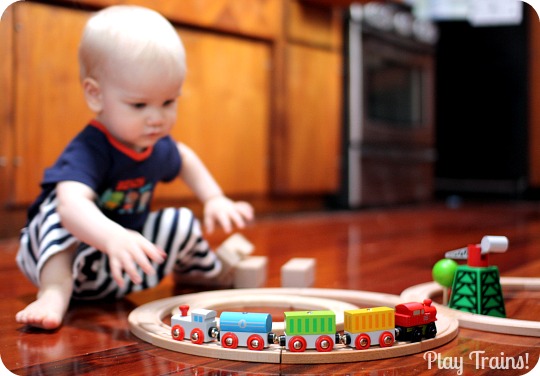 Nuchi's Figure 8 Train Set with Crane is the first train set we bought for our son, and the colors make it a pretty choice for an Easter train gift.
This Thomas the Tank Engine Spoon and Fork Set is small, cute, and good for getting distracted little engineers to pay attention to eating.
If you're looking for something snuggly to go in your train-loving child's basket, the Thomas Plush Pee Wee Pillow Pet fits that description. We call him "Snuggle Thomas" at our house. Percy and James are also available.
We have a full guide for Train Gifts for Toddlers, so make sure to check that out for more ideas! And keep reading the rest of this list, because there are several more toys mentioned below that we had when the Little Engineer was a toddler.
Older Toddlers and Preschoolers
Here are some Easter basket-sized gift recommendations, but you'll find many more options in our ever-growing Train Gifts for Preschoolers guide.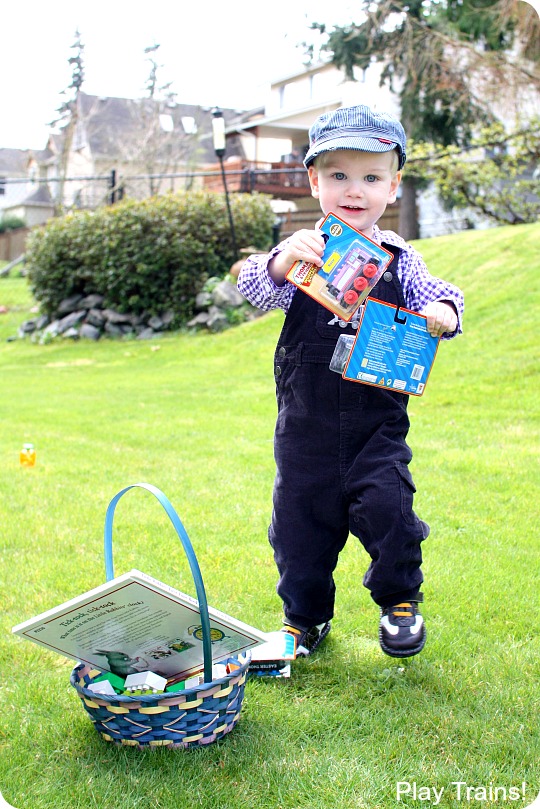 I mentioned some Easter-themed trains above, but there are plenty of other trains available in bright spring colors. Among the Thomas & Friends engines, Luke is a bright spring green, Stephen is a golden yellow, Millie is a pretty periwinkle blue, Rosie is a light pink, and Thomas, Gordon, and Edward are all sky blue. Bigjigs makes a pink engine, a spring green big engine, and the light blue Mallard heritage engine. Nuchi's circus train includes pastel freight cars and cute, cartoonish animals.
Another fun wooden train gift that doubles as a keepsake is a name train. Maple Landmark and Bigjigs Rail both make lovely versions of these, and Maple Landmark also makes a pastel version of their name train.
Or you could go with an unique and fun addition to a wooden train collection. I often recommend the Brio Train Ferry, because it adds a new dimension to train play, and its fun to learn about train ferries in the real world. You can find a best-of-the-best list of unique wooden train gifts in our Train Gifts for Preschoolers guide.
A train whistle would also be a fun addition to an Easter basket. Our current favorites are the Hohner Train Whistle, which has a lovely tone and is easier for young children to blow, and the one my husband and father-in-law made following the instructions in the homemade wooden train whistle how-to video from Woodworking for Mere Mortals.
Instead of filling our Easter baskets with plastic grass or shredded paper, I like putting brightly-colored wooden blocks or Lego bricks in the bottom. Two years ago, I bought two of the Duplo Pink Brick Box for this purpose. The Duplo bricks from that set are the perfect colors for Easter, and they come with Duplo bunnies and carrots, and we were able to build a big Duplo Rosie (the pink engine from Thomas and Friends) by combining the pieces from that set with ones we already had. (I'll hopefully have a how-to post up for Duplo Rosie soon.)
There are also two great Duplo train sets available right now. The Duplo Number Train is cute, brightly colored, and a cost-effective way to get wheel bases for building Duplo trains. The Duplo My First Train Set comes with a battery-operated engine, tracks, a couple of mini figures, and more. It's a great set, and the Little Engineer loved getting it for Christmas even though he's now moved on to big-kid Lego. For a set of Duplo mini figures that includes a train engineer, check out our list of Train-Themed Easter Egg Fillers.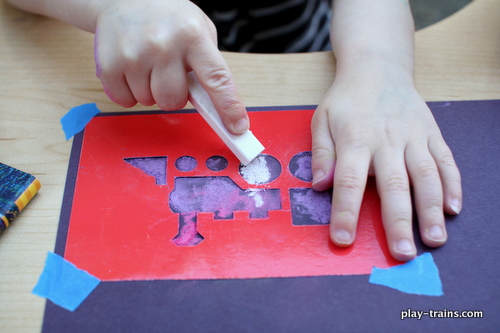 The small, inexpensive book of Train Stencils that the stencil above came from is fun and colorful. We used those stencils to explore the art style of Steam Train, Dream Train, and my son really loved that project. Another cute little book is the Train Station Sticker Activity Book,which could be nice to have along later on Easter Day for entertaining a child at church or family gatherings.
For kids who love to create, we have a list of train craft gifts — like the Melissa and Doug Decorate-Your-Own Train — in our Train Gifts for Preschoolers guide.
Older Preschoolers and School-Aged Kids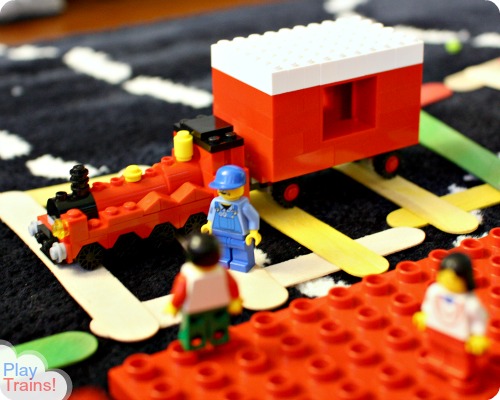 When the Little Engineer first started playing with "teeny tiny Legos", we needed a train to go with our growing collection of them. The Lego Mini Hogwarts Express was perfect — he even put a lot of it together himself, which I was amazed at. It's also the perfect size for an Easter basket!
Since then, they've released the Lego Emerald Express, a mini Lego train that can be built as two different engines or a coach. Lego City: All Aboard! is an early reader book that should appeal to Lego train fans.
Games are fun to give as gifts when a lot of family or friends are going to be around. Some smaller games and puzzles that we like are the Koplow Games Train Dice Game and the Thomas and Friends My First UNO King Size Card Game.
More Easter Train Gifts and Ideas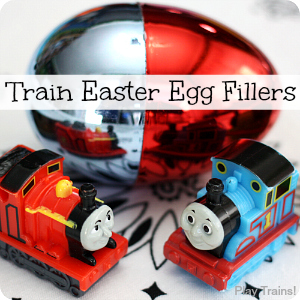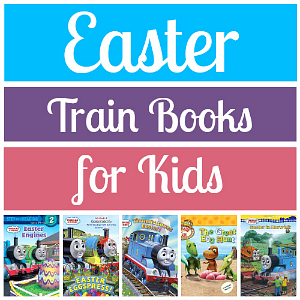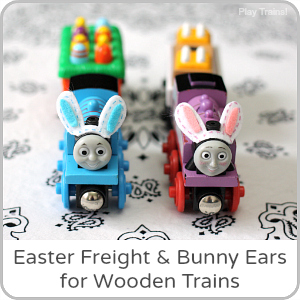 Easter Freight and Easy Bunny Ears for Wooden Trains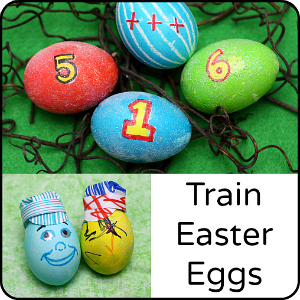 Train Engineer and Thomas & Friends Easter Eggs
More Train Gifts for Kids