We got to our Easter eggs at the last minute as always, but I'm so glad we did them!  The Little Engineer loved it even more than last year and would have been happy to dye several more dozen eggs.
As for me, my Thomas & Friends eggs turned out to be much easier to make than I was expecting. Plus I came up with a couple of additional ideas that I was really excited about.  I think I would have liked to have had another dozen eggs to play with myself!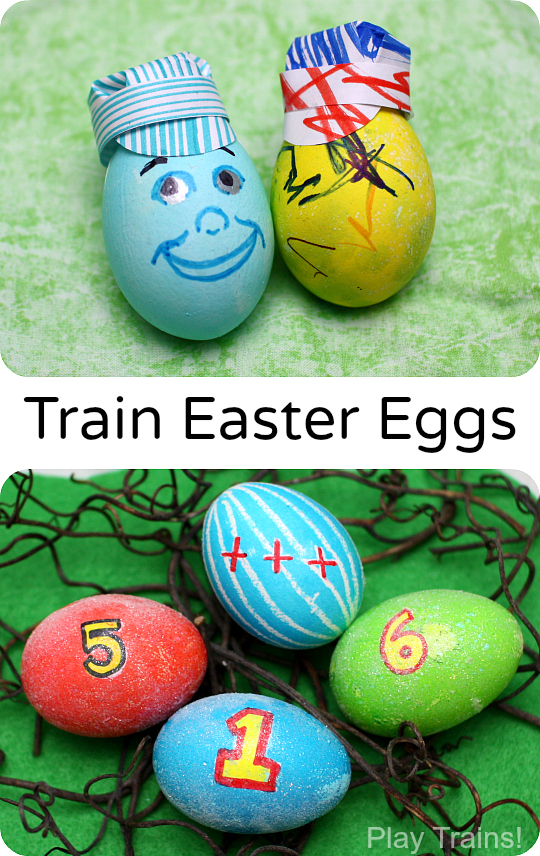 This post was originally published on March 31st, 2013. It contains links to Amazon.com. If you click on one, we will receive a small commission — at no additional cost to you — on anything you buy at Amazon for a certain length of time afterwards. Read our disclosure policy for more details.
Easter Train Gifts and Activities for Kids
Train-Themed Easter Egg Fillers
Train Gifts for Easter Baskets
Easter Train Books for Kids
Train Engineer and Thomas & Friends Easter Eggs
Easy Easter Freight and Bunny Ears for Wooden Trains
We've read a new book called Thomas Saves Easter several times this month. While it's not my favorite Thomas & Friends Easter book, the Little Engineer likes it, and on the last page it has the coolest Easter eggs: a blue one with Thomas' iconic #1, a green one with Percy's #6, and a red one with James' #5. I really wanted to make them with real eggs, and I was surprised when the first one I made worked!
First, I drew Thomas' #1 with a yellow Sharpie, and then outlined it with red.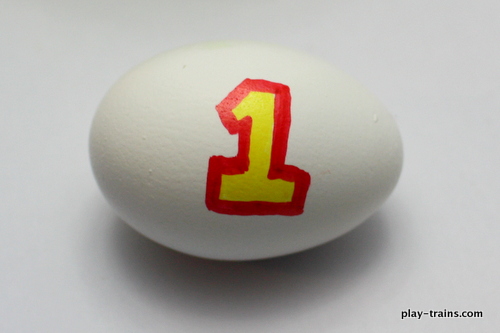 Then I used the plain wax "magic crayon" that came with our dye kit to cover up the #1. I went over it a few times to make sure it was completely covered.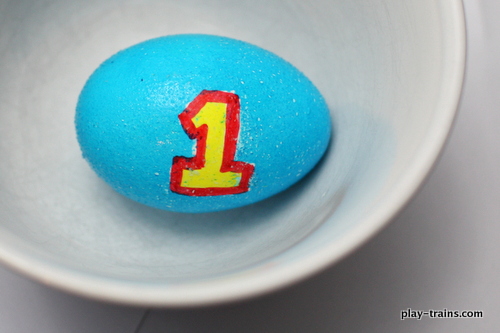 I left it in the blue dye for a good, long time to make sure it was nice and Thomas blue. Then I lifted it out of the dye cup, let it drain, and wiped a little dye off of the Sharpie-colored parts. I finished up with a sprinkle of glitter, because the eggs in the book have glitter on them, but I think I would leave the glitter off next time.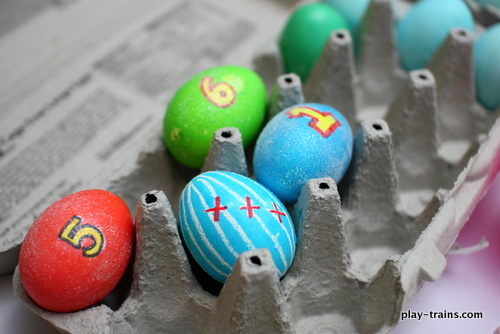 As soon as I finished Thomas, Percy, and James' eggs, I had the idea to make an engineer-striped egg. The stripes were quite easy to make with the magic crayon, as long as I let go of the thought of getting them perfectly straight and spaced.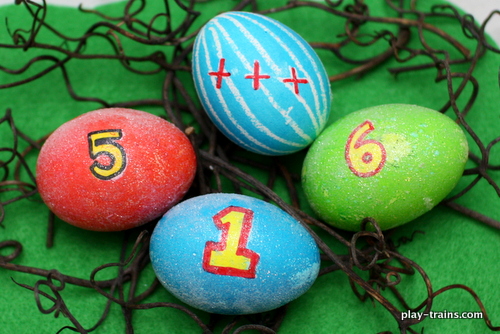 Before I drew the stripes, I drew the red Xs to go match the Little Engineer's engineer hat, like I had for the engineer-striped heart pendants and his stuffed meerkat's engineer hat. As soon as he saw the Xs, he got very excited about it being HIS engineer egg. A dip in the blue dye and it was done!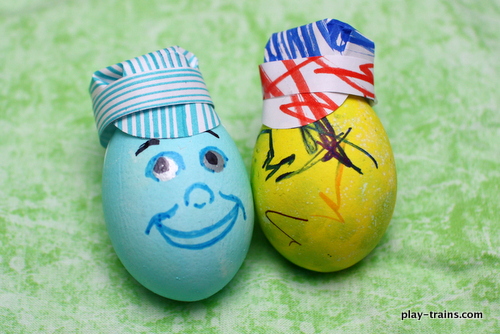 Finally, after the eggs were all dyed (and re-dyed, in some cases), we made a few engineer hats for our eggs, and I stuck them on with loops of tape. The process is the same as what I described in my Paper Engineer Hat Craft for Kids post, but you'll want to download the printable below, with six egg-sized hats per sheet. I will warn you that these are a little trickier to fold and assemble due to their smaller size, but they're pretty cute when they're finished.
Did you make any train-themed eggs for Easter this year?  I'd love to see them!
[box type="download"] Download the Easter Egg Engineer Hats free printable[/box]
More Easter Train Fun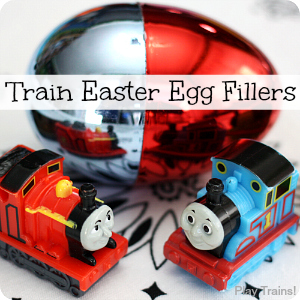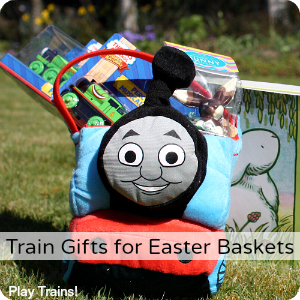 Train Gifts for Easter Baskets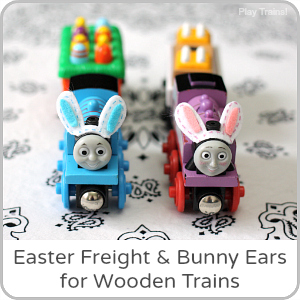 Easy DIY Easter Freight & Bunny Ears for Wooden Trains