If you're looking for a gift for a train-loving preschooler, you're in luck. I've searched far and wide for interesting train books, toys, videos, and other gifts to feed my preschool-aged son's passion for trains, and I've found a ton of cool stuff. Buying a first train set? Looking for building toys or craft kits for kids who want to make trains of their own? Trying to find a unique gift for the little engineer who has everything? You'll find plenty of gift ideas here!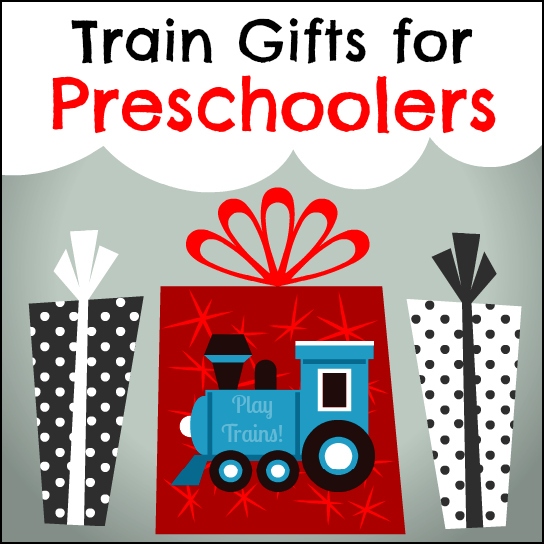 This post contains links to Amazon.com. If you click on one, we will receive a small commission — at no additional cost to you — on anything you buy at Amazon for a certain length of time afterwards. Read our disclosure policy for more details.
Train Gifts for Preschoolers
This list will be expanded and updated regularly — don't forget to bookmark or Pin it!
As you will see, there is a wide range of gift ideas on this list! The categories currently include:
Wooden Trains
Lego Trains
Building Toys for Train-Loving Kids
Die-cast Trains, Motorized Trains, and Model Trains
Mini Trains
Train Crafts
Train Whistles, Sounds, and Music
Train Clothing
Train Cooking and Mealtime Gifts
Train Puzzles and Games
Train Books
Train Videos
Hopefully you'll find something to delight your young train enthusiast! You may also want to check out our Train Gifts for Toddlers guide for more ideas that would be suited to preschoolers as well.
Wooden Trains
My Ultimate Wooden Train Guide can help you choose a great train set or new train tracks and accessories to add to an existing collection:
However, I also wanted to give you a best-of-the-best list of outstanding wooden train gifts. Ones that are unique, have that special wow factor, or are just especially fun. You should be able to find something exciting for even the kid who seemed to have every wooden train imaginable.
RC Train Engine (BRIO): We just got this for the Little Engineer for his birthday, and we LOVE it. From the controls or using the buttons on the engine, you can make it go forward and backwards, blare the engine's horn, and turn its lights off and on. It has a nice look and feel to it…very solid, and a joy to run. Our favorite motorized train for wooden tracks yet, though we'll always love Battery-Operated Thomas and Percy for other reasons.
Train Ferry (BRIO): First off — yes, there really are train ferries! Both right now around the world, and way back in the early days of the American railroad, as I recently read in Casey Jones' biography. This is such a cool addition to a wooden train collection. I think my favorite thing to do with the ferry is to use it to transport trains from a layout at one end of the house to a layout at the other.
King of the Railway (Thomas Wooden Railway): The new Thomas movie this year is my favorite one yet, with a much improved script, a new character inspired by real railroad history, and not one, but two new female engines. We like all the new engines, and if you're looking for a gift for a Thomas fan, they would probably love to get a Stephen, Rusty Stephen, Millie, Connor, or Caitlin of their own.
Stephen's Coaches: I'm going to put this in its own entry, because you could buy these gorgeous coaches for any wooden train set, even a completely Thomas-free one, and they'd be wonderful.
Bigjigs Heritage Engines: This is a really gorgeous line of wooden trains designed to look like real, famous engines, perfect for encouraging an interest in railroad history. They also make great substitutes for Thomas & Friends engines, because the Thomas characters were based on many of these trains. Try Bluebell or Kent and East Sussex Pannier for Thomas, Asbestos or the Saddle Engine for Percy, Jack or the Metropolitan for James, Gordon for Gordon, Green Arrow for Henry, the Flying Scotsman for the Flying Scotsman, Kent and East Sussex G.W.R. for Duck, Duchess of Hamilton for Caitlin, the Mallard for Connor, and the Rocket Engine for Stephen…who is actually supposed to be the Rocket.
Skyline Suspension Bridge (Melissa & Doug): I generally don't recommend Melissa & Doug wooden trains (though I love many of their other toys), but this is a standout bridge — tall, stable, and attractive. (Read more about this product in our Bridges & Elevated Tracks Guide.)
Cargo Warehouse (BRIO): We just gave this to the Little Engineer for his birthday, and it's really cool. There's enough room to store eight standard pieces of wooden train freight, two cranes to lift them in and out, a drop-down ramp for the worker figure to load and unload through, and a place to connect a Brio roadway to the back.
Knapford Station (Thomas Wooden Railway): Oh, how I longed for this station! I just think it's beautiful. Oh, and the Little Engineer loves it, too. We have the older version, which had a little building off to the side of the tracks that has been removed, but there are some improvements in this new version and it's cheaper than ours was.
Tidmouth Sheds (Thomas): Our first roundhouse came from an Imaginarium train table set, and it's served us well for years now. However, we always wanted to have the "real" Tidmouth sheds, because they're the setting for so many of the scenes in the videos and books. This was a very, very exciting Christmas gift for the Little Engineer. It has the Thomas and Friends style, and a year later it still looks good and works great.
Gold Mine Mountain Set (Thomas): This fantastic set includes the best elevated element for wooden train layouts that I've come across.
Travel Switching Set (Brio): This comes with a cute red bridge and an elevated, two-level station. This is an excellent set for kids who like passenger trains, because unlike most wooden passenger trains, the passengers can actually go in the coaches.
For more battery-operated wooden trains, see the Die-cast Trains, Motorized Trains and Model Trains section below!
I'm going to make a separate post for Christmas train gifts, but for now, here are some fun Christmas- and winter-themed Thomas & Friends wooden trains:
Adventures of Thomas Set: This is a fun set with three different Thomases, including the Snowplow Thomas you'll often see on Play Trains! There's a new version of the set now, and it also has Snowplow Thomas, but with a different facial expression. The Pre-2013 Adventures of Thomas has a smiling Snowplow Thomas, and 2013 Adventures of Thomas has a disgruntled Snowplow Thomas (which is more true to his opinion of snowplows!). You can see our smiling Snowplow Thomas in action with our Christmas Pipe Cleaner Trees or plowing some real snow in Snow Trains: Seven Ways to Play with Snow and Trains.
This year, the Christmas trains are Thomas in a Santa's Little Engine set, and Sidney covered in holiday lights in the Sidney Special set. The stories to go with both engines are featured on the Santa's Little Engine DVD, which is one of my favorite Thomas DVDs yet. The interludes between the episodes are great.
Last year, the Little Engineer got a Holiday Lights Thomas, and it's really, really cute — better than I expected!
Lego Trains
From very early on, the Little Engineer
LEGO DUPLO My First Train Set: I was very pleased to see a new DUPLO train set released this year, and it looks wonderful. I love the colors and styling of the engine and coaches.
LEGO DUPLO Number Train: I included this in our Train Gifts for Toddlers list, but I also think it would be great for a preschooler. It would be fun as a stand alone toy, or as an addition to a larger DUPLO set. This set would provide four wheel bases and a number of train-specific parts, and I can see my son using the numbers on the blocks to inspire storytelling (they could be labels telling the railroad workers where they were meant to be delivered, etc.).
LEGO Mini Hogwarts Express: When the Little Engineer was ready to move up to big kid Lego this summer, I wanted to make sure he had some train pieces so he could create trains with his new "teeny tiny Legos!" The Lego City trains look really cool, but they're both too advanced and too expensive to buy for a preschooler. The answer came in the form of this cute little mini train, made to go along with the Harry Potter LEGO collection. You can read more about it in our full mini Hogwarts Express review, with lots of cute pictures of the imaginative ways the Little Engineer has played with it. Here's a photo of it with a little coach the Little Engineer had me help him build to go with it: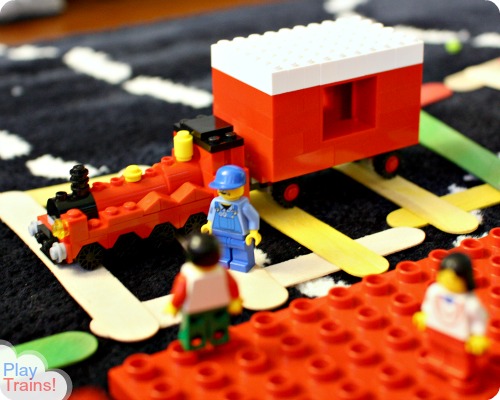 Building Toys for Train-Loving Kids
We often mix our wooden trains with our other toys at home, and some of the best ones are construction toys. Often, we build the train out of these toys, too! Here are some that we highly recommend.
HABA Blocks: Great for building tunnels and buildings, and for supporting elevated tracks (check the Q&A section of our Bridges and Elevated Tracks Guide for tips on how to get the tracks to stay up on top of them). We also have build plenty of "trains" out of them.
HABA Technics: When the Little Engineer started really wanting to design his own trains, I was so excited to discover the HABA Technics line of wooden block sets. They have plastic connectors that can hold the blocks together, and wheels and couplings to attach to the blocks to turn them into cars or trains! We got the Large Vehicles Set, but you can also try out the Basic Vehicles Pack.
Quercetti Georello Tech: Use this or one of the other Georello sets to pretend to build and fix the inner workings of a train. We've even built a steam engine from this set and a Play Doh box with holes in it! This is also the set we used for the wheels of the Coal & Water Steam Engine Sensory Bin, and one of these days I'll post the pictures of how we later built a wheel rig for it with this set where three wheels could be turned with a handle: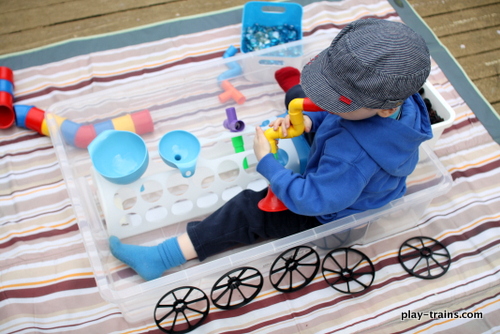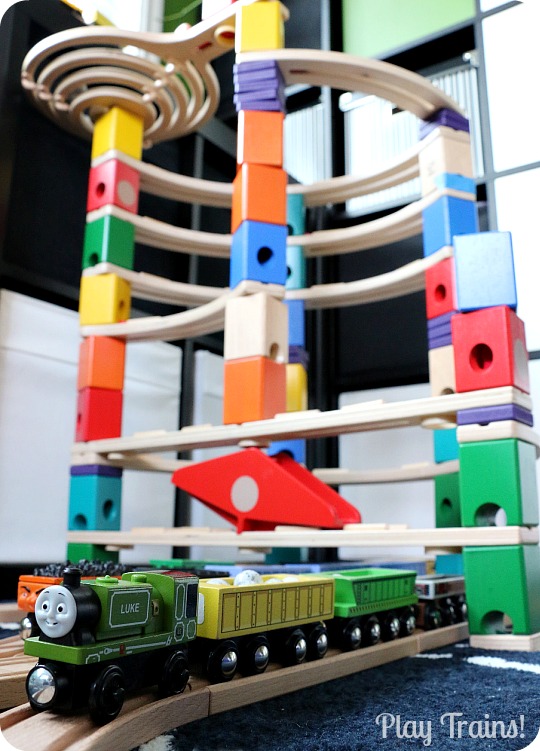 Citiblocs: These long, thin rectangular blocks are all precision-cut to the same size and shape, allowing kids (and adults) to build some amazing and creative structures. One of their examples is a steam engine on a trestle bridge. We're not quite to that level yet, but the Little Engineer showed me that it's really fun to make train tracks out of the blocks.
Quercetti Tubation: This tube-building set is a fun one to have on hand when we want to pretend to fix a steam engine's pipes while playing Big Engine or with our Coal & Water Steam Engine Sensory Bin.
Duplo Tubes Experiment Set: This is a really fun set, especially for a kid who loves marble runs but isn't quite ready for one. We use these tubes as steam engine pipes and water tower pipes, as you can see with our Coal & Water Steam Engine Sensory Bin (we really found a lot of toys that worked with that one!).
Snap Circuits Jr. SC-100 Set: The Little Engineer loves working with this electricity science kit with us. I got it for him when he became more interested in electric trains. I expect to expand our collection of Snap Circuits sets when he's older, because this is a really cool way to learn about electricity.
Die-cast Trains, Motorized Trains and Model Trains
Thomas & Friends Take-n-Play Trains: These die-cast metal trains are the littlest of the three main lines of Thomas & Friends toy trains. The benefits to this type of Thomas train are their small size and toughness, as well as the portable design of the sets. They also tend to be the cheapest of all the Thomas trains, and often they are very nicely detailed. However, in my opinion, the track can be really hard to work with and keep connected. Unlike Thomas & Friends wooden trains, which are usually cheapest on Amazon, Target and Toys'R'Us tend to have the best deals on Take-n-Play trains, especially if you watch for the frequent sales on them. Target also tends to have special exclusive sets during the holiday season, including a Christmas-themed set.
Thomas & Friends Trackmaster Trains: These are the largest of the three lines of Thomas & Friends trains. Made of plastic, these motorized engines are a step closer to model trains in many ways, but big and tough enough for young children to play with. Like the Take-n-Play Trains, the best prices I've seen are found are at Target and Toys'R'Us. Toys'R'Us has some exclusive trains and sets, notably an entire snowstorm line with engines wearing snowplows. If you're looking for King of the Railway Trackmaster trains, you'll find those at Toys'R'Us as well.
Lionel Little Lines Train Playset: My dad had Lionel trains for years, so my parents got this set for the Little Engineer to continue the tradition. It's fun and interactive, with a crane and cargo loader. They also make a Polar Express Train Set, which is the same set with a different look of train (coaches instead of the freight cars), white tracks, and a backdrop, but without the crane/cargo loader like the one that came with our set.
Battery-Powered Brio Engines: I mentioned the RC Train Engine above, and I love it so much I had to mention it here as well. Brio also makes other motorized engines, including the Battery Travel Train that comes in the Travel Switching Set (also mentioned above) and
Imaginarium Power Steam Set: This is a cute little set with a red battery-operated steam engine, a black coal tender, a green passenger coach, and a blue caboose. The Little Engineer loves having a blue caboose! Go find this one at Toys'R'Us for a much better price.
Battery-Operated Thomas Wooden Railway Engines: The battery-operated engines for the Thomas Wooden Railway line are metal rather than wood. We have Thomas and Percy, and you can also get Hiro, Diesel, James, Salty. You could also get a battery-operated Rosie, though they don't make her any more. Maybe next year they'll add a female engine back into their battery-operated line up.
Power Trains: Half way between preschool toy trains and model trains, Power Trains are light-weight, battery-operated trains that more closely resemble model trains but apparently hold up to kids playing with them. We only have a few freight cars (they were on clearance, and I knew we'd want to try them out someday), but the reviews for Power Trains generally focus on how much better these toy trains are then the parents expected. The couplings are difficult to work, but that aside, this might be good for an older preschooler who's itching to get his or her own model train.
Model Trains: A very careful older preschooler might be ready to learn to operate a model train with plenty of supervision. At least, I sure hope so, because the little engineer is getting the Bachmann Trains Deluxe Thomas and Friends Special Ready-to-Run HO Train Set for Christmas. There is a super great price on this set on the day I'm posting this! Really, I'm jealous of it, because I paid twice as much. (Note: I read the reviews and the instructions very carefully. Some people have had problems with the set, but ours works fine from my test run, and I know not to run it longer than the maximum time. So hopefully we'll have no problems.) I also got him a couple of HO Troublesome Trucks to carry freight. I was glad I didn't wake the Little Engineer up with my giggles delight at Thomas' moving eyes when I was testing it in the middle of the night! Other model train options for kids include this HO Emily (from Thomas & Friends) set and the various model Hogwarts Express sets for (future) Harry Potter fans, or for non-character sets, you can look at other model train sets and check out any that seem ready to go out of the package, read the reviews, and see what you can find.
Mini Trains
We love tiny trains at our house! They're perfect for bringing along on trips or to keep on hand to entertain kids at a restaurant, and you can even make a little set for them like our Portable Pretend Model Train Set, which makes an excellent DIY gift itself. These little trains are also fun to combine with board games (you could even make your own). They would all make great stocking stuffers, advent calendar gifts, or Easter egg fillers.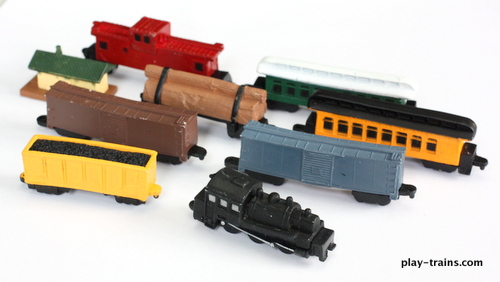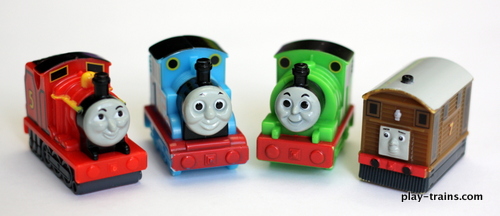 My Busy Books: Thomas & Friends: This cute set of Thomas & Friends trains comes in a book with a play mat. They aren't quite as nice as the Pez engines, but there's more variety, and they're even smaller which can be nice. They go especially well with the Train Toobs I talked about above. Note: they seem to be sold out for the moment (or for good?) at Amazon, but I've seen them recently at Target for the price I paid for ours.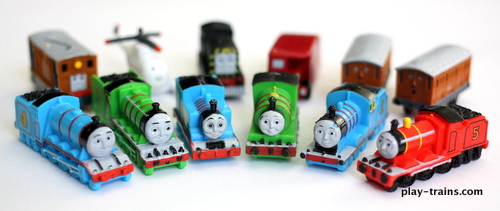 Thomas & Friends Rev-n-Go Engines: These are getting harder to find, but there are still a few listed on Amazon, and they're so adorable they're worth tracking down once those disappear. Thomas, James, and Percy are so little and cute, so nicely detailed, plus they zoom across the room if you pull them back and let them go! They also made a Rev & Go Round the Island Playset that's a lot of fun, and perfect for taking along on trips or around town.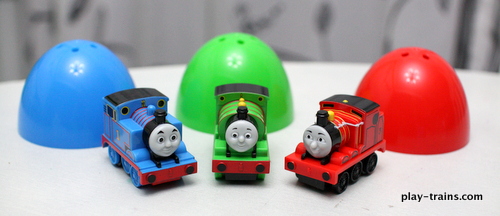 Train Crafts
Maple Landmark Made By Me Trains: These are very nice wooden trains that your child can glue together and then paint. They are sturdy enough to play with. You can see the ones we made in Assembling and Painting Wooden Trains with My Toddler.
Creativity for Kids Wooden Train Kit: This is another wooden train kit we've made. It turned out very cute, but because of the not-quite-round wheels and the thin axles, it's more for decoration than for play.
Thomas' Sticker Express: This is an awesome sticker book! There are so many stickers, with lots and lots of different engines. Plus, at the end, there are track and scenery stickers to make your own railway!
Train Chocolate Mold: We just got this in the mail, and while the mold is maybe a little rough to make nice chocolates, I'm hoping it will be great for making train crafts with play dough or clay.
Train Whistles, Sounds, and Music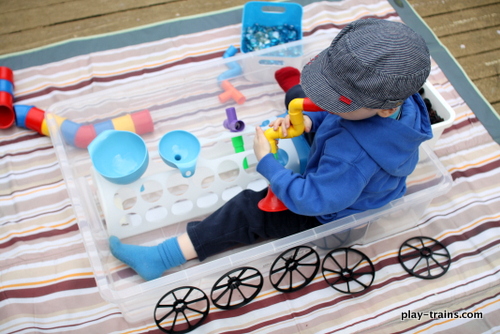 Train Clothing
Gifts for Train-loving Cooks
Train Puzzles and Games
Train Books
There are so many wonderful train books that it would take me several posts to tell you about all of them! For now, here are some very special ones which you may not have heard of.
Train Videos
If a child in your life loves trains, I highly recommend that you sign up for our email newsletter! We share all kinds of ideas for playing and learning with kids who love trains here on Play Trains!, and email is the best way to be sure to hear about all of them.
More train guides to explore: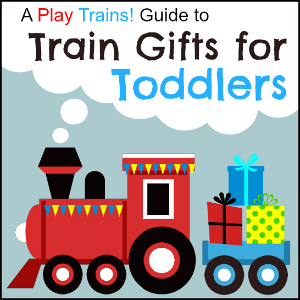 A Play Trains! Guide to Train Gifts for Toddlers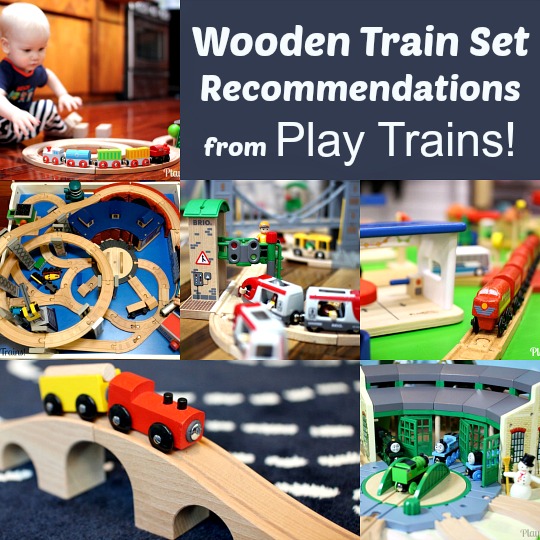 The Play Trains! Guide to the Best Wooden Train Sets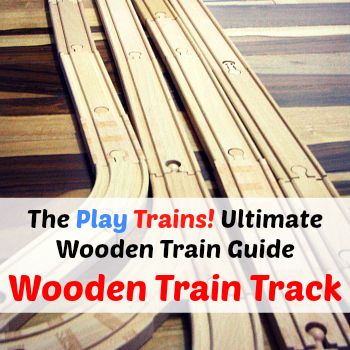 The Play Trains! Ultimate Wooden Train Guide: Wooden Train Track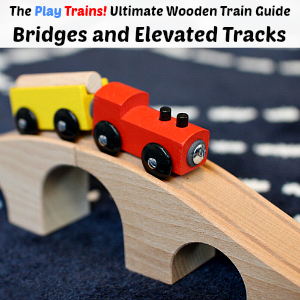 The Play Trains! Ultimate Wooden Train Guide: Brides and Elevated Tracks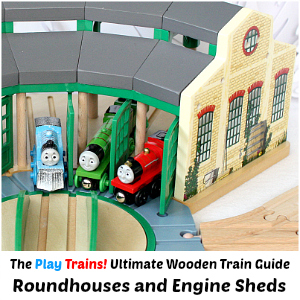 The Play Trains! Ultimate Wooden Train Guide: Roundhouses and Engine Sheds