I was planning to wait a little longer before starting a "big kid" Lego collection for the Little Engineer.  After all, his Duplo blocks are still fun for all of us!
But over the last month, he became very interested in building with the handful of "teeny tiny" Lego we had at our house.  Surprised at how well he was able to work with the blocks and wanting to make good use of this new fascination to get more independent play time in our days, I decided it was time to embrace the future.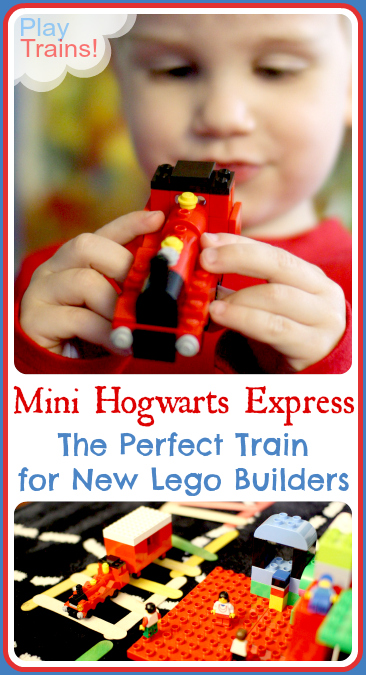 This post contains links to Amazon.com. If you click on one, we will receive a small commission — at no additional cost to you — on anything you buy at Amazon for a certain length of time afterwards. I was otherwise uncompensated for this post. Read our disclosure policy for more details.
As I looked at the options available to us, I was dismayed at the lack of inexpensive Lego trains for children just beginning their Lego years.  The closest thing seems be the Lego City Passenger Train and Lego City Cargo Train, but both of those seem to be difficult to find now and, consequently, too expensive to consider short of finding a good deal on a used set.  There's a new Lego Lone Ranger Constitution Train Chase with a really nice steam engine, but but aside from being too complicated (and expensive) for my little guy, it has a Gatling gun. Not going to happen.
All I really wanted were some train wheels, but the only thing I could find was a set of Lego car wheels. These could work, but the rubber tires really don't feel like train wheels.  (Lego, if you stumble onto my humble page, please make a train part set!)
Fortunately, I came across the Mini Lego Hogwarts Express. This small, bagged kit builds a cute little red and black steam engine. It bears some resemblance to the Hogwarts Express, but isn't tied to being the famous train from Harry Potter.  The price was right, too.  So I ordered one along with the Lego Ultimate Building Set and hoped the Little Engineer would have what he needed to build a simple train with his new Lego collection.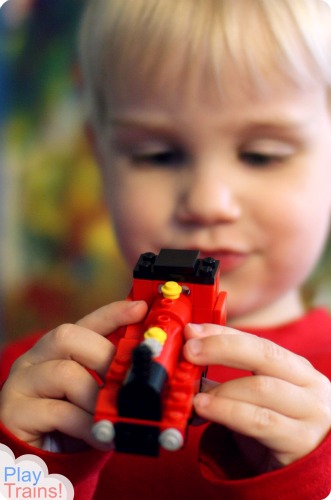 It turned out to be one of the best purchases I've made for him. I was expecting to have to put the train together for him, and then have him use it as parts for his own creations, but with the pictorial instructions and some coaching from me (plus the occasional helping hand on the trickiest parts), he was able to put the engine together mostly by himself.
He was so, so proud!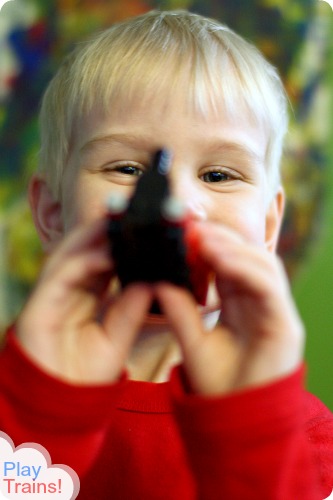 After playing train with it for a while, he took it apart, wanting to put it together a second time.  But it was bedtime, so I told him that had to wait.
Guess what he wanted to do first thing the next morning?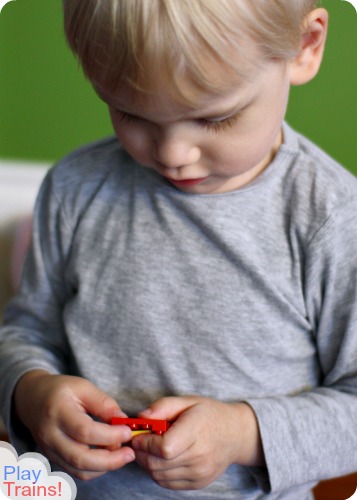 I love this look of concentration on his face. When I see that, I know he's doing exactly what he's meant to be doing.
Our second time building the train ended abruptly when we discovered that despite our careful boxing up of the set the night before, two of the wheels were missing, most likely lost when he'd taken the train apart.  So the Little Engineer built these cute little engines using the wheels we did have, plus the one below them (who is Diesel, he told me).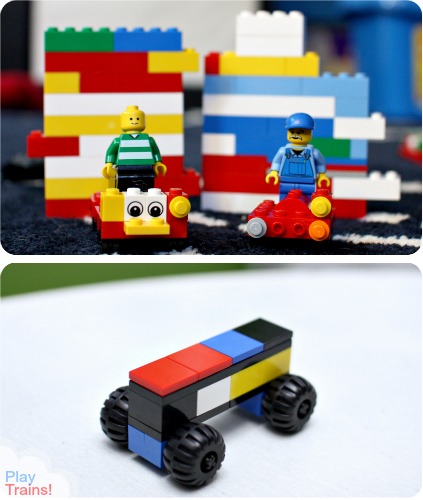 He discovered that the Lego that make the sides of the Hogwarts Express' cab are easily turned into lamps for his engines.
I also built him a little American-style steam locomotive to play with, which was a fun way to celebrate the Fourth of July.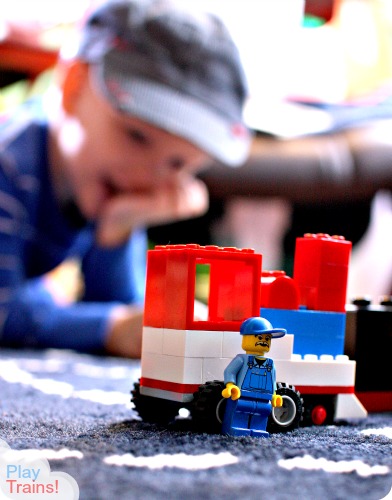 We were excited to find that the mini figure that comes with the starter set we bought was wearing overalls. We added a different head we had from before and made him a "grandpa engineer".
Finally, I found both of the missing wheels, and we were able to rebuild the Hogwarts Express. This time, the Little Engineer definitely needed less help than the first time. When he asked some questions about the train from "Harry Potter's world", I told him about Harry's first time riding the Hogwarts Express. He was really interested in how Harry went through a magic brick wall, so I showed him a few videos on YouTube, including the scene we were talking about:
And some videos of the larger Lego Hogwarts Express sets, including this time lapse video of two people building one of the sets:
And this comparison of two of the versions:
Taking what he had learned from the videos about the Hogwarts Express, Harry Potter, and Platform 9 3/4, he had me help him build a whole scene to go with his Lego train.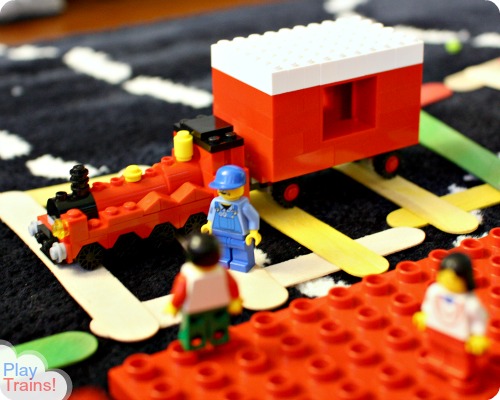 From the collection of random old mini figures we had, he put together a Harry, a Ron, and a Hermione.  Plus a ship's captain and sailor from Harry Potter's world. At his request, I made a passenger coach that the mini figures could fit in, like the one he'd seen in the videos.  He made a track out of popsicle sticks, and I built a little Hedwig.
His favorite thing he came up with was a way to make the brick wall entrance to the platform. It was the thing that had captured his imagination, so I was unsurprised when he told me about his grand plan to build one for his mini figures: it would have a hinge! And we would lift the brick wall up for the mini figures to go through! And then it would go back down!
One problem: we didn't have any hinged Lego pieces.  So I suggest attaching a flat piece to a propeller, so we could swing the brick wall up.  This was an acceptable substitute, so we built it and a Duplo platform to go with it.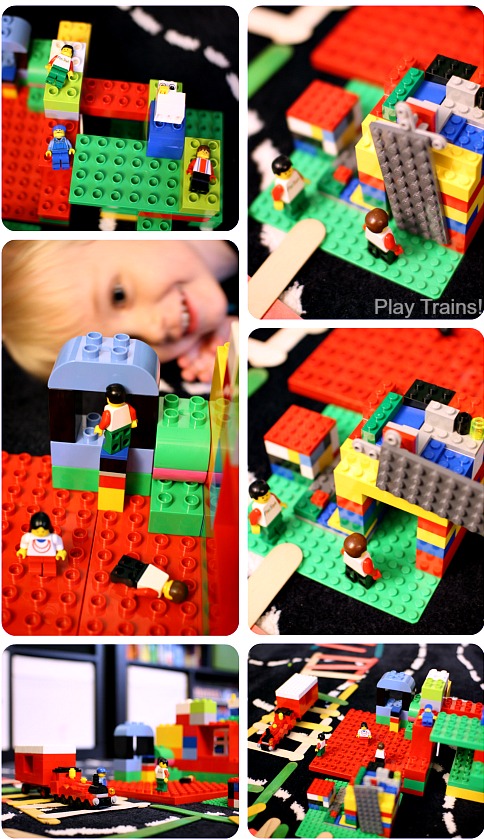 It was so fun to watch him play with the set and listen to him weave all the information he had picked up into his own story. I went and got the camera, hoping to get some of it on video. When he slipped into his YouTube video star persona, he cracked me up by telling me that the set was for "young kids who don't know very much about the story yet". How very self-aware.
I also laughed when he laid all the mini figures (plus Hedwig) on their backs on top of the walls, because they "needed a little rest" before the story began again. And the very tall platform he built for Harry to get up to the ticket window was great, too.
He wanted me to find my Harry Potter books. I managed to locate them in the pile of boxes created by our ongoing office remodel. We read some selections from the beginning of the first book, with me editing out things that were not age-appropriate as I read. The Little Engineer was thrilled when Harry came through the brick wall and saw the "scarlet steam engine".  He liked the phrase so much, he repeated it with a note of awe in his voice.
I love that this little Lego train has done for Harry Potter what Angry Birds Star Wars has done for Star Wars at our house, bringing our son to love something we love in a way that's okay for his age. We still have years to go before we'll read the first book all the way through, or watch the first movie. But we have a new conversation to have around the dinner table now that, "What do you like about Harry Potter, Mama?" has joined, "What do you like about Star Wars, Mama?" in his list of conversations to have.