For months now, I've been looking forward to doing a Christmas version of the pipe cleaner trees we made for our train set. Well, here they are, and I enjoyed making them even more than I expected! These could work as a kids' Christmas craft — either with the child making the trees themselves (the Little Engineer can do this with assistance) or with a younger child helping decorate the tree once an adult as formed its basic shape. They could also be turned into Christmas ornaments with the addition of a ribbon, string, or hook with which to hang them on the tree.
I tried several different combinations of pipe cleaners (also known as chenille stems), so I have a wide range of tree designs to share with you. Personally, I like the look of them all mixed up together in to one big, colorful, sparkling forest of Christmas trees.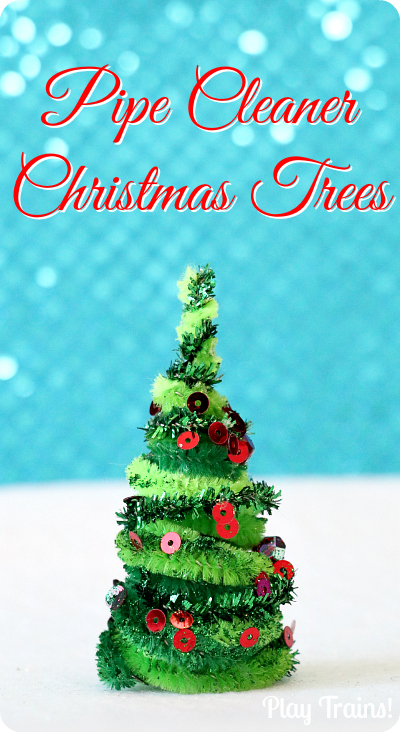 This post contains links to Amazon.com. If you click on one, we will receive a small commission — at no additional cost to you — on anything you buy at Amazon for a certain length of time afterwards. Read our disclosure policy for more details.
Seasonal Pipe Cleaner and Pom Pom Trees
Cherry Blossom Spring Pom Pom Tree
Pipe Cleaner Pine Trees
Summer Pom Pom Tree
Pipe Cleaner and Pom Pom Palm Tree
Apple Harvest Pom Pom Tree
Fall Pom Pom Tree
Spooky Pipe Cleaner Trees
Halloween Carnival Colors Pom Pom Trees
Pipe Cleaner Christmas Trees
Light-up Pipe Cleaner Christmas Trees
Snow and Ice Winter Pom Pom Trees
Christmas Pipe Cleaner Trees
Materials:
Pipe Cleaners / Chenille Stems: A pack or two of pipe cleaners is all you need for most of the trees below. I used 6mm pipe cleaners in three shades of green, 6mm metallic green pipe cleaners, 6mm multicolor metallic pipe cleaners, extra fluffy white pipe cleaners, 6mm iridescent white pipe cleaners, and a few 3mm white pipe cleaners.
Small sequins
A piece of thin cardboard (as from a cereal box) and tape to make a paper cone (see the instructions linked to below)
How-to make the trees:
For illustrated  instructions for how to make these, read my original pipe cleaner trees tutorial. With these particular trees, I found that when I used multiple pipe cleaners twisted together at the top, the order of the colors really affected the look of the tree, so keep that in mind and do some experimenting.
The Christmas trees I made fall into three different categories: sparkling snowy trees, glittering green Christmas trees, and shimmering rainbow Christmas trees.
Sparkling Snowy Trees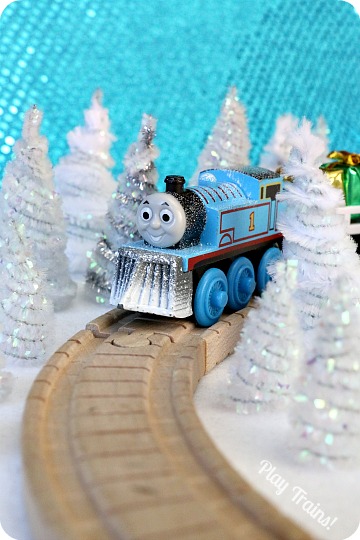 I made a number of white Christmas trees, perfect for a snowy woodland scene. My favorite combinations from the photo above were:
One to three iridescent white pipe cleaners
One big fluffy white pipe cleaner and two iridescent white pipe cleaners
One metallic silver pipe cleaner and two iridescent white pipe cleaners
My favorite of the white trees was this one with its blue bead Christmas tree ornaments: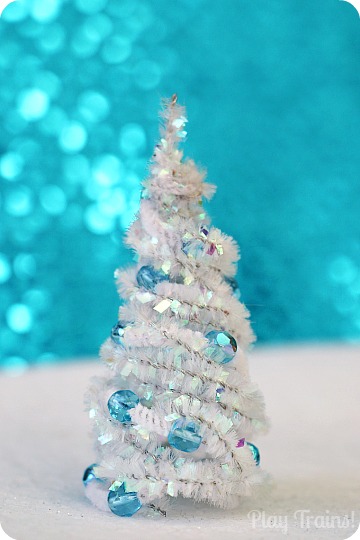 To add the ornaments, I threaded them onto a 3mm white pipe cleaner (the holes in my beads were too small for the 6mm pipe cleaners), then wrapped that with an iridescent white pipe cleaner and used it along with two other iridescent white pipe cleaners.
And then I really liked these cute little snow-crusted trees.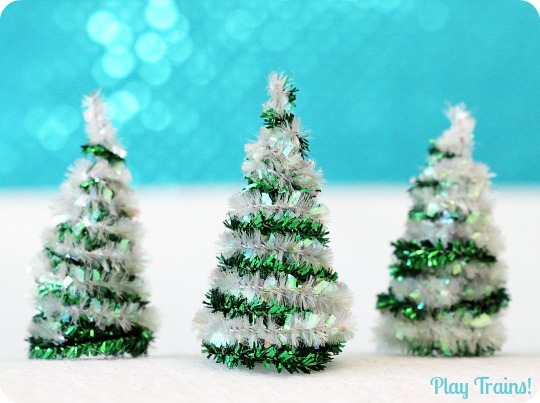 I used one iridescent white and one metallic green pipe cleaner to give the effect of green boughs holding up new-fallen snow.
Glittering Green Christmas Trees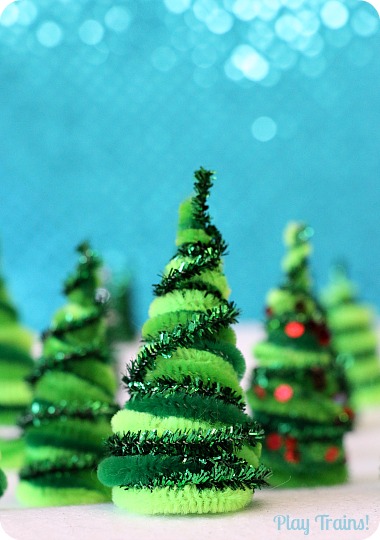 These are similar to the trees from the original pipe cleaner tree post, but with the addition of metallic green pipe cleaners. I found it worked best to use one of each of the shades of plain green pipe cleaners plus a metallic green pipe cleaner. Then, after the tree was formed, I twisted a second metallic green pipe cleaner to the top of the tree and wrapped it around in the opposite direction, to form a garland.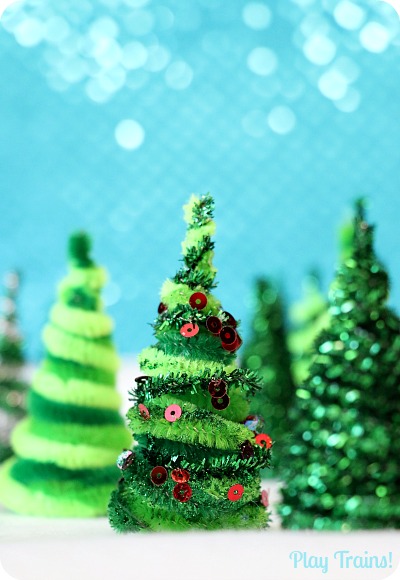 To make the green tree with the red sequin ornaments, I spread green glitter glue along the path of the garland and then pressed the tree into the red sequins. The glitter glue has the nice side benefit of making the whole tree sturdier, so it's something I'm going to experiment with further. It also would be a fun thing to let kids decorate their trees with.
Shimmering Rainbow Christmas Trees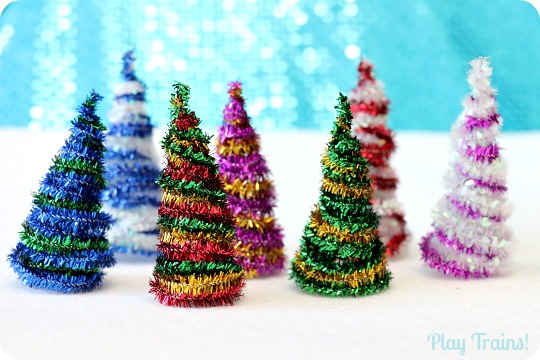 These were just fun to make! I used different combinations of colors in sets of three metallic pipe cleaners to make these bright and colorful trees. They remind me a little of the Christmas tree lot in A Charlie Brown Christmas.
I hope my pretty little Christmas trees have inspired you to make a forest of your own! Later this week, I'll have a glowing holiday lights version of these trees, so don't miss it! Update: here's the Light-up Pipe Cleaner Christmas Trees post…they're so fun, and a great fine motor activity as well!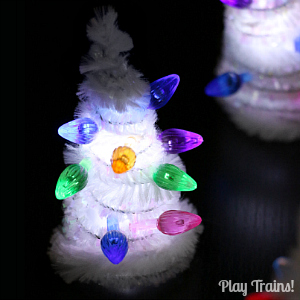 Once again, here's the link to my original pipe cleaner tree post, including illustrated instructions for how to make them: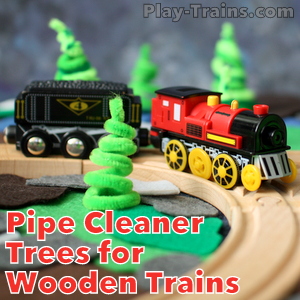 Looking for more creative train activities for YOUR kids?
Grab a copy of Old Tracks, New Tricks! In the fun, rhyming story, three creative little wooden train tracks stand up to the bossy trains and teach the whole train set that old tracks — and trains! — can learn new tricks. Full instructions for the 20+ "track-tivities" in the story are included in the back of the book, along with an illustrated guide to teach kids how to create their own "track tricks." You can find tons of extension activities at the Old Tracks, New Tricks website!