Today, I'm finishing up a year of seasonal pipe cleaner and pom pom trees with this apple harvest pom pom tree. With the "apples" and "plums" to pick, this may be the most interactive one yet, making it a great fine motor activity. I was surprised and delighted when this turned out to be the Little Engineer's favorite of them all. The apple and other fruit pom poms, combined with a wooden train to haul them, really captured his imagination. And if you'd prefer to make this as an apple tree craft, all you have to do is add some glue to your supply list to make this a more permanent decoration.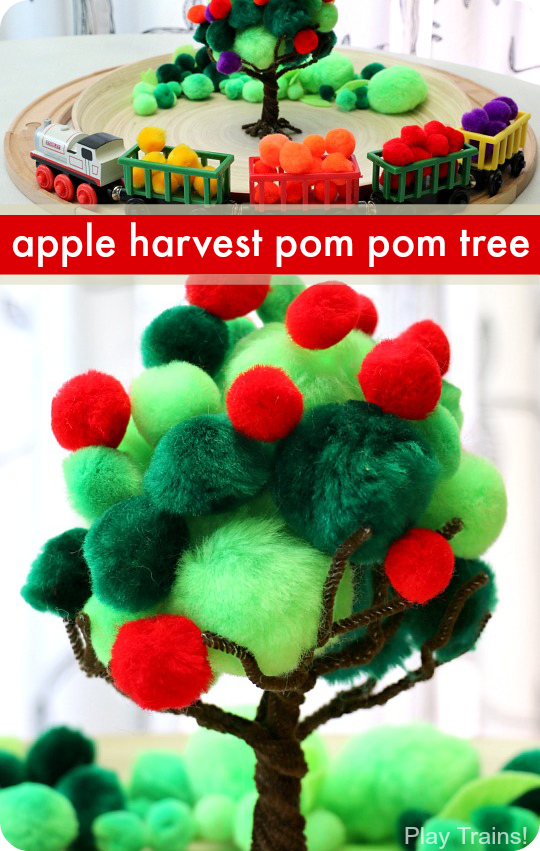 This post contains links to Amazon.com. If you click on one, we will receive a small commission — at no additional cost to you — on anything you buy at Amazon for a certain length of time afterwards. Read our disclosure policy for more details.
Seasonal Pipe Cleaner and Pom Pom Trees
Cherry Blossom Spring Pom Pom Tree
Pipe Cleaner Pine Trees
Summer Pom Pom Tree
Pipe Cleaner and Pom Pom Palm Tree
Apple Harvest Pom Pom Tree
Fall Pom Pom Tree
Spooky Pipe Cleaner Trees
Halloween Carnival Colors Pom Pom Trees
Pipe Cleaner Christmas Trees
Light-up Pipe Cleaner Christmas Trees
Snow and Ice Winter Pom Pom Trees
Apple Harvest Pom Pom Tree Materials:
Pipe cleaner trees: I made this one the same way I made the spooky pipe cleaner trees I wrote about last fall, only this time I used brown 3 mm pipe cleaners. (If you prefer to buy them in person, note that the super thin 3 mm pipe cleaners are hard to find in the regular craft stores, especially brown ones. But some of the big variety packs of pipe cleaners include them, so look through a few packs to see if you can find one with a good number of little brown pipe cleaners.)
Green pom poms: I used light green, dark green, and neon green in various sizes. You could certainly use two or even one color of pom poms, but the variety of colors makes the activity more enticing and beautiful.
Fruit-colored pom poms: We used smaller pom poms in a variety of fruit colors as our pretend fruit.
For the train play variation: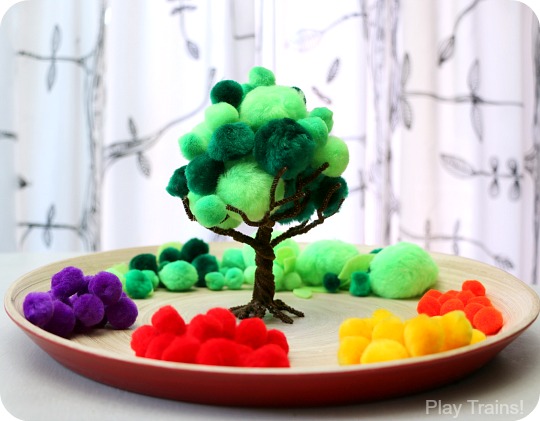 Set up:
Place the pipe cleaner tree in the center of a tray. Arrange the green pom poms in the branches of the tree. Arrange the fruit-colored pom poms in piles near the tree. As you'll see below, we also added a circular wooden train track around the tray with an engine pulling one freight car for each color of fruit.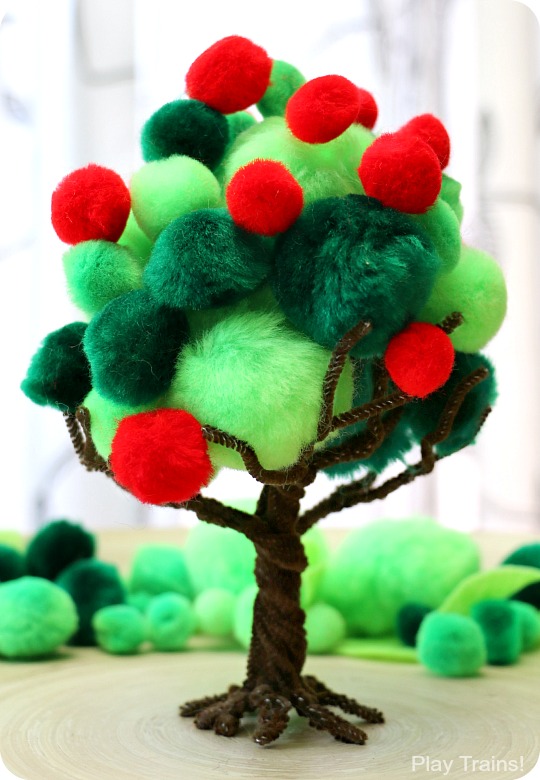 You could use only red pom poms for apples, but having a variety of colors for pom pom fruit made this activity especially fun. We even recreated the plum tree from our backyard. It ripens just before our apple trees do.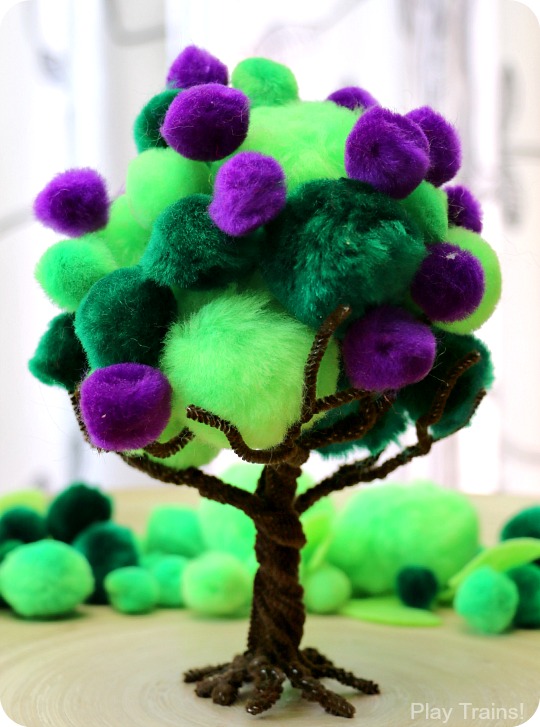 How we played:
Before I invited my son over to the table, I set up the tree and the train tracks.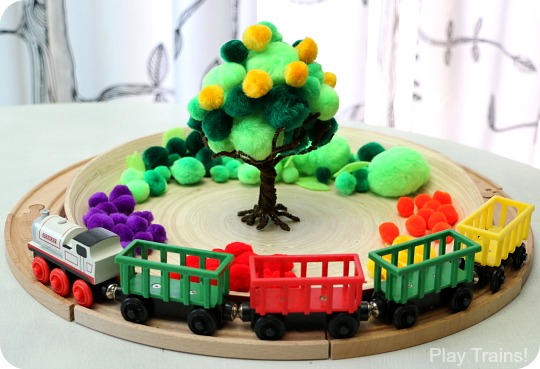 He got very excited about the idea of loading and unloading the fruit.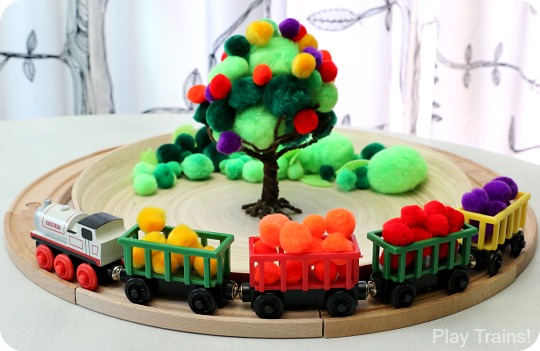 And his favorite part was making a mixed-up fruit tree with all the different colors. He thought that was hilarious.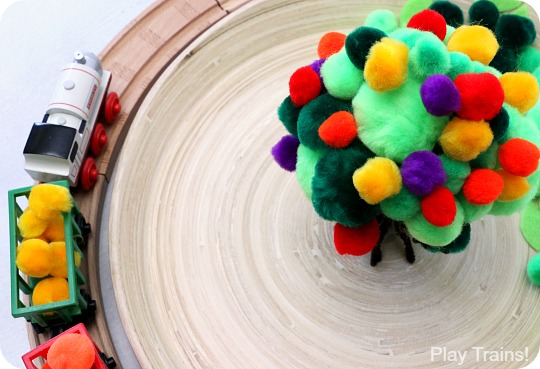 Looking for more creative train activities for YOUR kids?
Grab a copy of Old Tracks, New Tricks! In the fun, rhyming story, three creative little wooden train tracks stand up to the bossy trains and teach the whole train set that old tracks — and trains! — can learn new tricks. Full instructions for the 20+ "track-tivities" in the story are included in the back of the book, along with an illustrated guide to teach kids how to create their own "track tricks." You can find tons of extension activities at the Old Tracks, New Tricks website!