For our second post for the Summer Play Days series, I wanted to do a summer version of the pom pom tree activity we've been reinventing with the seasons. This can be presented as a fine motor invitation to play, incorporated into a wooden train layout or another kind of small world, or made into a more permanent craft and decoration just by adding a bit of glue.
Summer Play Days is a series of ideas for summer fun with kids we're participating in along with Fun-a-Day!, My Nearest and Dearest, Buggy and Buddy, and Nothing if Not Intentional. Make sure to check out the links to their awesome activities and crafts for today at the end of this post!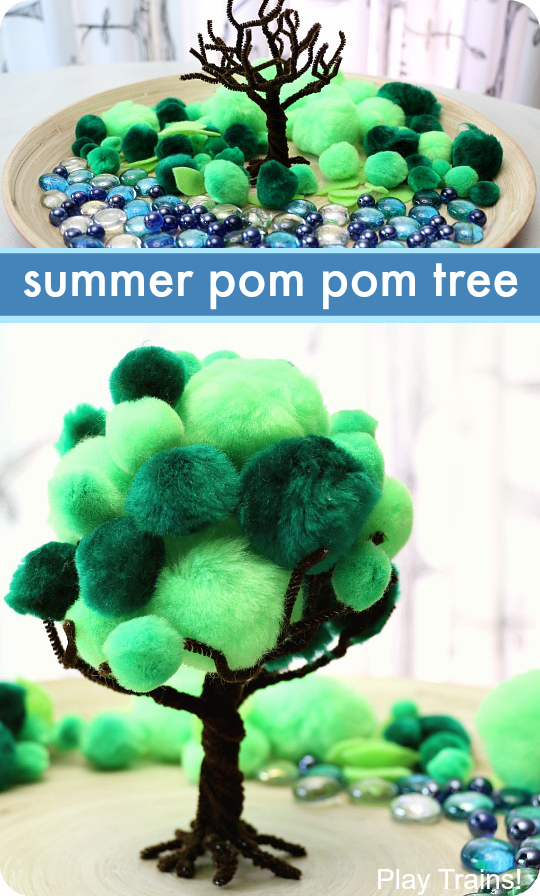 This post contains links to Amazon.com. If you click on one, we will receive a small commission — at no additional cost to you — on anything you buy at Amazon for a certain length of time afterwards. Read our disclosure policy for more details.
Seasonal Pipe Cleaner and Pom Pom Trees
Cherry Blossom Spring Pom Pom Tree
Pipe Cleaner Pine Trees
Summer Pom Pom Tree
Pipe Cleaner and Pom Pom Palm Tree
Apple Harvest Pom Pom Tree
Fall Pom Pom Tree
Spooky Pipe Cleaner Trees
Halloween Carnival Colors Pom Pom Trees
Pipe Cleaner Christmas Trees
Light-up Pipe Cleaner Christmas Trees
Snow and Ice Winter Pom Pom Trees
Materials:
Pipe cleaner trees: I made this one the same way I made the spooky pipe cleaner trees I wrote about in October, only this time I used brown 3 mm pipe cleaners. (If you prefer to buy them in person to online, not that the super thin 3 mm pipe cleaners are hard to find in the regular craft stores, especially brown ones. But some of the big variety packs of pipe cleaners include them, so look through a few packs to see if you can find one with a good number of little brown pipe cleaners.)
Green pom poms: I used light green, dark green, and neon green in various sizes. You could certainly use two or even one color of pom poms, but I feel like the variety of colors makes the activity more enticing and beautiful.
Blue glass gems: Again, I used a variety. My inspiration? The toy pot full of clear, aqua, and dark blue glass gems that was "boiling" on the Little Engineer's play kitchen's stove!
Spring green craft felt, cut into small leaves (optional): I had these on hand from the cherry blossom pom pom tree we did for spring, and they added a different element to the scene.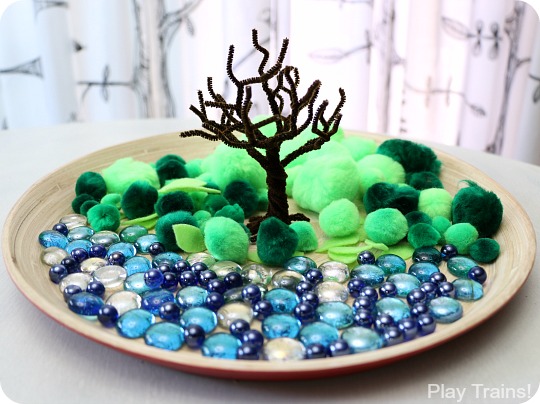 Set up:
Place the pipe cleaner tree in the center of a tray. Arrange the green pom poms (and green felt leaves, if you're using them) around and behind the tree, and the blue glass gems in front. You might want to place one or two pom poms in the tree to suggest one way a child could use them.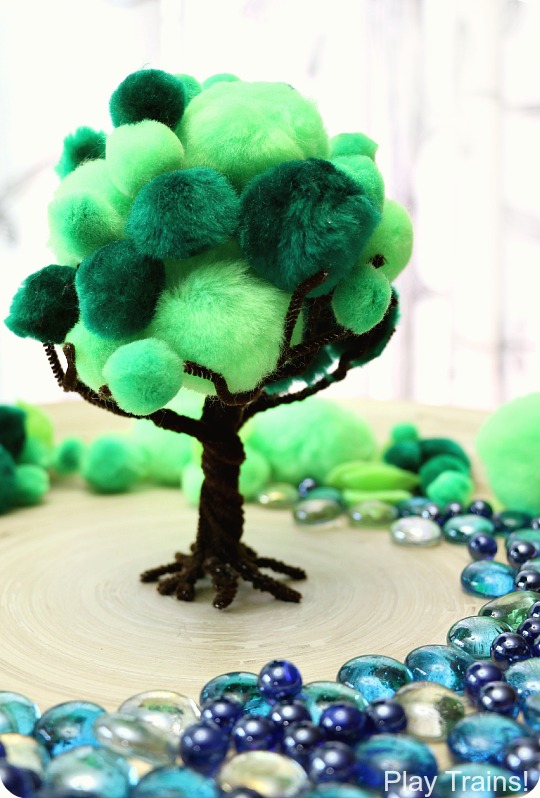 How we played:
The Little Engineer was extremely drawn to the glass gem lake/pond/river — he immediately decided that we needed more glass gems and went to get them! It was fun to rearrange the shape of the water, and, as always, to place the pom poms in the branches of the tree. I also liked how the large green pom poms looked like little hills behind the tree. It's always fun when one element can do double duty in an activity like this.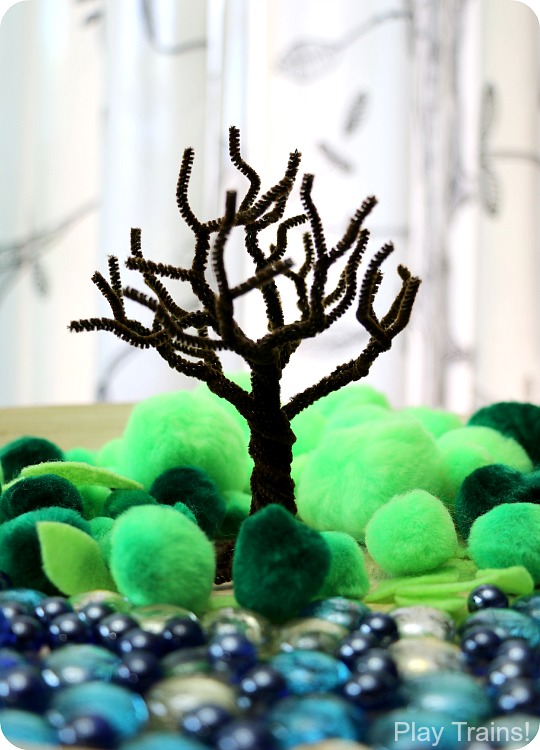 As I mentioned above, you can add this into a wooden train layout. Check out our Halloween Carnival Pom Pom Trees and Fall Pom Pom Tree for examples of how to do this and what train play adds to this activity . These trees also work with other kinds of small worlds.
More ways to play!
Make sure to visit the other blogs participating in the series for more fun summer activities and crafts!
Simple Summer Fun: Swatting Bubbles from My Nearest and Dearest
Coconut Water Beads from Fun-A-Day!
Outdoor Sketching Scavenger Hunt from Buggy and Buddy
The Perfect Summer Smoothie from Nothing if Not Intentional
Don't miss our other Summer Play Days posts: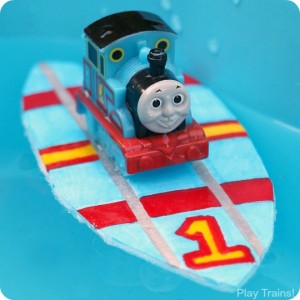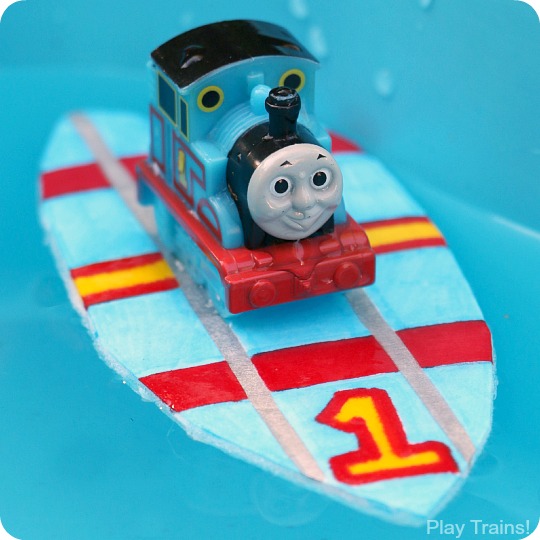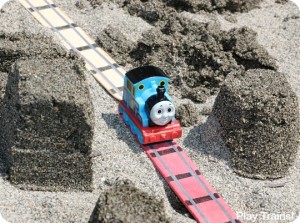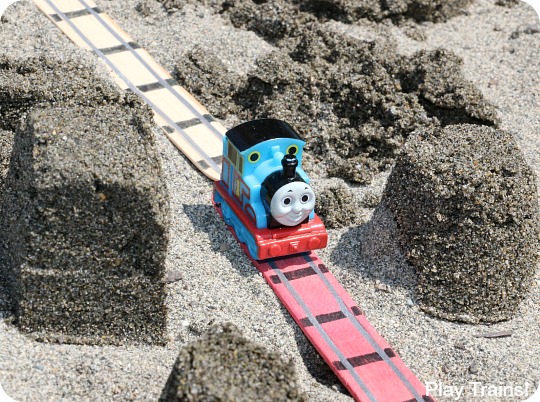 If you have a train-loving child in your life, make sure you're following Play Trains! by signing up for our email newsletter:
More Summer Fun with Trains!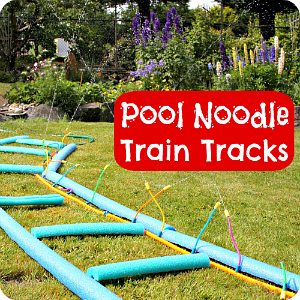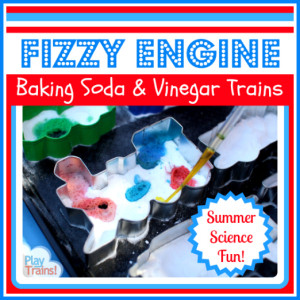 Fizzy Engine: Baking Soda and Vinegar Train Science Activity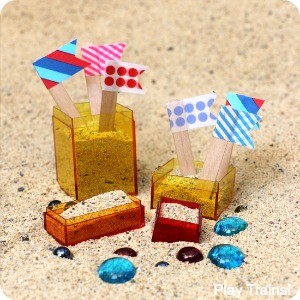 Travel-Friendly Mini Sand Castle Kit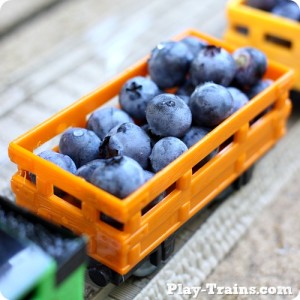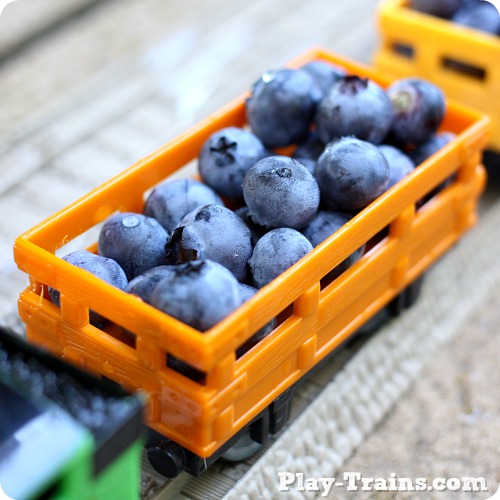 Natural Freight for Toy Trains: Summer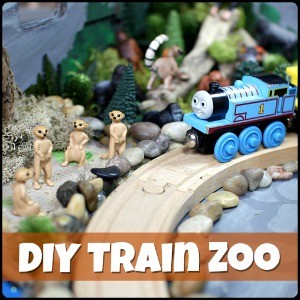 DIY Recycled Wooden Train Zoo Set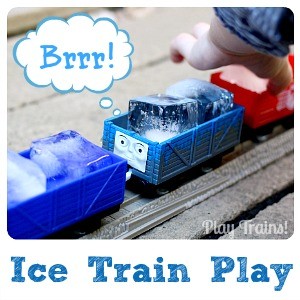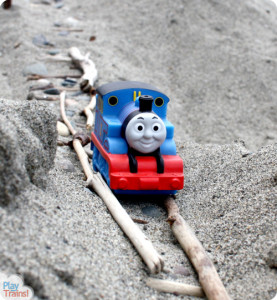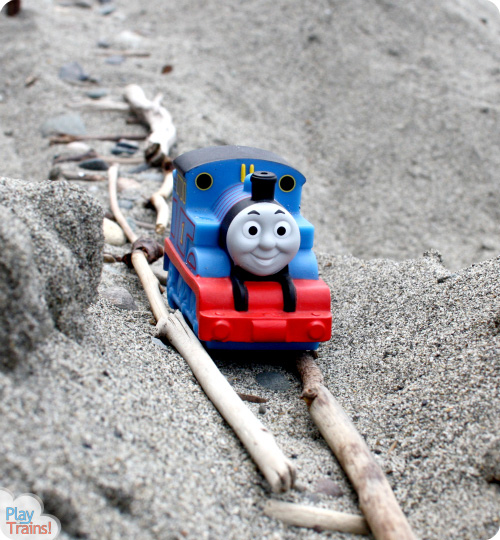 Sand Tracks: a Train Beach Activity Inspired by Peter's Railway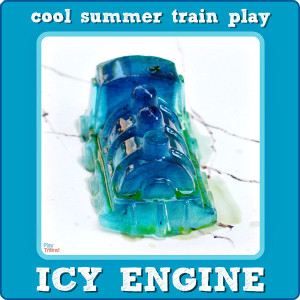 Icy Engine: Cool Summer Train Play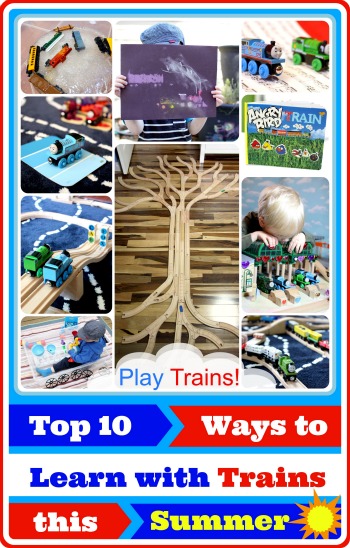 Top Ten Ways to Learn with Trains the Summer