Warm breezes, blue skies, and — most importantly — dry ground: there's no better time to take toy trains outside to play in Seattle than the second half of summer. It's also the best time of year for incorporating objects from nature into train play. There's an abundance of things growing that can fit in our freight cars, and some of them are delicious!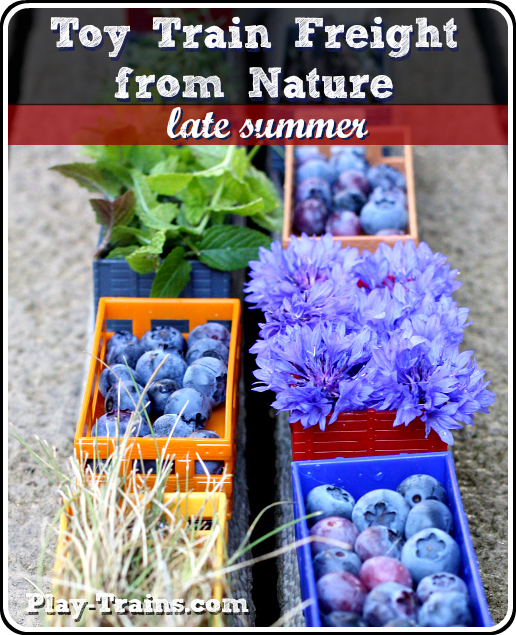 This post contains links to Amazon.com. If you click on one, we will receive a small commission — at no additional cost to you — on anything you buy at Amazon for a certain length of time afterwards. I was otherwise uncompensated for this post. Read our disclosure policy for more details.
Finding natural objects to use as freight is my favorite thing to do when we take our trains outside. It's a great way to encourage the Little Engineer to look at the world around him in a new way, trying to find things that are the right size for his freight cars to haul and then thinking up ways to tell stories about whatever he chooses. Also, I feel it demonstrates the purpose of freight trains in a more concrete way than the toy freight that comes with train sets. And best of all, it makes train play a fully sensory experience, adding new sights, smells, sounds, tastes, and tactile sensations to the activity.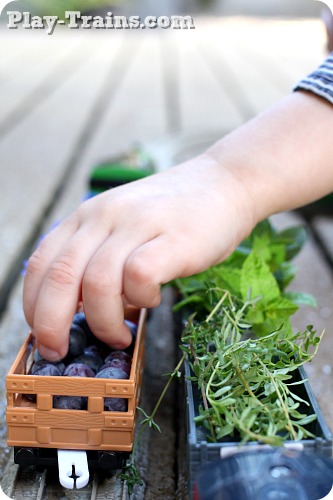 When it comes to hauling natural freight, any toy trains with empty freight cars will work, but our favorite ones to use are Thomas & Friends Trackmaster trains. The plastic freight cars are easier to clean than wooden ones, and they hold much more than the tiny Take-n-Play freight cars. Plus, it's really easy to get more Trackmaster freight cars, thanks to the new Troublesome Truck and quarry car three-car packs.
Here are five things we found in our backyard to use as freight, but of course there are endless possibilities!
1. Berries & Other Edibles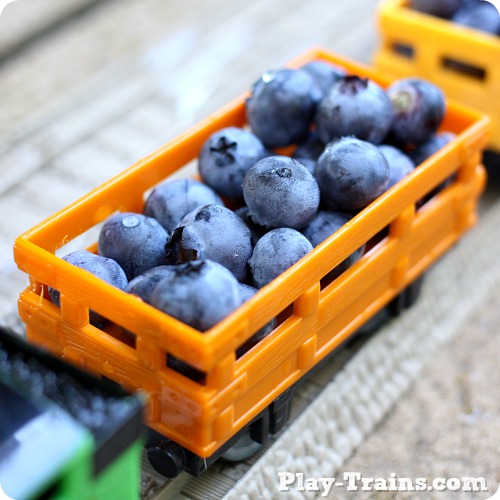 Right now, our blueberry bushes are in full swing, and our raspberries are soon to follow. Berries are the perfect size and shape to use as freight.  Plus, they're quite delicious!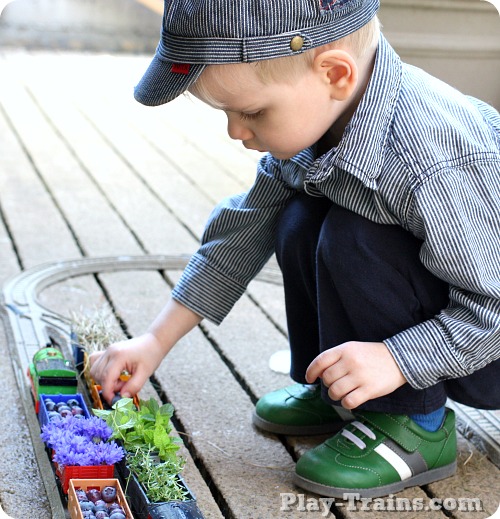 We filled four freight cars full of blueberries, but somehow they kept disappearing. I'll have to see if the same thing happens once our cherry tomatoes are ready to eat.
2. Flowers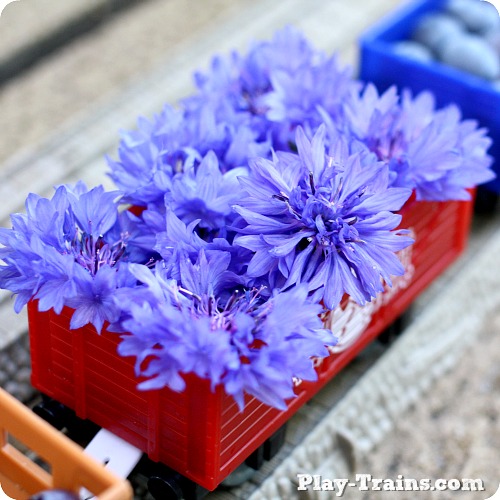 Look, the flowers we planted from seed this year actually grew! We called these bachelor buttons when I was the Little Engineer's age, but the seed packet said they were cornflowers. I planted them specifically to be picked and played with, because that's what I fondly remember doing with them in my parents' backyard. They held up nicely to being handled.
3. Herbs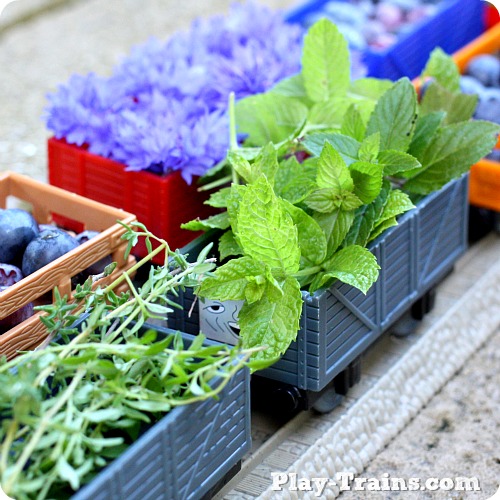 Like everyone with mint growing in their backyard, we have an overabundance of it right now. Herbs (along with some flowers) add scent to train play, which usually doesn't stimulate that sense.
4. Sticks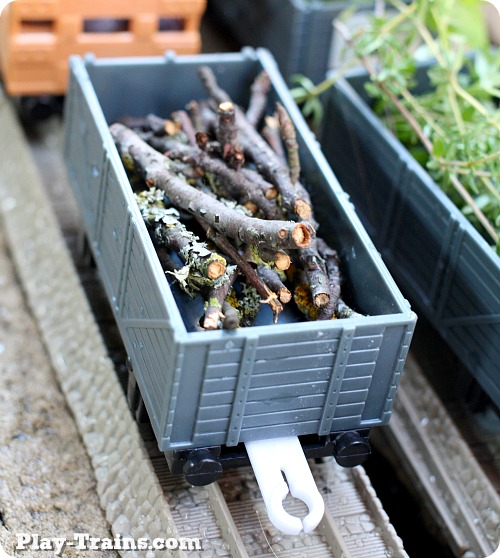 The most fun part of using sticks for "logs" in train play comes at the beginning, with the snap of the twigs as we break them into short lengths.
5. Dry Grass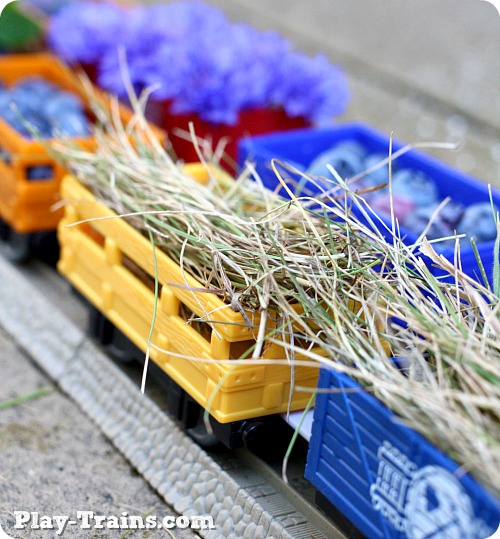 Dry grass made great hay for our trains. The Little Engineer wanted me to explain what hay was exactly, and I reminded him of the Thomas & Friends episode where Thomas is supposed to deliver soft straw to Farmer Trotter, whose sow is about to have piglets. This led to the Little Engineer unloading the hay pretending to be a piglet nestling into it.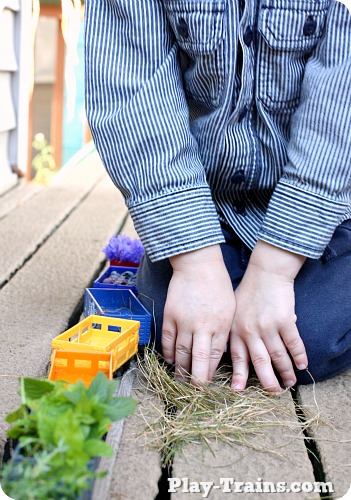 If you have a train-loving kid in your life, make sure you're signed up for our email newsletter:
More Summer Fun with Trains!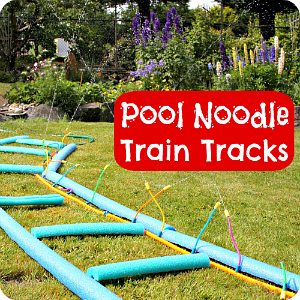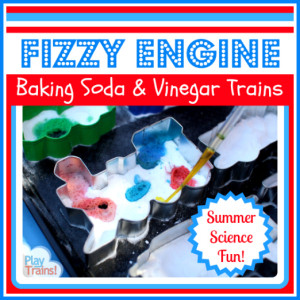 Fizzy Engine: Baking Soda and Vinegar Train Science Activity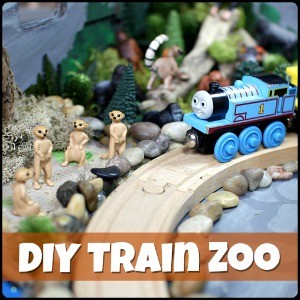 DIY Recycled Wooden Train Zoo Set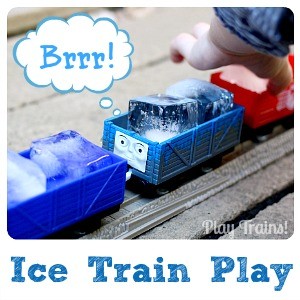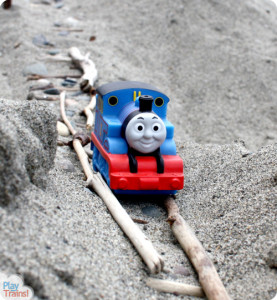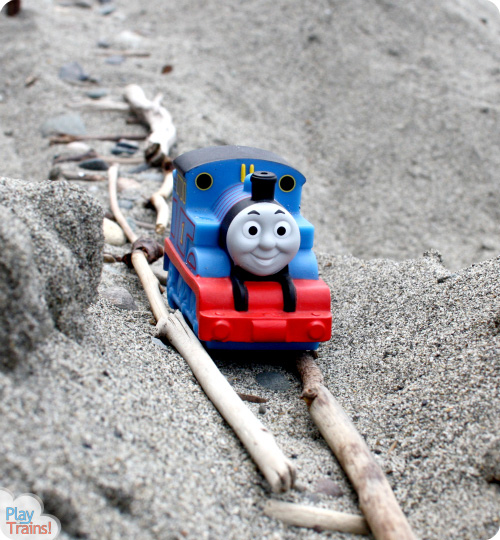 Sand Tracks: a Train Beach Activity Inspired by Peter's Railway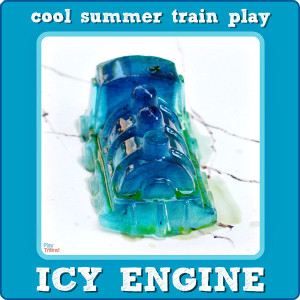 Icy Engine: Cool Summer Train Play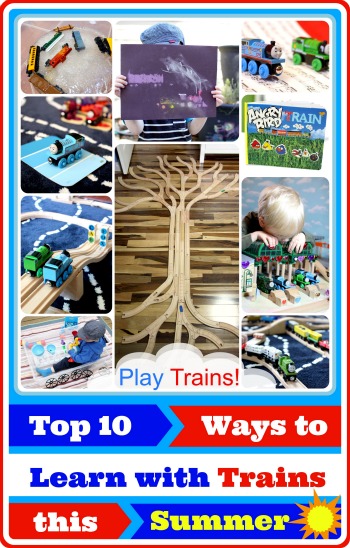 Top Ten Ways to Learn with Trains the Summer