Ice and snow have been a recurring theme in our train play, no matter the season. First we froze toy trains in ice and found many different ways to play with snow (real or pretend) and trains. This summer, we made a train out of ice and sent it whooshing around our deck. The logical next step was to haul ice with toy trains.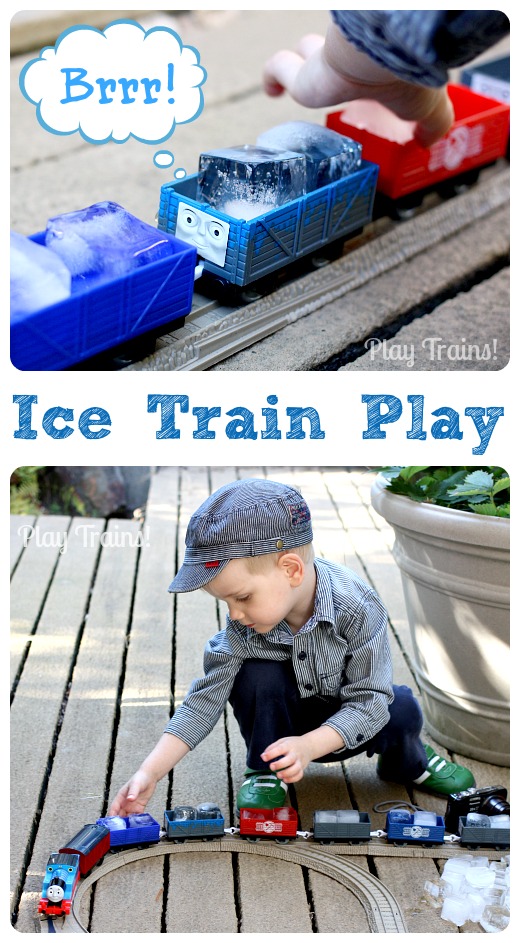 This post contains links to Amazon.com. If you click on one, we will receive a small commission — at no additional cost to you — on anything you buy at Amazon for a certain length of time afterwards. Read our disclosure policy for more details.
This made for a fun activity with lots of opportunities to make scientific observations about ice and water. This was especially apparent on a hot summer day, but this would be equally fun to repeat in the winter, or any other time of year.
These nifty silicone cube-shaped ice trays made ice cubes the perfect size and shape to fit in our Trackmaster Troublesome Trucks and freight cars.
Note: I recommend Trackmaster trains or other larger plastic trains for this kind of activity. The water could damage wooden trains, and it's difficult to find empty freight cars for Take'n'Play trains (and the ones you do find are too small to hold ice cubes). But if all you have are wooden trains, you could probably get away with playing with the ice for a short time, as long as you don't let water soak into the wood. Whichever trains you use, make sure they aren't sitting in a puddle of water while they dry, or the axles may rust.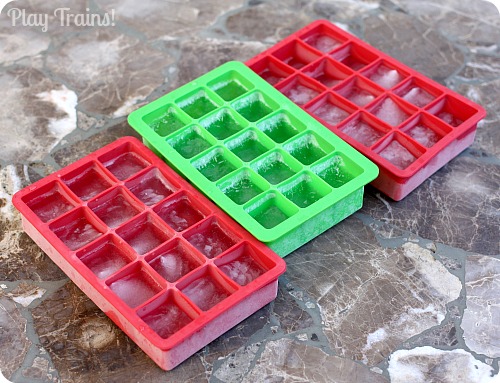 Getting the ice cubes out of the trays was a challenge for the Little Engineer, but he really enjoyed working to get them to pop out of the tray. I helped him with some of the more difficult ones, but he got most of them himself.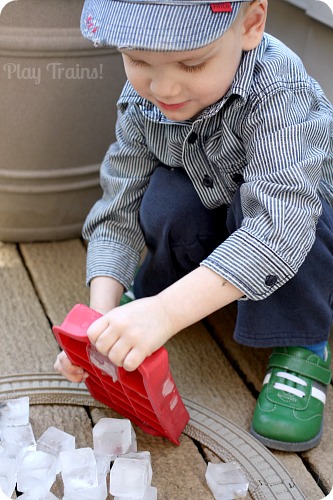 Then we were left with a nice pile of ice cube freight by the tracks.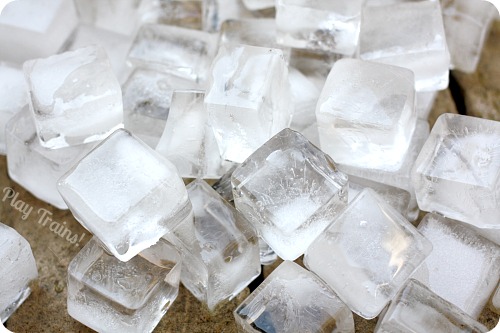 The Little Engineer lined up the freight cars in the train yard.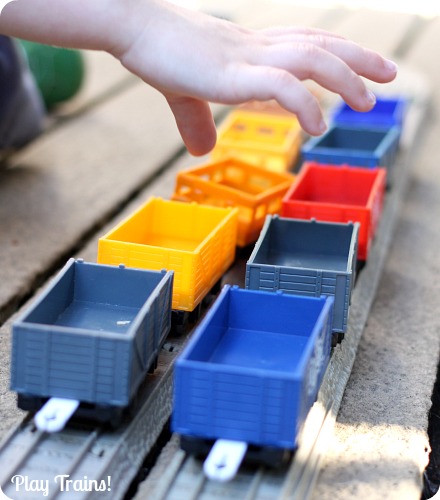 He coupled Thomas up to several Troublesome Trucks and drove his freight train around to where the ice was waiting to be loaded.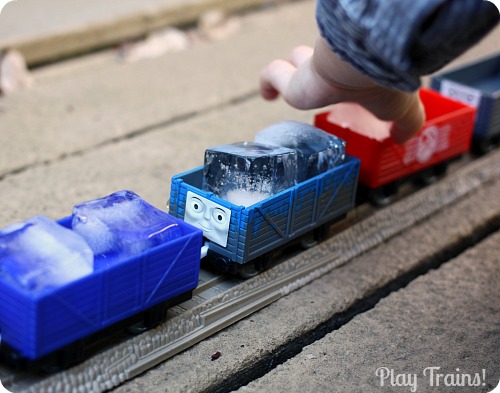 He carefully loaded the whole train, commenting on how cold the ice was.  He was narrating a story as he played. I think Thomas and Percy were taking the ice to the North Pole for Santa.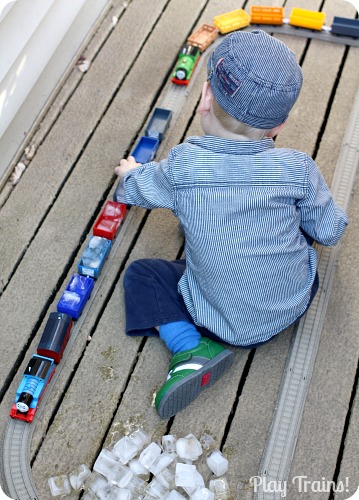 Then he drove Thomas back around to the yard.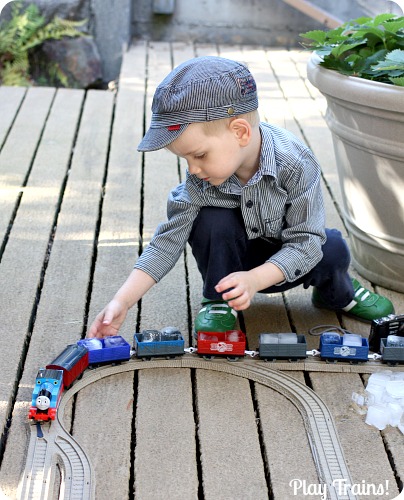 Next, he unloaded the ice, way up onto the deck table (I think he said it was the North Pole up there), lining the cubes up in a couple of interesting shapes. As the ice melted, it dripped down onto the trains and tracks (and engineers) below.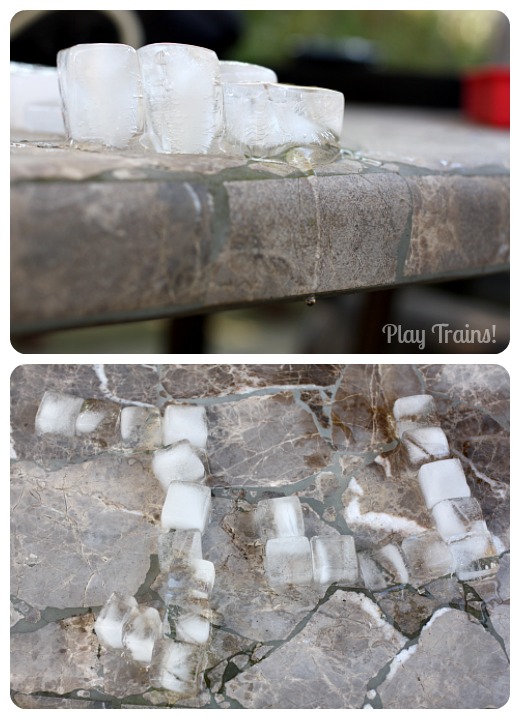 We also looked at the melted water that was left behind in the freight cars and the water they collected from the drops falling from the table above. It was a good opportunity to talk about why the ice was melting so quickly.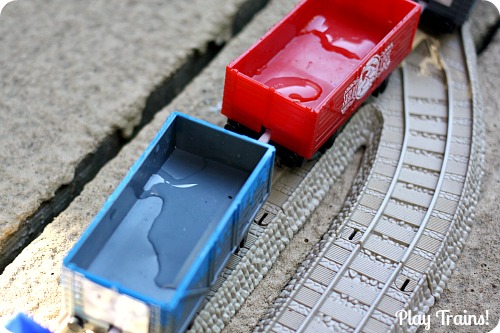 Right after this, we started collecting natural objects to use as freight from around our yard, taking us from the science of melting ice to nature study, all while playing trains.
If you have a train-loving kid in your life, make sure you're signed up for our email newsletter:
More Summer Fun with Trains!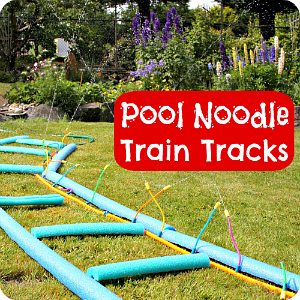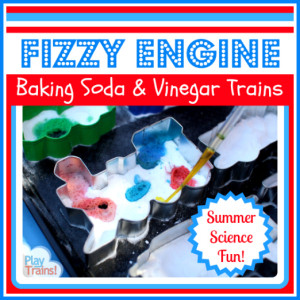 Fizzy Engine: Baking Soda and Vinegar Train Science Activity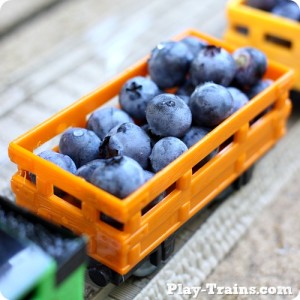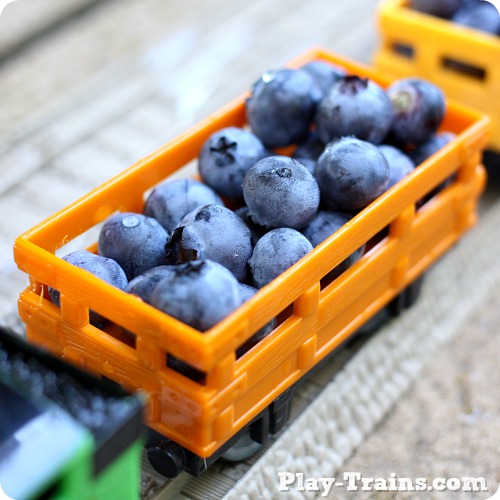 Natural Freight for Toy Trains: Summer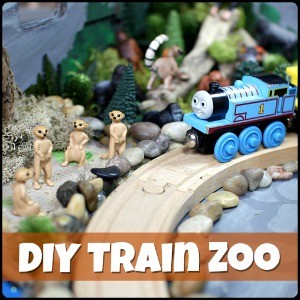 DIY Recycled Wooden Train Zoo Set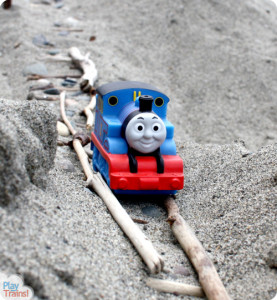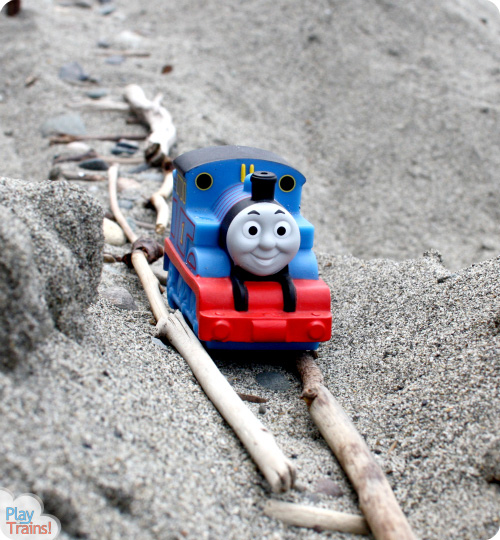 Sand Tracks: a Train Beach Activity Inspired by Peter's Railway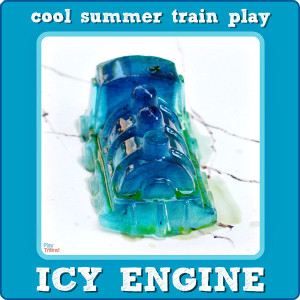 Icy Engine: Cool Summer Train Play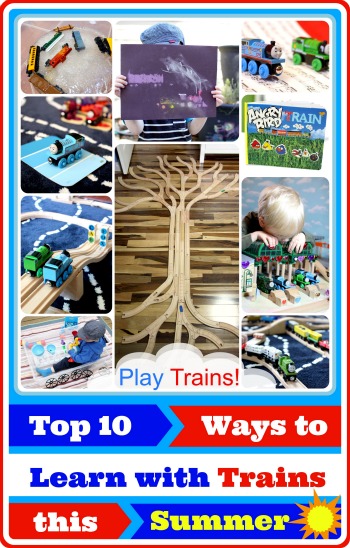 Top Ten Ways to Learn with Trains the Summer