"Mama, I wrote on your drawing! I made it better!"
At the sound of those words, I stood straight up from where I was cleaning nearby. I stilled the impulse to immediately start yelling, recognizing my fear and my own fault in an instant.
"You wrote on my drawing?" I echoed, buying myself time to observe the damage before really reacting. I'd left my sketchbook open on the table, with a picture I'd spent a lot of time on the night before.  Right next to a freshly-sharpened No. 2 pencil, the most enticing writing implement on the planet.
I knew I shouldn't do that around a three-and-a-half year old. And I'd done it anyway. And now my sketch had to be scrawled all over in pencil, ruined forever. It's just a concept sketch, I told myself as I neared the table. You were going to draw it again anyw —
And then I saw it. "Oh!" I said in surprise. "You did make it better!"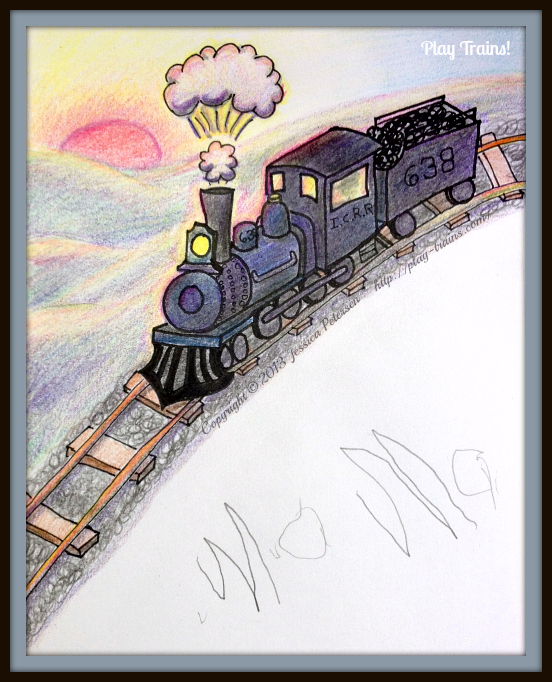 There, along with the Little Engineer's beaming face, I saw the first completely recognizable word he'd ever written.  Mama.
"I signed it for you. Muh-ah-muh-ah!"
A kiss. A hug. Pride and love and tears chasing the first wave of relief from my body before I'd really felt it. "It's so much better, I think I might cry," I said, then added, "Next time, ask before you write on one of my drawings.  But this…this time, it's perfect."
"I will," he promised. "What picture can I write on next?"
Hmm. Well, I think I'll still try to be better at putting my sketchbook away in the future.
This sketch, by the way, is for a secret project I'm working on to share with all of you. Check back in September to see what I've been up to!