Mixing baking soda and vinegar is a classic science activity for kids, and once you've tried it with your child, it's easy to understand why. It's hands-on, safe for young kids, and pretty amazing, especially for a child who has never experienced it before.
Last year, I introduced one of the cool baking soda and vinegar activities I'd seen on Pinterest to the Little Engineer on the Fourth of July as a substitute for going to see fireworks.  It ignited quite an interest in "SCIENCE!"
We've played with it many times since then, but other than pretend play, we hadn't connected it with trains.  Not until a few weeks ago, when we put our own train twist on it: fizzy engines!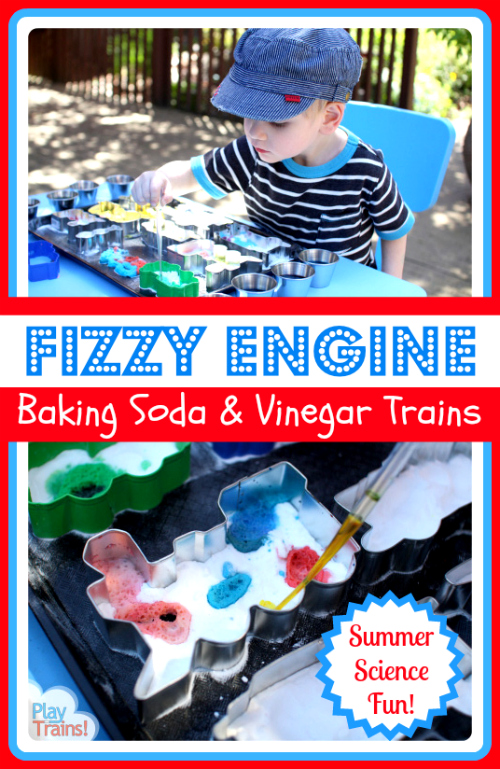 This post contains links to Amazon.com. If you click on one, we will receive a small commission — at no additional cost to you — on anything you buy at Amazon for a certain length of time afterwards. I was otherwise uncompensated for this post. Read our disclosure policy for more details.
This was such a fun activity! It combined the fun of exploring baking soda and vinegar and the Little Engineer's love of "painting" his trains.
The Little Engineer was able to do most of the set up for this activity.  First, we arranged our train cookie cutters on a plastic tray.  (We used this train cookie cutter set and our Thomas and Percy cookie cutters that we used to make our Thomas & Friends breakfast.)  If you don't have train cookie cutters, you could make train stencils out of thin cardboard, or try to "draw" an engine on the tray with the baking soda.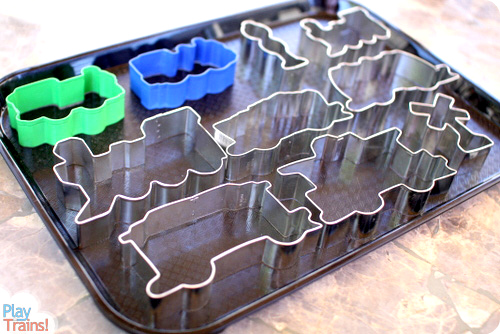 Next, we spooned the baking soda into the cookie cutters. This was the only slightly tricky part, and that's only if you care about not getting too much baking soda scattered outside the cookie cutters.  Which is, of course, not necessary unless you're taking pictures for a blog! But I think it did make the train shapes stand out better when it was done neatly, so it might be worth it anyway.
I found it was best to spoon the baking soda into the center of one of the cutters and then spread it to the edges with the back of the spoon.  When the baking soda was dumped in near the edge, it tended to sneak out underneath the cookie cutters.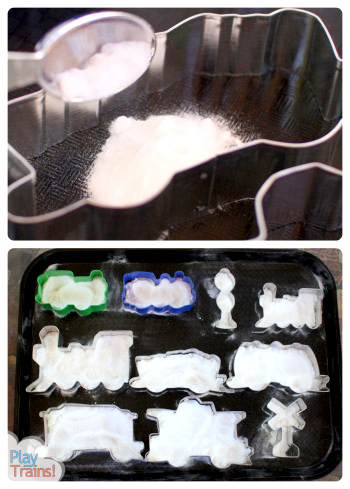 Once the engines were filled, it was time to mix up our vinegar "engine paint".  I poured vinegar into several condiment cups, and the Little Engineer asked if he could add the food coloring.  I crossed my fingers and hoped he wouldn't make too much of a mess…and he didn't!  He was very careful.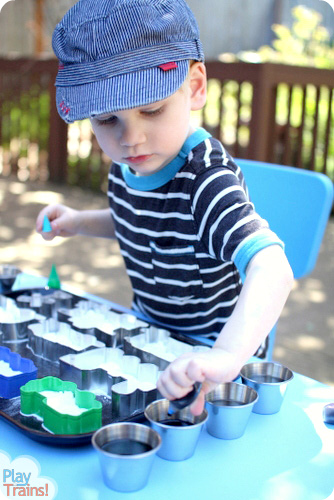 I encouraged him to add a lot of food coloring so the colors would be vibrant.  In the past, I'd noticed that the baking soda really dilutes the color.
Next, I handed him some plastic pipettes, and he got to work.  The pipettes encourage children to explore the baking soda and vinegar reaction slowly over a longer period of time, rather than quickly pouring all the vinegar onto the baking soda and being done within a few minutes.
At least, sometimes it works out that way. Sometimes, the Little Engineer just sets them aside and pours the vinegar everywhere. Fortunately, this was not one of those days.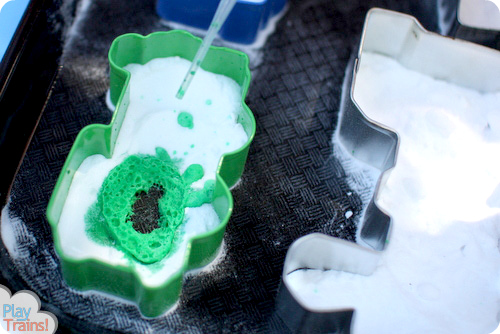 Immediately, we could see he'd added plenty of food coloring!
As opposed to the joyful amazement he had last summer, he now seemed to consider this serious train business.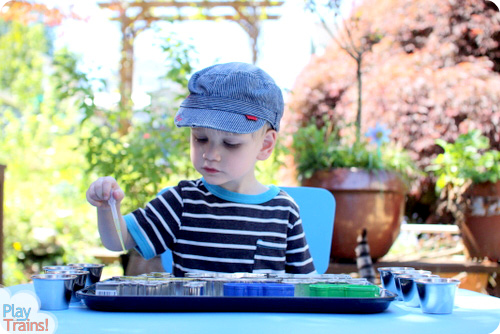 After he gave Percy a bit of green paint and colored a freight car yellow, he started experimenting with adding different colors to a single engine.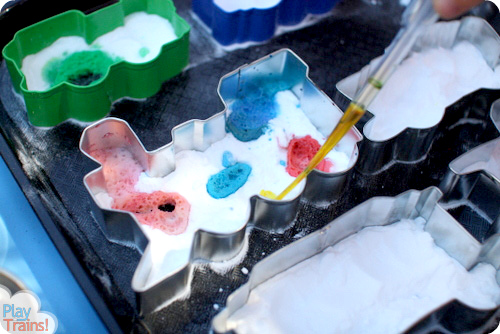 I loved watching that part. It looked really cool!
Then he moved on to his beloved Thomas.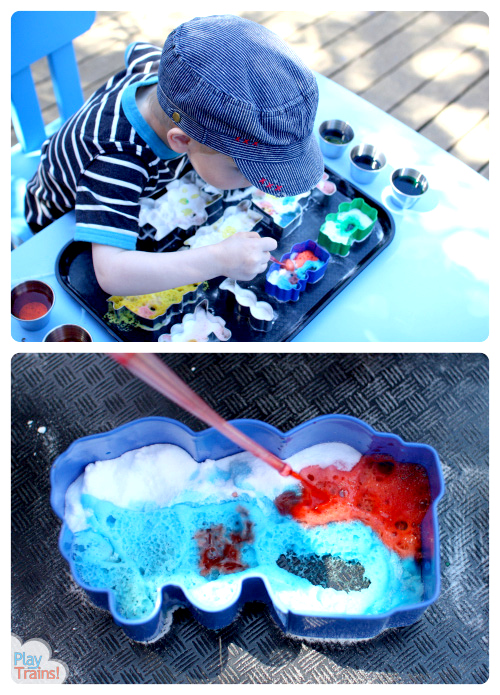 The Little Engineer painted him with blue "paint", and then added red for Thomas' red footplate.  I loved the creative explanations he came up with for things that didn't go the way he expected.  The hole in Thomas where the vinegar cleared away the baking soda down to the tray became Thomas' cab window.  And when a stray drip of blue landed on Percy, it was "to show that Percy loves Thomas."
When he'd fully covered Thomas with vinegar, he tried lifting the cookie cutter away.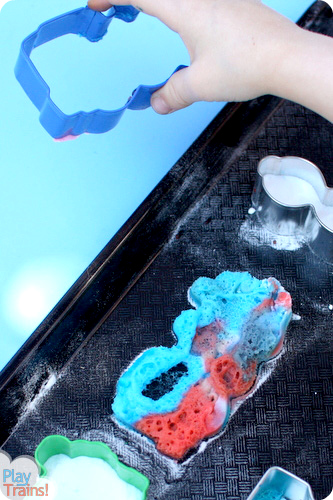 To my surprise, it came away clean. After some experimenting, it seemed to work as long as the full surface of the baking soda had been soaked with vinegar. However, the railroad crossing sign was a little too complex to release it's shape. But not for a lack of a concerted effort by the Little Engineer!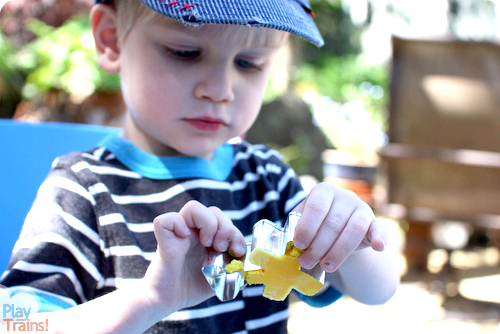 It ended up a crumbly mess on the tray, but I was able to squish it back together into a rough approximation of its original shape.
Next, he finished applying Percy's green coat of paint.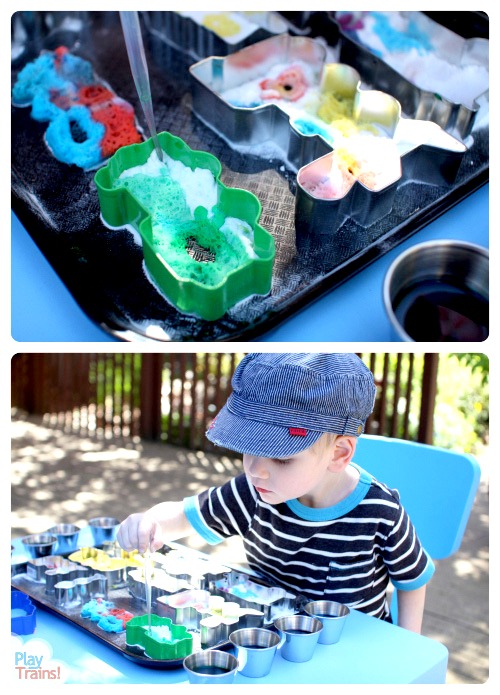 Then he painted a passenger coach in spots of blue and purple.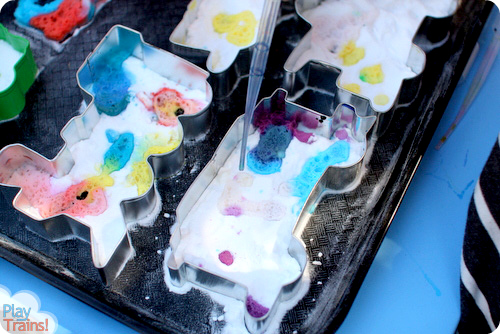 He was so busy and absorbed in the activity that I don't think he even noticed me circling him with my camera, snapping photos!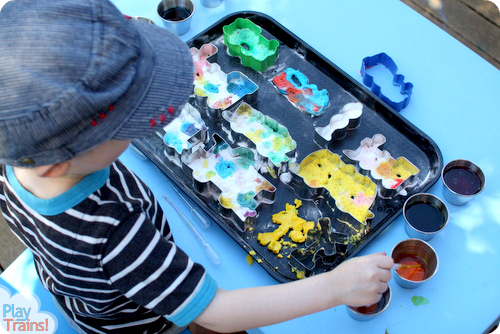 When there was some color on all the engines and it seemed like he might be starting to get ready to move on, I pointed out that he hadn't painted the signal yet.  He was very excited about that idea!  It was one of the first times a smile broke through his intense focus on the task.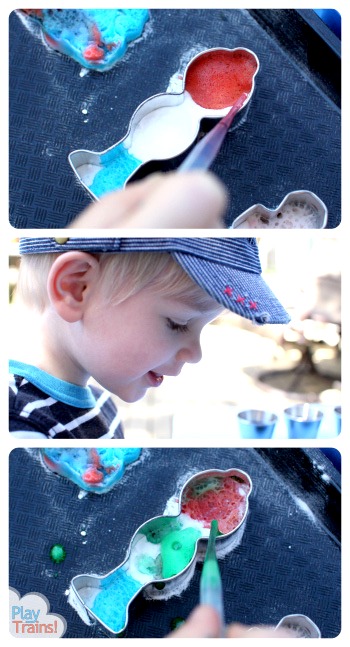 After that, he added a little more color to the engines, and then he wanted to do something else.  It had kept him busy for a solid half hour without any input from me aside from telling him about the signal.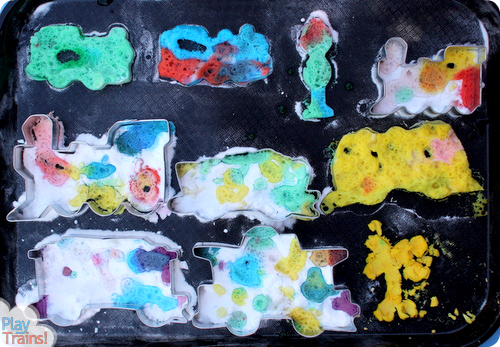 The engines were so pretty with their bright colors. I was hoping we could save one or two of them, so I left the tray in the sun for the rest of the afternoon to see what would happen.  Thomas and Percy did dry out and hold together, but they were very brittle and ended up breaking within a day. When we revisit this activity, we'll be trying out a couple of ideas for making them more permanent decorations.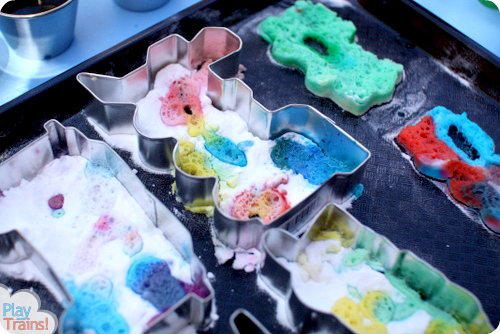 I hope you will give this activity a try! It's a great way to make baking soda and vinegar fresh and new for kids who love trains.
If you have a train-loving kid in your life, make sure you're signed up for our email newsletter:
More Summer Fun with Trains!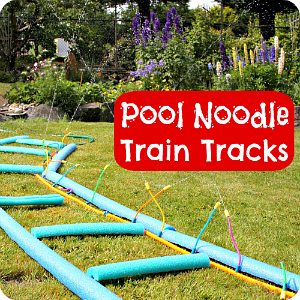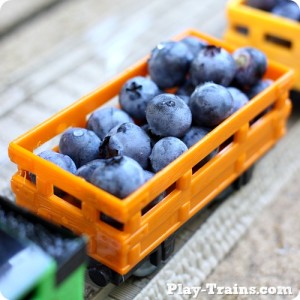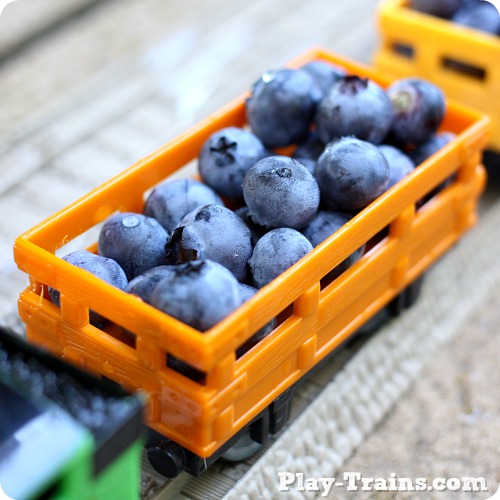 Natural Freight for Toy Trains: Summer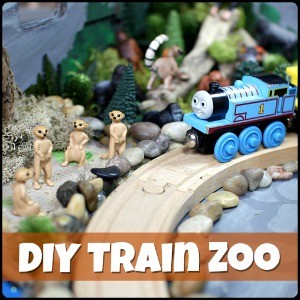 DIY Recycled Wooden Train Zoo Set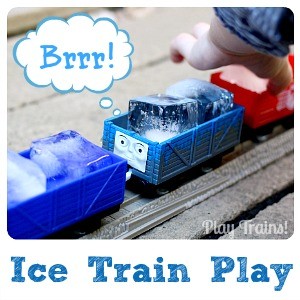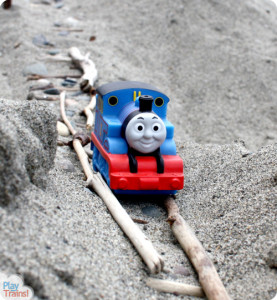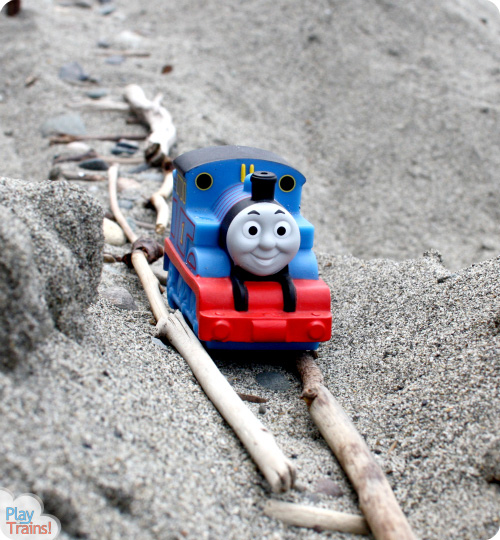 Sand Tracks: a Train Beach Activity Inspired by Peter's Railway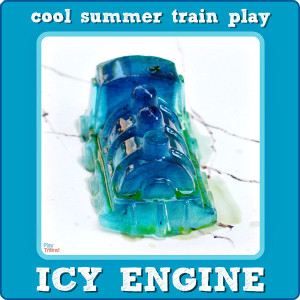 Icy Engine: Cool Summer Train Play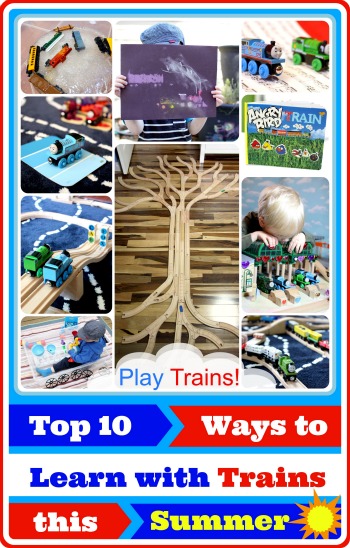 Top Ten Ways to Learn with Trains the Summer