Another Day Out With Thomas at the Northwest Railway Museum has come and gone. In some ways, this year's outing had no hope of comparing to last year's. But as the day progressed — and as we overcame a bump in the road — new joys came to the forefront, showing us how our Little Engineer has grown and changed over the past year. I'll tell you about our day, and then let the photos do the rest of the talking. (For more details and tips to help prepare for your own Day Out With Thomas, read our 12 Tips for a Magical Day Out With Thomas based on last year's experience.)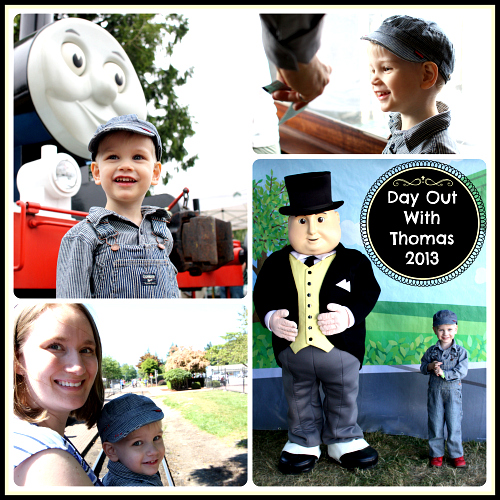 The Little Engineer was even more excited to go see Thomas this year than last.  So excited that he couldn't fall asleep the night before, and couldn't eat his breakfast that morning.  I tried everything I could to get him to settle down and eat at home, and then again before our train ride at the event, but to no avail.
Right on schedule, the lack of food and sleep plus slowing down to sit on the train plus being slightly bothered by Thomas starting his run going backwards plus getting annoyed at people wanting to take his picture plus wishing we had gone to get chocolate ice cream at the beginning of the day added up to a sudden low point halfway through the train ride.
We snuggled in my seat in our coach while he told me that he didn't want to like Thomas anymore and that he didn't love me at Day Out With Thomas. All of this while he rested his head on my shoulder and cuddled closer. Riiiight. Fortunately, having had a three-year-old for several months now, I've learned to listen to the meaning beneath the words. Still, being me, I blamed myself for not somehow magically compelling him to eat earlier.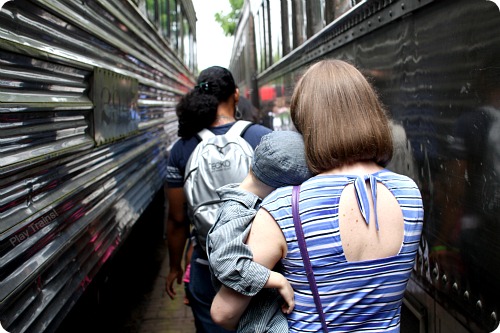 Getting outside the museum grounds for a picnic near the gazebo across the street improved his mood considerably, but I kept beating myself up. I should have been able to prepare him properly for the day. It was my fault that the day was ruined. As the Little Engineer cheered up, I got crankier. And crankier.
A few years ago, a mood like that would have sunk the whole day. But parenthood is one endless opportunity for personal growth, and I've experienced my fair share — thank goodness! After lunch, I told myself that it wasn't fair to be frustrated with my son for being too excited to sleep or eat when I had been too excited to eat a full breakfast that morning. And while the ride hadn't gone how I'd hoped, that was only one short part of the day. We'd just follow the Little Engineer's lead for the rest of the day and see how things went.
We went for several rides on the speeder. Little Engineer liked to peer just far enough over the front to see the tracks disappearing underneath the track inspection car as it sped toward a returning Thomas. We watched a model railroad guy refill his steam engine with fuel and water, something the Little Engineer had been waiting all year to see again.
Despite his constant insistence over the past year that he wouldn't meet Sir Topham Hatt again, we had to hold him back from running up to him. Last year, he only air high fived the Fat Controller and then ran away, but this year there were high fives and fist bumps (buffer bumps, as we call them), and he stood and posed quite proudly next to his "boss".
He went for several turns in the bouncy house, making friends with the girl watching the entrance. He drove the model trains inside, got another flattened penny with a train on it, and toured the cab of an old steam engine and inspected all the controls.  And, of course, we went and got that chocolate ice cream.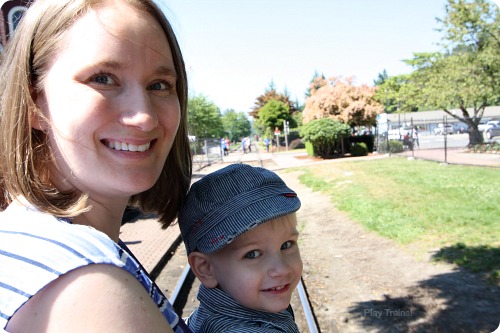 I sort of realized that the day really had turned around when, after the ice cream, the Little Engineer and I ran all the way back to the museum and through the crowds to try to get another speeder ride. As we ran, a kid shouted, "Hey, he looks like an engineer!"
"Did you hear that?" I said to the Little Engineer as we kept running. "He thinks you look like a real engineer."
"I am a real engineer!" he exclaimed with a grin on his face.
We ran and ran, and we made it, just in time for the last speeder ride of the day. And then he had another extra long turn in the bouncy house, giggling as he bounced between his new friend (who would tickle the little kids through the netting when they came over to her) and where I was standing, making Meekat bounce and play peek-a-boo from the outside. We left just before Thomas pulled out of the station for the final time.
It wasn't until I looked at all of these photos a few times before it really sunk in: he had a great time. We had a great time. As you can see from the smiles, he enjoyed the first half of the train ride, so it really was only a very short period where things weren't going how we expected. I'm so glad we were able to move past that and just have fun together!
Okay, enough words. Time for photos.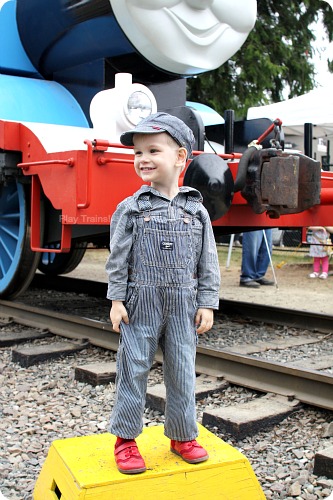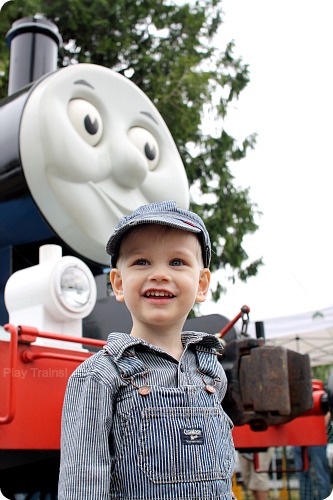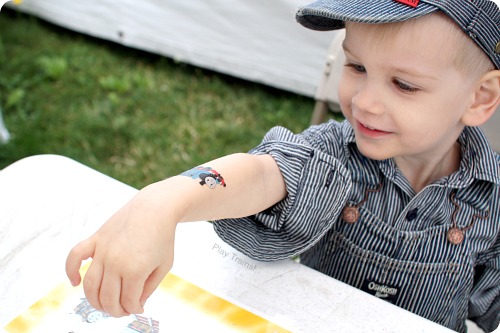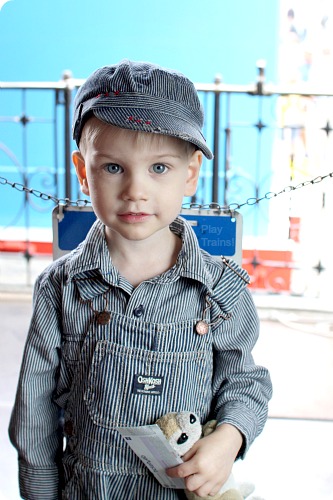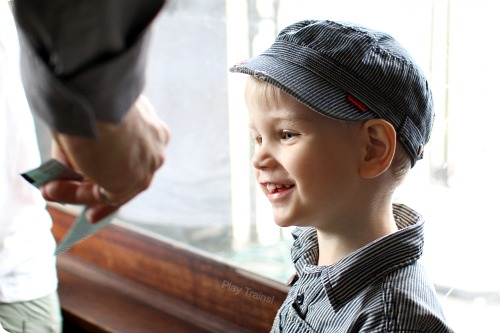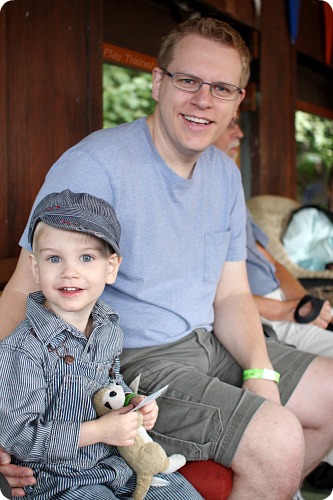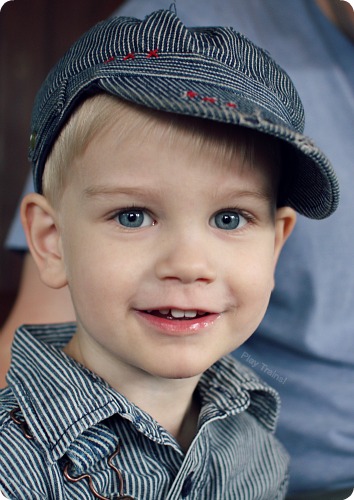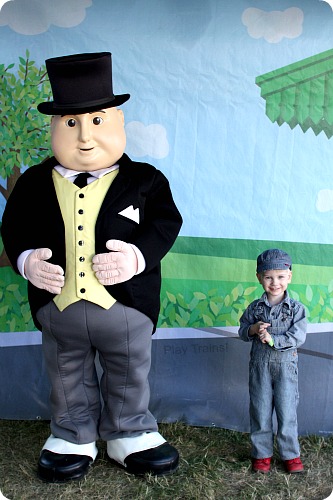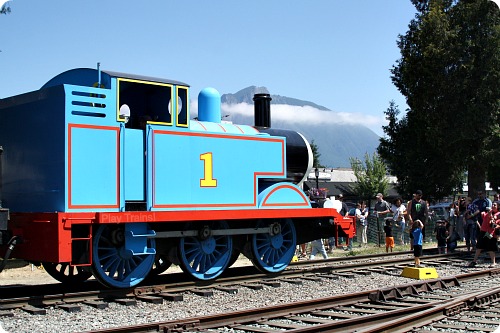 Goodbye for now, Thomas.  We'll see you next year!