The idea for this activity came out of nowhere one Saturday morning. I don't remember exactly what we were playing — something about Casey Jones or another real-life train engineer, no doubt — but I remember looking at the Little Engineer and saying, "Wouldn't it be cool if someone made trading cards for engineers?" The light I felt in my own eyes sparked in his, and immediately I knew we were going to be that "someone".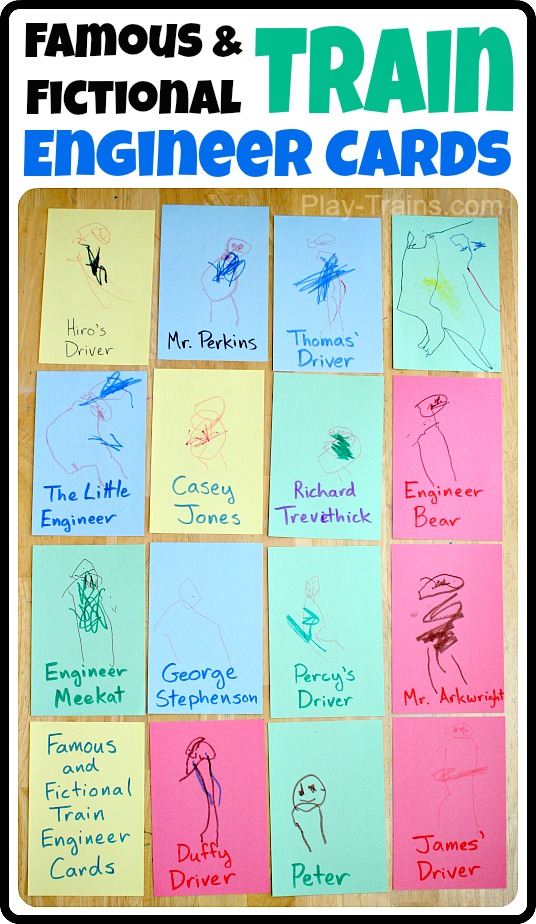 This post contains links to Amazon.com. If you click on one, we will receive a small commission — at no additional cost to you — on anything you buy at Amazon for a certain length of time afterwards. I was otherwise uncompensated for this post. Read our disclosure policy for more details.
We've read a number of nonfiction train books that talk about railroad history over the last two years. But over the past few months, there were two things that especially excited his interest in famous railroad engineers of the past.  First were the "stories from the old railways" in Peter's Railway, particularly the one about Richard Trevithick's ill-fated steam road locomotive, the Puffing Devil, in the third book. Then came the rise of his obsession with Casey Jones, starting with listening to James Coffey's version of the ballad of Casey Jones off of his album, My Mama Was a Train.
When the idea to make engineer trading cards popped into my head, I was thinking of a train version of the Chocolate Frog cards from Harry Potter. I would Photoshop fancy printable ones with a picture of the engineer and a few facts, something I could share with our readers here. Which I suppose would have been cool, and might be something I'd do in the future for older children. But the Little Engineer's impatience for the cards to come into existence led to a much better idea.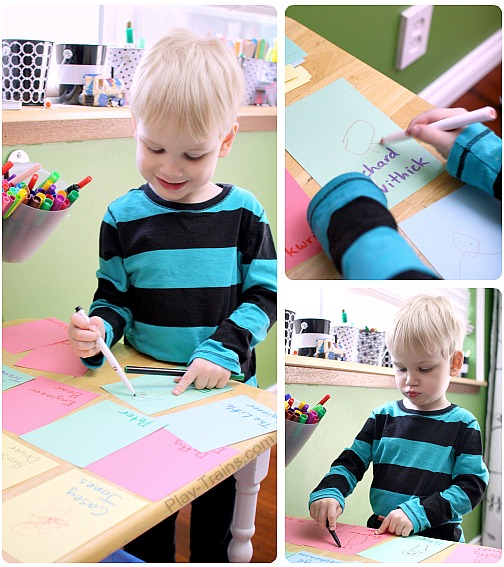 He really wanted to make engineer cards right now. So I found a stack of 4″ x 6″ colored index cards and started writing the names of all the famous railroad engineers I could think of at the bottom. (An older child could do that step for themselves.) Then I handed the cards to him as I wrote them, telling him he was the illustrator of this pack of engineer cards. I reminded him of that any time he tried to convince me to draw an engineer's picture for him.
I was surprised and delighted that he drew pictures for all of the engineers — fourteen different drawings of people over the course of an hour! Not only that, but he drew all of them with different details and bodies, often matching the color of the clothes to the color of the engine they're associated with. While he's been capable of drawing animals and so on for over a year now, until very recently he still almost always chose scribbling. So it was great to have stumbled onto a task that inspired him to take his time and draw more intentionally.
An added benefit of his drawings is that he can "read" the cards without my help, because he remembers how he chose to draw each one!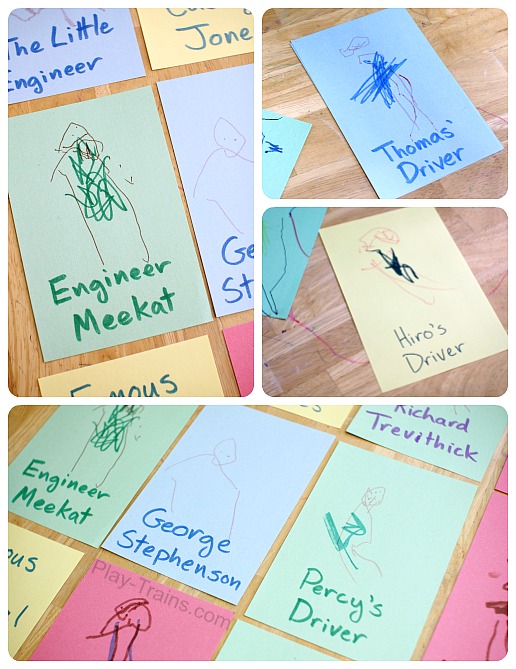 We kept the meaning of "engineer" broad. Some are engine drivers, and some are the engineers who designed famous engines. The main reason for this is that my search for more famous engine drivers only turned up engineers who had died in famous crashes. That's something we're currently negotiating with Casey Jones (I'm sure I'll be writing about this down the line), but I didn't want to bring more tragic stories into the mix while we're still easing into discussions on the topic of death. The engineers we initially included are Casey Jones, Richard Trevithick (inventor of the first railway locomotive), and George Stephenson ("The Father of Railways" who, along with his son, built the Rocket, the first successful steam locomotive). Since then, we also made cards for Nigel Gresley (designer of the classes of engines that the famous Flying Scotsman and Mallard belong to) and Bose Lashley (a colleague and close friend of Casey Jones).
We also ended up adding fictional engineers to our cards: the Little Engineer's stuffed animals (Meekat and Engineer Bear), the nameless drivers of several Thomas engines, Mr. Perkins and Mr. Arkwright from the live action interludes on the more recent Thomas & Friends DVDs, Peter from Peter's Railway, Duffy Driver from the Little Red Train series, and — riding the line between reality and fantasy — the Little Engineer himself.
When it came to actually playing with the engineer cards, we didn't see eye to eye at first. I, having the disadvantage of being an adult, got it into my head that we should make up a game with a few simple rules. Perhaps something like Guess Who with engineers.
He, on the other hand, had his own idea for a "game", one that I'm sorry to say didn't make any sense to me at first. He wanted to line the cards up by color, then have his favorite three stuffed animals and himself choose engineers to be from the cards. Then, we'd do it again, and again. And again. I got frustrated with this because the stuffed animals — all voiced by me — were never allowed to actually choose, because he always vetoed their choices if they tried to choose a new engineer. Between the repetitiveness and constantly being told what to do, I got tired of the game long before he did.
Fortunately, I did realize that there must be something important he was exploring in this activity, though it did seem like he might be a bit stuck. I played it with him again the next day, wondering what kind of nudge he might need. We switched the location into his room, where we always play Big Engine. Perhaps that's what moved the game on from the initial "choosing" pattern he had been repeating.
After choosing their engineer cards, the Little Engineer and his stuffed animal friends built one of their famous engines together, just like they often do for Big Engine. This turned out to be so much fun for both of us, and it definitely got him "unstuck", because now the stuffed animals are allowed to be different engineers. Sometimes we put the chosen cards in these frames from IKEA so the Little Engineer and his friends can remember who they're supposed to be (not at all necessary, because the Little Engineer never forgets something as important as that, but fun).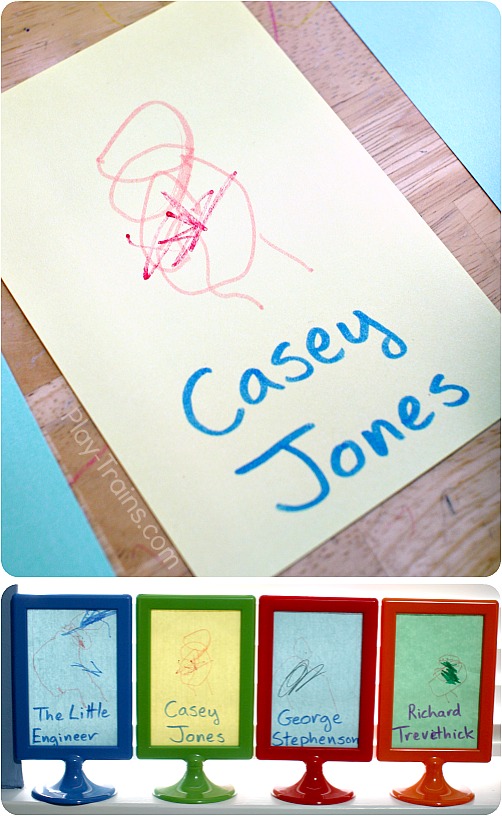 It's very entertaining to visualize these engineers from different times and places in history working together. And with that in our minds, stories naturally flowed out of our play. On one memorable occasion, Richard Trevithick (Greer, our new stuffed meerkat) and Casey Jones (Meekat, the original stuffed meerkat) rebuilt the Puffing Devil while George Stephenson (the Little Engineer) worked on a Big Engine of the Rocket nearby. I had the meerkat engineers build a Puffing Devil out of a Georello building set we have, and then, as Richard Trevithick and his friends do in the story in the Peter's Railway book, the meerkats went off down to the pub (our dining room table) to have some food and drinks to celebrate their success.
Meanwhile, the Little Engineer stayed behind in the room and made our Puffing Devil "explode". As you can imagine, our Richard Trevithick was quite distraught to discover the train in pieces, but the Little Engineer encouraged him to "try again!" So he did…and once again, we went off to celebrate and the engine exploded AGAIN. The Puffing Devil has exploded at our house more times I can count.
The cool part is that while we play, the Little Engineer is using the information we've read in books and online about the famous (and fictional) engineers to inspire his play. Every time we learn something new, it eventually pops up in his pretend play, which is so much more valuable than my Guess the Engineer game ever would have been.
We're going to be focusing on railroad history quite often from now on, so we have plenty of ideas for how to build your own little engineer's interest in famous engineers coming up. For now, below are some books and other resources to get you started. Also, the BBC website has a wonderful profile of George Stephenson for kids. The Little Engineer and I played through the game together — it was fun and definitely gives you an understanding of his place in railroad history.