This surfboard craft for kids is a great way to bring favorite toys into water play. The Little Engineer had so much fun pretending his toys were really surfing! Plus there's a lot of hands-on science going on, as kids try to get the toys to stand up on their surfboards. It would also be fun to make these for a surfing-themed birthday party, and I suspect a wide range of ages would enjoy it as much as we both did.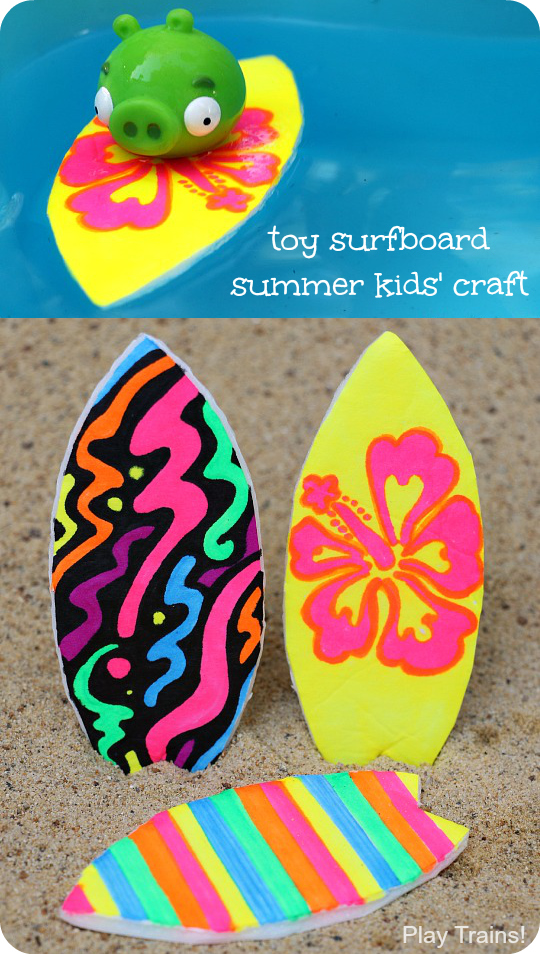 This post contains links to Amazon.com. If you click on one, we will receive a small commission — at no additional cost to you — on anything you buy at Amazon for a certain length of time afterwards. Read our disclosure policy for more details.
Today is the start of Summer Play Days, a series of ideas for summer fun with kids. We're participating along Fun-a-Day!, My Nearest and Dearest, Buggy and Buddy, and Nothing if Not Intentional. Make sure to check out the links to their activities and crafts for today at the end of this post.
I love these series because my blogging friends always inspire me to stretch my creativity. This idea came about as I was brainstorming for the series, which usually takes the form of me trying to think up increasingly ridiculous ideas. I think I actually shouted, "TRAIN SURFING!" while alone in the car. The idea made me laugh, but in the end, these little surfboards turned out to be pretty awesome. I'll show you how to make them today, and then later this week I'll show you the first of two ways we're playing with them.
Materials:
White foam core board: I used a cheap one from the dollar store.
Printable template: Right click and "save as" to download our free printable surfboard craft template!
Pencil: For tracing the template onto the foam core board, and for lightly sketching designs before coloring them in.
Something to cut the foam core board: I, being too lazy to find an X-acto knife, used a large pair of craft scissors, which works okay for everything but the extra large surfboards.
Permanent markers: If you're going to use the surfboards in the water, you'll want to use permanent markers if possible so that the colors don't run. I highly recommend a pack of neon Sharpies for this project. The bright colors glow even in the shade — perfect for pretending you're really at the beach!
Ruler (optional): Handy to have if you want to draw stripes (or rails for a train surfboard like Thomas' below).
Small toys who would like to learn how to surf: We used Thomas & Friends Pez trains (carefully removed from their Pez dispenser bases by an adult; you can find these at Toys'R'Us), Angry Bird game figures, LEGO mini figures, and a Brio worker figure.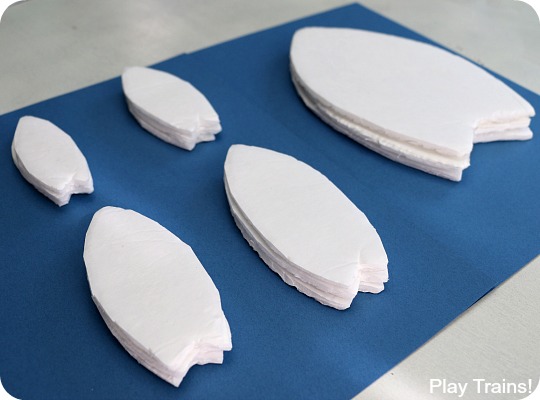 Set up:
Ahead of time, an adult should prepare blank surfboards by using the template above to trace and cut the shapes from the foam core board. On the template, there are five different sizes of surfboards:
Extra small: These we made to be wooden train freight. They're a little small to actually float toys in water — but you could certainly try!
Small, medium, and large: These sizes all seemed to work well for a variety of the small toys we tried them with. The large size is probably your best bet if you only want to make one size, but I think the small ones look the cutest.
Extra large: This size — which looks more like a boogie board than a surfboard — was requested by the Little Engineer so his LEGO Mixels could surf, too.
I prepared a variety of sizes so that we could compare their performance with different toys.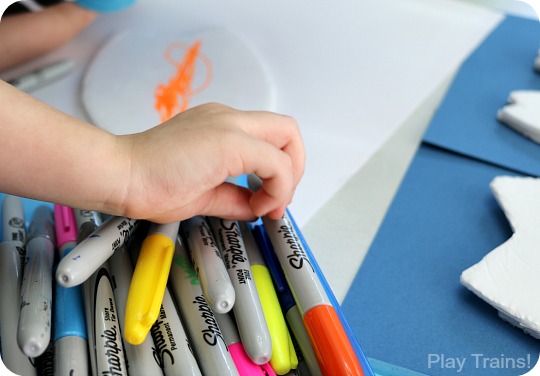 Crafting together:
We always enjoy crafting together, but I think we both especially enjoyed this one! The Little Engineer dove right for the Sharpies, as usual. And he liked that he was making surfboards for particular toys. As for me, I think I tapped into my inner teenage girl for a while there, which makes me suspect this would make a great poolside craft for tweens and maybe even teens.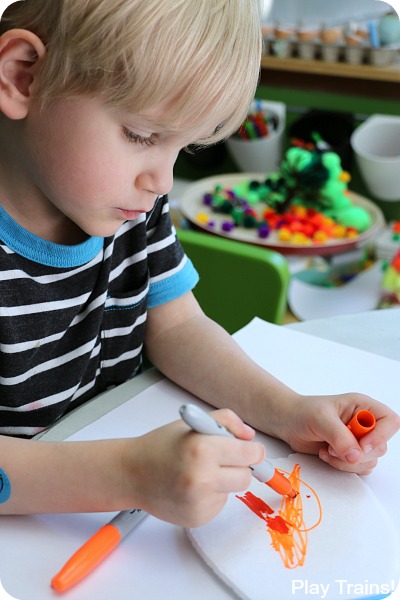 We both made several surfboards, using up all the blanks I'd prepared. Pez Thomas got a special #1 surfboard complete with silver rails for him to roll onto.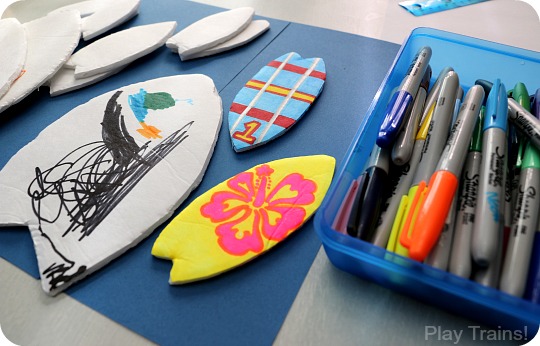 Here are some of my favorite creations: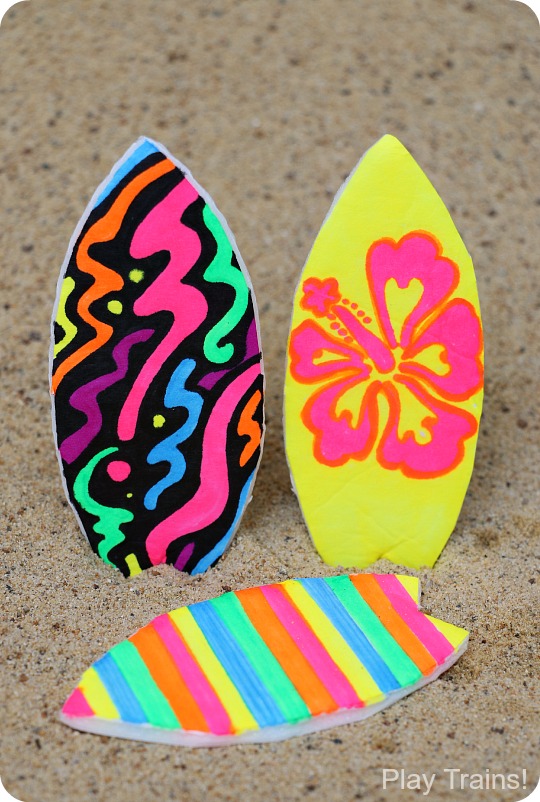 And here are the ones the Little Engineer liked the best. Check out all the details!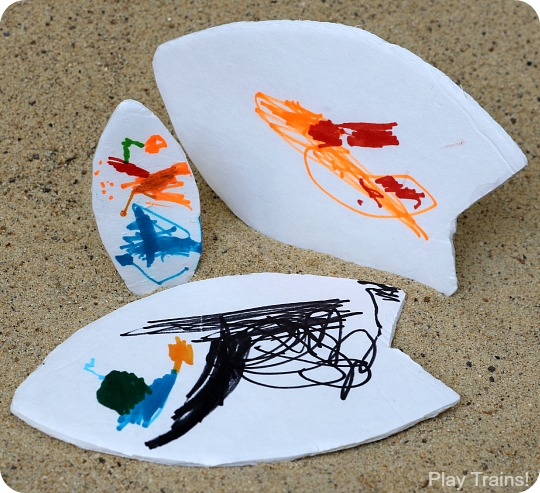 These are the extra small ones we made to be freight for our wooden trains: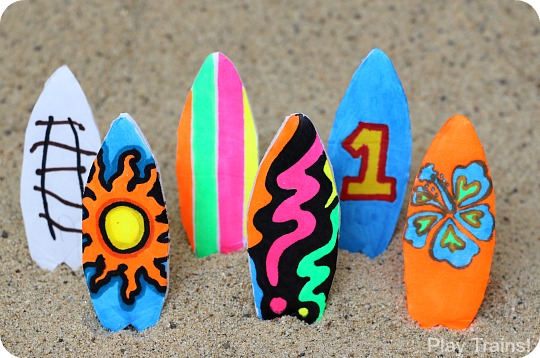 Toy surfing:
I really, really, really wanted this to work — and it did! Just look how happy this piggie looks on his surfboard.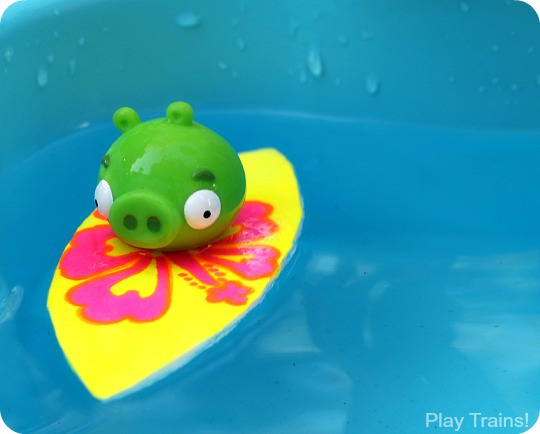 This makes for an excellent hands-on science exploration of water and waves, buoyancy and balance. The balance part also makes this a great fine motor activity. It can be quite a challenge to get the toys to stand up, especially the mini figures!
We experimented with a lot of different ways to make waves and generally move the surfers around the water table. The main thing we learned was the waves are a lot harder to predict and control than you expect at first. The great thing is that this wasn't frustrating, because pretty much anything that happened was fun. Especially when the toys fell in the water and went "swimming."
Here are a few more pictures for inspiration. I made this surfboard especially for Wildstyle from The LEGO Movie (the Little Engineer made one for Emmet).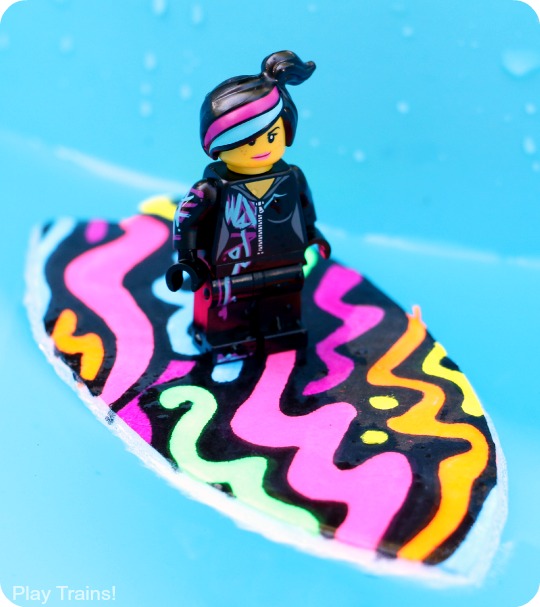 Pez Thomas seemed to have a lot of fun on his special train surfboard.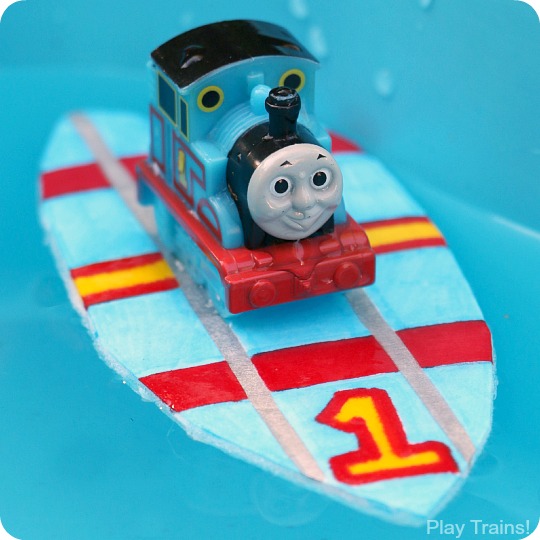 And the extra large surfboards worked great for the Little Engineer's newest Mixel, Kraw. Who looks like a pretty awesome surfer, I must say. The Little Engineer picked him especially because he knew we were going to be making toy surfboards the next day, so I was very happy it worked out!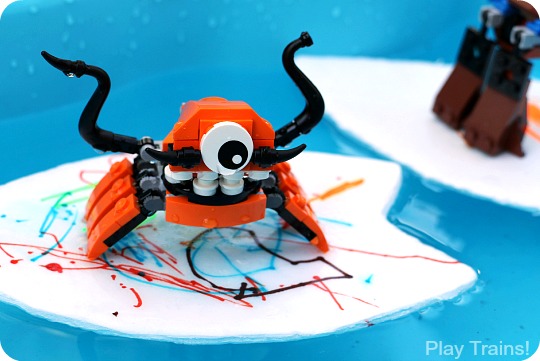 More ways to play!
Make sure to visit the other blogs participating in the series for more fun summer activities and crafts!
Summer Art for Kids – Colorful Shell Sculptures from Fun-a-Day!
Summer Sunshine Clay from Nothing if Not Intentional
Fine Motor Sun Craft from Buggy and Buddy
Ocean Cloud Dough from My Nearest and Dearest
Don't miss our other Summer Play Days posts!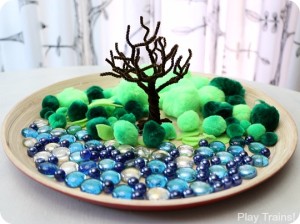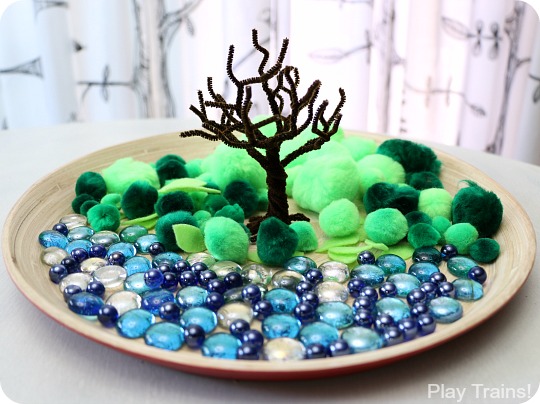 Summer Pom Pom Tree Fine Motor Activity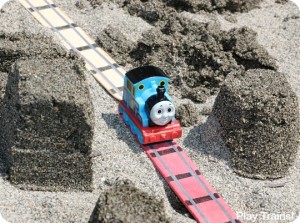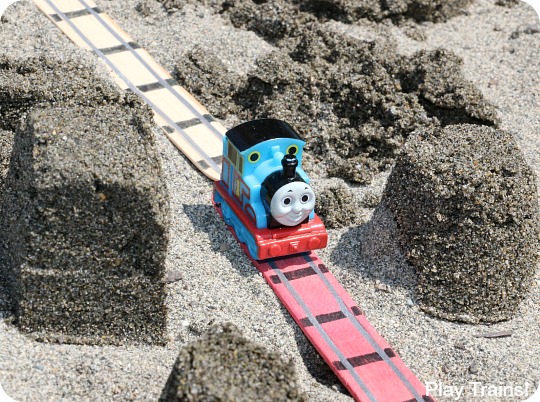 More Summer Fun with Trains!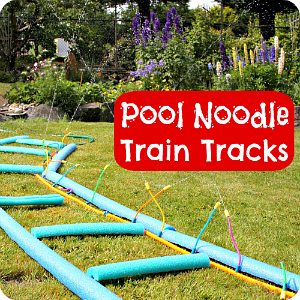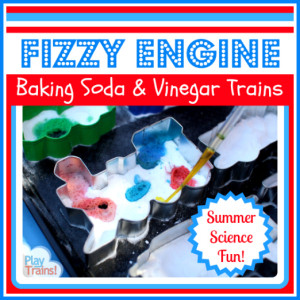 Fizzy Engine: Baking Soda and Vinegar Train Science Activity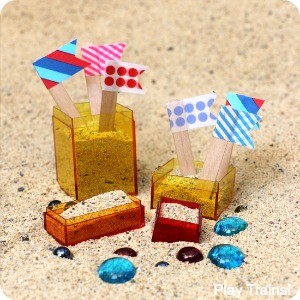 Travel-Friendly Mini Sand Castle Kit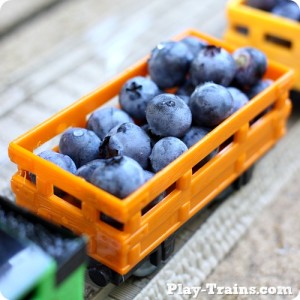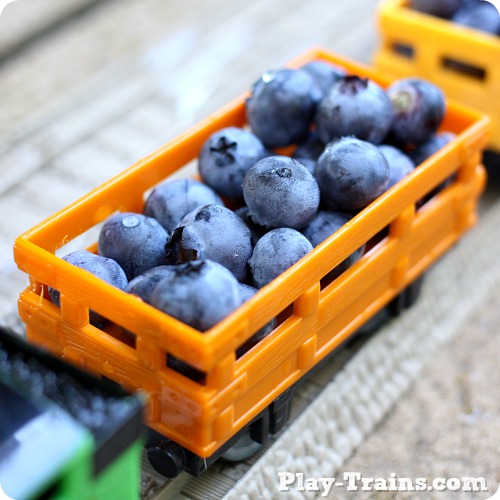 Natural Freight for Toy Trains: Summer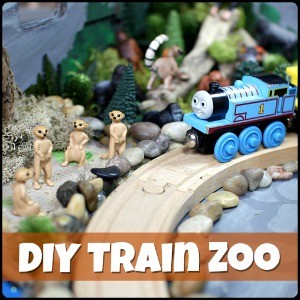 DIY Recycled Wooden Train Zoo Set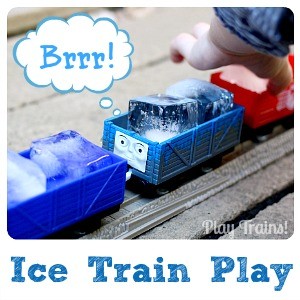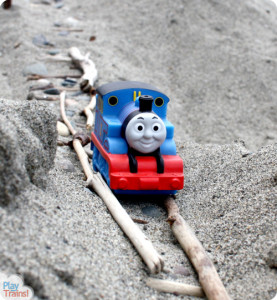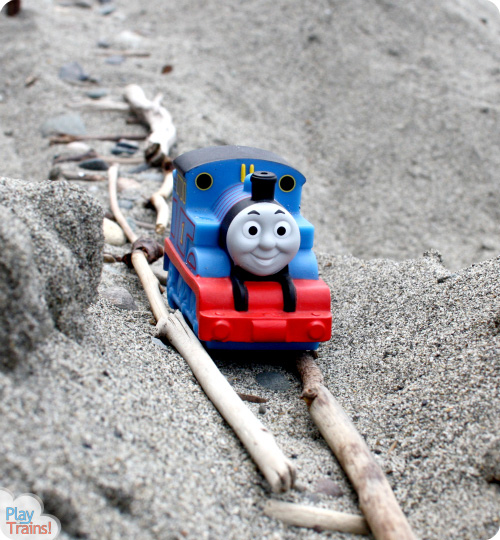 Sand Tracks: a Train Beach Activity Inspired by Peter's Railway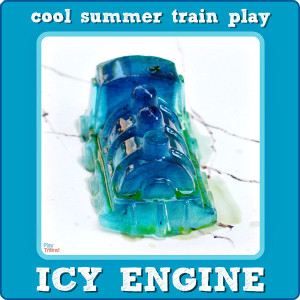 Icy Engine: Cool Summer Train Play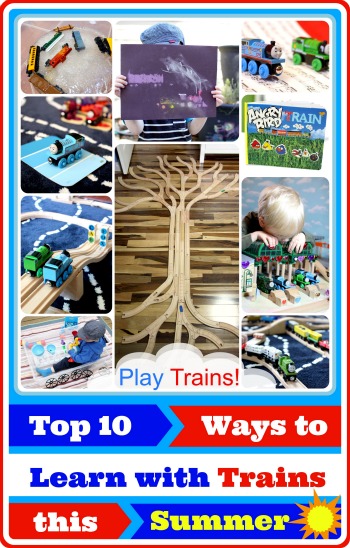 Top Ten Ways to Learn with Trains the Summer