Another season, another pom pom tree. At least, that's the way it works around here — we enjoy creating these so much! This spring cherry blossom pom pom tree was inspired by the flowering cherry tree in our backyard, which explodes into a tower of cotton candy every spring, then lets down a petal snowfall over our deck before beginning to sprout its leaves. It works both as a fine motor activity and a craft (just add a little glue if you want to make things permanent). And we love adding these pom pom trees into our train layouts and small worlds as scenery!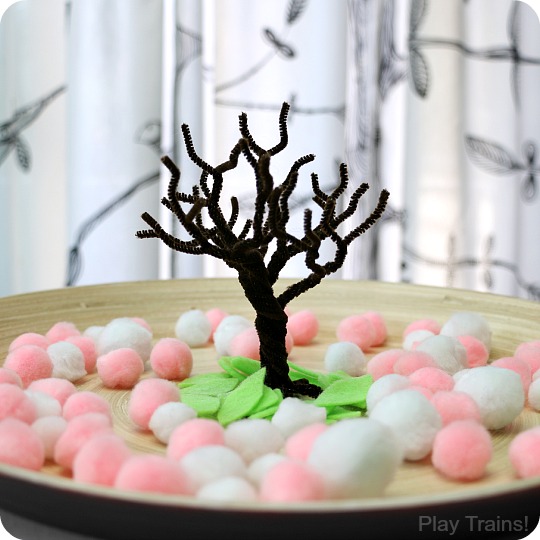 This post contains links to Amazon.com. If you click on one, we will receive a small commission — at no additional cost to you — on anything you buy at Amazon for a certain length of time afterwards. Read our disclosure policy for more details.

Seasonal Pipe Cleaner and Pom Pom Trees
Cherry Blossom Spring Pom Pom Tree
Pipe Cleaner Pine Trees
Summer Pom Pom Tree
Pipe Cleaner and Pom Pom Palm Tree
Apple Harvest Pom Pom Tree
Fall Pom Pom Tree
Spooky Pipe Cleaner Trees
Halloween Carnival Colors Pom Pom Trees
Pipe Cleaner Christmas Trees
Light-up Pipe Cleaner Christmas Trees
Snow and Ice Winter Pom Pom Trees
Materials:
Pipe cleaner trees: I made this one the same way I made the spooky pipe cleaner trees I wrote about in October, only this time I used brown 3 mm pipe cleaners. (If you prefer to buy them in person to online, not that the super thin 3 mm pipe cleaners are hard to find in the regular craft stores, especially brown ones. But some of the big variety packs of pipe cleaners include them, so look through a few packs to see if you can find one with a good number of little brown pipe cleaners.)
White pom poms: It's especially helpful to have some large white pom poms mixed in, because the pink pom poms are on the small side for easily staying in the tree for the first layer or so.
Spring green craft felt, cut into small leaves: No points for perfection here, so I just quickly cut out some pieces that were vaguely leaf-shaped.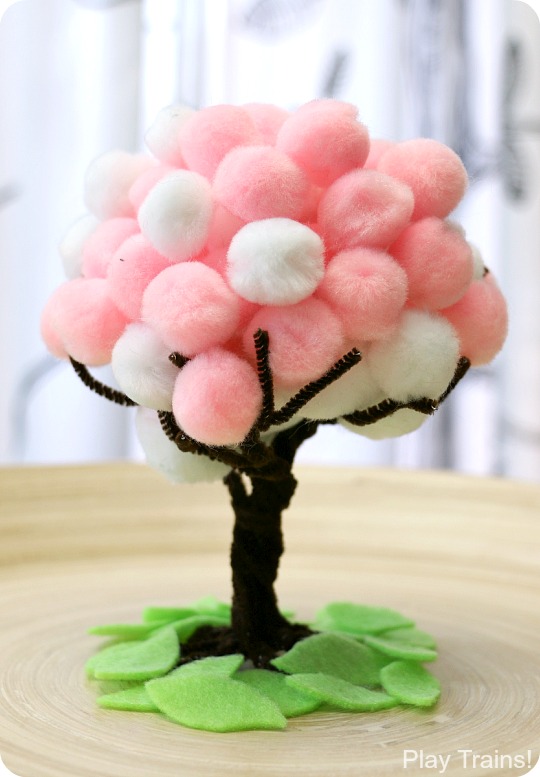 Set-up:
Place the tree in the center of a tray. Arrange the felt leaves in a circle around the roots and scatter the pom poms around the tray. You may want to put one or two pom poms in the tree to suggest one way a child may want to use the materials.
To add this to a train layout or small world, you can put the pipe cleaner tree, pom poms, and leaves into the scene with your child, where the tree can then be interacted with during play. One way to make this more fun with trains is to use them to transport the cherry blossoms to decorate the tree, like we did for the Halloween Carnival Pom Pom Trees.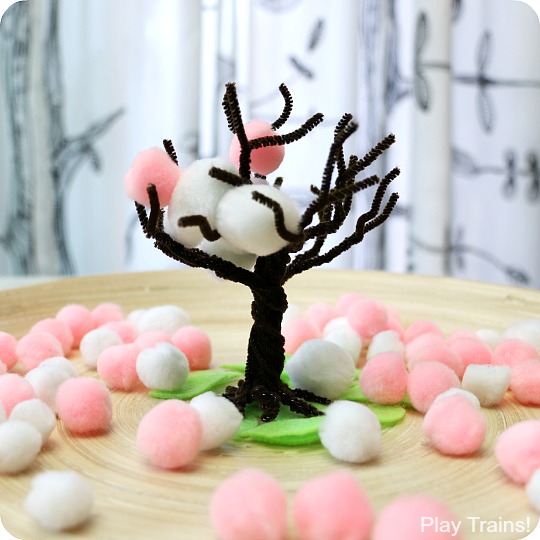 How we played:
It was cool to mirror the progression of our very own cherry tree — bare branches, a tree puffy with blossoms, the snow fall of petals, the sprouting of new leaves — on this little pipe cleaner and pom pom tree.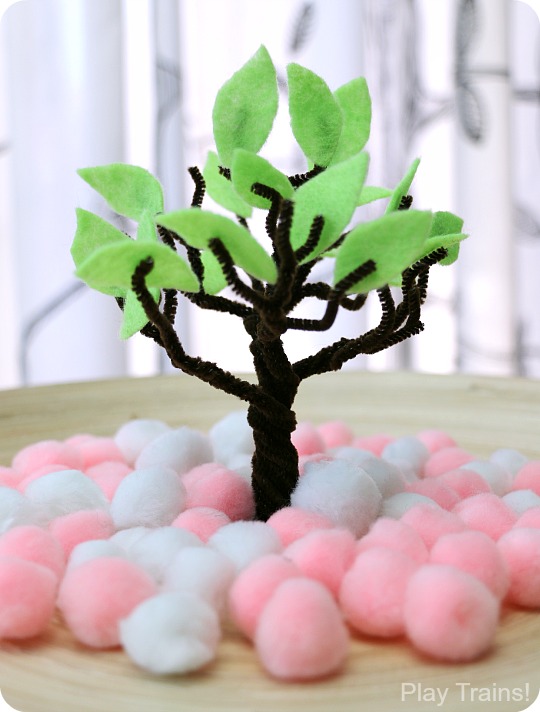 If you have a train-loving child in your life, make sure you're following Play Trains! by signing up for our email newsletter: