We planted a flowering cherry tree in our backyard when we bought our house several years ago.  Somehow, when we weren't looking, it grew into a towering, graceful friend who gives us much needed shade and privacy all summer long.
It's easy to forget about the tree in the winter, with it's long branches no more than thin, dark lines against the sky.  But as March approaches, we remember, and begin watching it for signs of life.  We've learned the cherry tree and its flowers didn't become a symbol for the ephemeral nature of things for nothing.  All at once it seems to burst into bloom, first forming a pink cloud above our deck, and then dropping petals that float and fall, the soft snowfall of spring. If we blink, we miss it.
And for the past few years, I've tried to get my love of our tree to rub off on the Little Engineer.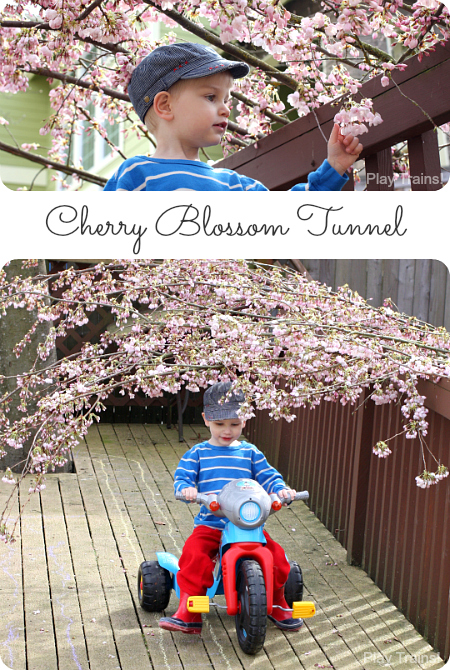 This post was originally published on March 25th, 2013. It contains links to Amazon.com. If you click on one, we will receive a small commission — at no additional cost to you — on anything you buy at Amazon for a certain length of time afterwards. Read our disclosure policy for more details.
I've told the Little Engineer about hanami, the Japanese tradition of flower viewing picnics beneath the blossoming trees, something I've been interested in since I learned the word in my 6th grade Japanese class.  When he was still a baby, I would carry him beneath the tree and we'd pick flowers and play with them, to his delight, but now I could tell the tree needed a little help to get him to really see it.  The Little Engineer spends so much time in his imagination, it sometimes makes it hard to tell if he's really looking at the world around him, or just imposing his own images over the landscape.
As usual, it came down to finding a way to link it back to trains.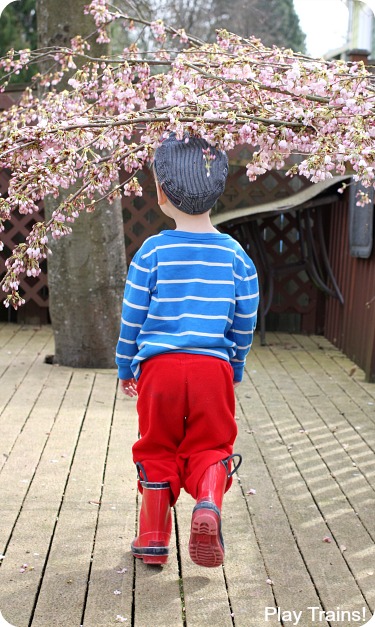 Yesterday, my husband pruned some errant branches of the tree that were trying to invade the neighbors' yard.  He and the Little Engineer went out and picked a few to bring inside while I prepared a vase, and then I joined them outside.  A few of the largest branches were just lying there on the deck.  Something about their bowed shape gave me the idea:  a tunnel.
I balanced the branches over the railing of the deck and told the Little Engineer what it was.  He was quiet happy to run beneath it for awhile, pretending he was a train.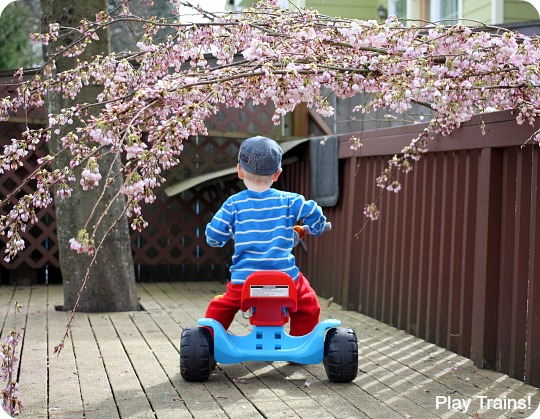 Today, it was even more popular.  He wanted to pretend he was a "passenger and freight train — the fastest train ever!" and I was a cargo train.  We were in our yard up the hill, where the rest of the cherry branches were still lying on the grass, and the "tracks" we were to travel were the steps down to the deck. So I figured if I was going to be a cargo train, I might as well haul something, and started carrying them down to add to the tunnel.  The Little Engineer decided to help and joined the task.
He was a little disappointed when there were no branches left to carry, so I found him a little one left on the grass and told him to take it down as the "ceremonial last piece of the tunnel." He liked that idea, and stuck his little branch upright between two boards in where the tips of the big branches nearly brushed the deck. I brought up "Thomas Trike",  then I declared the "Spring Festival Tunnel" open. He rode around and around for a good long time.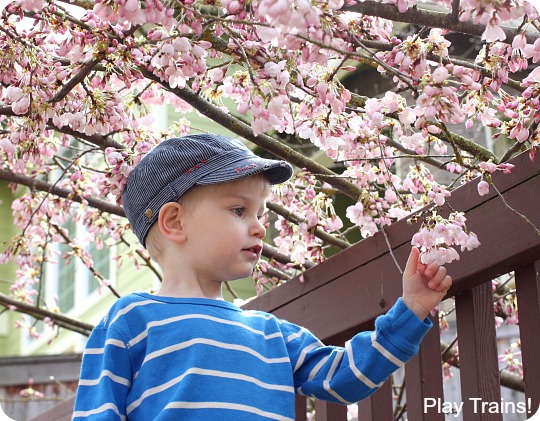 Every so often, he'd stop to look — to finally look! — at the cherry blossoms, and to feel them.  I could see his touch was as light and soft as I knew the petals were.
After riding the tricycle for awhile, he started running on his own two "wheels", running round and round.  Then he remember how we drew tracks with chalk on the deck last year, and went to get some.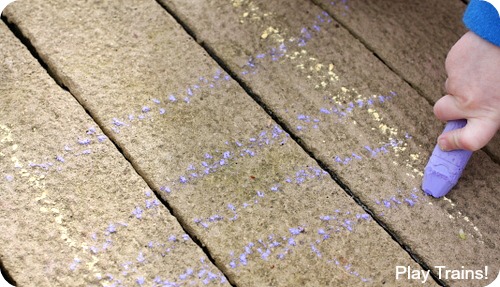 As usual, I drew the rails, and he came around behind me and drew the ties. I noticed he was much more thorough with his railroad tie-drawing than he was last time we did this, asking me several times to point him toward sections of track he hadn't done yet.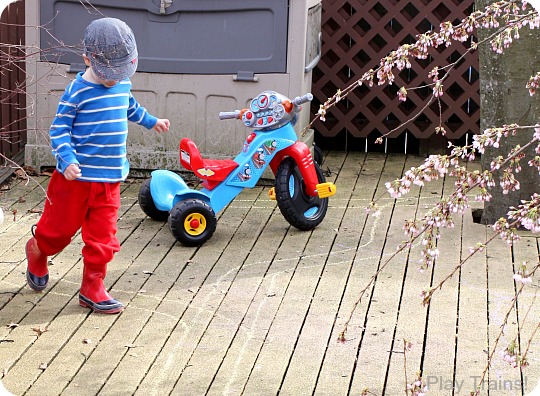 He enjoyed following the tracks, both on foot and on his bike. I was starting to get more sun than I wanted at that point, and went to sit in the "tunnel". It was such a nice spot to be that I decided I didn't want to leave. Fortunately, I had a way to get to do that up my sleeve.
When we pretend to be Thomas engines, I'm always Hiro, because I bought Patchwork Hiro for myself way back when the Little Engineer was first getting started with trains.  I had liked the pretty combination of colors on the wooden version, which reminded me of origami even before I noticed it was supposed to be a Japanese engine. He was a bit unsettled by Hiro's swiveling, eight wheel configuration, so I told him it was "Mama's train", and that somehow made it okay. For a very long time, long after he was pronouncing engine names like Murdoch and Ferdinand, Hiro was always "Mama train" to him.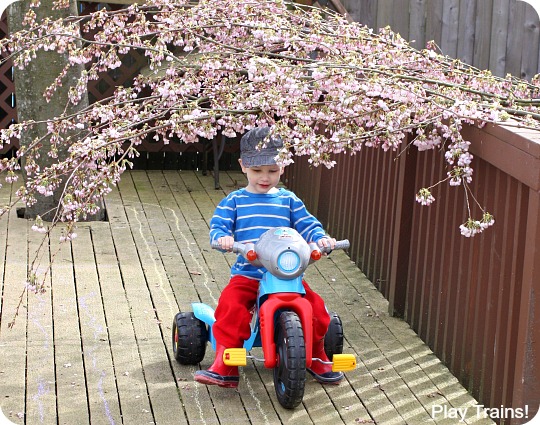 Last summer, when he was very into playing Grass Tracks as long as I ran the whole time with him, I figured out that I could pretend to be Hiro when Thomas first finds him in Hero of the Rails, broken and in need of many parts. That way, I get to sit in one spot while my "Thomas" chuffs back and forth, pretending to bring parts to fix me.  The cherry blossom made a perfect "Hiro's hideaway".  Our most recent viewing of the movie must have stuck with him, because he was asking me things like, "The little engines in the hills like to tell me stories. Hiro, can you tell me your story?" I think we played the story three or four times, and both of us really enjoyed it.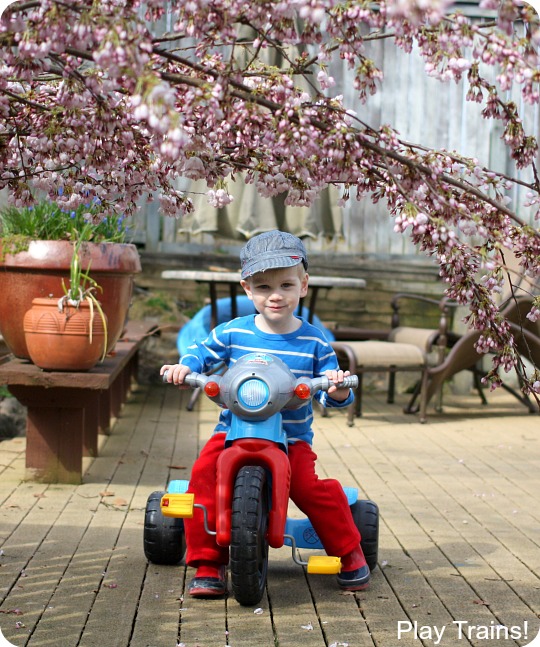 Now that he's more interested in our cherry tree, I'm hoping the nice weather I see scattered through the forecast this week will allow us to have a few flower viewing parties of our own.  It would be fun to get some food from our favorite sushi place, brew some of the Little Engineer's favorite (decaf) green tea, and sit in the cherry blossom tunnel by our beautiful tree.