Our final activity for the Halloween Invitations to Play series is an invitation to create and play with pom pom trees in Halloween carnival colors. I loved this one so much that I ended up doing both simple and train play versions of it. And with the addition of glue, it could easily be a pom pom tree craft, either as a decoration or a permanent addition to a train set.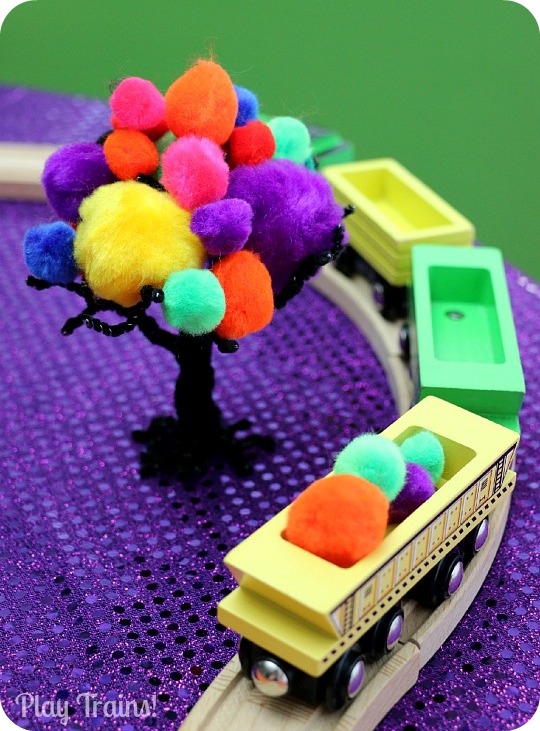 Seasonal Pipe Cleaner and Pom Pom Trees
Cherry Blossom Spring Pom Pom Tree
Pipe Cleaner Pine Trees
Summer Pom Pom Tree
Pipe Cleaner and Pom Pom Palm Tree
Apple Harvest Pom Pom Tree
Fall Pom Pom Tree
Spooky Pipe Cleaner Trees
Halloween Carnival Colors Pom Pom Trees
Pipe Cleaner Christmas Trees
Light-up Pipe Cleaner Christmas Trees
Snow and Ice Winter Pom Pom Trees
Invitations to Play
If you're new to this series, or to invitations to play in general, you may be interested in reading my introduction in the Play Dough Pumpkin Patch post from the fall series (it's a brief introduction, but there are links to three great posts by experts on the subject), or my thoughts on adding trains to invitations to play from last week's October Moon Train Play post.
Halloween Carnival Pom Pom Tree Play: Simple Version
After I made my first spooky pipe cleaner tree, I went around the house, experimenting with different ideas for adding leaves. My favorite discovery was how well a handful of pom poms stayed put within its branches. And so the idea for this invitation was born.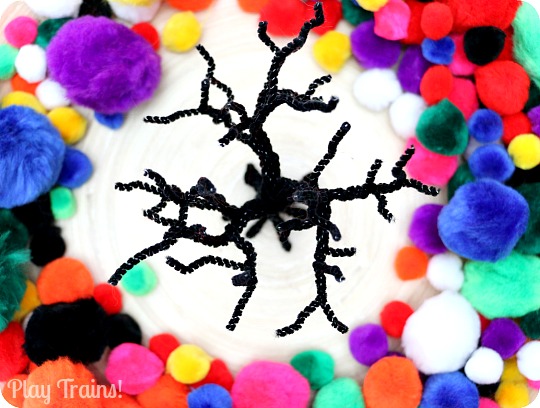 Materials:
One pipe cleaner tree (Follow the instructions in our Spooky Pipe Cleaner Trees post, but shape the branches to curve upward at the ends to help them hold as many pom poms as possible.)
Craft pom poms (I used a 300 count variety bag of pom poms. You don't need nearly that many to fill out the tree, but I liked the idea of giving my son more choice as to how many of which sizes and colors to use.)
A large dish, shallow bowl, or tray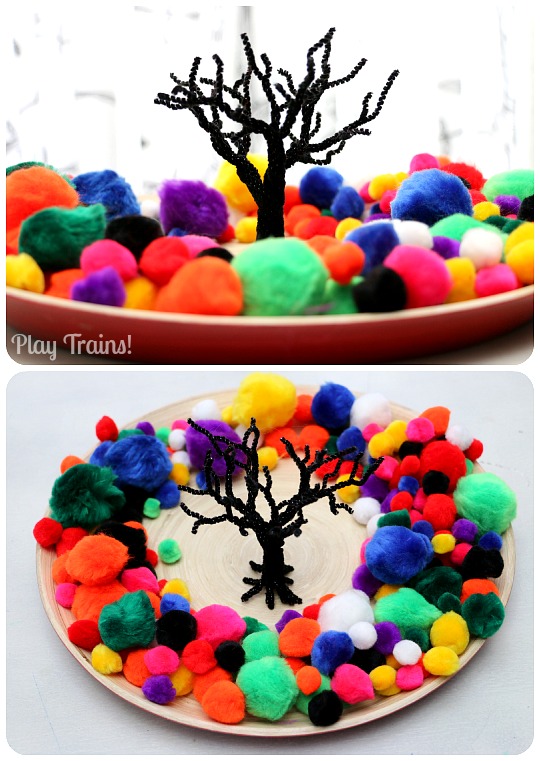 Set up:
Place the tree in the center of the dish. Arrange the pom poms around the outside. That's pretty much it.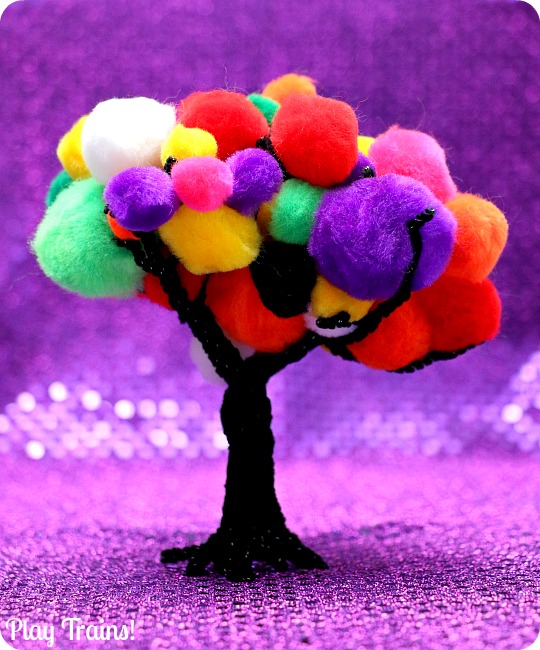 Ways to play:
Filling the tree with pom pom "leaves". As you'll see in the train version of this activity, my son was very intentional when it came to picking the pom poms for his trees.
The "leaves" can also be removed or shaken down from the trees, making this activity especially nice for fall.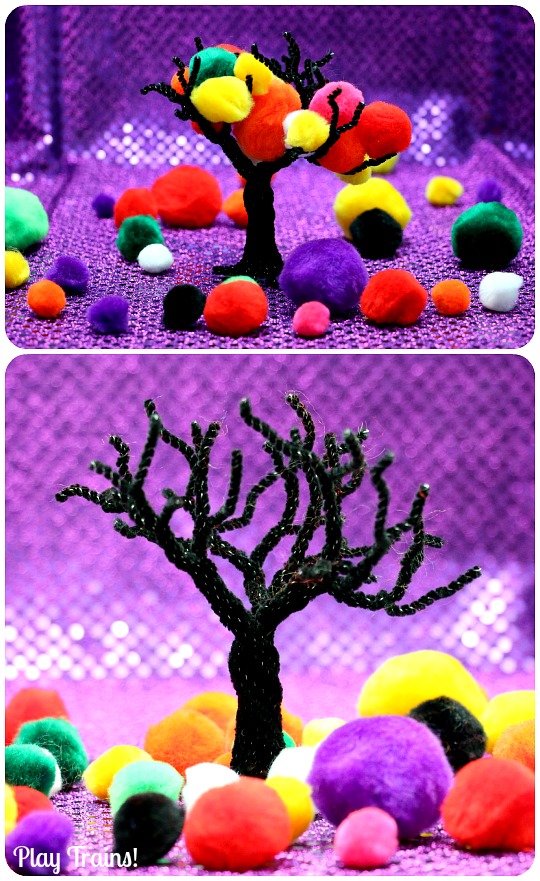 Halloween Carnival Pom Pom Trees: Train Play Version
Adding trains (and a few more trees) to this invitation creates the opportunity to transport the pom poms to the trees. It also invites the imagination to dream up a story behind why the trains are taking pom poms to the trees in the first place. By using multiple freight cars, it seemed to encourage my son to sort the pom poms as well.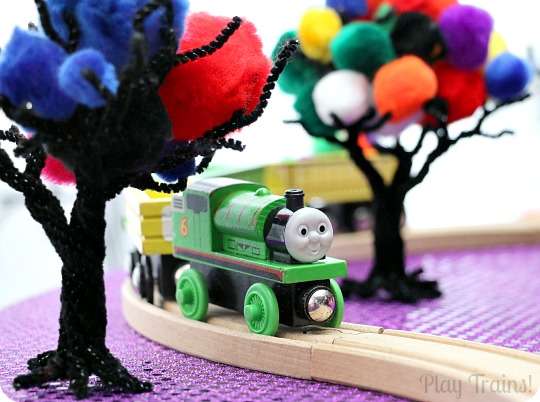 Materials:
One or more pipe cleaner trees (Once again, follow the instructions in our Spooky Pipe Cleaner Trees post, but shape the branches to curve upward at the ends to help them hold as many pom poms as possible.)
Colorful craft pom poms
Large bowl or container to hold pom poms
Toy train tracks
Toy trains with empty freight cars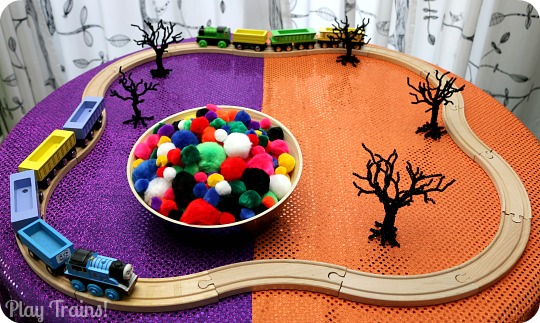 Set up:
Build the train tracks. Place the trees on the inside of the tracks (this way the tracks contain most of the pom poms when they fall). We learned after I took this photo it's a good idea to set the trees far enough away from the tracks that they don't get knocked over when a train goes past. Place the bowl full of pom poms near the railroad, and then put the trains on the tracks. You may also want to put a few pom poms in one tree as an example of what the children might do, though they are of course free to play with the materials as they wish.
How we played:
This was so fun! The Little Engineer enjoyed it. As for me, I couldn't stop playing, even after he went off to do something else. With all of the different pom pom colors, there were so many different trees to create. It was hard to resist making another one, and another one, and another one…
The Little Engineer chose to sort the pom poms in by color (in truth, he was pretending they were Angry Birds, taking a train ride to their trees), both into the freight cars and then onto the trees. After sorting for a bit, he mixed up the colors, but later was back to sorting again.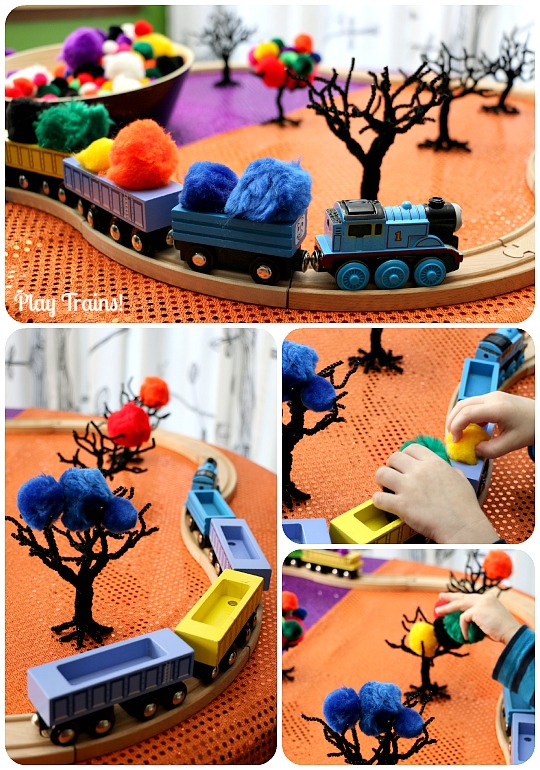 Once the trees were filled, there was a big "windstorm" that knocked all the leaves (or Angry Birds) from the trees. Both shaking the trees and blowing the pom poms off of them were fun!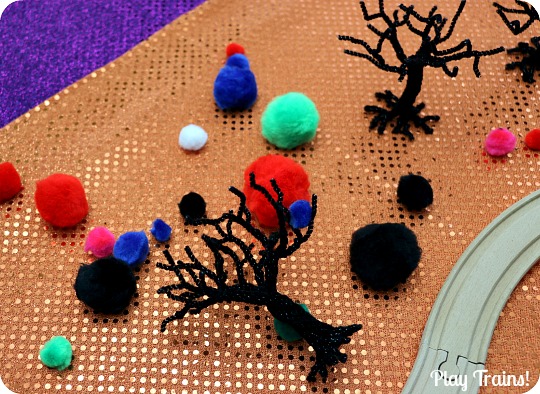 And, of course, Thomas and Percy got orders to go set things right after the storm. Then it could start all over again!
More play inspiration:
Just like with the series of Fall Invitations to Play, I've had so much fun working on this Halloween series with my blogging buddies. Mary Catherine from Fun-a-Day!, Chelsey from Buggy and Buddy, Stephanie from Twodaloo, Rachael from Nothing if Not Intentional, and Shaunna from Fantastic Fun and Learning have amazing things in store for you today, so make sure to visit them and see what they've dreamed up!
Here's the tutorial on how to make the pipe cleaner trees for this activity: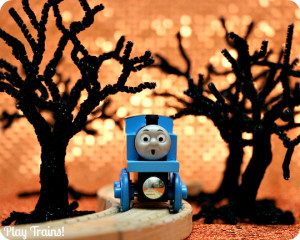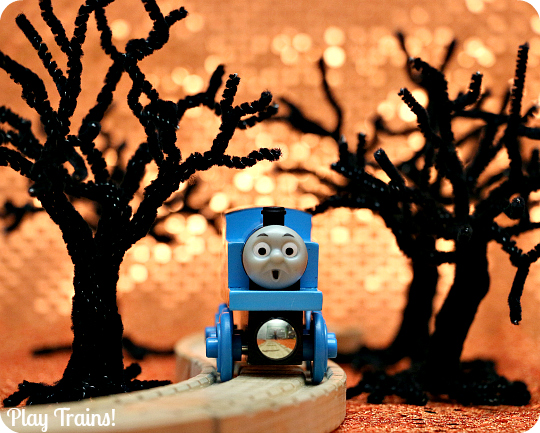 And don't miss our other invitations in the Halloween Invitations to Play series:
Looking for more creative train activities for YOUR kids?
Grab a copy of Old Tracks, New Tricks! In the fun, rhyming story, three creative little wooden train tracks stand up to the bossy trains and teach the whole train set that old tracks — and trains! — can learn new tricks. Full instructions for the 20+ "track-tivities" in the story are included in the back of the book, along with an illustrated guide to teach kids how to create their own "track tricks." You can find tons of extension activities at the Old Tracks, New Tricks website!