I'm really excited to be teaming up with my blogging buddies again for another round of invitations to play! This time, we're focusing on Halloween Invitations to Play. Our creative partners in fun are Mary Catherine from Fun-a-Day!, Chelsey from Buggy and Buddy, Stephanie from Twodaloo, Rachael from Nothing if Not Intentional, and Shaunna from Fantastic Fun and Learning. For the first three weeks in October, we'll all be posting a new Halloween play invitation every Tuesday. Based on our Fall Invitations to Play series, I can promise you plenty of Halloween fun!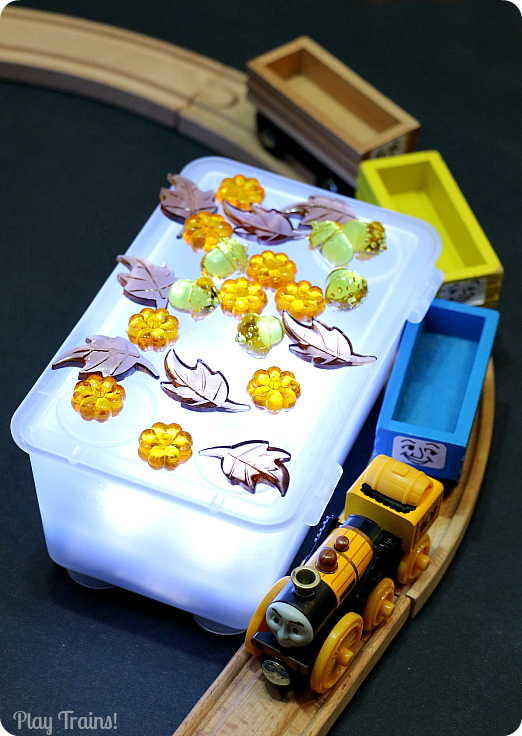 This post contains links to Amazon.com. If you click on one, we will receive a small commission — at no additional cost to you — on anything you buy at Amazon for a certain length of time afterwards. Read our disclosure policy for more details.
Invitations to Play…Trains!
Like I said when I briefly introduced the concept for the Fall Invitations to Play series, I'm no expert on the subject. (This is why I was happy to know of a few wonderful posts to link to about it from some true experts, which you can find in the first post in the series, Play Dough Pumpkin Patch Train Play.)
But I think I can claim something close to expert status when it comes to train play.  In order to explore what trains really add to this invitation, I made simplicity my guiding concept while creating it. Here are my thoughts after setting up this invitation and watching the Little Engineer play with it.
Adding a train and track may encourage a child who loves trains to engage in the activity with more enthusiasm.
The process of placing the loose parts into the freight cars, rolling the train around the curve without spilling the freight, and then taking it out again to place on the light box increases the amount and variety of the fine motor skill practice encouraged by the invitation.
It provides a prompt for pretend play. (The Little Engineer pretended the train was hauling Halloween decorations to decorate the "station".)
The oval of track suggests a cyclical rhythm to play: after adding the freight to the station, it could be returned to the freight cars and hauled back to the original container, at which point the process could start again. This may prolong a child's interest in the materials.
The train opens up new possibilities for cooperative play. For example, one child might drive a train load of loose parts over to the light box and unload them, while another places the objects on the light box. (In a preschool or daycare setting, I would use switches and extra track to build sidings so that trains could pass each other.)
And if a child wasn't interested in using the train, the loose parts are easily moved closer to the light box.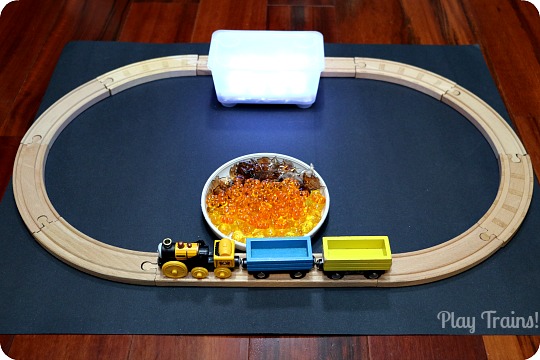 October Moon Halloween Train Play
This invitation is a bit more fall than Halloween in some ways. I would have liked to have used some ghosts and done a ghost train invitation, but the Little Engineer wasn't keen on the idea (despite the recent popularity of the book, Ghost Train, at our house). However, something about the cool glow of the light box shining through the transparent leaves does bring to mind a spooky October night with a chill in the air, especially once the lights are dimmed.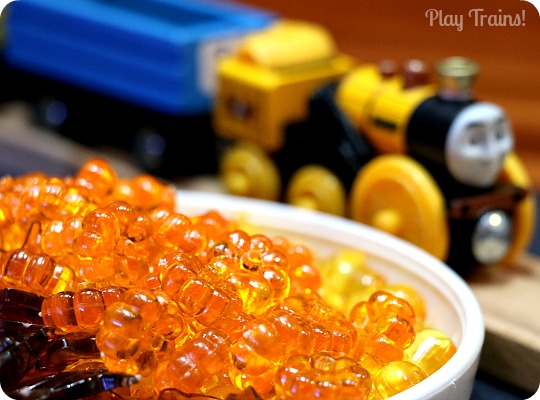 Materials:
Light box or table (We used our DIY mini light box, but if you have a larger light box or table, you could build the tracks on top of it or next to it.)
Wooden train tracks
Pumpkin, acorn, and leaf table scatter (found in the dollar bins at Target)
An engine and empty freight cars (We used our new wooden Stephen from King of the Railway and some cars from various Imaginarium-brand train sets purchased at Toys'R'Us.)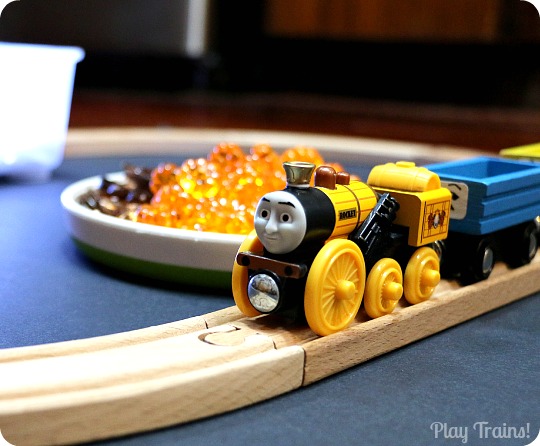 Set up:
I took the idea of a very simple light play invitation — a light box with translucent loose pieces — and added a plain oval of track. I arranged the fall freight pieces and the light box "station" across the oval from each other, and put the empty freight train on the track next to the freight. The suggestion to place the freight in the empty freight cars and transport it to the light box is strong, but the child is of course welcome to use the materials in a different way.
How we played:
This invitation was pretty familiar territory for the Little Engineer, so I wasn't surprised that he played with it pretty much how I imagined he would when I set it up. He put the freight into three freight cars, sorting it by type/color, drove it around, and then decorated the "station" with it. The one thing I thought was really cute was he tried to stick the leaf stems up and under the lid, like a garland around the edge of a roof. It didn't work, but it was fun to watch him try.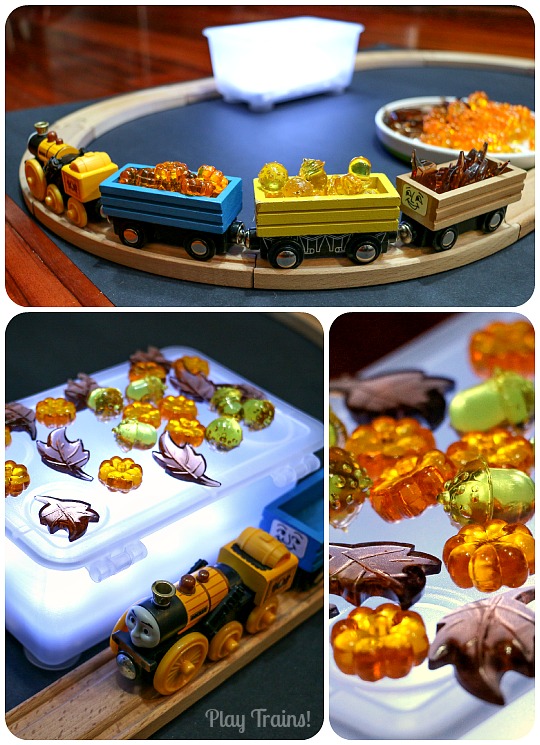 Connecting to books:
This invitation to play evokes a spooky October atmosphere similar to what's described in the opening pages of the Thomas in Town title, Halloween in Anopha. It would be a wonderful book to read before or after playing trains this way. (You can read more about Halloween in Anopha along with our other recommendations for Halloween train books for kids.)
Looking for more creative train activities for YOUR kids?
Grab a copy of Old Tracks, New Tricks! In the fun, rhyming story, three creative little wooden train tracks stand up to the bossy trains and teach the whole train set that old tracks — and trains! — can learn new tricks. Full instructions for the 20+ "track-tivities" in the story are included in the back of the book, along with an illustrated guide to teach kids how to create their own "track tricks." You can find tons of extension activities at the Old Tracks, New Tricks website!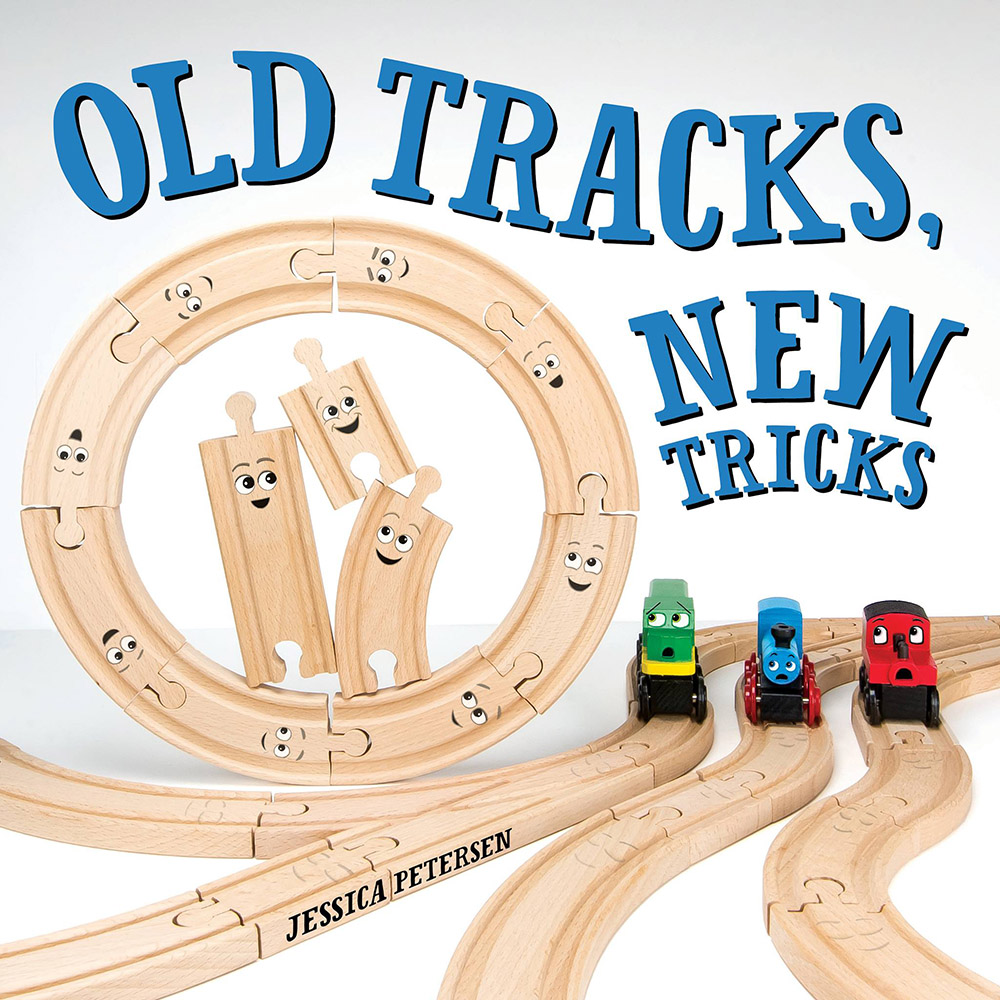 More play inspiration:
Now that you've read about our activity, you have to go see what my creative blogging friends are posting today!
Invitation to Create with Beads, Straws, and Pipe Cleaners by Buggy and Buddy
Play Dough Skeletons by Fantastic Fun and Learning
Frankenstein Monster Pumpkin by Fun-A-Day
Creepy-Crawly Cauldron Play by Nothing if Not Intentional
Jack O'Lantern Collage by Twodaloo
Here are our other invitations from the series:
And if you're interested in our DIY mini light box or more train ideas for light play, follow the links below: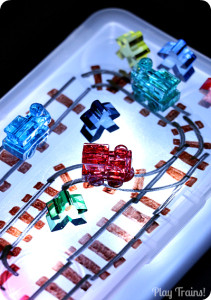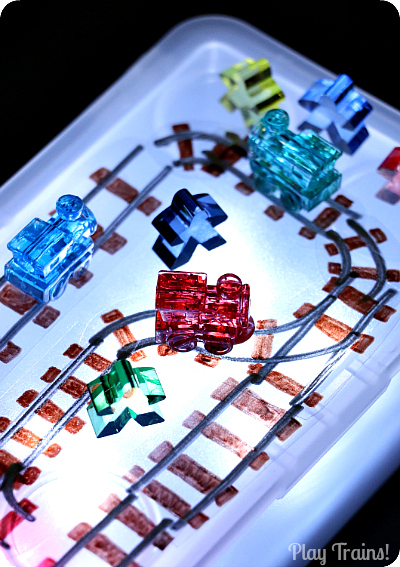 Trains and Track for Light Play