The Little Engineer and I love playing out holidays with our trains. This is our second year making a Halloween train layout, and we had a lot of fun building on what we did last year. Here are several simple ideas to celebrate Halloween at the train table.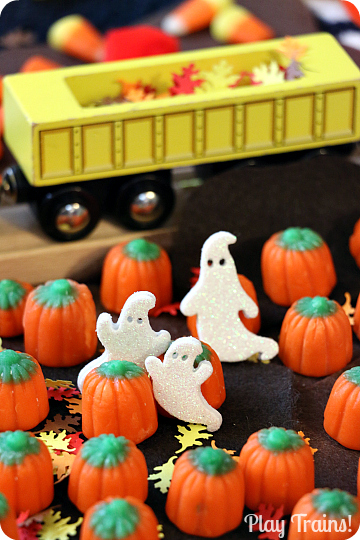 This post contains links to Amazon.com. If you click on one, we will receive a small commission — at no additional cost to you — on anything you buy at Amazon for a certain length of time afterwards. Read our disclosure policy for more details.
1. The Candy Pumpkin Patch
I've wanted to make a pumpkin patch for our trains with this candy-corn-like pumpkins ever since we first saw Percy and the Pumpkins by one of our all time favorite Thomas fan video makers on YouTube, sklepowich:
I finally bought a bag of Brach's Mellowcreme Pumpkins, and they looked just as adorable with our trains as they did in the video.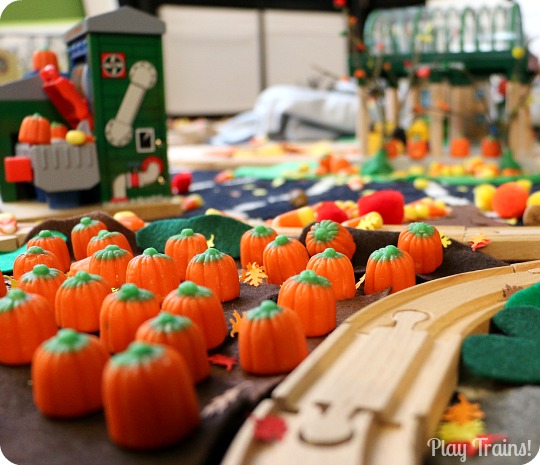 The Little Engineer especially enjoyed placing them in the pumpkin patch (I laid some of our brown and green felt pieces we use to add scenery down on the carpet to mark the spot) and loading them into the freight cars.
I also bought a bag of candy corn, which was a big hit as well.  However, it got thrown and scattered around rather haphazardly, so I preferred the pumpkins myself! But the candy corn did make good freight for the trains.
If you'd prefer a non-candy pumpkin patch for your trains, take a look at the Play Dough Pumpkin Patch we made to play with our trains for the Fall Invitations to Play series, or the pumpkins in our October Moon Train Play post.
2. Decorating Knapford Station
Once the pumpkins and candy corn were loaded onto the trains, we took them around the Island of Sodor to decorate for the holiday.  This year and last, we've enjoyed decorating our train stations.  Especially now that we have Knapford Station, which looks fantastic even before it's decorated.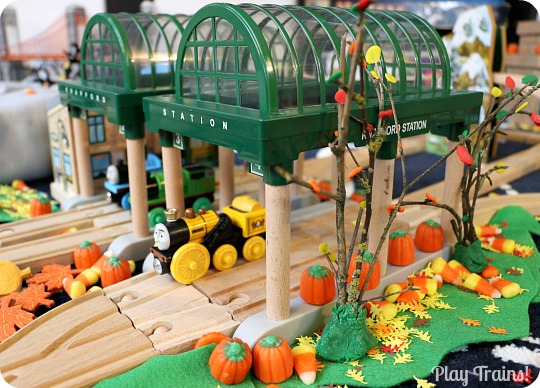 Along with the pumpkins, we used tiny paper leaves we punched with a leaf paper punch, the felt leaves from our Squirrel Train small world, and some little trees I made with sticks and play dough while we were making our play dough pumpkin patch outside. The trees were inspired by this absolutely gorgeous kid-made fall tree centerpiece from Housing a Forest.  They didn't last too long in this floor layout, but I think they would have done better on a train table.
3. The Quarry Shed and a "Raccoon Kaboom!"
We always like recreating train books with our trains. One of our favorites is this scene from Halloween in Anopha, a book from the Thomas in Town that I highly recommend. (You can read more about this and other titles on our list of Halloween Books for Kids Who Love Trains.)  In the book, Thomas stays overnight with Mavis at the quarry in Anopha.  When they stay up late scaring each other with ghost stories, they get a real fright from a loud noise outside the shed. They have a good laugh when it turns out to be nothing more than a clumsy raccoon.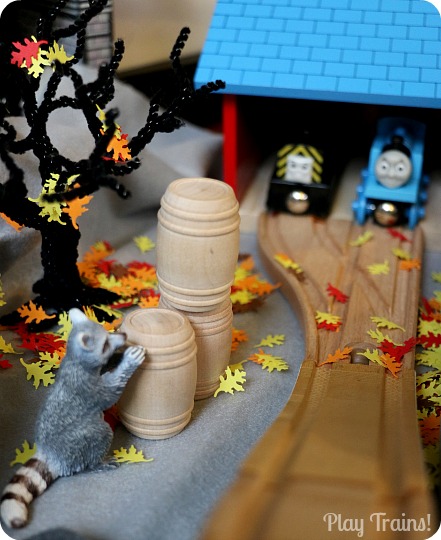 This year, I made a quarry area of our layout by arranging a large piece of gray felt and decorating it with the Spooky Halloween Trees I made, more paper punch leaves, a cute little Bigjigs double-engine shed, wooden barrels from Cherry Tree Toys, and, of course, a raccoon.
4. The Ghost Family at Ulfstead Castle
I mentioned previously that I couldn't get the Little Engineer to let me do a ghost train with his trains, not even after reading and loving the fabulous Ghost Train by Stephen Wyllie.
However, since then, I hit upon an idea that made a ghost train okay with him.  I had made some ghost passengers with glittery foam stickers (using the same method I used to make our felt Valentine heart freight). We were playing Halloween zoo train with the DIY train zoo we made this summer when I noticed that one of the ghosts was smaller than the others. Once I called them a "ghost family", they were allowed to come on the train for a trip to the zoo!
For the Halloween train layout, I moved the ghosts into Ulfstead Castle with Stephen (here's the how-to for these easy and inexpensive wooden train castles) and told the Little Engineer they'd like to take the little ghost to the pumpkin patch.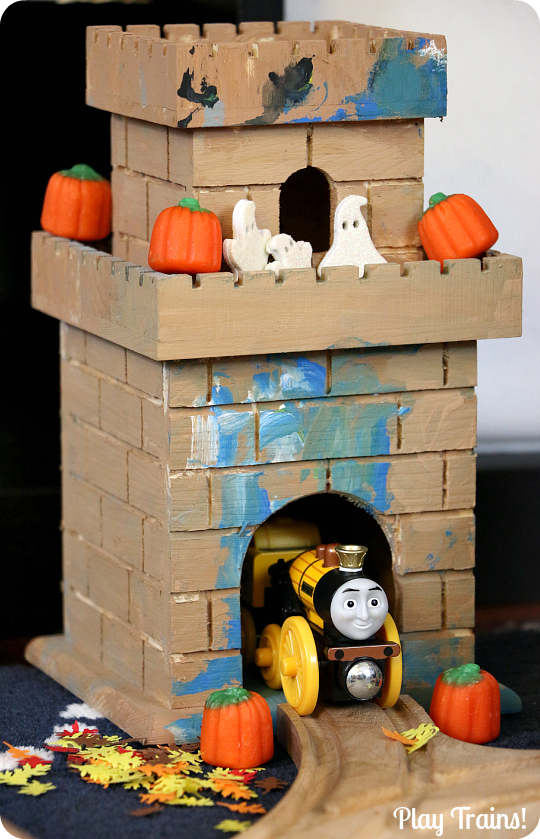 They took a ride in Stephen's freight car and had a great time picking out a pumpkin!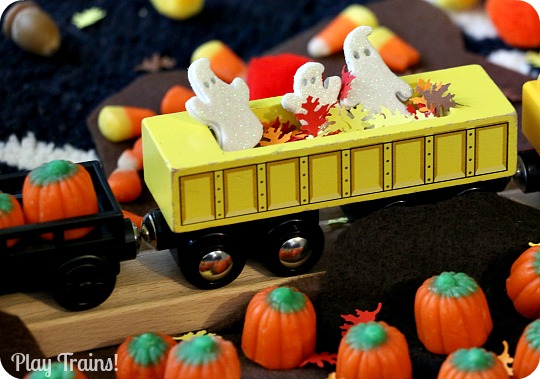 Looking for more creative train activities for YOUR kids?
Grab a copy of Old Tracks, New Tricks! In the fun, rhyming story, three creative little wooden train tracks stand up to the bossy trains and teach the whole train set that old tracks — and trains! — can learn new tricks. Full instructions for the 20+ "track-tivities" in the story are included in the back of the book, along with an illustrated guide to teach kids how to create their own "track tricks." You can find tons of extension activities at the Old Tracks, New Tricks website!