Here's a cute light-up variation on our pipe cleaner Christmas trees. It makes a fun fine motor activity, especially if you have a train pulling the holiday lights to decorate the trees. It's a festive way to bring light play to your train sets and other small worlds!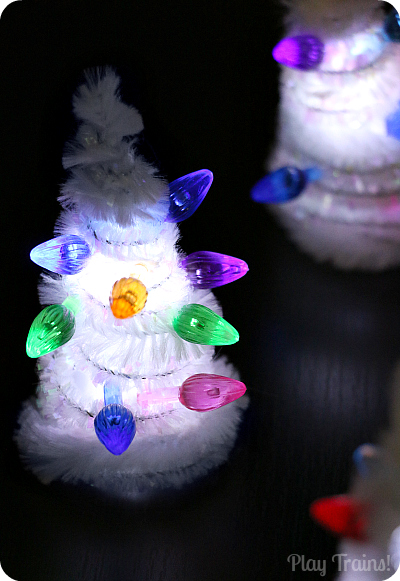 This post contains links to Amazon.com. If you click on one, we will receive a small commission — at no additional cost to you — on anything you buy at Amazon for a certain length of time afterwards. Read our disclosure policy for more details.
Seasonal Pipe Cleaner and Pom Pom Trees
Cherry Blossom Spring Pom Pom Tree
Pipe Cleaner Pine Trees
Summer Pom Pom Tree
Pipe Cleaner and Pom Pom Palm Tree
Apple Harvest Pom Pom Tree
Fall Pom Pom Tree
Spooky Pipe Cleaner Trees
Halloween Carnival Colors Pom Pom Trees
Pipe Cleaner Christmas Trees
Light-up Pipe Cleaner Christmas Trees
Snow and Ice Winter Pom Pom Trees
I've always wanted to have Christmas trees for our trains that really light up, so I'm especially excited to have come up with these!
Materials:
One or more pipe cleaner Christmas trees: I found that a tree made with two extra-fluffy white pipe cleaners/chenille stems twisted together at the end of the first (so that they made one super-long fluffy white pipe cleaner) worked the best. When I get some more pipe cleaners, I want to try making a bigger one with three or four pipe cleaners, and more lights. Also, I want to try twisting the tops of the trees less tightly, so they aren't so dark in comparison to the rest of the tree.
Translucent plastic "lights" for ceramic Christmas trees: I picked mine up in the Christmas decoration aisles at Michaels, but you can also find them on Amazon. Once you have them, here's another really cool Christmas activity that uses these light bulbs, from my friend Mary Catherine at Fun-a-Day!: Fine Motor Christmas Trees.
White LED finger light(s): I used the white lights from this pack of LED finger lights — they fit inside the trees, and they were the only lights I had that were bright enough to light up the bulbs. We've gotten so much use out of these, from train light play to making light-up mini light sabers.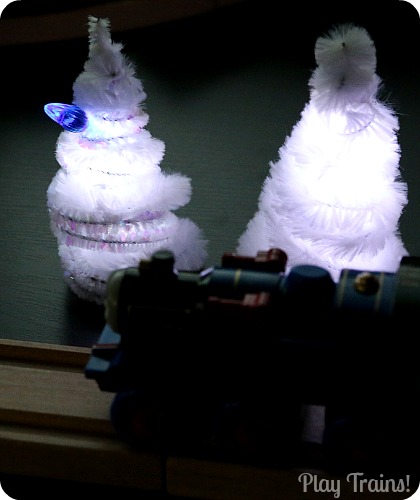 Directions:
Remove the elastic band from the LED finger light and turn it on. Insert the light into the bottom of the tree. Now, when you or a child sticks the lights in between the spiraled loops of the Christmas tree, they'll light up!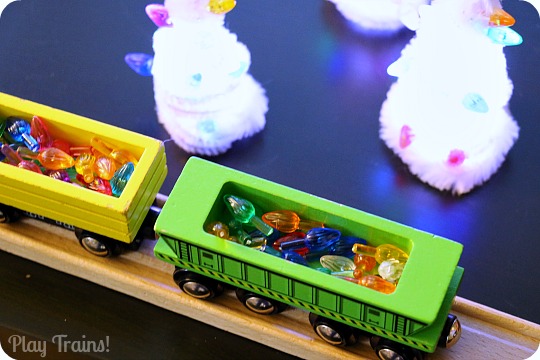 To incorporate these trees into train play as an activity, use a wooden train's freight cars to transport the lights to the trees for them to be decorated.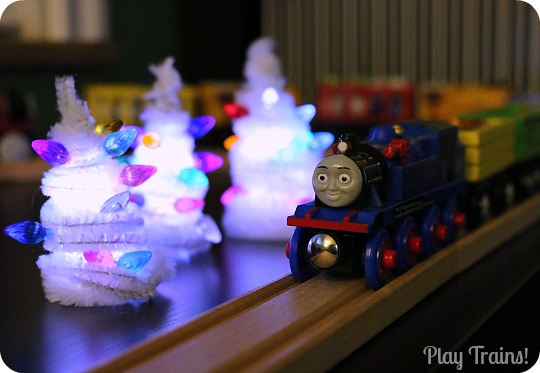 Just so you know ahead of time, there seems to be a certain number of lights that the trees will hold before inserting a new light will make one of the others randomly fall out.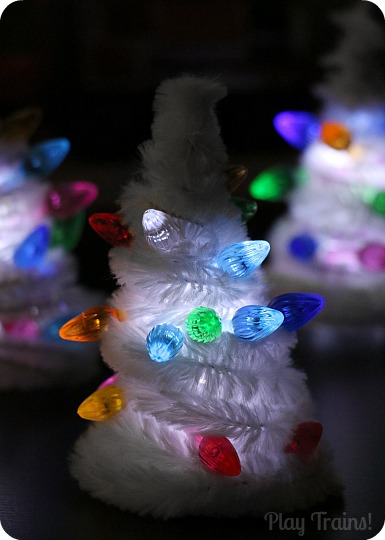 For more variations on our pipe cleaner Christmas trees, read the original post about them: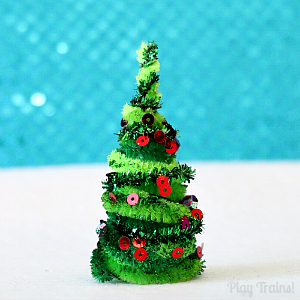 And you can go directly to the illustrated how-to instructions for making the basic trees here: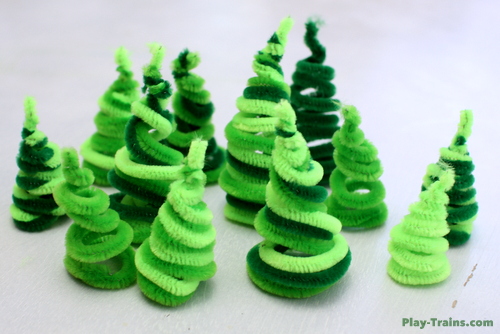 Don't miss our other Christmas train activities and crafts!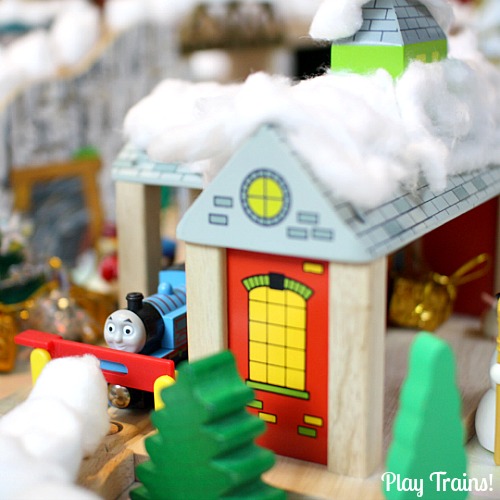 White Christmas Wooden Train Play