Here's another fun thing we picked up at the Northwest Railway Museum's gift shop last July, along with the Instant Foam Railroad I wrote about before.   These are the Made By Me! Train Engine, Passenger Coach, and Caboose by Maple Landmark, an American company that makes high-quality, classic wooden toys in the United States.
The Little Engineer was so excited about "building" the train himself that he wanted to do that right away, and not paint the pieces first.  So we set about gluing the whole thing together.  It was easy to do, no problems, and the trains roll pretty well for what they are.  The only thing is there's no way to connect them up, but that could be fixed.
I don't have any pictures of the assembly process because I was handling the glue, but after we were done, the Little Engineer borrowed my camera to take a few pictures of his train.  He was very proud of it.  His deepest, fondest wish for a good while now has been to build his own wooden trains.  In his mind, the ideal way would be to get used Thomas trains and take them apart and remake them as new trains, but this comes pretty close.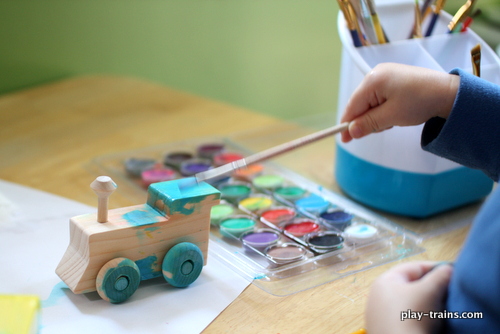 I suggested we use watercolors to paint the train so that the wheels wouldn't get stuck to the chassis.  He liked that idea, and he really enjoyed painting the engine.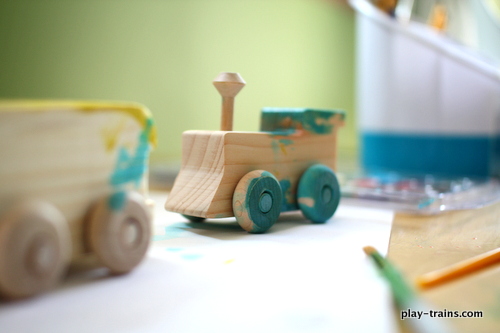 He also worked a bit on the passenger car.  I helped him finish that one at his request, and painted the caboose when he insisted I needed to paint it.  I wish he had painted it, because my attempts to make it more interesting after I had already painted it all red didn't quite work out.  He likes it, though, so it's okay.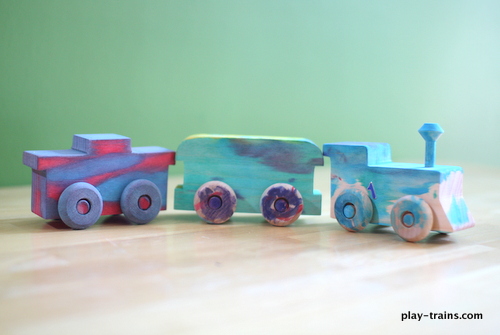 Here's the whole train, all painted.  My favorite part is the little number 1 sticker he found all on his own to put on the blue engine to "make it Thomas."
Several months later, he still likes to play with the train, so this fun project resulted in a real, useable, interesting toy.
(Unfortunately, I haven't been able to find the Passenger Coach and Caboose online, but you might still be able to get them at the railway museum's giftshop, or a similar place elsewhere.  On the other hand, I think the engine alone would have been the perfect amount of work for the Little Engineer at that age (2 1/2), considering he needed me to finish the other cars for him.)