I remember having a lot of fun with expanding foam capsules like these when I was a kid, but I didn't expect to be surprised by them as an adult.  Then again, lots of unexpected things happen with the Little Engineer around.  I'm not sure if the designers intended it all of it or not, put there was a lot more possibility in this little train than I expected.
We picked up this Instant Foam Railroad when we were at the Northwest Railway Museum for Day Out With Thomas, but you can also find them online (though if you're local and you're planning a trip to the museum, the price there was excellent).  A couple days later, I asked the Little Engineer if he'd like to see what they were, and he was interested.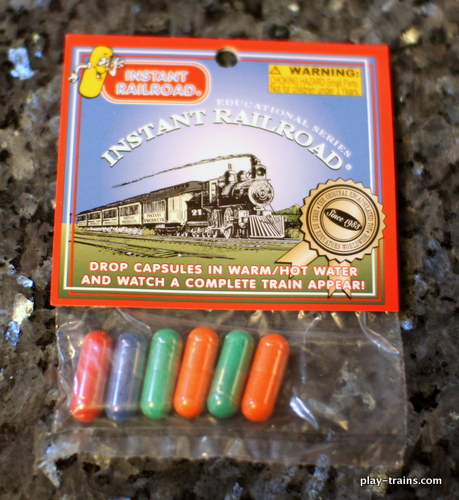 We pulled the Learning Tower up to the kitchen counter, and I got a glass of water.  The Little Engineer dropped the capsules in at my suggestion.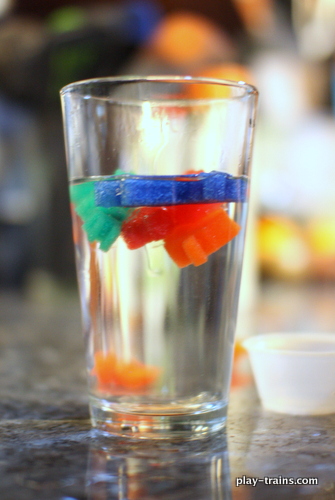 We watched them expand in the water.  I explained that the capsules disolved in water, and showed him some of the pieces that were stuck to the foam. We talked about how the clear pieces were soft, wobbly, and a little sticky now.  Once the foam was fully expanded, we squeezed the water out of the engine and freight cars, and we started to play.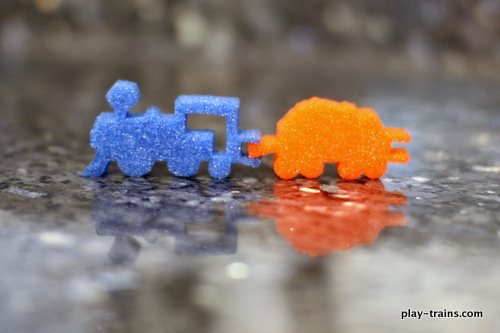 Almost immediately, the Little Engineer showed me something I hadn't expected: the cars are design to hook together!  This made them way more fun for him.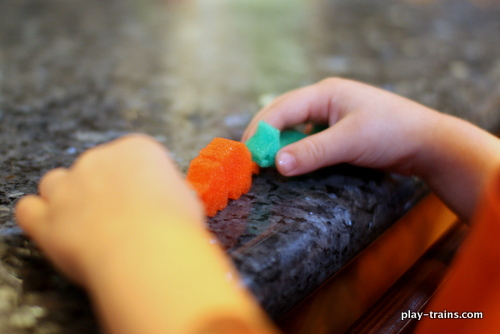 Trying to hook the whole train together and keep it standing upright was excellent fine motor practice.

Then I noticed that the cab of the engine and the caboose both had windows that could be pushed out.  The Little Engineer immediately turned them into freight and put them on the train.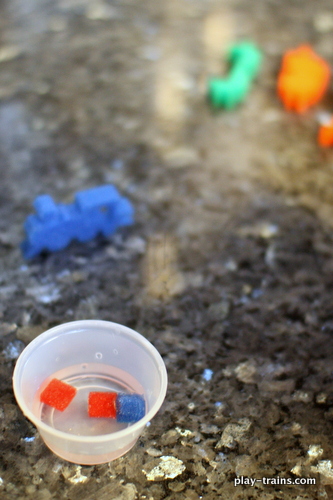 And then he showed me that they could also be used as sponges to give the train a wash down. So I got him a "bucket" of water so he could take care of his engine.
Those three unexpected features — the connectors, the window pieces becoming freight, and the sponges for the wash down — gave the Little Engineer so much more to explore. He played with the train for quite a long time that day, and again in days to come. He eventually decided to experiment with tearing them apart, so we only have a couple of cars floating around now. But I feel we got a lot of value out of this little novelty toy.
The Little Engineer cuddled up to me as I was writing this, and after talking about the pictures in this post for awhile, I asked him if he'd like me to interview him, so he could share his thoughts about the instant train as well.
Mama:  Do you remember playing with this instant foam railroad?

Little Engineer:  Yes!  (nodding)

M:  What was your favorite part of it?

LE:  Putting it together.

M:  I was really surprised when you did that.  I didn't expect the foam engine and cars to connect like that.  Should we try to get some the next time we go to the railroad museum?

LE:  Uh huh.  What's in them?  What's in the things that make train stuff?

M:  The train shapes are cut out of foam, and then squished inside capsules that dissolve when you put them in water.

LE:  I want one of them to make track.  I want to make a boxcar shape.

M:  That would be really cool.