In my post about our Valentine's Day in Vicarstown train layout yesterday, I promised I'd share my secret way to stick things to our wooden trains and buildings without worrying about ruining them.
Well, it's not my secret, really. My husband showed me how to do it.
Originally, he came up with this solution back when we had only a small train set, almost two years ago.  We wanted to use blocks as bridge supports, but every time the Little Engineer — who was the Really Tiny Engineer at the time — bumped the tracks, the blocks would all fall down.  We wanted to keep our blocks nice for playing with in other ways, but we also wanted them to stay put.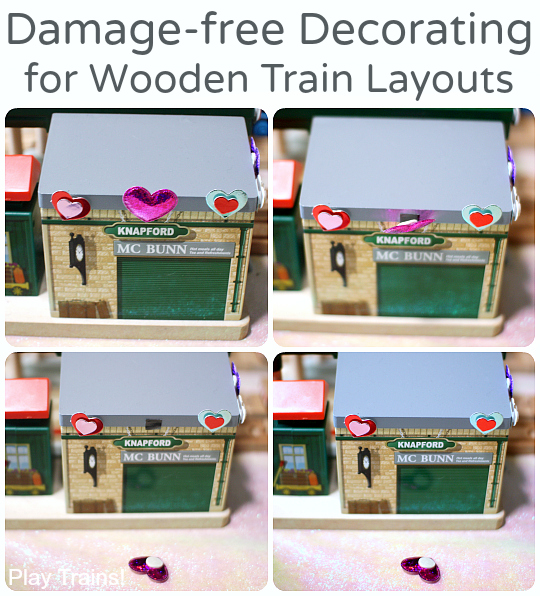 This post was originally published on February 5th, 2013, when the Little Engineer was three years old. It contains links to Amazon.com. If you click on one, we will receive a small commission — at no additional cost to you — on anything you buy at Amazon for a certain length of time afterwards. Read our disclosure policy for more details.
So my husband started securing the blocks to the track and each other with small loops of No Residue Painter's Duct Tape.  This is an absolutely brilliant product.  It's stronger, thicker, and smoother than blue painter's tape, and I feel it's easier to remove as well.  And best of all, it really doesn't leave any residue.  Since those early train layouts, we've used it in several more practical applications with our trains, and now to decorate the layout for Valentine's Day.
The downside is you pay for what you get.  It's not cheap.  But if you're careful to use as small of pieces as you can, you can make it last. I cut tiny squares of it, stuck the stickers to the non-stick side of the duct tape, and then stuck the whole thing to the station.
See, easy to remove, no residue! And I was able to stick the tape and the sticker right back on.