If you have a young train fan who's been waiting for their very own Thomas & Friends Wooden Railway version of Luke, there's good news:  he's finally available.
In light of today's over-merchandized children's entertainment industry, I found it hard to believe that Blue Mountain Mystery, last year's new Thomas & Friends DVD movie, would be released without the new engine it was introducing being available in wooden toy form.  But, there it was: we wanted to play Blue Mountain Mystery, and there were no wooden Lukes to be found.  Christmas rolled around, and still nothing.  But by then I'd figured it out:  the rights to make the Thomas Wooden Railway line changed hands at least twice last year, and no new trains would be available until 2013.
That, however, didn't tell me when in 2013 they would be available.  So I was pleasantly surprised this weekend to find Luke finally available at Amazon.  I ordered two (one of them is needed for a project I've been planning since last summer, which I'll be sharing if it doesn't turn into a horrible mess) and they arrived a day early from the Prime two-day shipping estimate.  Yay!
So, here he is: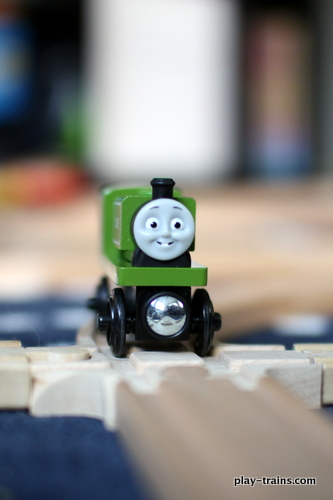 He's pretty close to the character as far as his face goes.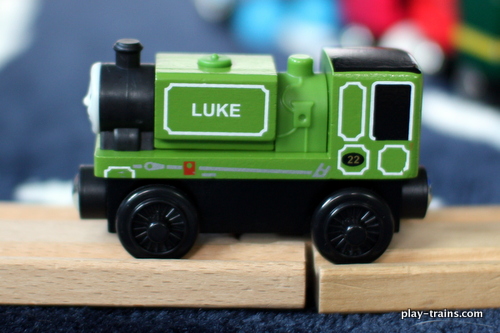 He looks pretty decent from the side, too.  I wish there was more of a difference in height between the boiler and the cab, and that he was shorter from front to back.  There's always a problem with the proportions of the wooden narrow-gauge engines, but Luke has a very tall cab and funnel, so it's even more apparent with him.  We have the Take 'n' Play version of Luke already, and his shape is much closer to the character in the movie.
I'm also not fond of the obviously plastic appearance of the part of his between his cab and his tanks.  The picture on Amazon shows that part being wooden with red and brass detailing, so they must be showing a photo of one of the later versions of the prototype.
Otherwise, he's cute and cheerful.  We've had a lot of fun pretending to be Thomas and Luke already, mostly with "Thomas" trying to get to "Luke" while Luke zips and zooms through tunnels.  When the Little Engineer is pretending I'm Luke, he likes to ask, "Are you my friend, Luke?" in the cutest voice.  So I'm predicting we'll be building some tunnels soon.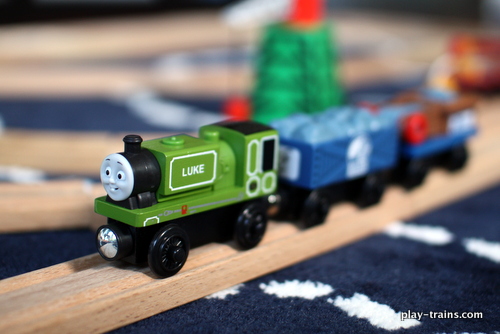 I gave Luke to the Little Engineer this morning.  Because our living room is still taken up by our Valentine's Day in Vicarstown layout, we set up a quick layout in the family room so we could turn the movie on while we played along.  Luke looks very happy pulling the Blue Mountain Quarry cars from the Skarloey and Gravel Cars
 set!
And the big surprise was that I was the one who got to play with Luke.  But I think that's because the Little Engineer wanted to be Thomas to my Luke.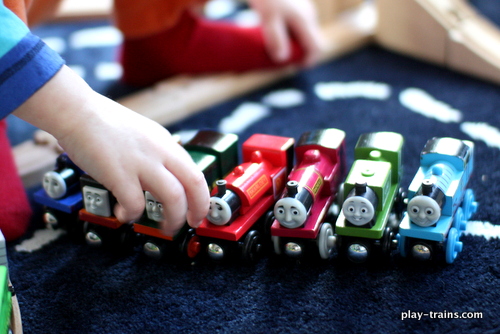 The Little Engineer also decided to make a collection of the characters from the movie.  He spent a lot of time getting them lined up just right.  Luke, of course, needed to be right next to his new friend, Thomas.