The Little Engineer has been very loving of late.  After closing circle time at preschool, he's been choosing the heart stamp "because I love Mama."  Anything with hearts goes to me, usually with a similar statement of affection.  And when we went out shopping recently, he was telling me he loved me through the whole trip, and even wanted me to buy flowers for myself.  (We ended up getting some bulbs to plant together.) Despite his ingrained distrust of stickers offered to him by strangers, he almost even took stickers from the checker at Trader Joe's when he saw they had hearts on them. "Because I love Mama…" he said, thinking it over.
And all of this is always in the cutest, sweetest voice possible.  With a little smile that has me saying, "Why are you so cute?"  He usually answers something like, "Because I'm a kitten!" while I'm thinking, "So I can never stay too upset at you."  Both are good reasons.
After we built the layout to play with our newest train, the Little Engineer was walking around on the tracks.  After a quiet moment, he said in that sweet, musical voice, "Is this a heart?"
"What?" I asked as I looked up, and then looked down to see what he was looking at.  And yes, it was a heart.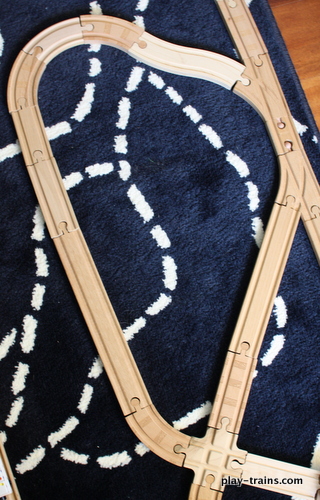 I had actually been thinking of making a heart out of track with the Little Engineer (inspired by the one on the Meskotoys website, which happens to be where I got that unusual curvy track at the center top of the heart). I think we'll still do that this week, but I'm so happy that this happened first, in a spontaneous way.