Painting with trains or other toys with wheels is nothing new — and this certainly wasn't the first time we did it — but here's the Little Engineer's latest twist on it.  His ideas led the project deeper into the realm of pretend play, and resulted in a pretty cool end product.
Not that the process isn't the most important thing, but I really enjoy looking at this painting on our wall.  It evokes something organic, like tall grass or saplings, and the tracks of a train yard at the same time, and that seems to resonate with us. After all, one of our favorite things we've done was learning about trees with our wooden train tracks.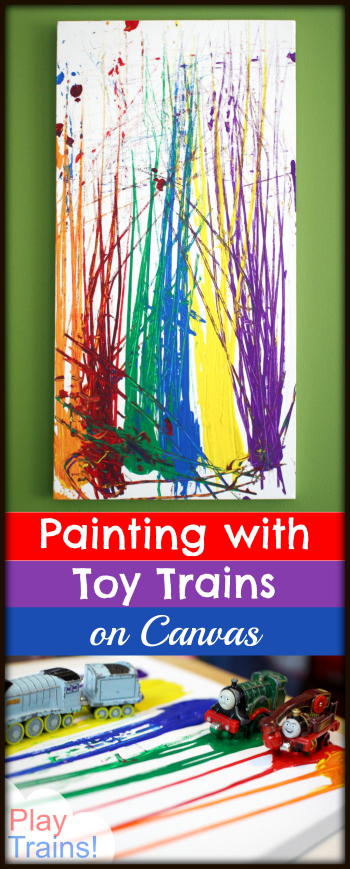 I had wanted the Little Engineer to either squirt or dab the paint all over the canvas, but he asked me to put puddles of color all along one end.  It turns out these were "the sheds", and we needed an engine for each color.
I recommend using Take'n'Play or other diecast trains for this project, because they can be washed off without too much worry.  The chunky, plastic Discover Junction Thomas trains would work too.  We use those outside and in the bath, and they hold up well to water.  Make sure to choose engines that don't have any electronics to ruin.  And when you dry the trains, don't leave them to sit in a puddle of water, like I did with a couple of ours this time when I forgot to move them after washing them (oops).
After lining them up just right — I think he was trying to match engine color to paint color as much as possible, which took some thinking because some engines didn't have a perfect match — Little Engineer put them one by one into the paint and drove them more or less straight across the canvas.  The lines had slight, natural curves to them that echoed each other, caused by him standing at the center of the table and moving only his arm across himself.  Maybe this is why the lines feel organic to me; they're rooted in the natural motion of the human body.
He drove them across the canvas like that several times, always returning the engines to their original color or, in his mind, stall in the shed.  The whole time, he was talking, narrating what the trains were doing on the railway.
Then he started branching out, going straight for a moment then veering to cross other tracks.  In some cases, he tapped the engines a few times at the very end of the "track".  I was a little disappointed, because I'd grown unintentionally attached to my own interpretation of the painting, but on the other hand the lines were starting to look like a train yard, which was cool.
Because he was pretending the trains were chuffing in and out of the sheds, the Little Engineer stuck with the project longer than he usually does when I give him a canvas to paint.  And somehow, by the time he got bored of painting, the organic look to the lines had returned.
And here it is on our wall.  We have a lot of other rainbow colors in our family room, so it fits right in.  I need to spray it with a fixative sometime soon.  Hopefully the weather will cooperate with that.
As I've been writing this, I've realized the Little Engineer's painting was doing what art should do:  making me see something in a new way, make connections I had missed before.  There is something organic about the curves of train tracks.  Unlike roads, there can be no sharp, sudden corners.  Everything has to flow with the inertia of a massive train.  So maybe there's something to that. But as interesting as those thoughts were, I definitely spent more time watching the Little Engineer and the alternating intensity and joy he brought to driving his trains through the paint that day.
Here are some of our other favorite train art experiences: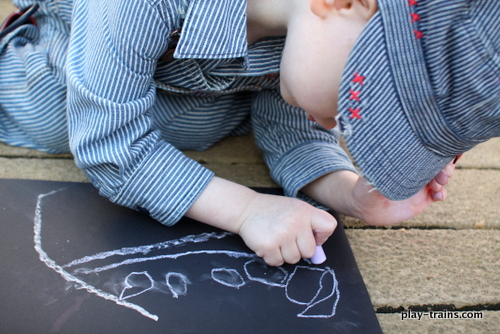 Exploring the Art of Steam Train, Dream Train (Part 1)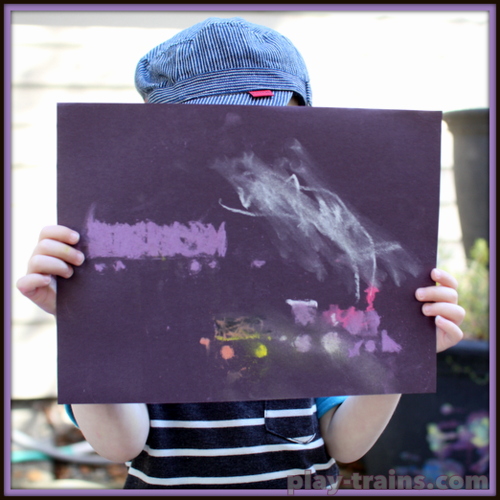 Exploring the Art of Steam Train, Dream Train (Part 2)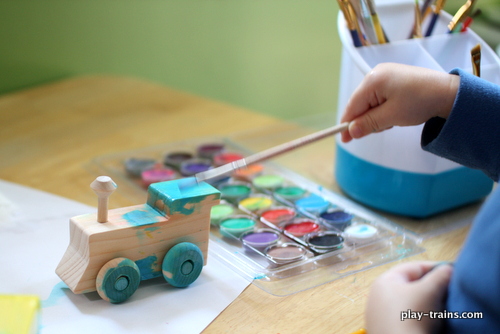 Assembling and Painting Wooden Trains with My Toddler
Follow me on Pinterest for more inspiration for playing and learning with kids who love trains!