After we did this train art project, the Little Engineer and I were sitting in Snuffleupagus, our mammoth Japanese lace leaf maple tree.  He just discovered this quiet, secret world this spring, and I'm grateful he invites me in with him to sit on the twisted, sturdy branches.
Surrounded by fluttering leaves scattering pinpricks of afternoon light, his usual stream of talk continued, but in a more thoughtful way. Sensing the moment, I asked him what the best part of the day was. Then I asked him what he had tried and had work out well for him that day.
The answer was the same for both questions. "Drawing," he said, with a smile on his face. "Drawing with the chalk pastels."
I'd known he'd enjoyed the project, but to hear that it had worked out well for him with such a tone of accomplishment in his sweet three-year-old's voice…that's parental bliss. So I'm extra excited to share this particular project with you, given how much it meant to my son.

This post contains links to Amazon.com. If you click on one, we will receive a small commission — at no additional cost to you — on anything you buy at Amazon for a certain length of time afterwards. I was otherwise uncompensated for this post. Read our disclosure policy for more details.
This art project was a little more directed than what I usually would do with the Little Engineer, at least as far as the "how" goes, if not the "what".  But I think he's getting to a point where he likes being shown a few new techniques and then take it from there. As you'll see, every time I showed him something he could do, he did it in his own way.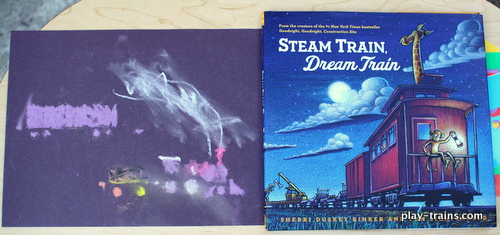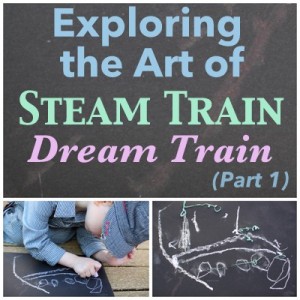 Steam Train, Dream Train is the new picture book by Sherri Duskey Rinker and Tom Lichtenheld, the author and illustrator of Goodnight, Goodnight Construction Site.  We love their first book.  You can read just how quickly this became a favorite in our house and see the first art project we did inspired by the book in last week's post, Exploring the Art of Steam Train, Dream Train (Part 1).
A couple days later, after a trip to the craft store where we picked up some chalk pastels, I set up our second exploration, laying our copy of Steam Train, Dream Train, painter's tape, chalk pastels, black construction paper, and the train stencils from Fun with Train Stencils (those stencils are a lot of fun for being so inexpensive!) out on a table.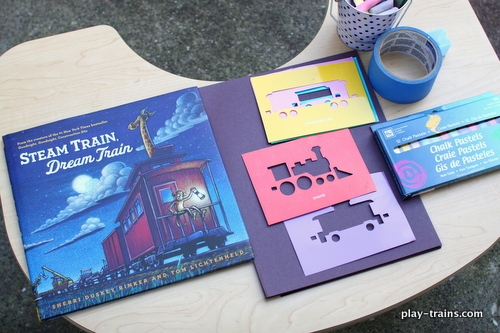 I brought in the stencils because I wanted the Little Engineer to be able to focus on the chalk pastels themselves instead of his newfound ability to draw trains.  I loved it, though, when he noticed that there was no tanker car stencil to match the tank cars in the book and suggested that he could draw his own.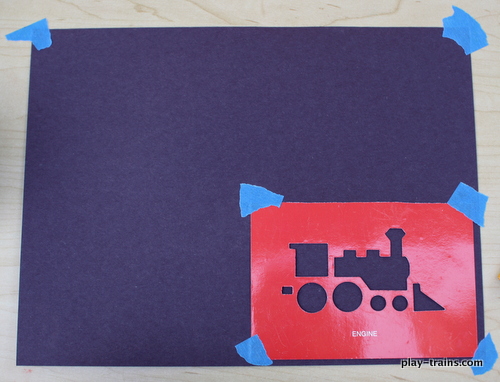 We used small pieces of the painter's tape to secure the paper to the table and the stencil to the paper.  Then we looked at the pictures in the book for a few minutes.  I talked about how vibrant the pastels looked against the black paper and how the pastels' colors could blend together.  I showed him on another piece of paper that he could experiment with pressing lightly or firmly and pointed out a couple places in the book where the artist had done one or the other.
After that, he was ready to make his own train pictures.  He started with pink, then blended that with purple.  The chalk pastels were much smoother than the regular chalk had been, and he seemed to really enjoy using them.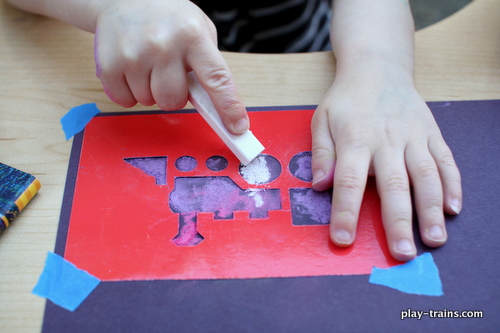 When he made the driving wheels white, I couldn't stop myself from telling him how cool I thought it looked. Then I remembered to tell him why: the white wheels really stood out, even from the bright pink and purple.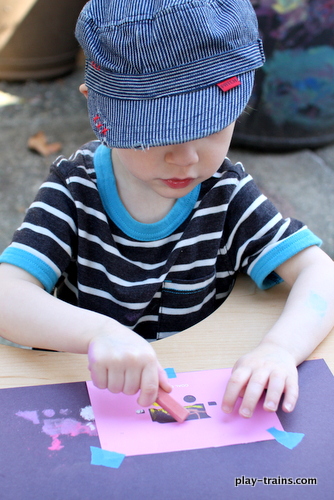 When he felt done with the engine, we gently pulled up the tape and used it to tack down the coal tender stencil.  I showed him that the trick to lining up the engine and its cars is overlapping the rectangular couplings between cars.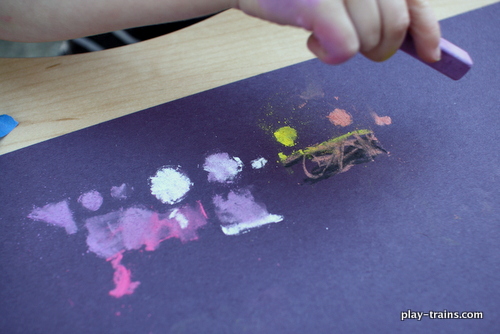 He used black on the tender — "For the coal!" he told me — which was great because it gave me an opportunity to point out how much blacker it looked than the black construction paper.
Then he took a break from coloring to make railroad tracks out of the pastels.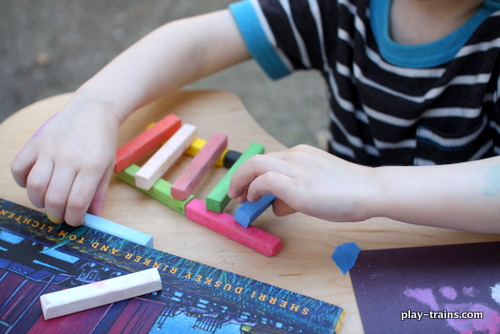 Like I mentioned in my post about our glow stick train tracks, he will make them out of anything long and straight!
Next he wanted to do a box car.  There wasn't quite room to fit it behind the tender, and before I could suggest attaching another piece of paper, he asked to put it in the upper left hand part of the paper.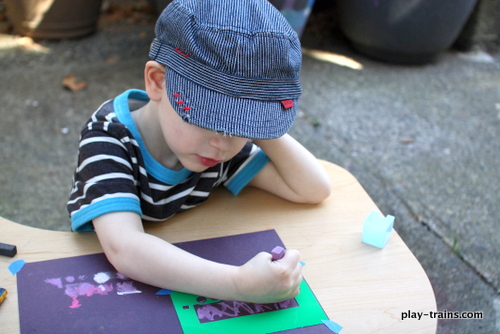 I love this picture.  Something about the way he's resting his head on his hand reminds me of a much older kid, concentrating on something he's drawing or writing.  He was really absorbed in the drawing by this point.
His right elbow started to smudge the engine and the tender.  When I tried to get him to put a piece of paper under his arm to protect the drawing, he refused, saying, "I will fix the engine!"  And then he traced over it in a few places.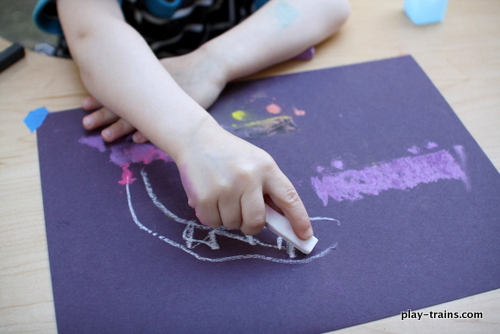 I pointed out that the smudging would be a cool way to make the engine's steam.  I scribbled some circles and loops and smudged them with my finger to demonstrate.  He took that technique, but drew his steam in his own way, with an outline of the steam that he filled with zigzagging lines.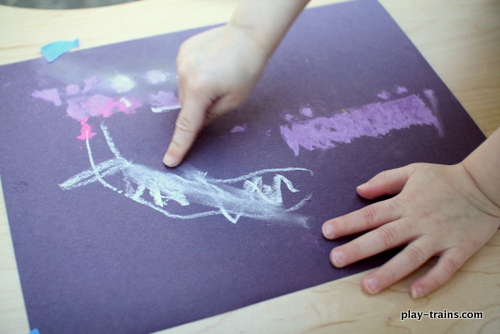 He really enjoyed smudging the steam!
Finally, we took a moment — a very brief one, because there were other things to play outside, and dear Snuffleupagus was calling — to make some observations about how his drawing was similar to the ones in the book.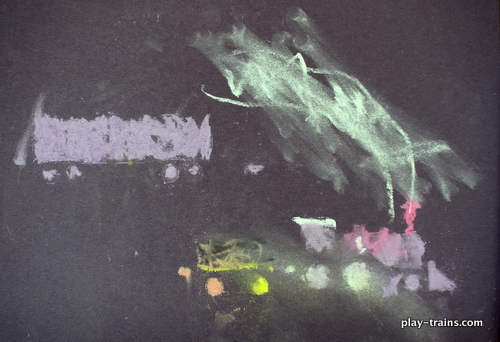 He was really proud of the drawing, and asked to be in a picture with it for the blog.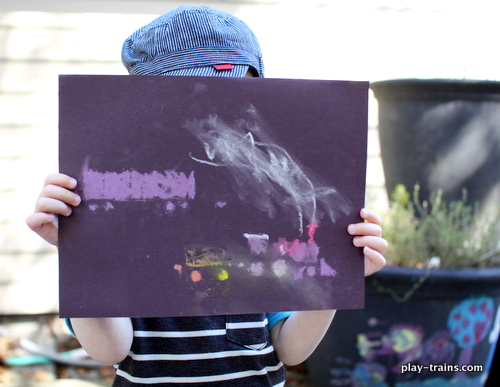 As you can see, he hasn't quite grasped the concept of needing to be able to see the camera in order for the camera to be able to see him!
Don't forget to check out our first project inspired by Steam Train, Dream Train.  For another fun train art project, take a look at Painting with Toy Trains on Canvas.  The Little Engineer and I would love to see what you create!